This vegan spaghetti Bolognese is built from the authentic Italian recipe, but it swaps the meat with cheap and protein-rich black beans.
Whether you need to impress a date or your family, this vegan take on classic Bolognese sauce is sure to wow your table companions.
The recipe follows very closely the original Italian ragu sauce, but it's conveniently made totally meat-free, without sacrificing the taste!
The best substitute for the meat is provided by a mix of shiitake mushrooms, black beans and lentils.
Mixed together they give the perfect texture and provide even more nutritional value than meat.
In fact, black beans, red lentils and shiitake mushrooms are a fantastic source of protein, fibre and vitamins.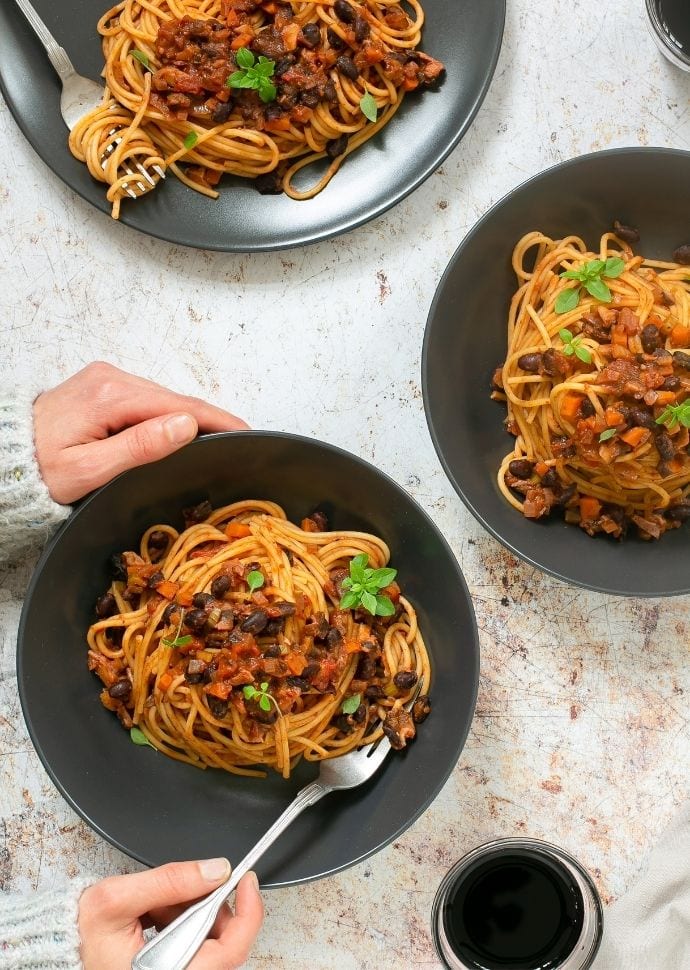 VEGAN BOLOGNESE INGREDIENTS
This delicious Italian pasta recipe comes together in just about 30 minutes and all you need are very basic ingredients:
PASTA
Most pasta shapes will go well with this vegan pasta dish. Fusilli, penne, rigatoni and of course spaghetti are the best options.
Whenever possible, go for bronze-cut pasta made in Italy (Gragnano pasta is my favourite), which is slightly coarser than usual commercial pasta.
Its unique texture makes it the best vehicle for a great sauce.
It also keeps the pasta "al dente" easier than non-bronze cut pasta.
BLACK BEANS
I use cooked jarred black beans but canned beans work just as great.
You can also use pinto beans or cannellini beans or a mix of the three different beans if you like.
MUSHROOMS
Shiitake mushrooms have an earthy flavour and meaty texture, are in a way similar to porcini, but they're cheaper, available all year round, and are super versatile.
You can use fresh or dried shiitake mushrooms to make this pasta sauce.
Remember that dry shiitakes need to be soaked and re-hydrated before use.
So, place them in a large bowl with warm water, and let them rest for 30 minutes, before proceeding with the recipe.
If you can't find shiitake, substitute them with chestnut mushrooms.
SOFFRITTO
Soffritto is an aromatic base for many Italian dishes, and it's basically finely chopped carrot, celery and onion.
TOMATOES
For a rich bolognese sauce, I use 2 tablespoons of tomato paste instead of pureed tomatoes.
You can use either ½ cup (120 g) of tomato passata or pelati tomatoes.
If you use the latter, remove them from the can (don't discard the juice). Cut them in half lengthwise, deseed them and put them back in their juice and proceed with the recipe.
You can do the same process above if you use fresh tomatoes, but make sure to first blanch them in boiling water, and remove the skin.
AROMATICS
Bay Leaf: Add a well-balanced sweetness to the sauce, so you don't need to add sugar.
Parsley: Add chopped parsley for a refreshing note, fresh thyme works nicely too.
Chili: If you like a little bit of heat, you can add a generous pinch of red chili flakes.
VARIATIONS
Beans: Pinto beans (borlotti beans), white beans or cannellini beans all work great instead of black beans.
Lentils: you can substitute the red lentils with cooked puy lentils if you like.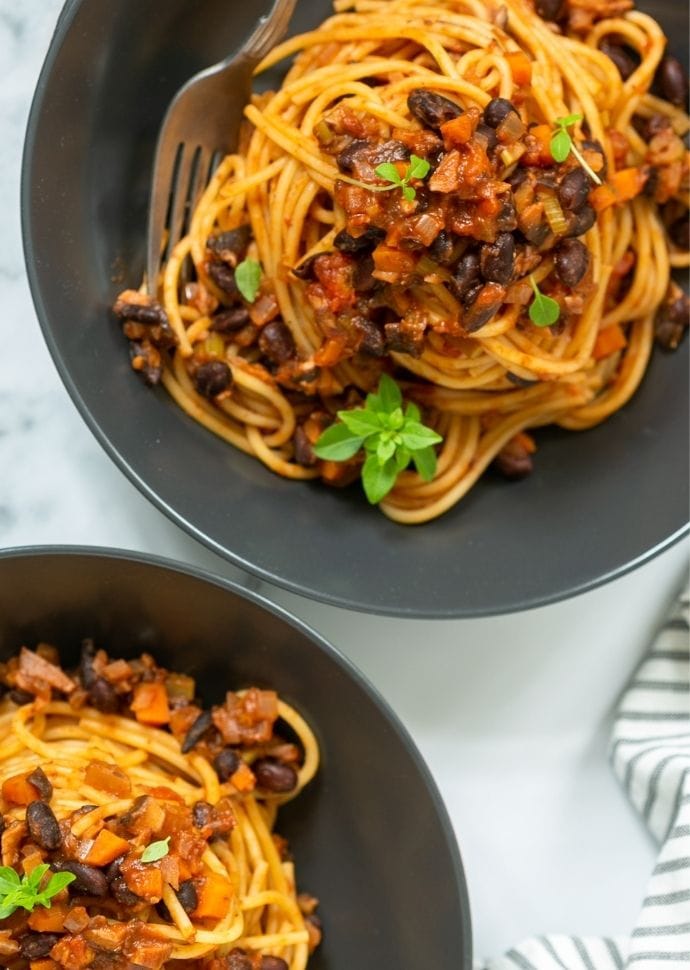 HOW TO MAKE VEGAN SPAG BOL
This vegan & vegetarian spaghetti bolognese sauce couldn't be easier to make:
STEP 1 -You start by gently cooking the soffritto and mushrooms for a few minutes.
STEP 2 - Add the beans and lentils, followed by the wine, and cook for 2 minutes.
STEP 3- Stir in the tomato paste and bay leaf. Pour the stock into the pot, bring to a gentle boil and simmer for 15 to 20 minutes.
STEP 4 - In the meantime, cook the spaghetti in a large pot of lightly salted water, until al dente, about 7 to 8 minutes.
STEP 5 - Drain the pasta and transfer it into the pot with the sauce. Stir to combine all the ingredients and serve.
Cooking Tip: Feeling cheesy? Top this classic pasta with few dollops of vegan ricotta or dust with freshly grated Parmesan-style vegan cheese just before serving.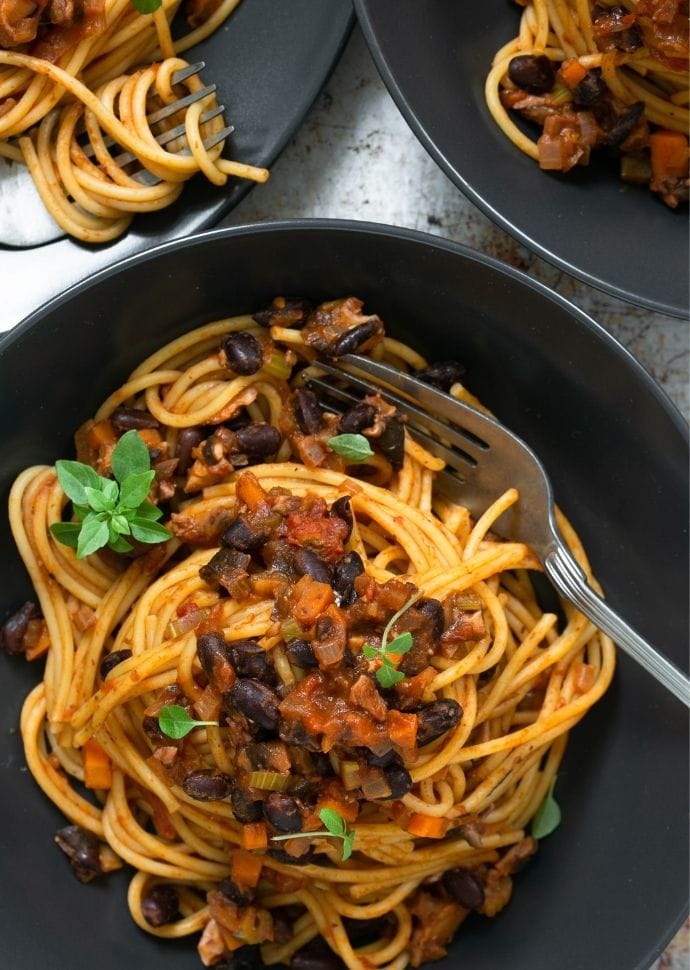 How long does it keep in the fridge?
Store your meat-free bolognese leftovers in an airtight container in the refrigerator. It should keep well for a couple of days.
Can you reheat it?
Absolutely yes.
I personally prefer to reheat it in a pan over medium-low heat for 5-10 minutes, rather than in the microwave.
Can you freeze black bean bolognese sauce?
You can safely freeze it.
I love making a big batch and store into portions.
Divide the sauce into individual freezer-friendly containers and store in the freezer.
The frozen pasta sauce keeps well for about 1 month (but usually disappear earlier than that).
Let the pasta sauce thaw in the fridge overnight then reheat it in a pan over low heat, for about 15 minutes.
THE VEGAN BEAN COOKBOOK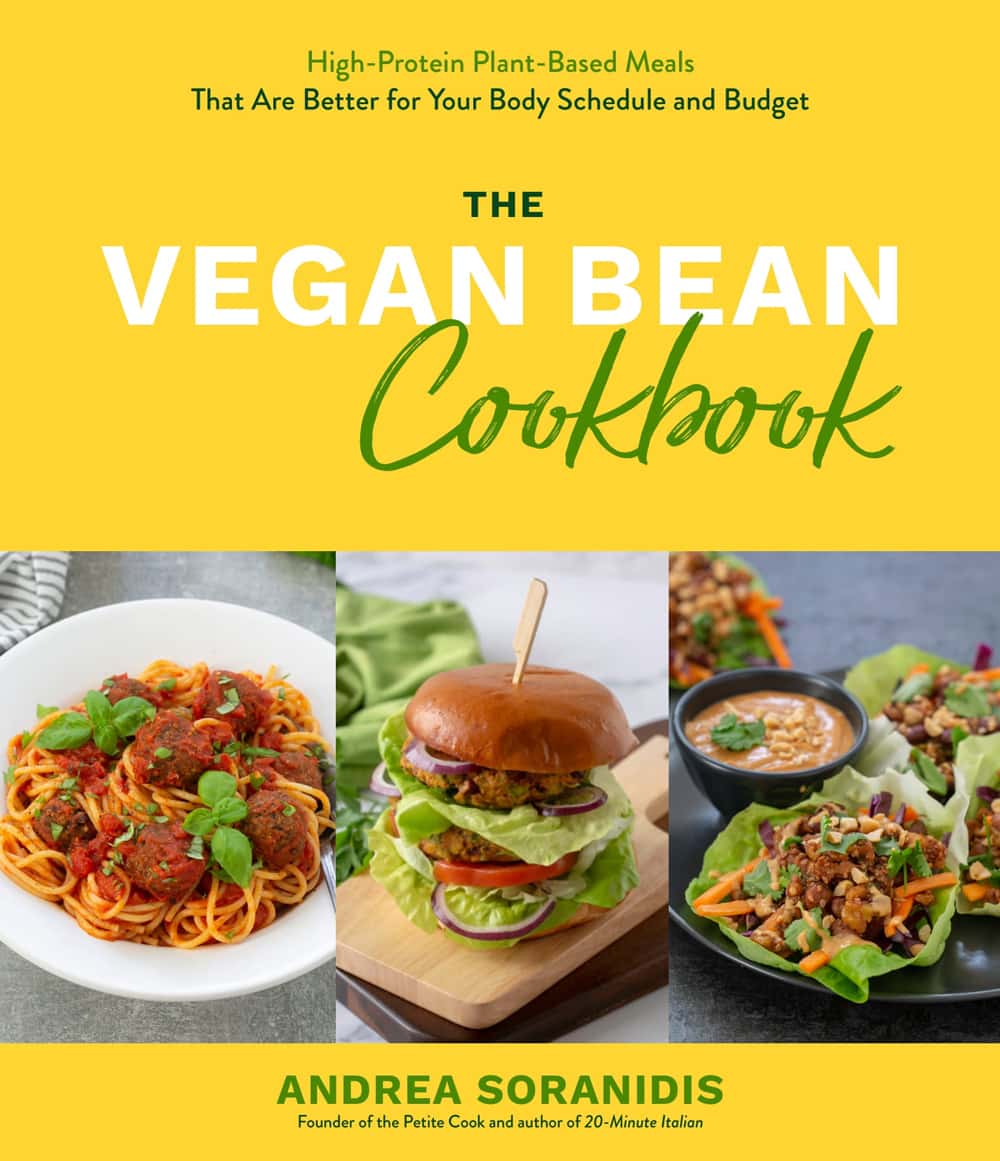 This recipe is also part of the 60+ vegan recipes featured in my new cookbook "The Vegan Bean Cookbook"!
The goal of the book is to show vegan and non-vegan readers that beans are not boring AT ALL!
Beans are conveniently cheap, packed with protein, and incredibly versatile.
There's so much you can do with the humble bean! From simple and nourishing pasta dishes to fun and incredible desserts, and I will show you all in this new exciting cookbook.
DID YOU MAKE THIS RECIPE?
Please let me know how you liked it! Leave a comment below and share a picture on Instagram with the hashtag #thepetitecook! Looking at your pictures always makes me smile *and super hungry*!
Recipe
Best Vegan Spaghetti Bolognese
This vegan spaghetti Bolognese is built from the authentic Italian recipe, but it swaps the meat with cheap and protein-rich black beans.
Ingredients
3

tablespoon

extra-virgin olive oil

1

medium yellow onion

,

finely chopped

1

carrot

,

finely cubed

1

celery stalk

,

finely cubed

150

g

shiitake mushrooms

,

finely chopped

1

can

black beans

,

(15.5-oz [425-g]) can, rinsed and drained

100

g

dried red lentils

,

rinsed and drained

180

ml

dry white wine

3

tablespoon

tomato paste

1

bay leaf

240

ml

vegetable stock

,

warmed

Sea salt and freshly-crackedfreshly cracked black pepper

360

g

spaghetti
Instructions
Heat a medium-large stockpot or Dutch oven with the extra-virgin olive oil over low heat. Add in the onion, carrot, celery, and mushrooms and cook, stirring often for about 5 minutes, until the veggies have softened.

Add in the black beans and red lentils, then pour in the wine. Stir all the ingredients together, for 2 minutes.

Stir in the tomato paste followed by the bay leaf, then pour the stock into the pot, bring to a gentle boil and simmer for 15 to 20 minutes over low heat.

In the meantime, fill ⅔ of a large stockpot with water and bring to a boil. As soon as the water boils add roughly 1 tablespoon of fine sea salt, fold in the spaghetti and cook until al dente, about 7 to -8 minutes.

Discard the bay leaf from the Bolognese sauce and season with ¼ teaspoon (or to taste) of sea salt and freshly cracked black pepper to taste.

Drain the pasta and transfer it into the pot with the vegan Bolognese sauce. Stir to combine all the ingredients, then divide the pasta among between the plates and serve.
Nutrition
Calories:
431
kcal
|
Carbohydrates:
58
g
|
Protein:
17
g
|
Fat:
12
g
|
Saturated Fat:
2
g
|
Polyunsaturated Fat:
1
g
|
Monounsaturated Fat:
8
g
|
Fiber:
16
g
|
Sugar:
7
g
|
Iron:
4
mg
The information shown is an estimate provided by an online nutrition calculator. It should not be considered a substitute for a professional nutritionist's advice.