How to make the best authentic Italian Tomato Sauce recipe from scratch – Easy, rustic and flavorful, it takes only 5 ingredients and 30 mins to make a staple of Italian cuisine at home.
---
This classic Italian tomato sauce is as tasty as it is easy to make, and it's the foundation of so many traditional Italian dishes.
I'm talking about tasty pasta with meatballs, bolognese sauce or even these awesome eggplant spaghetti sandwiches.
Growing up in an Italian kitchen, with my mum cooking tomato sauce at least 3-4 times a week, for me making classic Italian tomato sauce is a no-brainer. But I've seen out there that the struggle is real.
Some people add a generous amount of sugar, others use tomato puree or passata, and I've actually seen a few friends adding ketchup (?!).
Believe me, if you're looking for the authentic Italian tomato sauce recipe you don't need any of the above.
The Real Italian Tomato Sauce Calls For Just 5 Ingredients
To make a GREAT authentic tomato sauce you need 5 ingredients: red onion, garlic, basil leaves, whole canned plum tomatoes and extra-virgin olive oil.
Using the right ingredients is crucial for making the best Italian tomato sauce.
I opt for organic sweet red onions, organic garlic, high-quality extra-virgin olive oil, fresh basil leaves and organic tomatoes.
Fresh Tomatoes or Canned Tomatoes?
If you're using fresh tomatoes (which I highly recommend when they're in season), you need to blanch the tomatoes in simmering water for a couple of minutes, then peel the skin off and proceed with the recipe.
The best fresh tomatoes for a classic Italian tomato sauce are:
Roma tomatoes, meaty, easy to peel, and with very few seeds
Cherry Tomatoes (ciliegino), are small, round and really sweet
Datterino Tomatoes, are also very small and delicately sweet
It's not easy to find super tasty tomatoes these days, especially if you don't live in Italy. So I mostly use properly-good canned whole tomatoes.
Canned tomatoes are usually less sweet than fresh ones, so here's a little trick to take the bitterness out of your tomato sauce.
Add a pinch of sugar whilst cooking up your sauce. But if you have it at hand, a fresh bay leave will give your sauce the perfect sweetness balance.
Also, make sure you remove all the seeds from the tomatoes, as they add bitterness to the sauce.
If you're opting for canned tomatoes, the best ones to look for is the San Marzano variety.
This variety grows in Italy, in the Campania region and has been awarded the PDO (protected designation of origin) status.
San Marzano tomatoes have a long shape, bright red colour, easily peelable skin, meaty pulp, and very few seeds.
Their flavour is not too sweet and not too bitter, which makes them incredibly versatile, both for cooking and using them raw.
These are the very best tomatoes to use for making Italian tomato sauce, or the classic marinara sauce for Neapolitan pizza.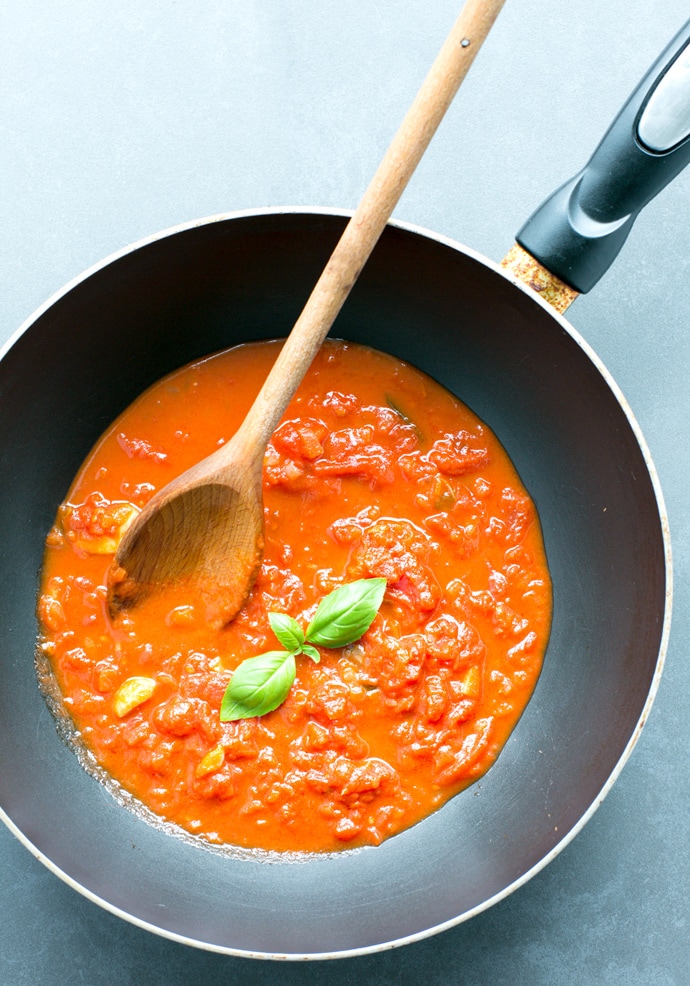 The perfect homemade tomato sauce takes a little patience to make, but it's definitely worth it.
The secret lies in slowly simmering the sauce for about 20-30 minutes.
It will slowly reach a creamy but still a bit chunky texture, and the right balance of sweetness and savoury.
Once ready, store your sauce in airtight jars in the fridge for up to 1 week, or freeze for up to 6 weeks.
Italian Tomato Sauce Is A Great Base For So Many Dishes!
This traditional tomato sauce is one of those basic recipes you need to have in your life.
It's conveniently vegetarian, dairy-free, vegan and gluten-free, and a great base for so many Italian dishes (including my favourite Sicilian eggplant spaghetti sandwiches here below).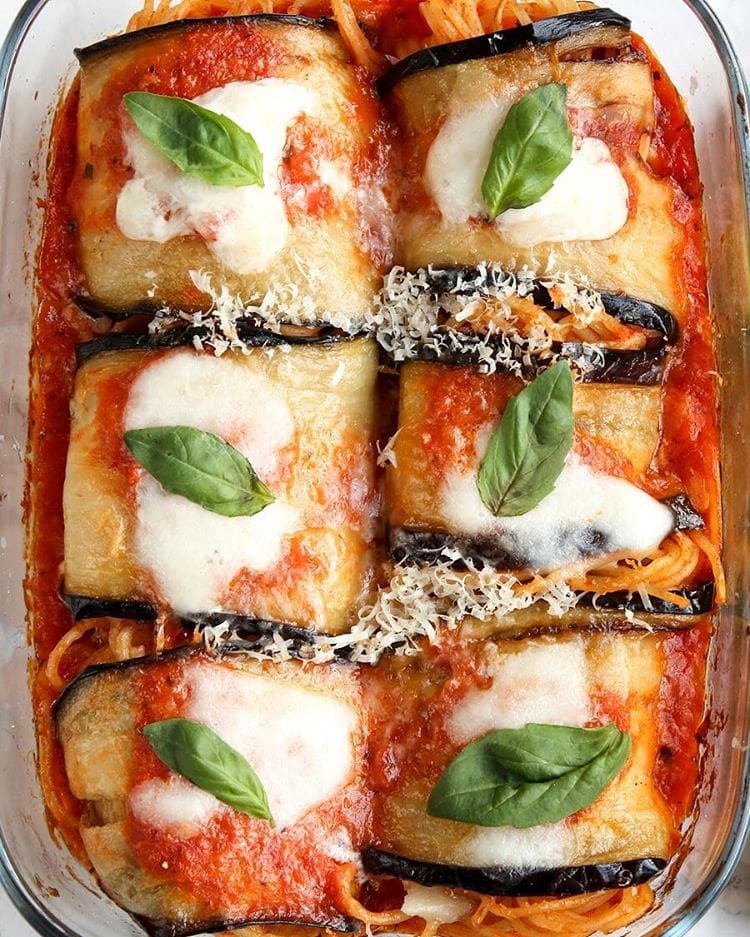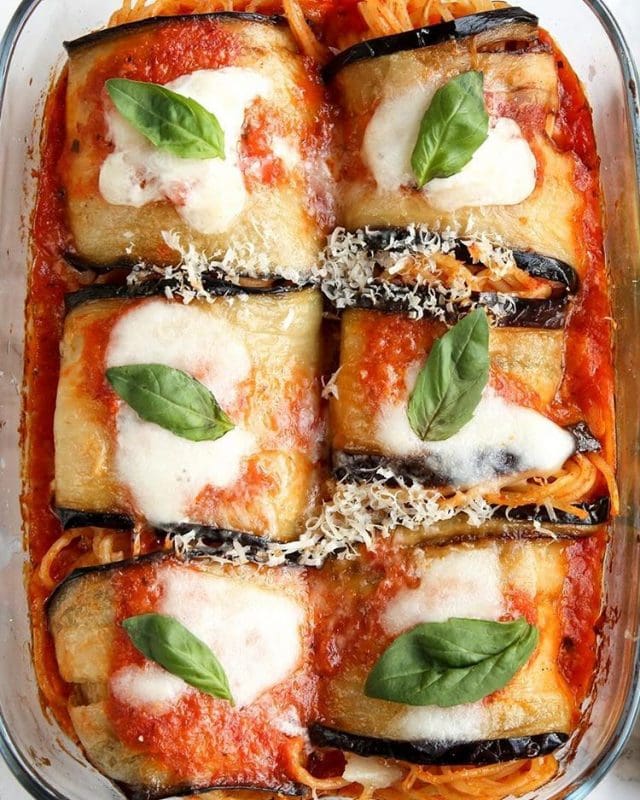 Use this classic tomato sauce as a base for vegetarian or meaty sauces. Serve it with meat, vegetarian or fish meatballs, lasagne or any other pasta you fancy!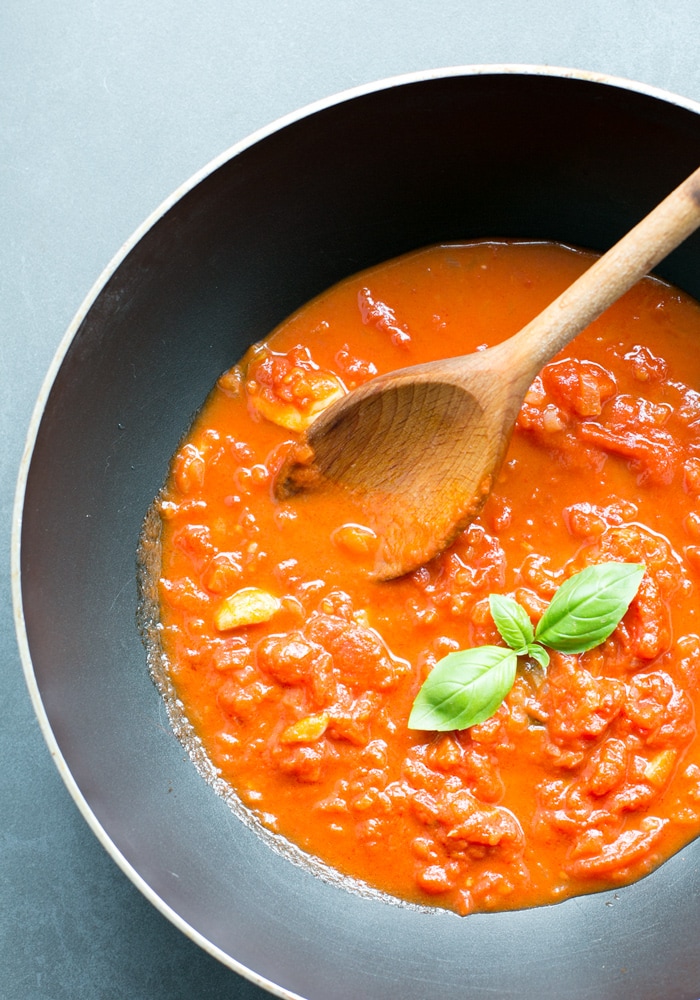 ***This recipe was originally posted in September 2017 and updated with more info***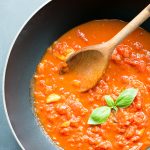 Print Recipe
Authentic Italian Tomato Sauce
This classic Italian tomato sauce is one of those basic recipes you need to have in your life. It's conveniently vegetarian, dairy-free, vegan and gluten-free, and a great base for so many Italian dishes!
Ingredients
1

medium red onion

2

cans

cans organic whole plum tomatoes

(400gr each)

1

garlic clove

gently crushed

4

fresh basil leaves

1

bay leave

or a pinch of sugar

2

tbsp

extra-virgin olive oil

sea salt and black pepper to taste
Instructions
Cut each whole canned tomato in half, remove seeds and juice, roughly chop into chunks, and set aside. Set aside any remaining sauce in the cans.

Heat a medium sauce pan with 2 tbsp of extra-virgin olive oil and the garlic over medium low heat.

Add in the onion, and gently stir-fry it together with the garlic for about 5 minutes. Cook until the onion is translucent and the garlic golden, then add in the tomatoes. Depending on your taste, discard the clove at this stage or when the sauce is cooked.

Add in a couple of basil leaves, season with salt, pepper and a pinch of sugar (or add a bay leave), and gently stir-fry for a further 5 mins.

Pour in the reserved juices from the cans, add in 1/3 cup (80 ml) of water, and cover the pan with a lid. Cook over low heat for about 15 minutes, stirring occasionally. Season with salt and pepper half-way through cooking time.

The sauce is ready when it reaches a nice creamy but still chunky texture, and has just the right balance of sweetness and savoury when you taste it.

Remove the sauce from the heat, and add in the remaining fresh basil leaves and serve with freshly cooked pasta.
Notes
How to store your Italian tomato sauce: place the tomato sauce in airtight sterilized glass jars in the fridge for up to 1 week, or freeze into portions in freezer-friendly containers for up to 6 weeks