Eggplant Spaghetti Sandwiches is a traditional vegetarian Sicilian dish. Easy to put together with simple Italian ingredients, it's a fun (and totally tasty) way to brighten up classic spaghetti with tomato sauce.
---
If you have never tasted eggplant spaghetti sandwiches before, you have no idea what you've been missing!
On the other hand, if you have had the chance to sample this delicious Italian dish, you know it's impossible to forget.
Doppiette di melanzane (which literally means eggplant doublets) is a traditional main course originally from Sicily, more specifically from the city I was born: Messina. This indulging Sunday dish is very similar to pasta alla Norma.
Despite the unusual name, eggplant spaghetti sandwiches are nowhere fussy or complicated.
They're ready in less than 1 hour and require only 7 main simple ingredients to make: spaghetti, tomato sauce, Parmesan and mozzarella cheese, basil, eggplant and vegetable oil.
The pasta is cooked al dente and mixed with the tomato sauce, then twisted into a nest and wrapped into a thin slice of fried eggplant.
A few mins in the oven and there you go, Sicilian goodness delivered straight to your table with little if no effort at all.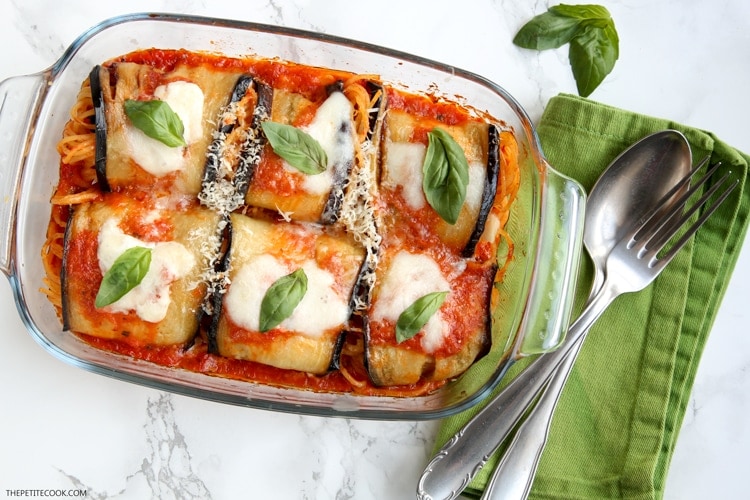 Eggplant Spaghetti sandwiches have always been one of my favourite things in the world since I was a little girl.
It was pretty ordinary for me to wake up on Sunday morning with the amazing smell of homemade tomato sauce coming out from the kitchen.
I loved this dish so much that I would always help my mum preparing it so that we could have lunch and enjoy these delicious eggplant spaghetti sandwiches as soon as possible!
How To Make Eggplant Spaghetti Sandwiches
Back to these mouthwatering eggplant spaghetti sandwiches. Eggplant *or aubergine in the UK* is, of course, the star of this dish, like in most of the Sicilian traditional recipes.
Usually, thin slices of eggplant are deep-fried until cooked-through but not overly crisp.
If you opt for this method, make sure you let the slices drain on kitchen paper to absorb as much oil as possible.
For a much healthier version, I usually brush the slices with olive oil and bake them instead of frying them.
Although not necessary, if you have a bit of extra time, I recommend you drain the eggplant slices from their water first.
Put the eggplant slices in a colander and sprinkle them with a little salt, cover with a plate then put a weight on top.
This process will make them sweat off their water so that you don't end up with soggy slices when baking/frying them.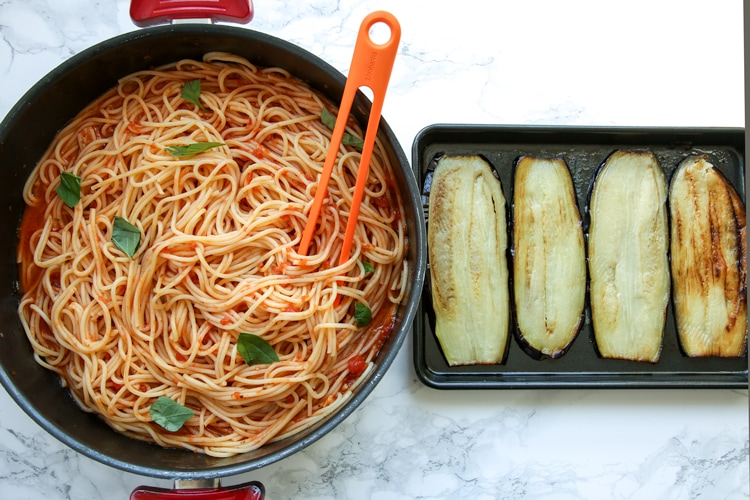 Once your eggplant slices are ready, it really doesn't get easier than that. Cook the spaghetti al dente, then mix them up with a freshly made tomato sauce.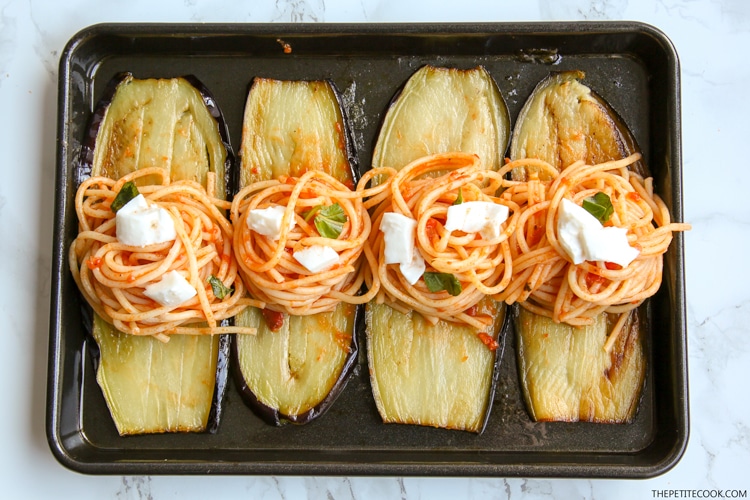 Arrange the cooked eggplant slices on a baking tray.
With the help of a fork and spoon, twist up a spoonful of spaghetti and arrange it on top of an eggplant slice.
Place a couple of cubes of mozzarella on top and fold the eggplant over the pasta, like a blanket.
Repeat the process until you finish all the eggplant slices.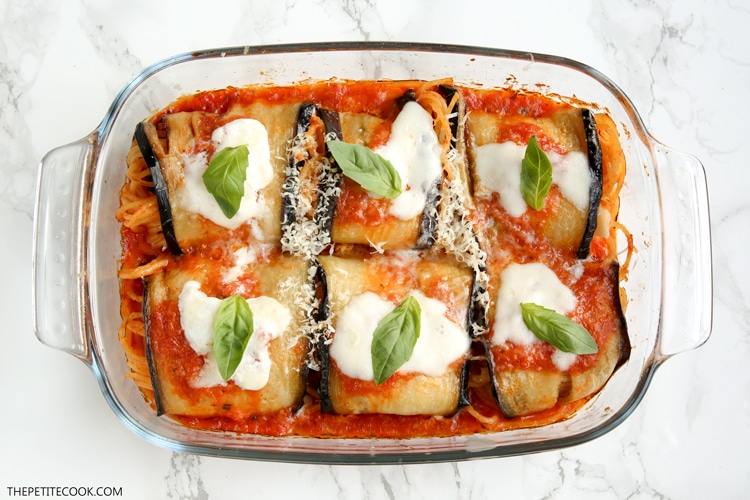 Spread a little tomato sauce over the bottom of a baking dish, then transfer the eggplant spaghetti sandwiches on top.
Add some extra sauce on top, sprinkle with mozzarella and Parmesan cheese and bake for 10 mins.
There you go, your delicious Eggplant Spaghetti Sandwiches are ready!
Grab as many doublets you manage and stuff them all up in your mouth! At least, that's how I like them ;).
These tasty eggplant spaghetti sandwiches never fail to impress guests, and will make a showstopping main to serve at your next dinner party!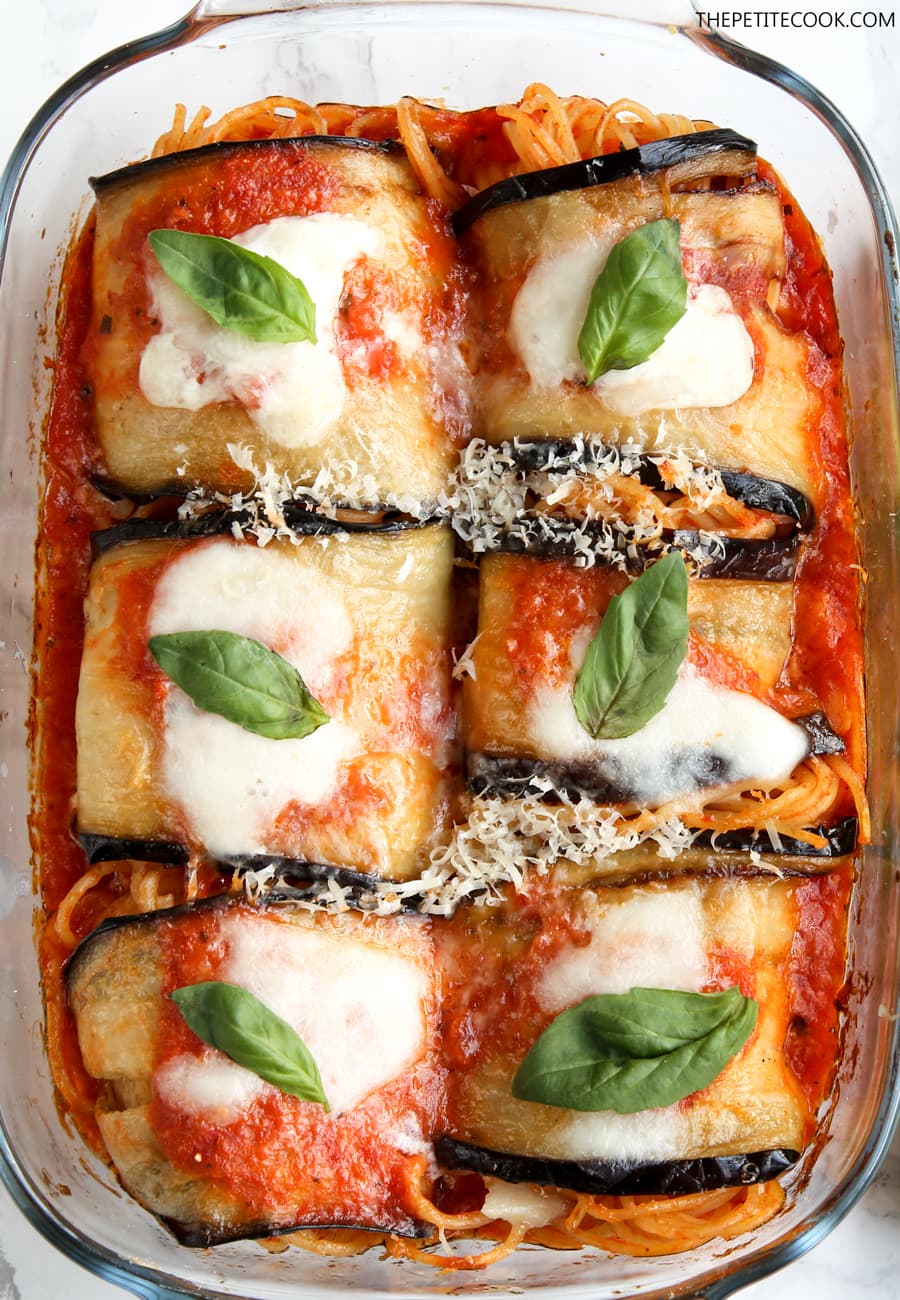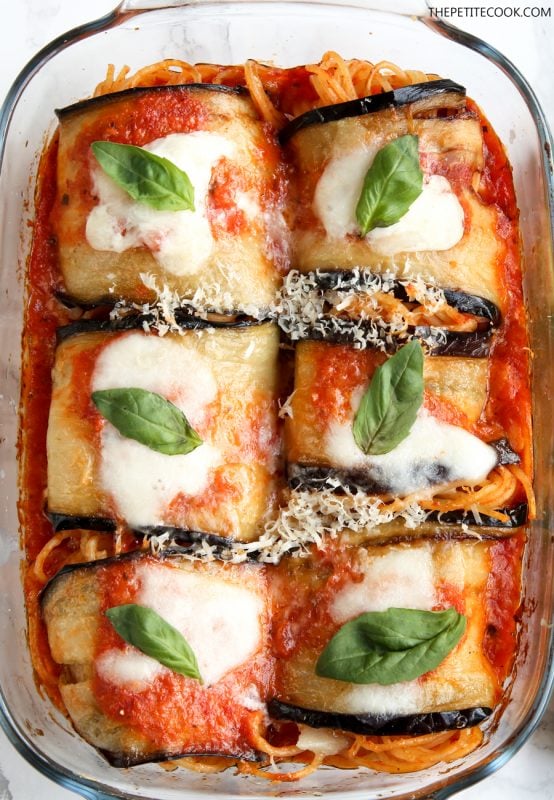 DID YOU MAKE THIS RECIPE?
Please let me know how you liked it! Leave a comment below and share a picture on Instagram with the hashtag #thepetitecook! Looking at your pictures always makes me smile *and super hungry*!
Recipe
Eggplant Spaghetti Sandwiches - Sicilian Doppiette di Melanzane
Eggplant Spaghetti Sandwiches are a must for Sunday lunch in Sicily. Simple to put together, it's a different, ( and totally tasty) way to present the classic spaghetti with tomato and fried eggplant.
Ingredients
350

g

spaghetti

,

(12 oz)

750

ml

homemade tomato sauce,

(3 cups)

a handful of fresh basil leaves

,

roughly chopped

2

medium eggplants

,

cut vertically into slices

vegetable olive oil

,

for frying

1

mozzarella

,

drained and finely cubed

60

g

parmesan cheese

,

(½ cup)

sea salt and black pepper
Instructions
Preheat the oven at 200 C / 400 F degrees.

In a pan of lightly salt boiling water cook the spaghetti al dente, 3-4 minutes before the time indicated by the box. Drain and transfer into a large bowl.

Pour in ⅔ of the tomato sauce, a bunch of fresh basil and mix with spaghetti until combined.

Put plenty of oil in a pan over medium heat. When hot enough, fry the eggplant slices in batches ( do not overcrowd the pan), until golden but not overly crisp, about 5 minutes.

Drain the eggplant slices on kitchen paper and set aside.

Spread a little tomato sauce over the base of a baking dish. Arrange a forkful of spaghetti over a slice of eggplant, sprinkle with mozzarella and fold it as a blanket. Transfer the "sandwich" into the baking dish and repeat with remaining slices.

Pour the remaining sauce over the top of your eggplant sandwiches, sprinkle with cheese and remaining mozzarella.

Bake in the oven for 10 mins, until crispy.

Season with freshly ground black pepper, decorate with basil leaves and serve immediately!
The information shown is an estimate provided by an online nutrition calculator. It should not be considered a substitute for a professional nutritionist's advice.
More Sicilian Recipes To Try:
If you love Sicilian cuisine as much as I do, you may like to check these other vibrant Sicilian recipes on The Petite Cook:
*This post was originally published in May 2016 and updated with new info in 2019*