These hearty Vegetarian Aubergine Meatballs with Feta Cheese are packed with Mediterranean flavour. Ready in just 30 min, they make an impressive, tasty meal and require only few simple fresh ingredients!
---
These tasty vegetarian aubergine meatballs are fork tender and have an irresistible texture that flakes off in the mouth. Loaded with fresh vibrant flavour, they make a great starter/main course on their own, or with some homemade tomato sauce, and are just as great tossed with pasta or in a sandwich.
Making these delicious aubergine meatballs is such a breeze. Once you've roasted your aubergine, it takes less than 30 min to put these meatballs together.
All you need is 8 simple ingredients: roasted aubergine (eggplant), free-range egg whites, whole wheat/plain/gluten-free or panko breadcrumbs, lemon zest, pine nuts, fresh basil leaves, and of course Greek feta cheese.
The recipe couldn't be easier. All you have to do is mixing all ingredients, divide the mixture into a balls, and then cook them in a pan with a splash of olive oil. For lighter alternative, bake them in the oven until crispy and golden-brown. Finally, you can serve them plain, *careful they're totally addicting*, with fresh marinara sauce or Italian tomato sauce, as I did.
VIDEO: How To Make Aubergine Meatballs
This fusion meatballs recipe was inspired by a recent collaboration with Ancestry, which already brought to you this gorgeous Flourless Orange Cake.
AncestryDNA is a cutting edge DNA testing service that utilises some of the latest technology to help you discover your family history, going back as far as 1000s years ago.
If you have read my previous post, you may know this already, but for all new readers, here's my DNA-testing experience. It turns out I am 74% Italian-Greek, 17% Middle Eastern heritage, a 5% Caucasus and a 4% European Jewish origin.
What a surprising result! I would have never guessed I had Middle Eastern heritage, and I'm really proud to be 100% Mediterranean, as it really reflects who I am.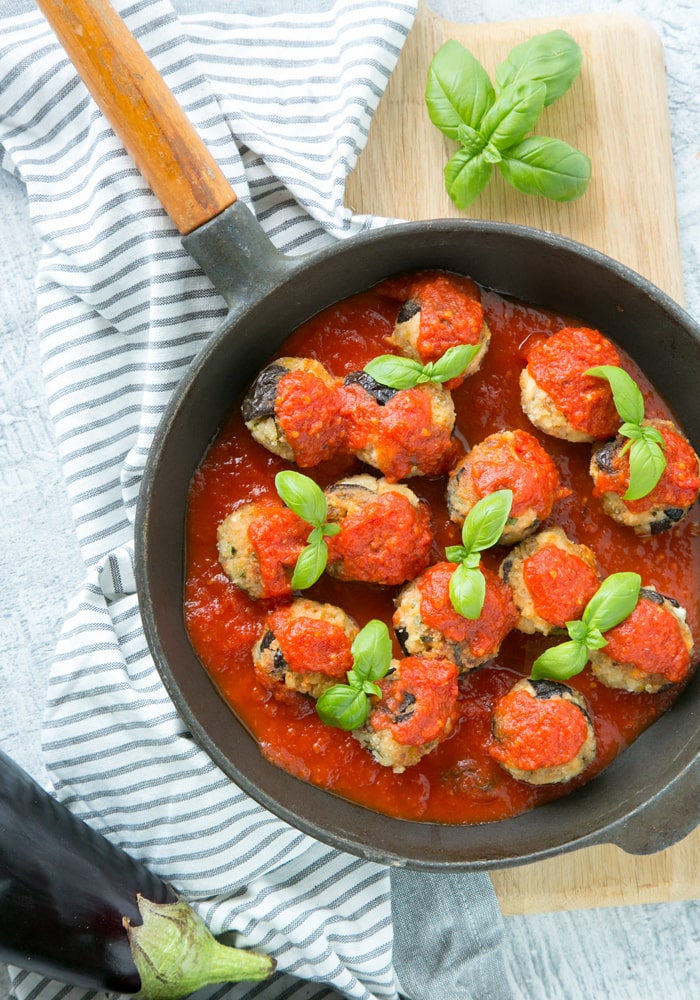 My DNA results inspired me to combine some of my favourite Mediterranean flavours. So I recreated a typical Italian recipe I grew up with, my grandma's popular eggplant meatballs, and fused in some staple ingredients in Greek cuisine, such as feta cheese and lemon zest.
Eggplant, feta, lemon, tomatoes are also ingredients you can easily find in Middle Eastern dishes, so these tasty Aubergine Meatballs with Feta Cheese really bring together my DNA heritage.
This recipe, together with loads of lovely more submitted by other foodies who have got their Ancestry DNA results, are all available in the free 'DNA Dining' e-recipe book . Featuring a collection of ethnicity-inspired fusion dishes designed by YOU that showcase the diversity and creativity of cooks across the UK, this unique e-book brings together flavours from around the globe in a celebration of amazing food inspired by your heritage and ethnicity.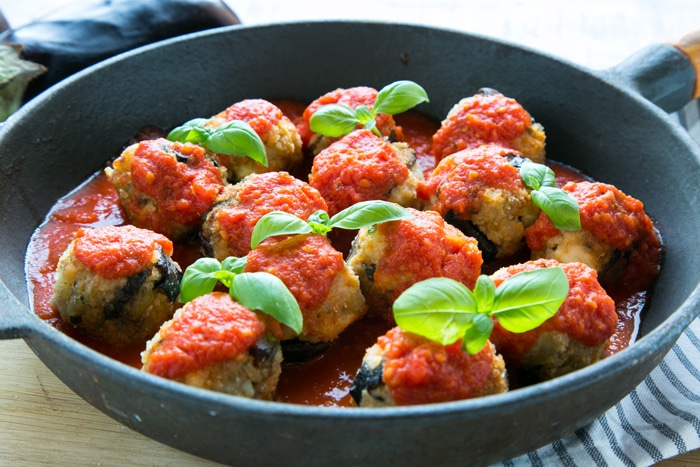 Now, let's focus a bit more on these super-tasty aubergine meatballs! The recipe is easy-to-follow, totally fuss-free, and will easily feed a large crowd, making the perfect meal for busy week-nights or get-togethers alike.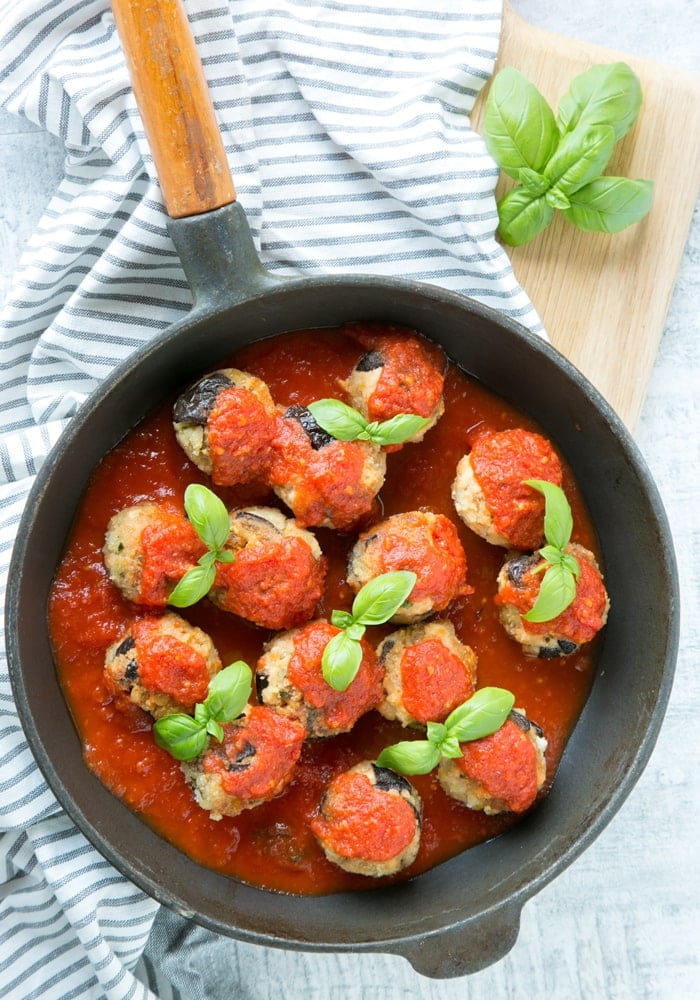 I served these vegetarian aubergine meatballs with a classic Italian tomato sauce, but they can also be served as finger food with your favourite spicy dipping sauce, or used as a filing to make an awesome lunch-box sandwich.
However you serve them, these aubergine meatballs are guaranteed to be a hit at the dinner table!
DID YOU MAKE THIS RECIPE?
Please let me know how you liked it! Leave a comment below and share a picture on Instagram with the hashtag #thepetitecook! Looking at your pictures always makes me smile *and super hungry*!
**This post is sponsored by Ancestry™. I truly recommend this brand and I'm really proud to collaborate with their team. Thank you for supporting the brands that support The Petite Cook!**

Vegetarian Aubergine Meatballs with Feta Cheese
These hearty Vegetarian Aubergine Meatballs with Feta Cheese make an impressive, tasty meal and require only few simple fresh ingredients!
Ingredients
For the roasted aubergine:
2 large purple aubergines
a glug of extra-virgin olive oil
sea salt and black pepper
For the meatballs:
2 tbsp pine nuts
zest of 1 lemon
100gr feta cheese, finely chopped
140gr seasoned panko or Italian breadcrumbs
2 large free-range egg whites
1 tbsp fresh basil, chopped
4 tbsp light olive oil
400gr fresh tomato marinara sauce or Italian tomato sauce, to serve (optional)
Instructions
Heat oven to 350°F/ 180°C and arrange a baking rack in the middle shelf.
Cut the aubergines into small cubes and arrange evenly on a baking sheet covered with parchment paper. Drizzle with olive oil and salt and pepper to taste, and bake for 30 minutes or until tender.
Remove the aubergine from the oven and allow to cool for 5 min.
in a large bowl, place roasted aubergine, pine nuts, lemon zest, breadcrumbs, egg whites, basil, and season with salt and pepper to taste.
Mix all ingredients until fully combined, if the mixture is too wet add a little more breadcrumbs until reaching a dense consistency.
Roll into 10-12 meatballs, about 1-inch diameter, then roll each ball into extra breadcrumbs to seal them evenly.
Heat the olive oil in a large frying pan over medium-low heat.
Cook the meatballs for 2 minutes, then using a spoon, flip and cook on the side for an extra 2-3 minutes.
When the meatballs are nicely crispy and golden-brown, remove from the pan and arrange on a serving plate covered with kitchen paper, to absorb excess oil.
Serve on their own, with fresh marinara sauce or Italian tomato sauce.
Store in an airtight container in the fridge for up to 3 days.