All-time favorite American Carrot cake – Easter is the perfect time to indulge yourself into the most delicious cake around.
If you had never tried carrot cake before, you're just one taste away from falling in love with the best cake ever invented. Carrot cake is the only popular cake that uses a vegetable as its main ingredient and proudly tells the world about it.
This cake is incredibly moist and rich – carrots, walnuts and almonds give the crunchy texture that makes this cake a real pleasure to eat. You only need few simple ingredients, just the way proper cakes are made.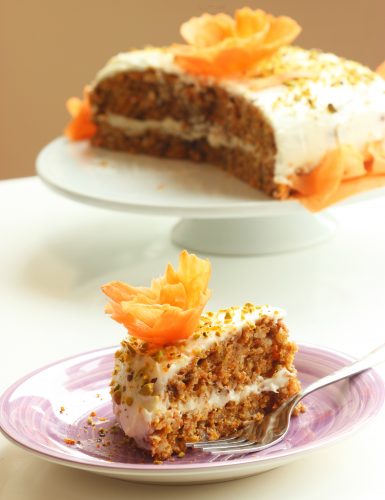 It's packed with healthy good stuff, the nuts and veggie provide a great source of antioxidants, vitamins and proteins. And then, let's not forget about the cream. The orange & mascarpone cream is the perfect match for your carrot cake, I promise, they love each other as much as you will love both.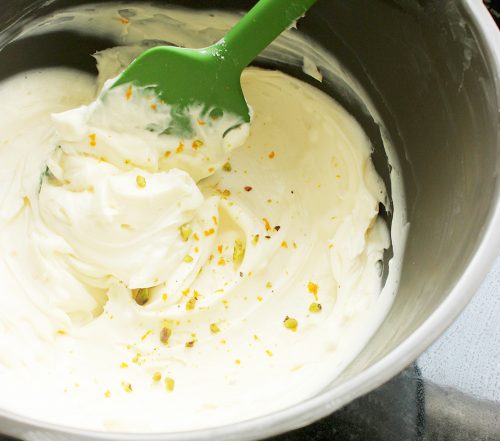 Different carrot cake recipes call for soft cream cheese, general name for what way-too-often leads to the industrial processed supermarket option. I try to stick either to fresh ricotta or mascarpone cheese, depending if I want a healthier or richer cream. This time, to balance all the healthy goodness packed in the cake already, I opted for a rich and indulgent mascarpone cream. The secret for a showstopper mascarpone cream is to keep it as light as you can. Add the zest of an orange for extra zing, and replace sugar with agave nectar, et-voila you have a cream made to impress. Use it for Tiramisu cupcakes frosting, cakes fillings, cheesecakes – or just grab a spoon and eat as much a you can.
If you're craving something sweet, a slice of this fabulous cake will make up for a yummy and totally guilt-free breakfast /snack /dessert /anytime-really. It's packed with healthy good stuff, from antioxidants to vitamins and proteins, so it's a fantastic treat for every moment of the day.
Another reason to love this carrot cake – but I'm sure you're pretty convinced by now- is that it's super easy to put together. Follow the 4 simply steps and before you know it, you'll be there indulging into a big slice and making your own peace with the world.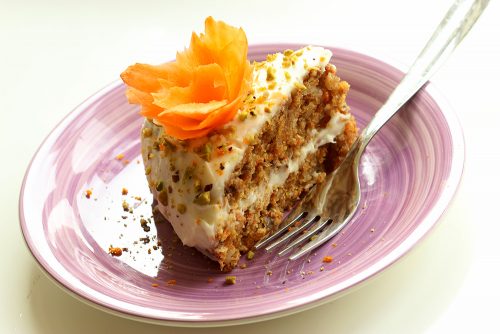 American Carrot Cake with Orange Mascarpone Cream
If you had never tried carrot cake before, you're just one taste away from falling in love with the best cake ever invented.
Ingredients
Wet ingredients;
130g/ ⅔ cup muscovado sugar
120ml/ 4oz sunflower seed oil
4 medium free-range eggs
juice and grated zest of one orange
half pod vanilla seeds
Dry ingredients:
240g / 2 cups whole wheat flour
2 tsp baking powder
3 pinches of sea salt
1 pinch grated nutmeg
1 tsp ground cinnamon
-
300gr/ 10oz finely chopped carrots
3 tbsp chopped walnuts
3 tbsp chopped almonds
For the mascarpone cream:
250gr/ 8oz italian mascarpone cheese
100gr/3.5oz confectioner's sugar
zest and juice of ½ orange
Instructions
Preheat oven to 180 ° C.
In a large bowl, mix all the wet ingredients.
Separately, mix together the dry ingredients.
Gently fold the dry ingredients into the wet ones. Mix until fully combined, being careful not to overwork the mixture.
Finally add chopped carrots and nuts. Butter the cake pan and sprinkle with sugar, pour the mixture in, making sure that it does not exceed ? of the mold.
Bake and cook for 40 minutes.
In the meantime, whisk the mascarpone cheese with sugar, until you to get a smooth and rich cream. Add freshly grated orange zest and juice and mix until just combined. Refrigerate until ready to use.
When the cake is cooked, remove from the pan and let cool.
Cut the cake in half horizontally, and spread the cream on the surface. You can cover the cake entirely with cream or just the top of it.
Sprinkle with crumbled pistachio nuts and carrot flakes and serve immediately, or store in the fridge until you're ready to serve.