Whether you're vegetarian or not, this delicious and awesomely cheeseless Cauliflower Mac and Cheese is a great way to celebrate fall. Made with super simple ingredients, this is secretly healthy comfort food at the very best!
---
For an Italian like me, there's nothing more comforting than a rich, heart-warming pasta bake. This Cauliflower Mac and Cheese is just the perfect comfort food to enjoy during the cold season.
This magic pasta bake is a favourite in our house. It's packed with healthy veggie goodness, and it has way LESS fat and calories than classic mac 'n' cheese, but the taste is not compromised at all. It's super tasty, comforting and totally irresistible!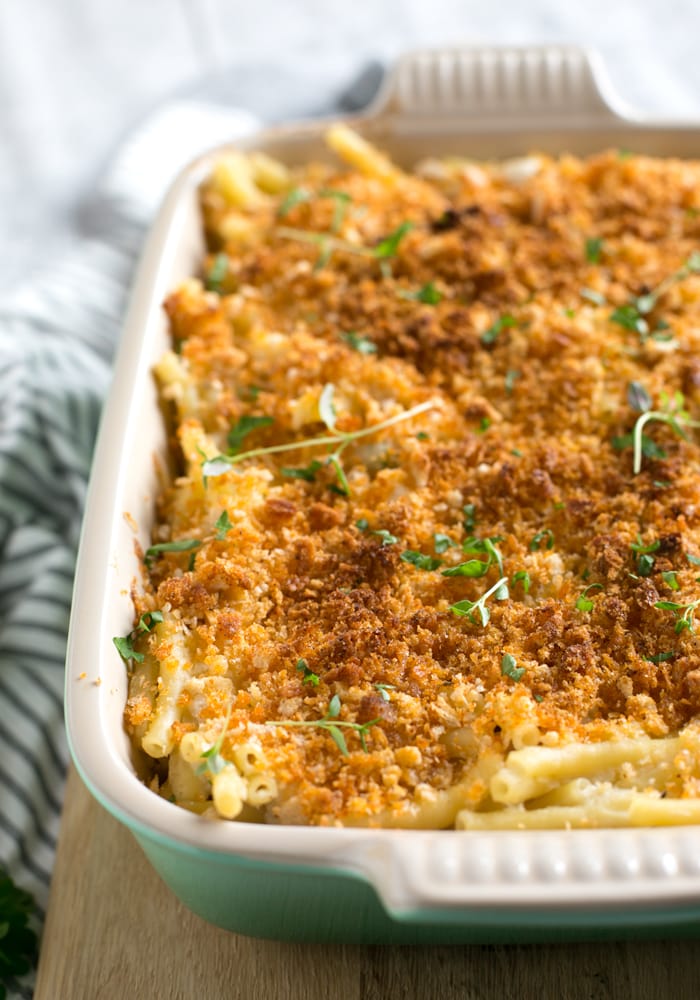 Crispy on top, and oozing with creamy and gooey cauliflower alfredo sauce, this cauliflower mac and cheese is super easy to make and only requires very simple ingredients: macaroni pasta (or your favourite short pasta shape), cauliflower, milk, panko breadcrumbs, few simple spices and herbs, and extra virgin olive oil.
The secretly healthy cauliflower alfredo sauce is SO rich and velvety, TRUST ME, you won't miss the cheese in this tasty pasta bake.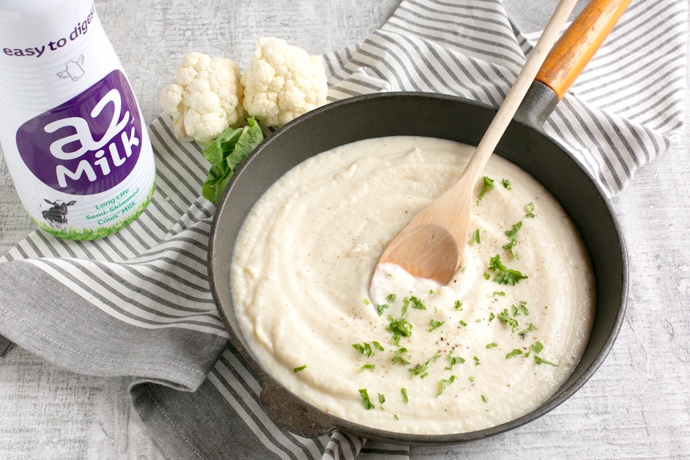 To reach that perfect, creamy and velvety texture, I've added a bit of semi-skimmed a2 Milk™ into the sauce. I adore the new long life version of my favourite a2 Milk™, because is super handy to stock up in your pantry and store definitely for longer than fresh milk. Plus, its naturally easy to digest, so if you have experienced discomfort by drinking normal milk, you should definitely give a2 Milk™ a try.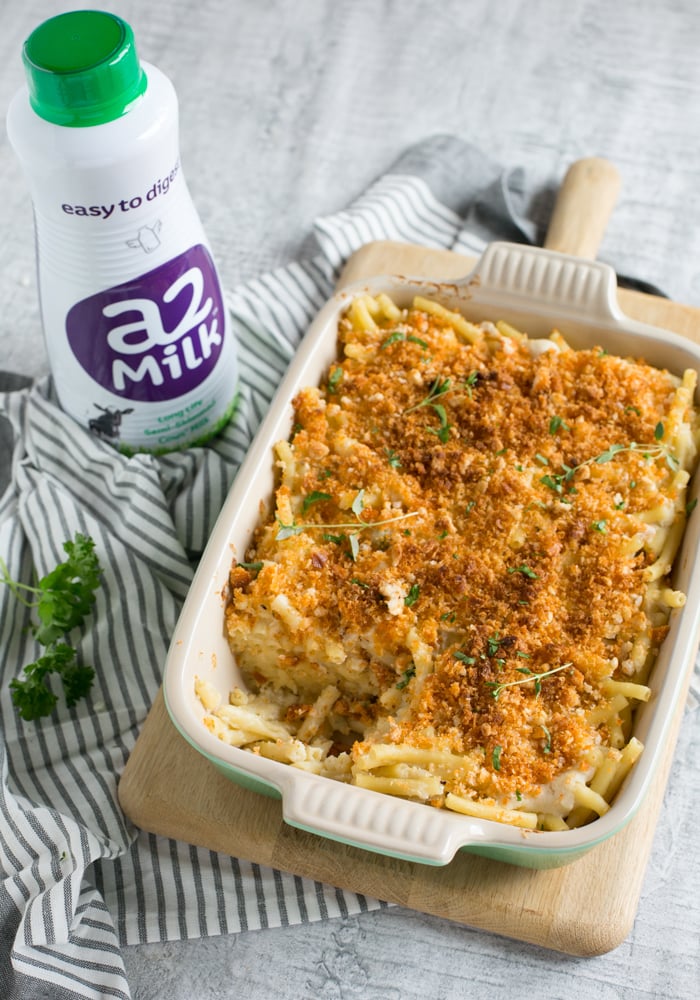 You can find my recipe for the Cauliflower Alfredo Sauce here. It's super easy to make and takes less than 20 minutes – Plus, you can make a large batch of it and stock your freezer up to use whenever you like.
Once you've got the sauce ready, the pasta comes together in a blink. Just cook the macaroni until al dente, mix them up with the sauce, layer on a large baking dish and top your pasta with crunchy panko breadcrumbs. Bake in the oven for about 10 minutes, and you're good to go and ready to enjoy this heart-warming, epic pasta dish.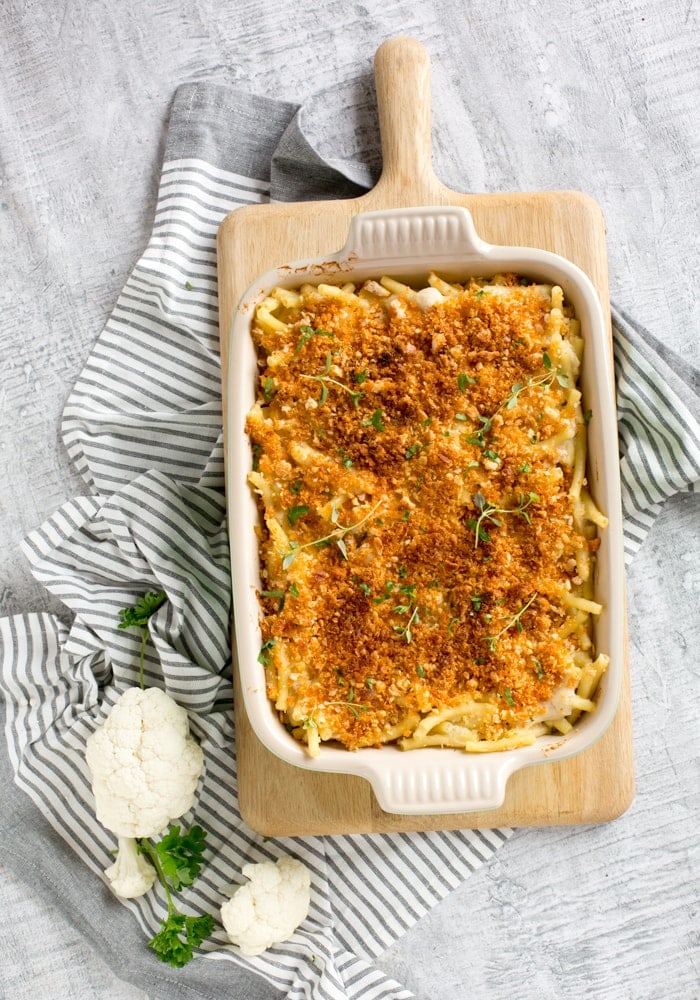 This comforting Cauliflower Mac and Cheese has all the flavour of the classic version, but it's awesomely cheese-free, lighter and packed with extra veggie goodness!
DID YOU MAKE THIS RECIPE?
Please let me know how you liked it! Leave a comment below and share a picture on Instagram with the hashtag #thepetitecook! Looking at your pictures always makes me smile *and super hungry*!
**This post is sponsored by a2 Milk™. I truly recommend this brand and I'm really proud to collaborate with their team. Thank you for supporting the brands that support The Petite Cook!**

Cheeseless Cauliflower Mac and Cheese
This comforting Cauliflower Mac and Cheese has all the flavour of the classic version, but it's awesomely cheese-free, lighter and packed with extra veggie goodness!
Ingredients
350 gr - 12oz macaroni pasta (or other short pasta)
250 ml - 1 cup Cauliflower Alfredo Sauce
90 gr - 1 cup panko breadcrumbs
1 tsp sweet paprika
¼ tsp nutmeg
1 tsp fresh thyme leaves
1 tsp fresh oregano leaves (optional)
1 tsp chopped garlic
1 tbsp extra virgin olive oil, plus extra as needed
Instructions
Preheat oven to 180C/375F.
In a large pot of lightly salted boiling water cook the pasta al dente, about 3 mins before cooking time.
Drain pasta al dente and transfer back in the pot. Pour in the warm Alfredo cauliflower sauce and mix until combined.
In a small bowl combine together panko breadcrumbs, paprika, nutmeg, thyme and oregano leaves and chopped garlic. Season with 1 tbsp olive oil, salt and white pepper to taste and mix all ingredients together.
Brush a medium baking dish with olive oil, then add in the pasta and distribute evenly. Scatter the seasoned breadcrumbs all over the top and drizzle with a little more olive oil.
Bake until crispy and golden on top, about 10 minutes.
Serve immediately, store leftovers in an airtight container and refrigerate for up to 3 days.