This Crustless Salmon and Spinach Quiche makes a quick, comforting no-fuss meal – Ready in 30 min, it's a great gluten-free breakfast, lunch or dinner option.
What I love about crustless quiches is that they easily come together in just under 30 mins, and make a great gluten-free option for a tasty breakfast, or for a quick-fix lunch paired with a salad.
One of my favorite ways to enjoy it, is over brunch during the weekend. But it would also make a nice starter or side for any week-night meal.
The possibilities for quiche fillings are endless. For this spinach and salmon quiche I've used 10 very simple ingredients including:  fresh free-range eggs, crème fraîche, milk, spinach leaves, organic smoked salmon, parmesan, onion and fresh aromatic herbs such as basil and thyme.
If you want to jazz up the recipe, add some other veggies to the quiche, pumpkin would make a great addition this time of the year. Play with the cheeses too, I like to stick to one or two, I usually go for grated Parmesan or cheddar, soft goat cheese or crumbled feta. They're all easy to find, with flavors that work well in a quiche.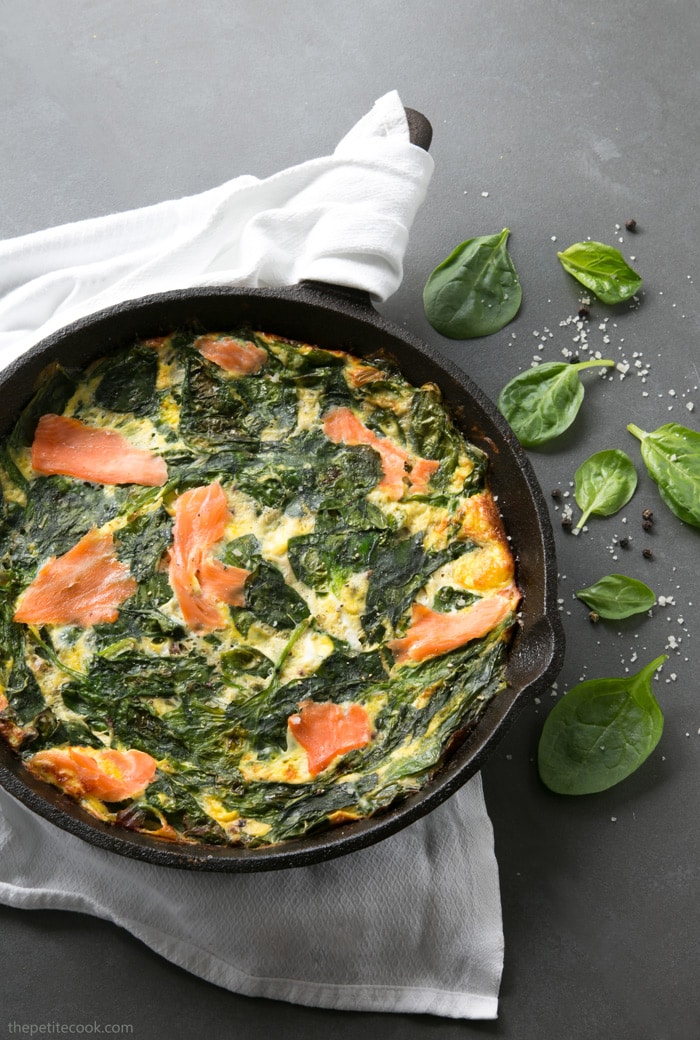 Feeling indulgent? Go on and add a crust over the base. This simple short-bread is my go-to recipe when I'm feelin' all crusty about it.
If you're up for the simple things like me, all you have to do is mixing all the ingredients together. Pour them over a hot cast iron skillet and finish off the quiche in the oven.
One bowl, one skillet, no mess, and no scary flip-overs.
[easy-tweet tweet="Crustless Spinach and Salmon Quiche -One skillet, ready in 30 min, #glutenfree" user="Petitecook"]
I absolutely love making this quiche, especially because I buy tons of fresh spinach, and I often have leftover smoked salmon in the fridge.
These two guys work very well together for all kind of recipes. One of my favorites? These creamy spinach and salmon spaghetti – delicious, rich and ready in a snap too!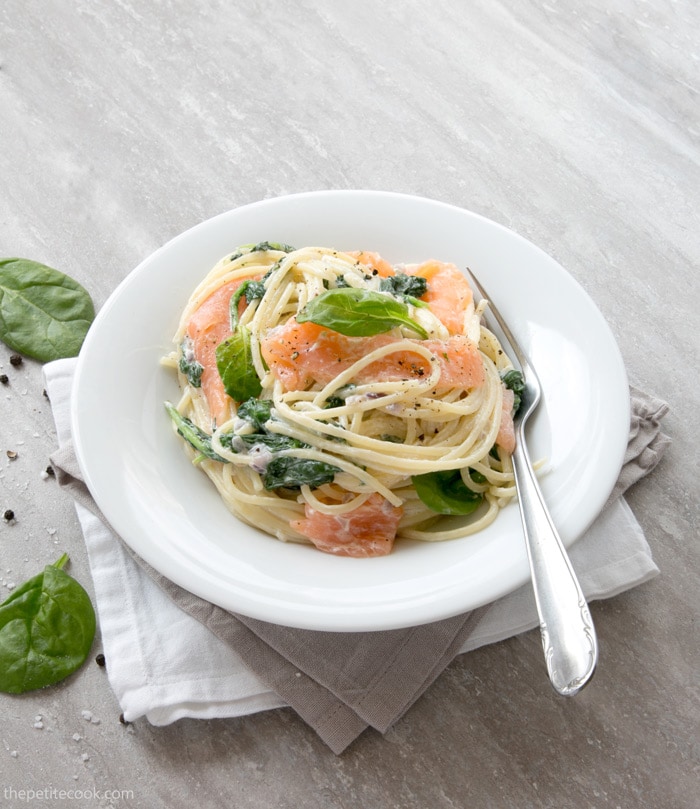 Whichever way you go, both these recipes will easily become a family favorite. I mean, what's not to love? They're so quick, easy and packed with flavor, you'll want to make them over and over again.
Did you make this recipe?
Please let me know how you liked it! Leave a comment below and share a picture on Instagram with the hashtag #thepetitecook! Looking at your pictures always makes me smile *and super hungry*!

Crustless Salmon and Spinach Quiche
This Crustless Salmon and Spinach Quiche makes a quick, comforting no-fuss meal - Ready in 30 min, it's a great gluten-free breakfast, lunch or dinner option.
Ingredients
1 tsp butter
1 tsbp extra virgin olive oil
1 red onion, thinly sliced
1 garlic clove, very thinly sliced
6 free-range large eggs
150gr crème fraîche
a splash of milk
2 tbsp parmesan cheese, grated
120gr organic spinach leaves
100gr organic smoked salmon, chopped
sea salt and black pepper, to taste
Instructions
Preheat the oven to 180°C.
Melt the butter in a cast iron or ovenproof skillet over medium heat. Add the extra virgin olive oil, followed by the sliced onions and garlic. Cook the onions over medium-low heat until golden-brown, and starting to caramelize. Add a splash of water if you see they're browning too much.
Remove the pan from the heat and distribute evenly the onions across the bottom.
In a bowl, with the help of a fork beat the eggs lightly with the milk, crème fraîche, parmesan cheese, ½ teaspoon of sea salt, and ½ teaspoon of pepper (or to taste). Fold in the spinach leaves and chopped salmon and lightly combine all the ingredients.
Pour the mixture over the onions, distributing evenly the spinach and salmon.
Transfer the crustless quiche to the oven and bake for 20-30 minutes. The quiche will be fully cooked when both edges and surface are lightly brown.
Allow the quiche to cool for about 10 minutes, then slice into wedges and serve.