Crispy, delicious Salmon & Pea Baked Arancini make a great lighter alternative to the traditional Sicilian fried rice balls- Super easy to make and loaded with flavour!
---
There are a lot of good reason to fall in love with these salmon & pea baked arancini.
First of all, they're extremely easy to make, plus they're loaded with nutrient-packed ingredients, and last but not least, they're baked instead of fried.
It's difficult to reach the same crispy deliciousness you get when biting a traditional fried arancini. But, trust me on this and keep scrolling down.
I've got a secret (well, not so secret now!) magic coating mix that will guarantee crunchy awesome baked arancini EVERY SINGLE TIME.
You can make a BIG batch of these salmon & pea baked arancini ready in just 45 minutes (plus a bit of extra time for cooling down the rice).
The ingredients list is short, and made of simple ingredients such as: fresh salmon, frozen peas, risotto rice (carnaroli or vialone nano), panko breadcrumbs, eggs, onion, lemon zest, saffron and thyme.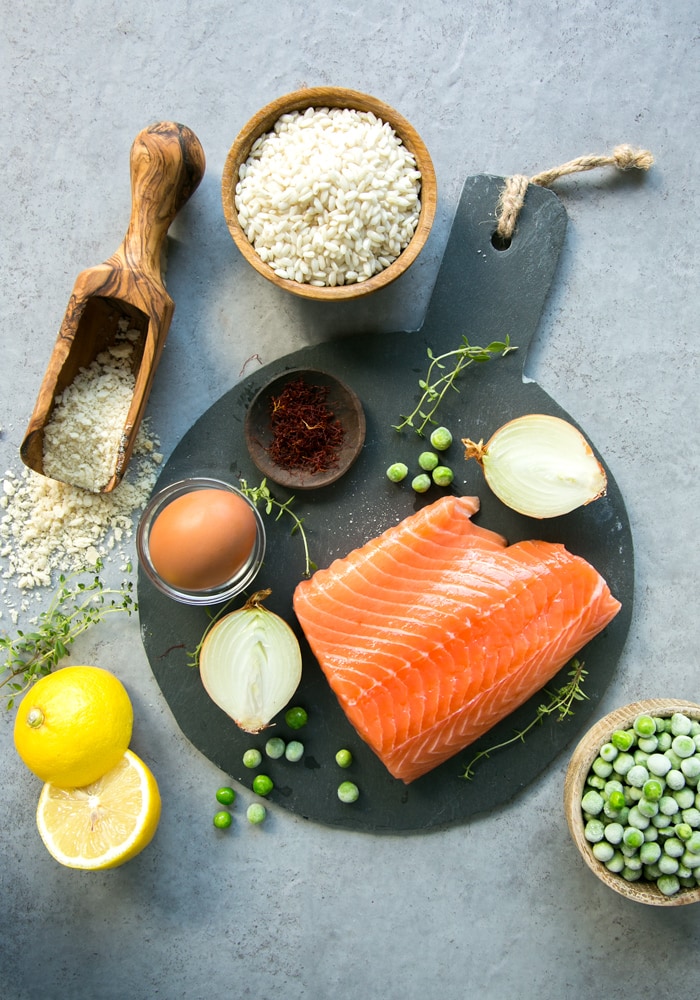 They also freeze beautifully, so you can stock up your freezer and have them ready in a blink for a quick weeknight meal, or for when arancini-cravings happen. Being Sicilian, I crave them all the time!
How To Make Baked Arancini
There are two ways to prepare the rice for the arancini. The traditional recipe calls for boiled rice mixed with saffron, parmesan & butter (if your rice is sticky enough though, you can totally omit these), and sometimes egg. A quicker, modern way calls for leftover risotto, which makes things a lot quicker. If you go for the latter, go over to my salmon & asparagus risotto recipe and swap asparagus with peas (or use both!).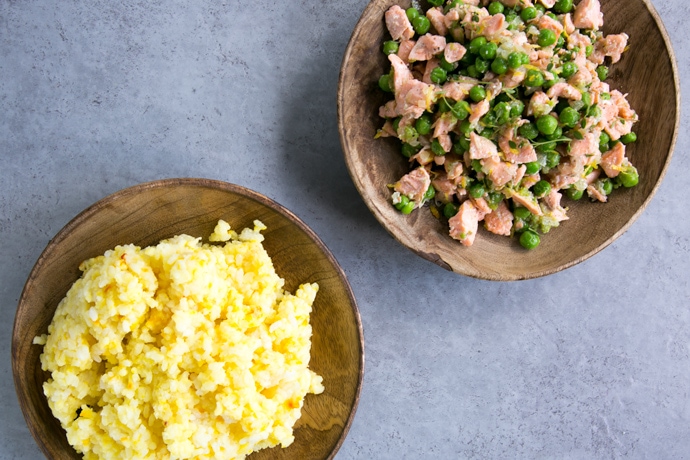 I opted for the traditional route here, and made my rice from scratch. It doesn't take long, but you need to cool it completely for a couple of hours, so my best tip is to prepare the rice the night before, so you have it all ready the next day.
The salmon & pea filling on the other hand, comes together pretty quickly. Give all the ingredients a quick stir-fry, and it's pretty much done.
Now that you've got the main ingredients for your baked arancini covered, it's time to get them together.
Start with a spoonful of the rice and place it into your hand. Arrange a spoonful of the salmon mixture into the center and wrap the risotto around it to seal completely.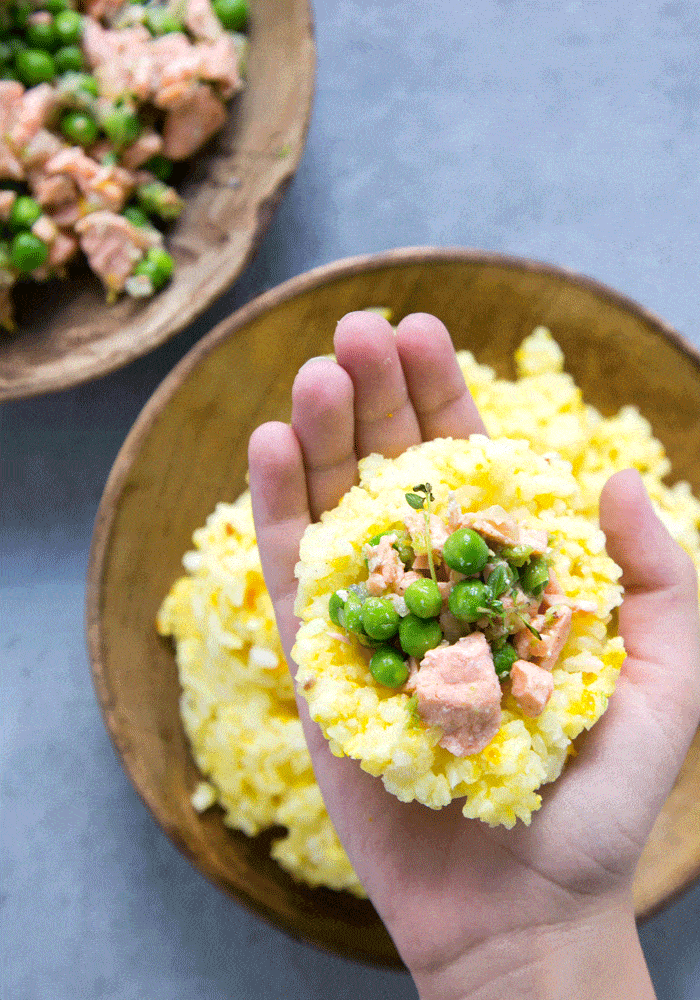 When making baked arancini, the coating you use is critical. To achieve the same crunchiness you get from the the fried version, I've come up with a special coating mix that makes these baked arancini just as crisp and delicious as deep fried.
The coating is made with just 2 simple ingredients: super crunchy panko breadcrumbs, and a little bit of Mazola pure corn oil.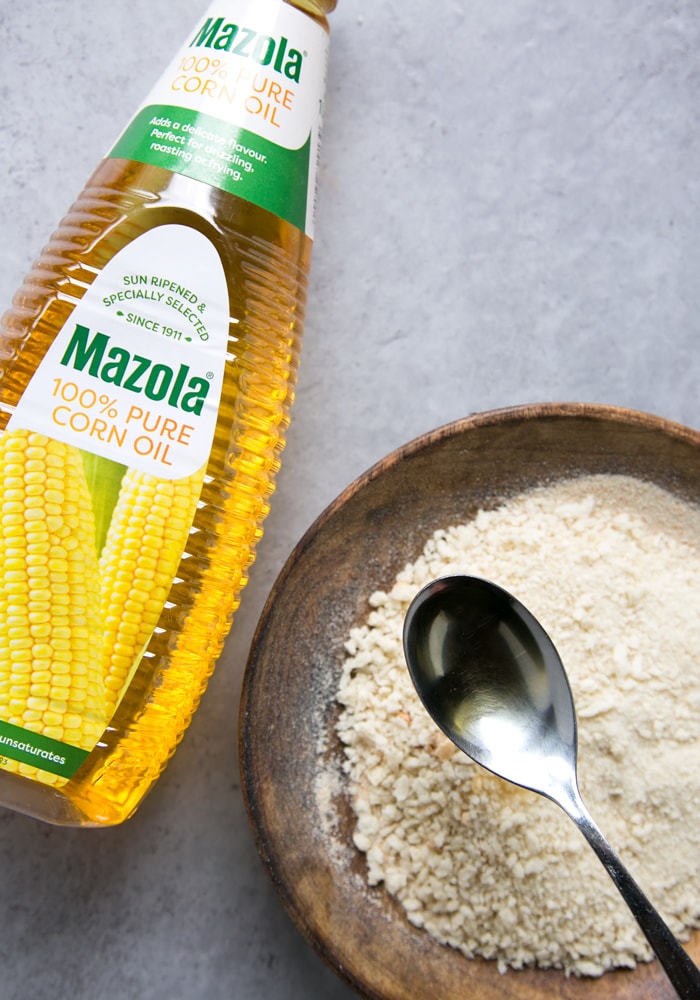 I'm delighted to partnering up with Mazola once again to bring you this incredible lighten up version of classic sicilian arancini.
Mazola is a leading corn and rapeseed oil brand with more than a century of heritage and experience. Here I've used Mazola 100% pure Corn Oil, which is only extracted at its peak time. It's rich in plant sterols, which have been proven to lower cholesterol, and is also a great source of healthy fatty acids!
It's absolutely perfect for oven-frying these arancini, as it recreates perfectly the crunchy texture you usually can only get by deep-frying.
And whilst you are here, check out Mazola current competition to win a fabulous FitBit! You have time until the 30.09.2018, make sure to check full competition terms here.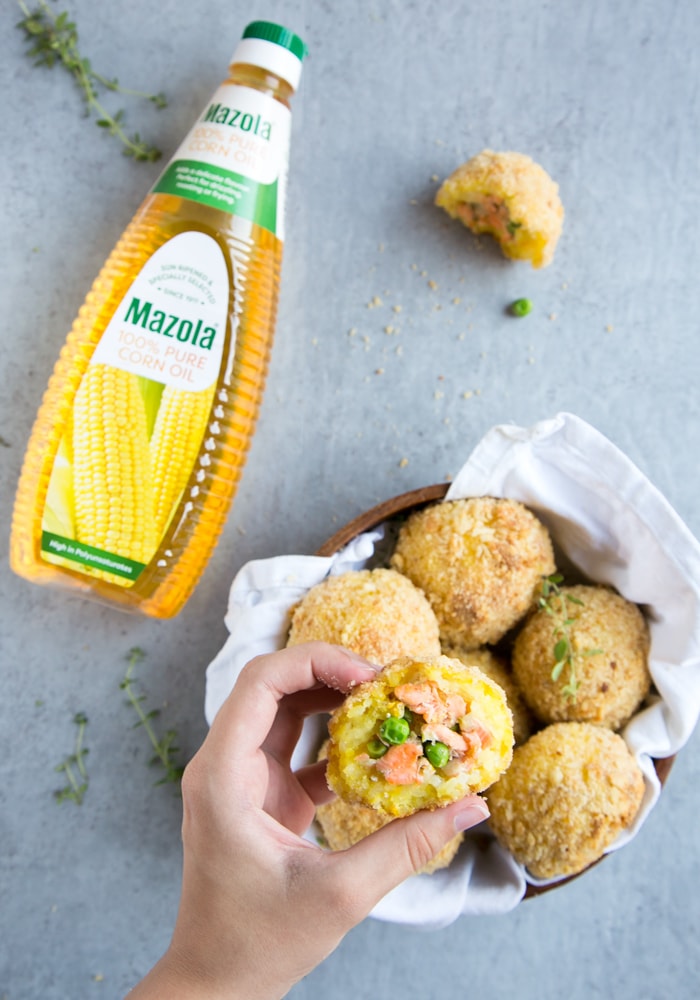 Now, moving back to the arancini, once the coating is ready, all you have to do is roll those arancini. Dip each rice ball first into whisked eggs, then roll them into the special coating until fully covered.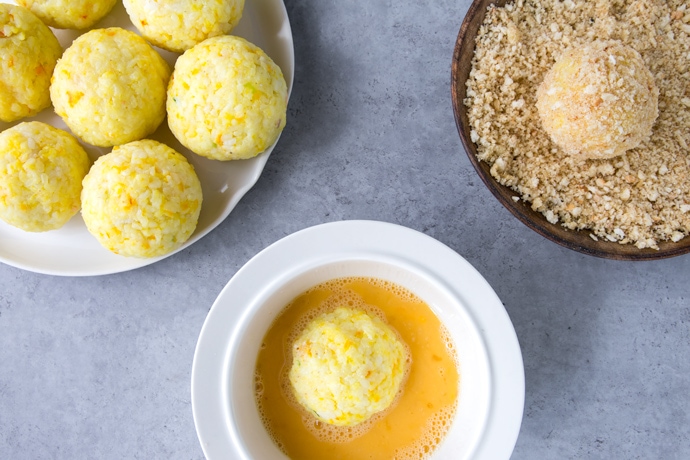 Place your prepared arancini in a baking tray and bake for about 15 minutes, until golden brown and super crispy. Serve them straight out from the oven, and get ready to bite in a super tasty golden ball of delicious goodness.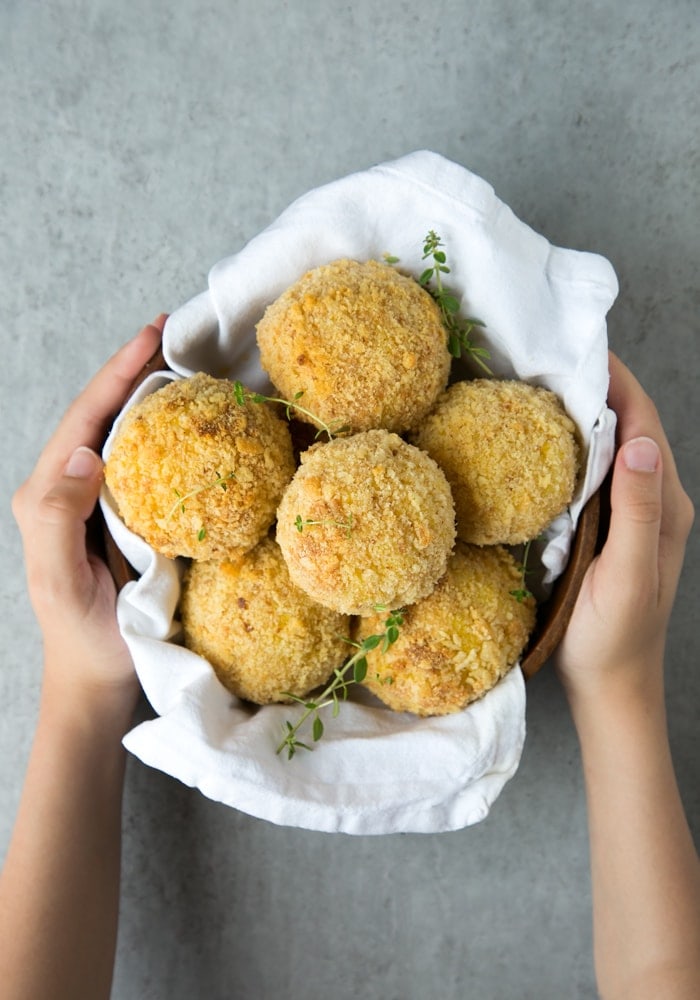 Sometimes, no matter what kind of filling you use, arancini tend to be a bit on the dry side. So, if you like, pair these salmon & pea baked arancini with a spicy lemon yogurt dip, or a classic marinara sauce.
You can also add a couple of mozzarella cubes into the filling. Honestly, I'm not a massive fan of the fish + cheese combo, but my family loves it, so I've added some fresh buffalo mozzarella in some of mine and they got rave reviews!
Did you make this recipe?
Please let me know how you liked it! Leave a comment below and share a picture on Instagram with the hashtag #thepetitecook! Looking at your pictures always makes me smile *and super hungry*!
**This post is sponsored by Mazola. Thank you for supporting the brands that support The Petite Cook!**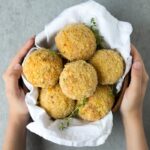 Print Recipe
Salmon & Pea Baked Arancini
Crispy, delicious Salmon & Pea Baked Arancini make a great lighter alternative to the traditional Sicilian fried rice balls- Super easy to make and loaded with flavour!
Ingredients
For the rice:
500

gr

carnaroli rice

1

big pinch of saffron

2

tbsp

of Parmesan cheese

finely grated (optional)

1

tbsp

of butter

optional

salt
For the filling:
1

tbsp

Mazola oil

1

small gold onion

finely minced

300

gr

10oz fresh salmon fillet, finely chopped

150

g/5½oz frozen petits pois

zest of ½ lemon

a handful of fresh thyme leaves

chopped

sea salt & black pepper
For the coating:
250

gr

panko breadcrumbs

5

tbsp

Mazola oil

2

large eggs

salt & black pepper
Instructions
For the rice: Bring a large pot of water to a boil. Add the rice and season with salt to taste. Cook until al dente, and towards the end of cooking time add the saffron.

Drain the rice and transfer into a large bowl. Stir in optional Parmesan cheese & butter, then cover with cling film and refrigerate for about one hour or until cooled completely. The rice should be compact and sticky to the touch.

For the filling: Heat 1 tablespoon of Mazola oil in a large pan over low heat. Add the onion and stir-fry for 2 minutes, or until soft and translucent. Then add chopped salmon and cook until no longer pink, about 2 minutes.

Add the lemon zest and thyme leaves, then season with salt and pepper to taste and remove from the heat.

For the arancini: Preheat oven to 180C. Line a baking tray with non-stick baking paper.

To make the arancini, scoop a tablespoon of rice into your hand. Place 1 tablespoon of the salmon mixture into the centre and wrap the risotto around it to seal completely. Repeat with the remaining rice and filling.

In a medium bowl, mix together the breadcrumbs with Mazola oil until well combined, your coating mix should be lightly wet, add a bit more oil if necessary, then season with salt and pepper to taste.In another bowl, lightly whisk the eggs.

Dip each arancini ball first into the egg mixture, then roll into the coating mix, gently pressing to coat. Repeat with remaining balls.

Arrange the arancini onto the prepared baking tray and bake in oven for 20 minutes or until crisp and golden. Serve immediately.