How To Put Together An Elegant and Easy Christmas Table - An easy, chic and cost-effective table setting ready in minutes!
Today, I am putting together my top tips on how you can put together an elegant and easy Christmas table that will wow your guests!
The theme of my Christmas dinner table is rustic but elegant, with nice gold touches here and there. This year, I want to focus more on my Christmas menu, without putting too much effort into the table setting.
So, I came up with a super simple setting that doesn't break the bank, but still looks chic and pretty.
To make my Christmas table I used a mix of things I had at home, and I shopped the rest online.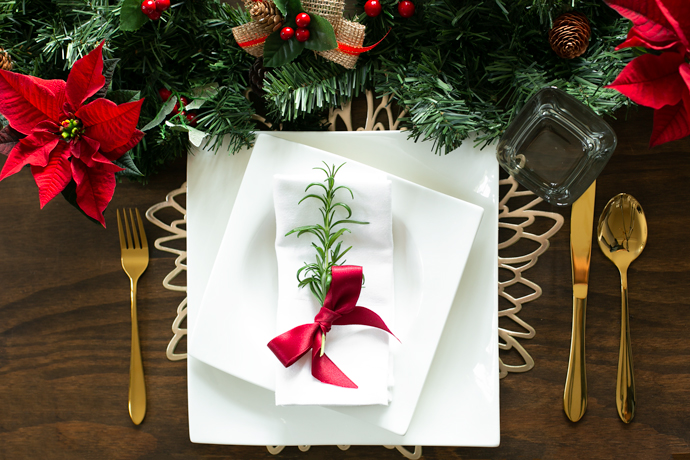 How To Create A Super Easy Christmas Table Setting
Setting up my Christmas table was super quick, it took about 10 minutes from start to finish, and I'm in love with the result.
Hope you guys can find these tips helpful to set up your Christmas table without going crazy!
Table Centerpiece
The centerpiece is the first thing to place at the table (unless you're using a tablecloth, in this case, that's the first thing!). It will create the theme you will follow for your table setting.
A garland is the easiest way to add a nice touch to the table. You can go for a homemade garland if you have a florist or woods nearby, otherwise, for a more cost-and-time-effective solution, you can simply buy one online.
To add a splash of colour, I also added some fresh Christmas star flowers (also called Poinsettia) and arranged them nicely around the garland.
If you're not a fan of flowers, other cute ideas include small Christmas trees, or some fresh fruits such as pomegranate, oranges and clementines.
You can also add some candles, both tea candles or candlesticks work really nicely. I'm personally not a fan of candles at the dinner table (mostly to avoid catastrophes!), so I decided to skip them.
Tablecloth or Placemats
First thing first, you'll need to choose between a tablecloth or placemats. If you have a nice wood dinner table, you can opt for placemats for a more rustic vibe, otherwise, a nice tablecloth will work beautifully as well.
Choose your tablecloth or placemats wisely, as they will be, together with your garland, the canvas around you can create your whole Christmas table setting.
I opted for gold placemats to match my gold tableware, but if you prefer to stick to simple things, you can't go wrong with a white tablecloth.
Dinnerware
The beauty of white plates is hard to beat. There's really no need to splash out money on a dinnerware set you're going to use once a year.
A white dinnerware set will instantly add an elegant touch to any table, and it's great for everyday use as well. Simple, elegant and totally cost-effective!
Tableware
A lovely gold tableware set will instantly add a sophisticated touch to your Christmas table setting.
A black tableware set would also work very well, especially if you can match it with black napkins, glasses or plates.
Glasses
If you have a small table, don't overcrowd it with two sets of glasses, and place only regular water glasses.
To make it fancier, you can use whiskey glasses for water, and place the wine glasses aside, for the guests who may fancy some wine.
Napkins and Decor
I may sound repetitive, but white is a fantastic choice for napkins too. It's the simplest way to add an elegant fine-dining vibe to your table setting, and makes your decor stand out a little more.
Instead of napkin rings, or placemats, I added a red ribbon and a rosemary sprig on top of each napkin. It's literally a 2-minute simple task to make them, and the rosemary smells amazing!
Watch My Video On How To Put Together An Elegant and Easy Christmas Table:
I've absolutely loved showing you my Christmas table and I really hope I gave you some inspiration to create a fun, festive, and easy setting for your own Christmas table!