Crunchy homemade granola, layered with Greek yogurt, and juicy nectarines – This Granola Nectarine Yogurt Parfait makes a healthy quick breakfast, so pretty that can easily be served as dessert!
These summer days I'm all about yogurt, granola and fresh fruits for breakfast. Whether I'm having a smoothie and a rich bowl of homemade granola and yogurt, or a colourful smoothie bowl, this ingredients trio fuels me up and gives me all the energy to start the day.
This Granola Nectarine Yogurt Parfait is a fancy version of my usual summer breakfast – Pretty layers of fruit, yogurt and granola come together to make a nutrient breakfast, that's elegant enough to be presented as dessert too.
[easy-tweet tweet="This Granola Nectarine Yogurt Parfait is a great healthy #breakfast option or light dessert!" user="PetiteCook"]
I'm not new to yogurt parfait, but this time I decided to go for deliciously juicy nectarines and zingy passion fruit – Fresh peaches and nectarines are in season and they scream SUMMER out loud!
The recipe itself is pretty simple and requires only 4 ingredients: homemade granola, organic Greek yogurt, nectarines (peaches are great too!) and passion fruits.
All you have to do is alternate the ingredients in a dessert glass. Then top with some fresh mint and coconut flakes if you like, and just dip your spoon in!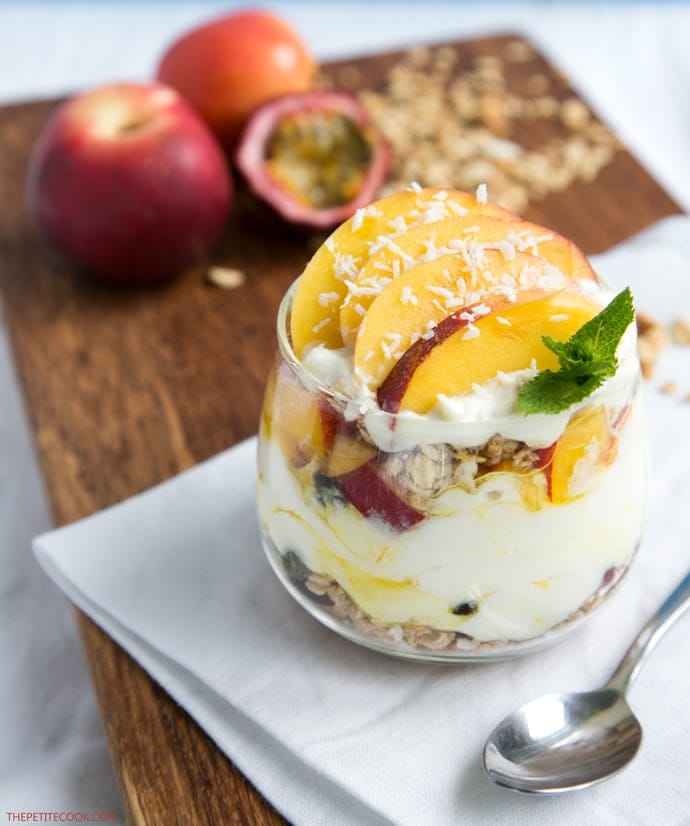 If you have never made homemade granola, I highly recommended it. The flavor of homemade granola is in no way comparable to its store-bought counterpart ( unless you look for the very expensive stuff).
Also, if you happen to suffer of dairy intolerance, you can use my homemade yogurt recipe. And for a vegan version, just swap regular yogurt with a soy alternative –  I tested all 3 versions and trust me when I say they're all delicious.
Honestly, yogurt parfait is one of my favorite summer treats. It's quick, effortlessly easy to prep and it's very low in fat and calories. It's a wonderful breakfast or dessert option when you don't feel like baking, or spending too much time in the kitchen ( which happens a lot to me with all the hot days we're having in London).
These absolutely mouthwatering Granola Nectarine Yogurt Parfait are sure to make an indulging summer feast in your mouth with none of the guilt!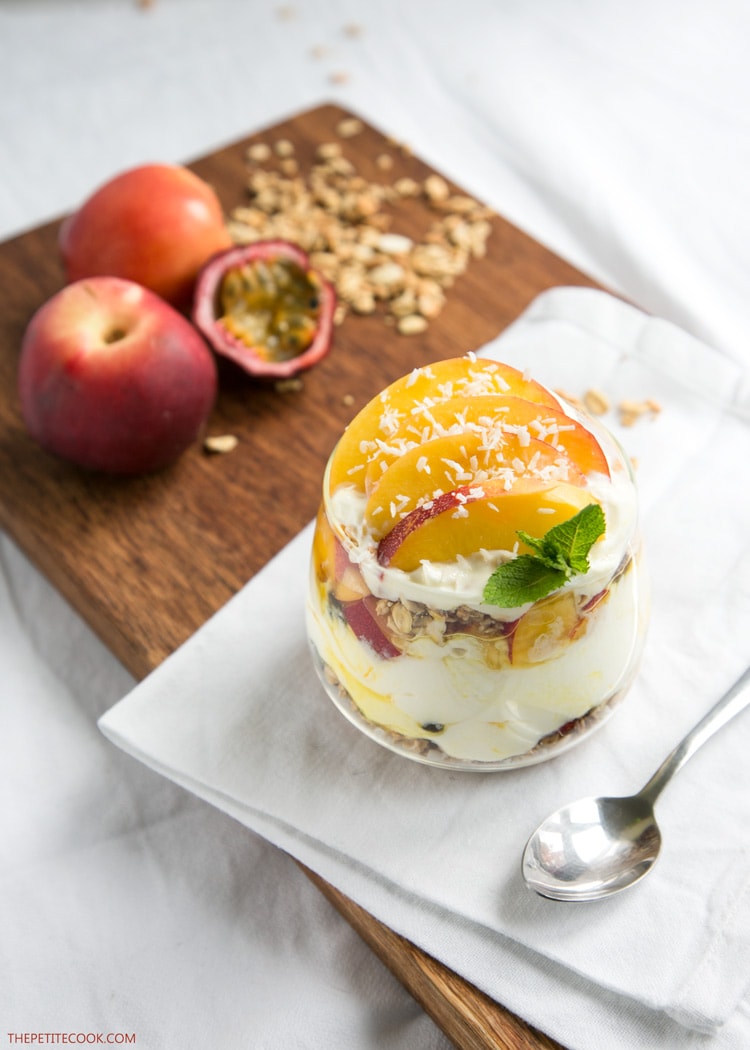 I hope you guys love these Granola Nectarine Yogurt Parfait as much as I do! Don't forget to leave a comment below or on my Facebook page, and let me know how you liked it! Even better, snap a picture, tag it #thepetitecook and share it on Instagram! Looking at your pictures makes me always happy :).

Granola Nectarine Yogurt Parfait
Ingredients
250gr / 8.5oz Greek yogurt
100gr/ 3.5oz homemade granola
2 nectarines, cubed + 1 sliced to decorate (optional)
pulp of 2 passion fruits
fresh mint leaves, to serve (optional)
coconut flakes, to serve (optional)
Instructions
Layer half the granola on the bottom of a dessert glass.
Top with half the yogurt, half of the nectarines and passion fruit pulp.
Fill the glass with another layer of granola, yogurt, nectarines and passion fruit pulp.
Top with fresh mint leaves, sprinkle with coconut flakes.
Repeat the process for the second serving.
Serve immediately!