This vitamin-packed refreshing green juice is loaded with nutrients, and is naturally dairy-free, vegan, and gluten-free. A great energy boost to start your day at the best!
I love starting the day with a delicious homemade smoothie or juice.
If you ask me, this green juice is the rock star of all the juices.
This drink is nutrient-dense and has an impressive list of health benefits. It's also naturally gluten-free and vegan.
INGREDIENTS FOR THE BEST GREEN JUICE
All you need to make this energizing juice is 6 ingredients: celery, spinach, cucumber, green apple, mint leaves, and a tiny bit of fresh ginger.
celery - contains nutrients, adds fiber and it's super hydrating.
spinach - baby spinach or large spinach leaves are loaded with vitamin and minerals that support your immune system.
cucumber - mild in flavor but adds vitamins and it's rich in electrolytes.
green apple - apple provides sweetness and it's high in fiber.
mint leaves - add freshness and are a great source of antioxidants.
ginger - provides a nice kick of flavor and it's loaded with antioxidants.
I absolutely love this balanced combination of ingredients, but you don't need to be super strict with the ingredients.
I often throw in a bunch of kale, or romaine if I have them at hand. Carrots are also great add-ons!
Preparation and storage tips
Packed with oh-so-good-for-you ingredients, it takes 5 minutes to make this nutritious drink.
Here are some favorite tips to ensure you make the best green juice ever:
I like to keep the skin on the green apple and cucumber, but feel free to peel it away if you're not a fan.
Core the apples and cut off the ends of the cucumbe,r and they're ready to be used.
Give all the ingredients a nice wash under cool running water before use.
If you have time, soak them in a bowl with water and vinegar or baking soda for 20 minutes, then wash them and pat them dry with a clean towel.
I do buy all these ingredients organic, but I still wash them before use.
If you're in a hurry, you can prepare this homemade juice the night before. It keeps well in the fridge for 24-48 hours.
The juice tends to separate after a while, so just give it a nice stir before you drink it.
Don't' forget that the longer the juice sits around for, the more the juice nutrients will be oxidised, so it might change a bit in color.
Better To Use a Blender or a Juicer?
You can use a high-powerful blender or a juicer.
I use both appliances interchangeably and the results are almost identical.
A juicer will eliminate all the fiber, making this juice super easy to digest.
A blender, on the other hand, will minimize waste and will give you a more full-filling drink.
So, it's really up to you to choose your favorite method.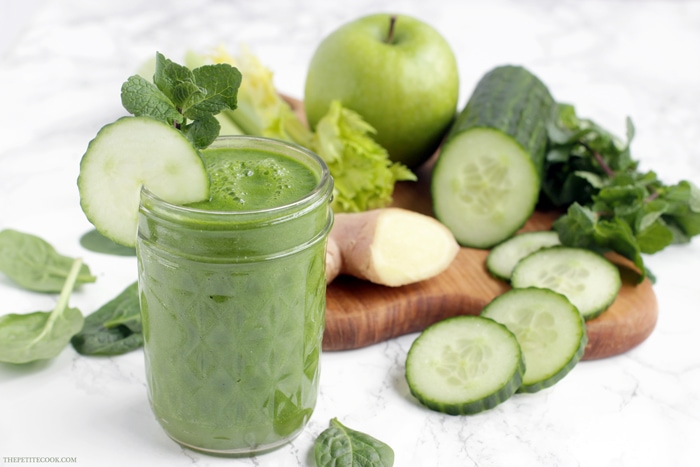 I'm sure you know by now that we need to get at least 5 portions of fruit and vegetables every day for a healthier life.
Juicing/blending fruit and veggies is an easy way to guarantee that you get your daily income.
I like to drink this green juice first thing in the morning.
However, feel free to drink it any time you fancy it or whenever you feel the need for a little energy boost.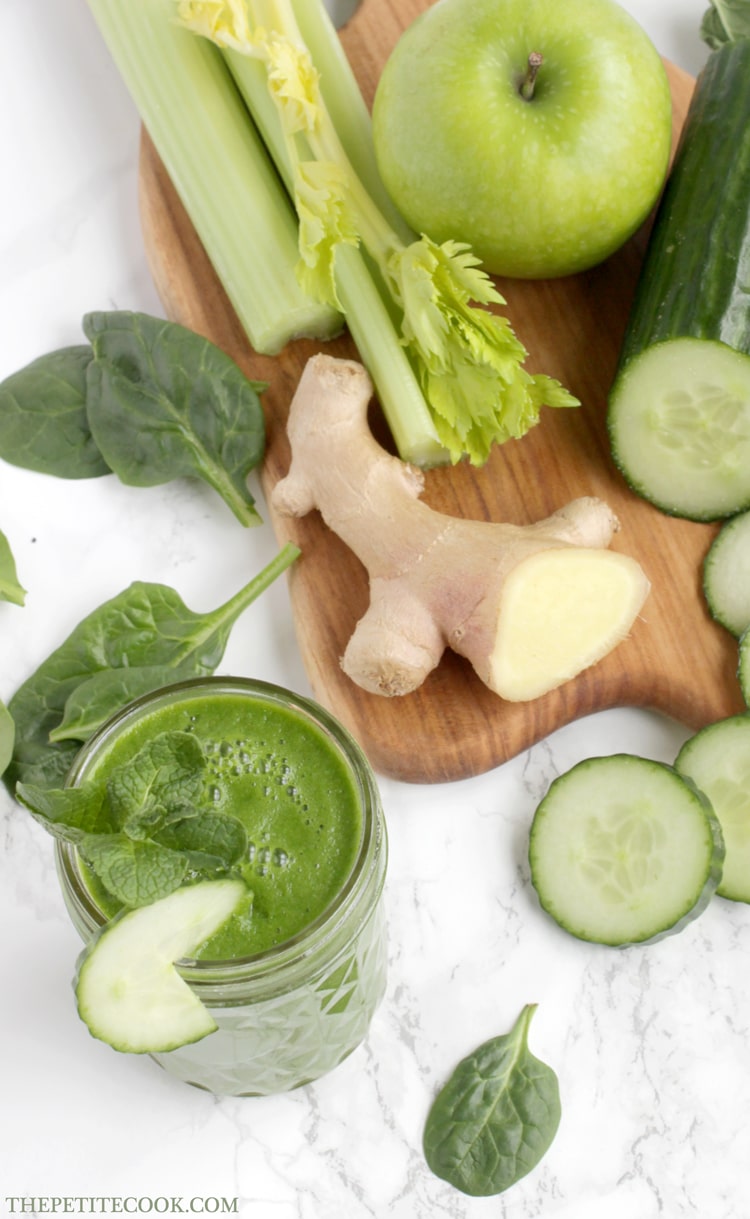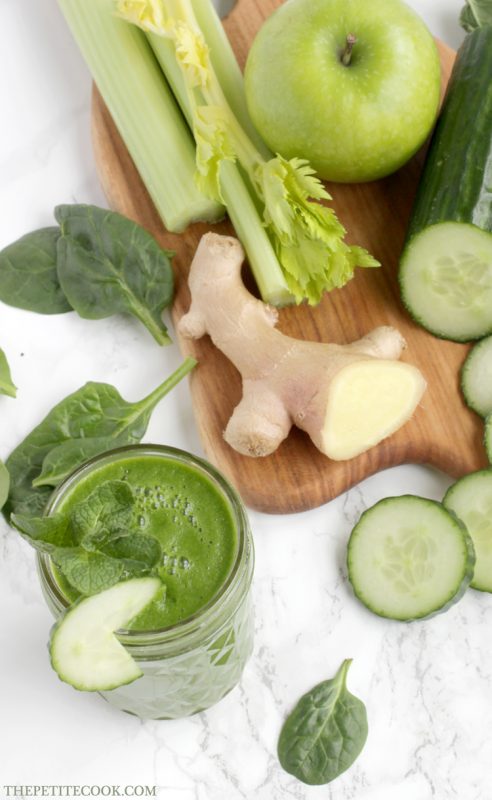 This nutrient-packed drink is the perfect combo of tangy & sweet flavours.
And not only it tastes good, but it's also loaded with vitamins, antioxidants, fiber, and other good-for-you nutrients.
All the good reasons to give it a try!
DID YOU TRY THIS RECIPE?
Please let me know how you liked it! Leave a comment below, share a picture on Instagram, and tag @thepetitecook!
Looking at your pictures always makes me smile *and super hungry*!
Recipe
Morning Green Juice
This vitamin-packed green juice is loaded with nutrients, is naturally vegan and gluten-free - A great energy boost to start your day!
Ingredients
2

celery stalks

½

cucumber

,

ends cut off

1

green apple

,

cored

½

teaspoon

ginger

,

grated

a bunch of fresh spinach leaves

6

fresh mint leaves
Instructions
Green Juice in a juicer recipe:
Place the celery stalks into the juicer and juice. Repeat with the other ingredients in the order listed until all ingredients are juiced. Pour into a glass and serve.
Green Juice in a blender recipe:
Put celery, cucumber, apple, ginger and half a glass of water into your blender, then pulse until liquefied. Add the spinach and mint leaves and pulse until liquefied. Pour into a glass and serve. Alternatively, pour the green juice through a fine-mesh strainer or nut-milk bag into a glass container, then serve.
Nutrition
Calories:
130
kcal
|
Carbohydrates:
32
g
|
Protein:
3
g
|
Fat:
1
g
|
Saturated Fat:
1
g
|
Polyunsaturated Fat:
1
g
|
Monounsaturated Fat:
1
g
|
Sodium:
53
mg
|
Potassium:
737
mg
|
Fiber:
7
g
|
Sugar:
21
g
|
Vitamin A:
5186
IU
|
Vitamin C:
29
mg
|
Calcium:
99
mg
|
Iron:
2
mg
The information shown is an estimate provided by an online nutrition calculator. It should not be considered a substitute for a professional nutritionist's advice.
GET MY NEW COOKBOOK!

This post may contain affiliate links, which means that I may receive a commission if you make a purchase using these links. As an Amazon Associate I earn from qualifying purchases.