Spicy Chickpea Shakshuka is the vegetarian go-to breakfast recipe to make during the festive season! Loaded with energy-packed ingredients, this one-pot egg recipe is totally easy to make in less than 30 mins.
Christmas holidays are just around the corner, this means loads of celebrations, parties and late mornings ahead of us. It's the perfect time to share with you one of my favorite hearty breakfast to enjoy after a festive night.
When it comes to the day after the night before, Shakshuka is the sort of breakfast that gets you out of bed. It's a popular energetic Middle Eastern breakfast dish to share, served directly from its hot skillet.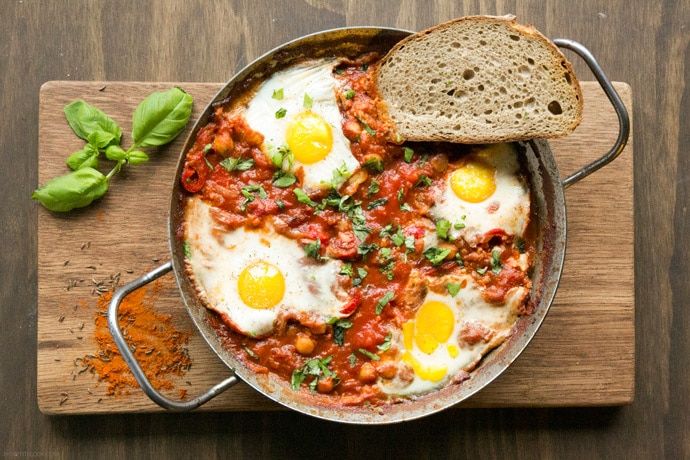 Despite the curious name, it's basically poached eggs in tomato sauce ( a bit similar to the Italian Eggs in Purgatory), and it's also incredibly easy to prepare, with simple pantry staples and a couple of fresh ingredients.
This nutrient-packed meal brings together a hearty, fiery and spicy tomato and bell pepper sauce, a handful of protein-rich cooked chickpeas, topped up with free-range eggs baked to perfection and crusty bread for sopping up all the flavorful sauce.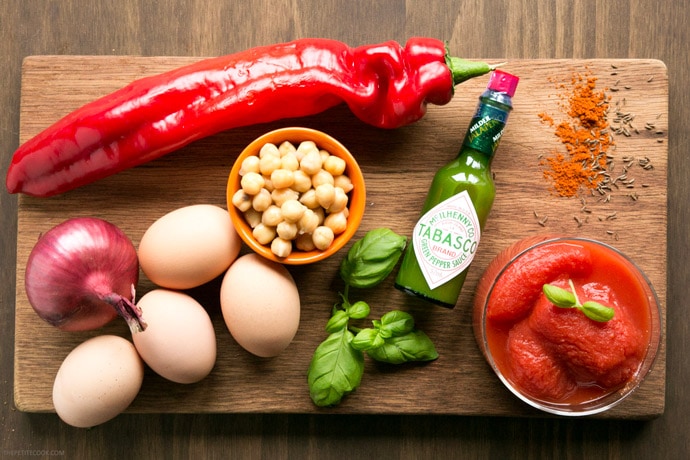 I've added some Tabasco Green Sauce in the mix, which goes especially well with this Chickpea Shashuka, and it's just a little bit milder than the classic Tabasco Sauce. It gives this breakfast dish a nice spicy kick that will wake you up, without being overwhelming and overpowering the other ingredients.
I'm a massive fan of spicy ingredients and the way they easily bring any dish to the next level. So for this recipe I've teamed up with Tabasco and joined their Festive Survival Squad this holiday season, to create a recipe that works wonders for the morning after the night before.
This Spicy Chickpea Shakshuka is packed with energy and nutrients and works magic as a breakfast after partying all night. Whether it's a regular Saturday morning, Christmas day or even better the day after New Year's Eve, this Shakshuka will surely cure any hangover – And if you don't have any, it's just a great excuse to splash everything down with a good Bloody Mary!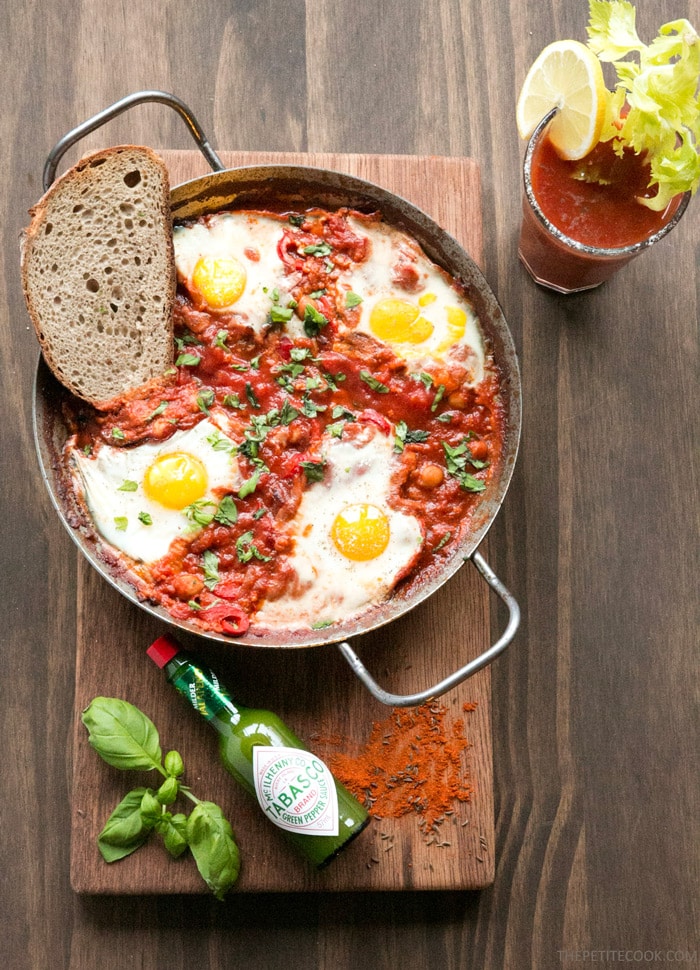 A hearty and robust Spicy Chickpea Shakshuka is definitely my go-to brekkie after partying the night before – What's your favorite "the day after the night before" breakfast recipes? Hit me with all your favourite recipes, I can't wait to hear your ideas! And if you share it on social media, don't forget to add the hashtags #Tabasco #thepetitecook #tabascosquadgoals #festivesurvivalsquad, so we can all easily look at all your delicious recipes!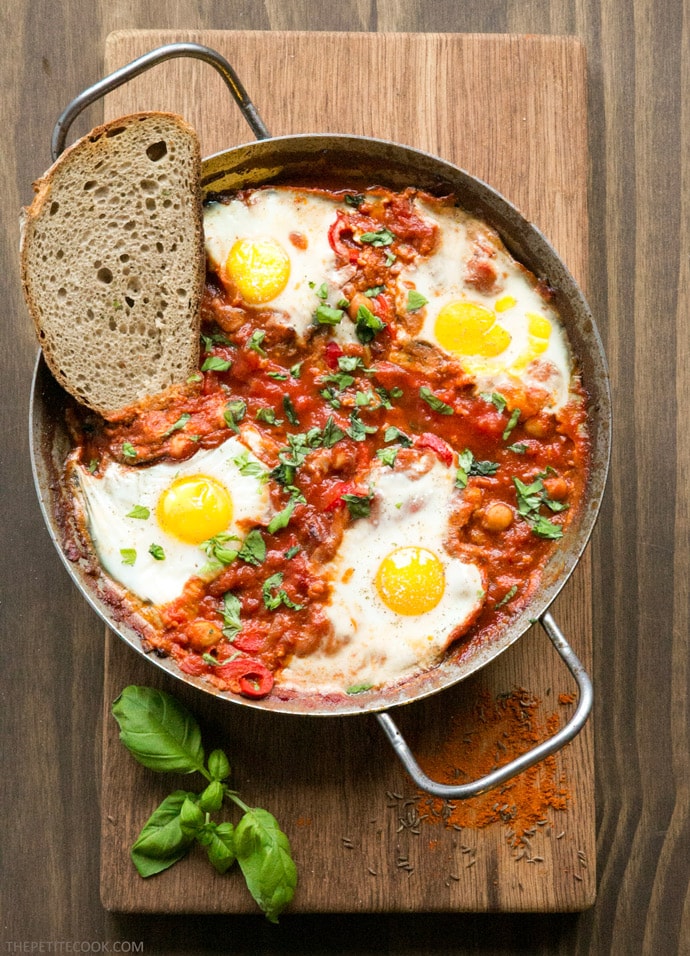 Did you make this recipe?
Please let me know how you liked it! Leave a comment below and share a picture on Instagram with the hashtag #thepetitecook! Looking at your pictures always makes me smile *and super hungry*!

Spicy Chickpea Shakshuka
Spicy Chickpea Shakshuka is the vegetarian go-to breakfast recipe to make on weekends! This energy-packed one-pot egg recipe is also gluten-free and ready in just 30 mins.
Ingredients
2 tbsp extravirgin olive oil
1 small red onion, finely chopped
2 garlic cloves, finely minced
1 red bell pepper, finely chopped into strips
1 tsp paprika
½ tsp cumin
1 tsp Tabasco Green Sauce, or more to taste
1 cup chickpeas, drained
1 large handful fresh basil
2 x400g (14oz) cans whole plum tomatoes
4 large free-range eggs
Instructions
Preheat the oven to 180C/ 356F.
Transfer the tomatoes to a large bowl and squeeze through your fingers to create a chunky purée. Set aside until ready to use.
Heat a large oven-proof skillet over medium heat with the olive oil, then fold in red onion and chopped bell pepper, and cook without stirring for 4-5 min, until softened and gently browned.
Add garlic, paprika and cumin and cook, stirring, until fragrant, about 30 seconds.
Fold in the tomatoes and stir to combine. Reduce heat to a gentle simmer and cook for about 8 minutes, adding chickpeas half-way through cooking time. If the mixture gets to dry, pour in some of the tomato juice reserved from the can, then season to taste with salt and pepper, and stir in a couple of fresh basil leaves.
With the help of a spoon, make a well near the edge of the pan and break an egg directly into it. Repeat with the remaining eggs, then season them with salt and pepper to taste.
Transfer the pan to the oven in the middle rack and cook for about 6-8 min, until the eggs are cooked through and the yolks are still runny.
Remove from the oven, sprinkle with a handful basil leaves on top and serve straight away with crusty bread on the side.
This post is sponsored by Tabasco, and as usual all opinions are my own. Thank you for supporting the brands that support The Petite Cook.