Panelle are a popular Sicilian street food - These chickpea fritters are crispy on the outside and soft on the inside, and so delicious!
Panelle are a traditional Sicilian street food made from chickpea flour. They are essentially fritters or small pancakes that are crispy on the outside and soft on the inside.
My mum is from Palermo, where panelle are the queen of street food, and she has been making them at home for over 30 years.
So today, I'll be sharing our family panelle recipe, which very straightforward and super easy!
As an added bonus, panelle are dairy-free, gluten-free and vegan, making them such a fantastic appetizer to share!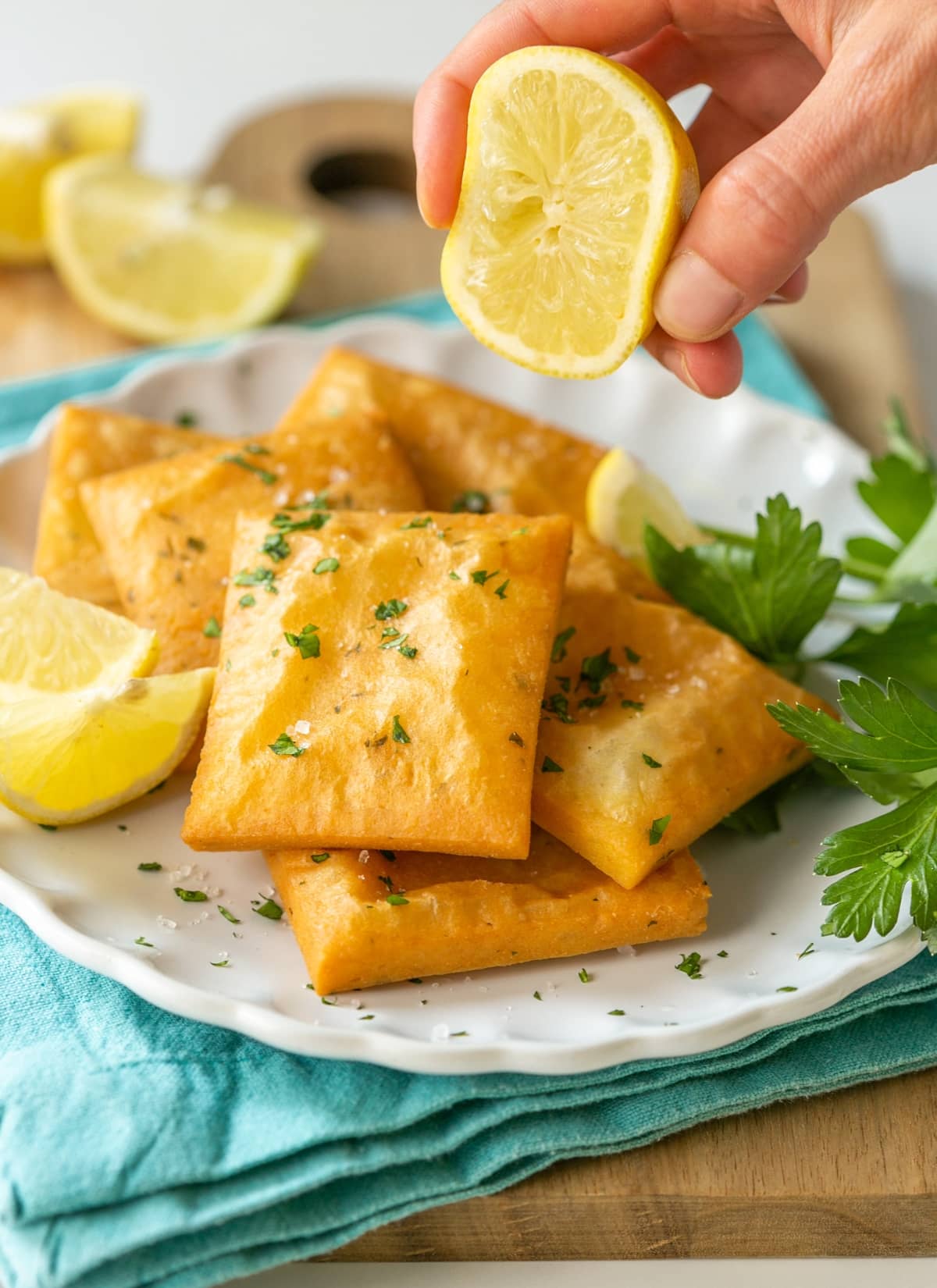 Jump to:
What are panelle?
Panelle (singular: panella) are made of chickpea flour, water, salt and chopped parsley.
These tasty chickpea fritters have a history that spans over a thousand years!
Believe it or not, it was the Arabs who introduced panelle to Sicily, a region known for its rich culinary heritage. They decided to experiment with chickpea seeds, crushing them to create a unique flour.
When mixed with water and cooked, this flour transformed into a dough that resembled polenta.
This dough was the precursor to what we now know today as panelle and socca (or farinata di ceci).
Panelle were fairly cheap to make and quickly became a staple among the common folk.
Initially called "piscipanelli", these fritters were crafted in the shape of small fish, creating the illusion of indulging in expensive fried fish, a luxury out of reach for many.
Today, panelle are a hugely popular street food snack you can find at the Ballaro' or Vucciria street markets in Palermo.
They're usually served on their own or in a bread roll called "muffoletta" and a sprinkle of freshly squeezed lemon juice on top.
Panelle ingredients
All you need is four ingredients to make these traditional Sicilian chickpea fritters: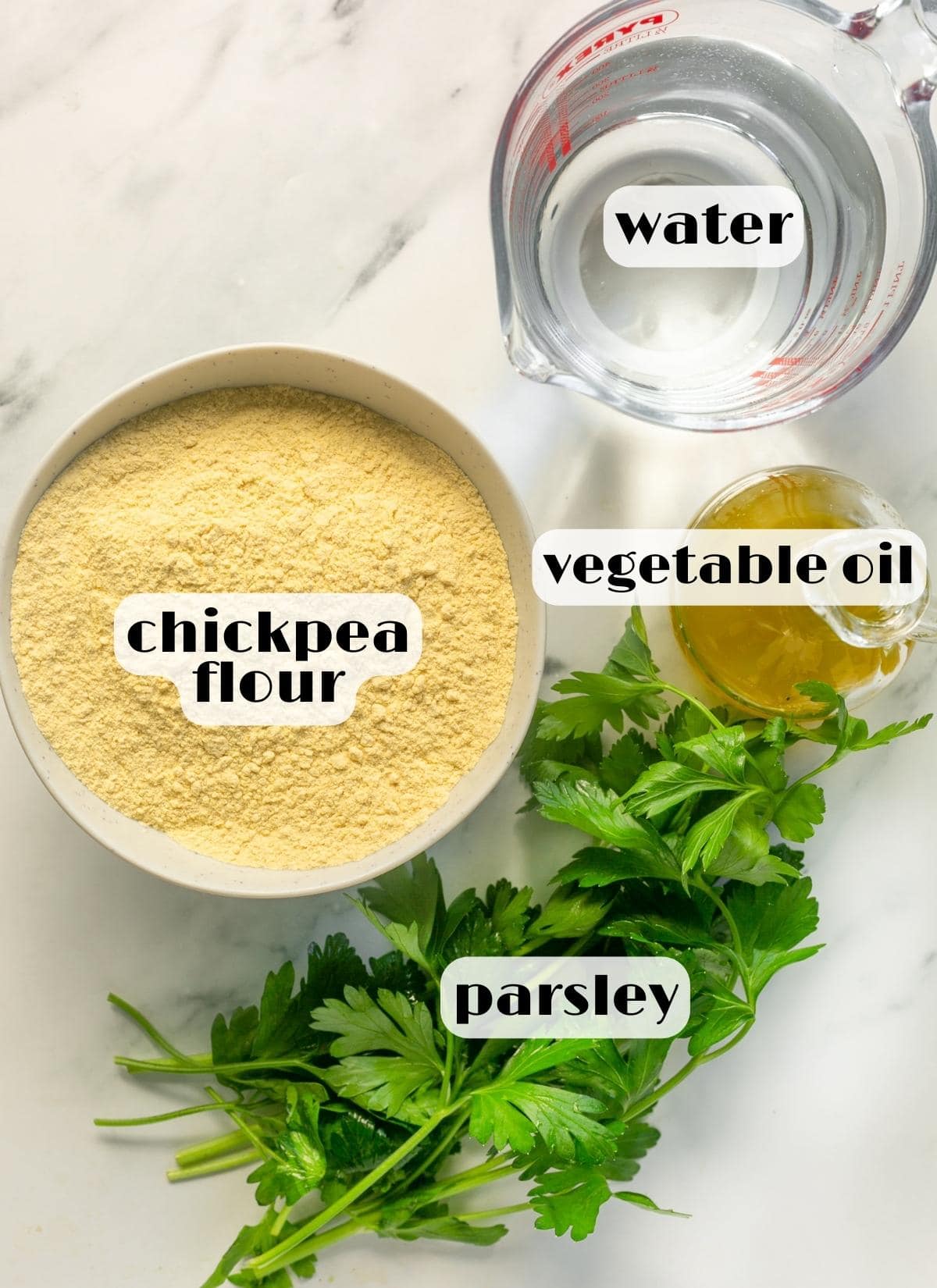 Chickpea flour: It's available in most grocery stores or in Asian and Middle Eastern supermarkets, but you can also easily make homemade chickpea flour.
Water: Use room-temperature water to form the panella mixture.
Parsley: Fresh chopped parsley is a must and gives a fantastic flavor to these chickpea fritters, so avoid using dried parsley.
Vegetable oil: I like to use sunflower oil for frying. Alternatively, you can use peanut oil or vegetable oil.
How to make panelle
The beauty of this chickpea fritters recipe is that it's ready in just 30 minutes, and it's super easy to make.
Below is the step-by-step recipe overview with pictures.
Scroll until the end of the post for the full printable recipe.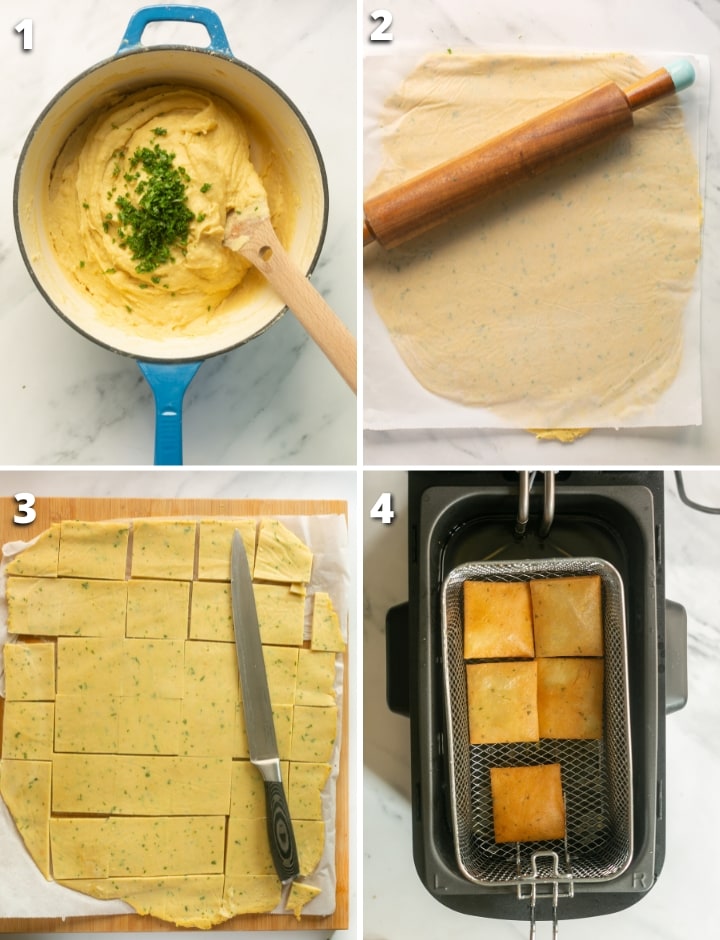 STEP 1. Place the chickpea flour and salt in a pan, slowly incorporate the water and cook, until the mixture is thick and smooth, then add chopped parsley.
STEP 2. Transfer the mixture between two sheets of parchment paper, roll it with a rolling pin, until about ½ inch thick, and allow to cool down and set.
STEP 3. Cut the mixture into square or rectangular shapes.
STEP 4. Fry a few panelle at a time until crispy and golden brown. Transfer to a plate covered with paper towels to absorb oil in excess and serve.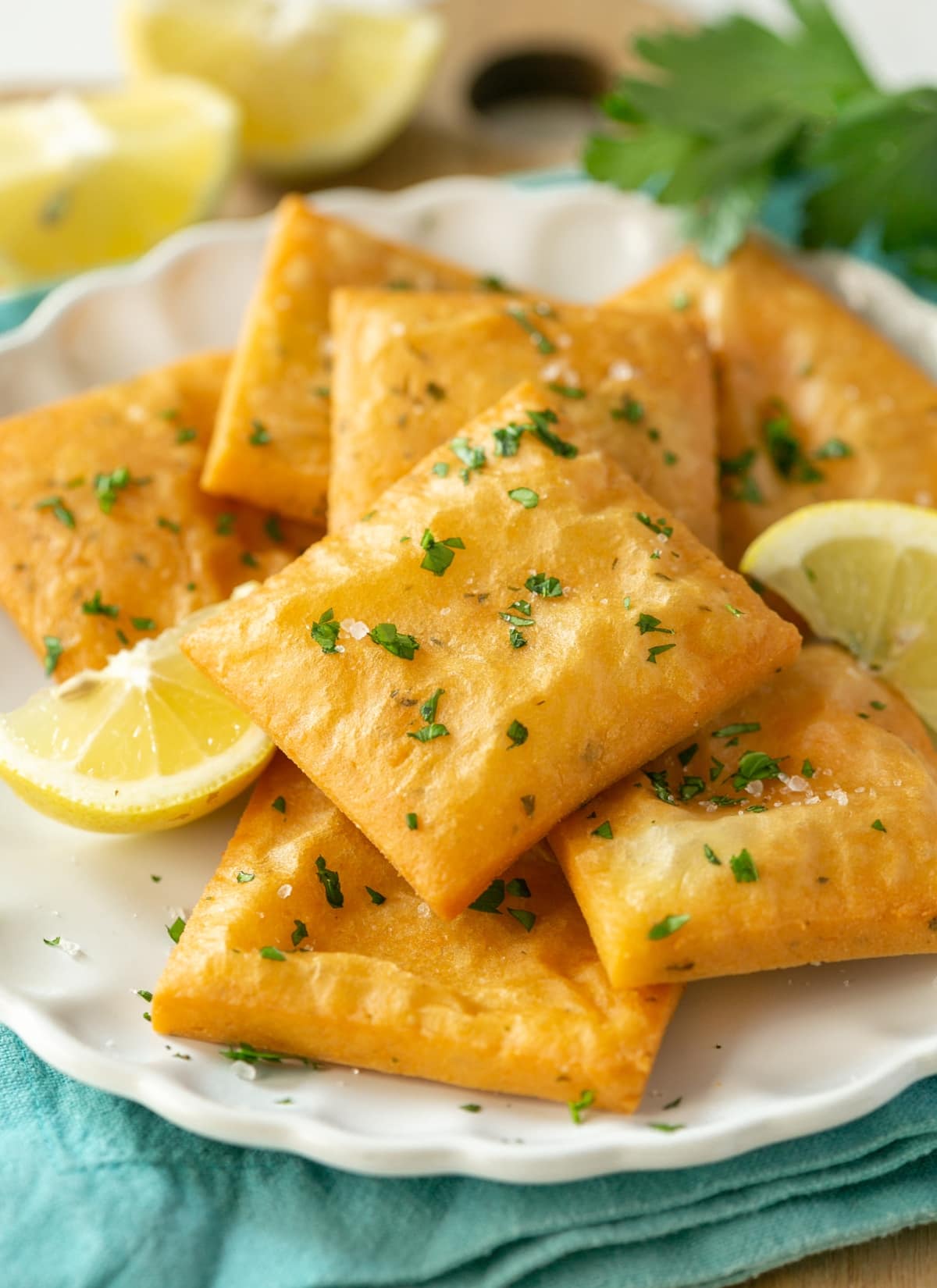 Serving suggestions:
Sandwich: Serve the fritters in a sandwich with a fresh roll, just like they do in Palermo, and some salad greens.
Lemon wedges: Squeeze some fresh lemon juice over the panelle for a tangy kick.
Marinara sauce: Dip the panelle in marinara sauce for extra flavor.
Storage tips
Panelle, like most fried foods, are best eaten straight away, whilst they're still warm.
If you have leftovers, you can store them in the fridge for up to 1 day, then reheat them in the microwave or in a skillet with a little oil.
You can also freeze uncooked panelle.
Place them in a tray covered with parchment paper, freeze for 30 minutes, then transfer to a ziplock bag and store in the freezer for up to one month.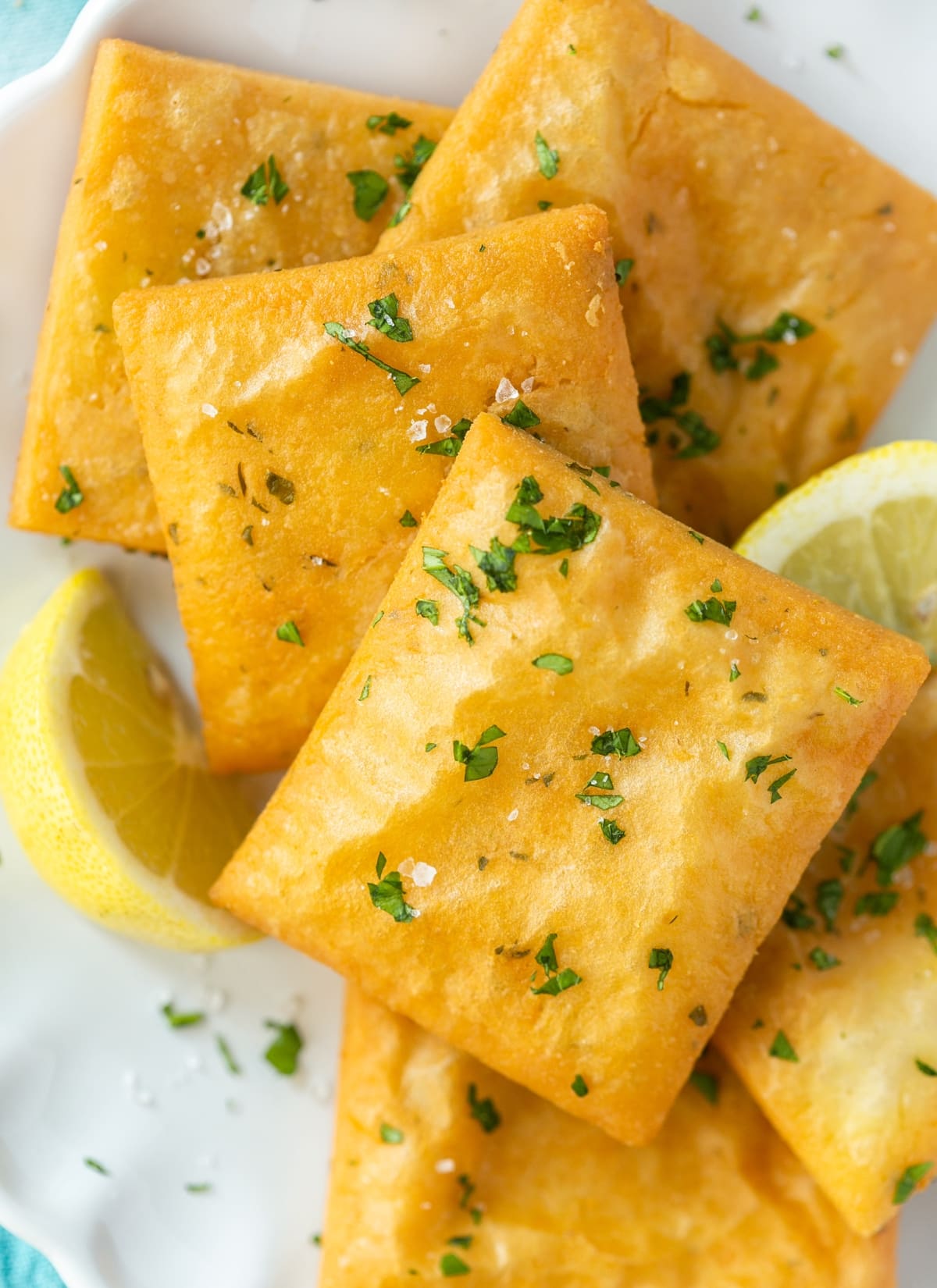 More Traditional Italian Recipes To Try
Did You Try This Recipe?
Please let me know how you liked it! Leave a comment below and share a picture on Instagram with the hashtag #thepetitecook!
Don't forget to subscribe to my newsletter and follow along on Facebook, Pinterest and Instagram for all of the latest updates.
Recipe
Panelle - Chickpea Fritters
Panelle are a popular Sicilian street food - These chickpea fritters are crispy on the outside and soft on the inside, and so delicious!
Ingredients
300

g

chickpea flour

, approx 2 cups + ¼ cup + 3 tbsp

910

ml

water

, approx 3 cups + ¾ cup

1

teaspoon

sea salt

1

tablespoon

fresh parsley

, finely chopped

480

ml

sunflower oil

, approx 2 cups
Instructions
Place the chickpea flour and salt in a large pot over medium-low heat, slowly incorporating the water whilst whisking, until you have a smooth batter with no lumps.

Cook the panelle mixture over medium heat, stirring constantly with a wooden spoon or whisk for about 10-15 minutes, until the mixture thickens and becomes like a very thick potato mash, and pulls away from the sides of the pan. Whisk in the chopped parsley and remove the pan from the heat.

Line a baking tray with parchment paper. Spread the hot chickpea mixture onto the prepared baking sheet to a thickness of about ¼ inch ( 0.5 cm), using a long knife or spatula to leven out the surface. Allow it to cool and set for about 30 minutes.

Once the panelle mixture has cooled and set, use a knife to cut it into strips or squares. Traditionally, they are cut into rectangular shapes.

Heat the sunflower oil in a deep frying pan or skillet over medium-high heat until it reaches 175℃/ 350℉. You want enough oil to submerge the panelle.

Carefully fry a few panelle at a time until they are golden brown and crispy, about 2-3 minutes per side. Use a slotted spoon to remove the panelle from the oil and place them on a plate lined with paper towels to drain any oil in excess.

Sprinkle the panelle with some sea salt and serve them straight away, with lemon wedges on the side, or in a sandwich.
Nutrition
Calories:
145
kcal
|
Carbohydrates:
22
g
|
Protein:
8
g
|
Fat:
3
g
|
Saturated Fat:
0.3
g
|
Polyunsaturated Fat:
1
g
|
Monounsaturated Fat:
1
g
|
Sodium:
321
mg
|
Potassium:
320
mg
|
Fiber:
4
g
|
Sugar:
4
g
|
Vitamin A:
57
IU
|
Vitamin C:
1
mg
|
Calcium:
21
mg
|
Iron:
2
mg
The information shown is an estimate provided by an online nutrition calculator. It should not be considered a substitute for a professional nutritionist's advice.