Craving pizza but in a hurry? Quick and easy socca pizza with Parma Ham is the answer!
Whenever I'm craving pizza, but I don't feel like spending too much time in the kitchen to make my homemade Italian pizza dough, socca comes to the rescue.
Think of socca as your new go-to gluten-free pizza crust option, or as a replacement for flatbread or tortillas.
Sweet tomatoes, peppery arugula and luxurious thin slices of Parma Ham are all piled onto an easy gluten-free pizza made from chickpea flour.
It comes together pretty quickly in just one bowl and a single skillet.
The best part is that it offers endless combinations and feels both light and fancy - perfect to enjoy on your own or when you have friends over!
*This post is sponsored by Prosciutto di Parma. All opinions are my own.*
This chickpea pizza is super versatile too, so you can easily serve it for breakfast, lunch or dinner.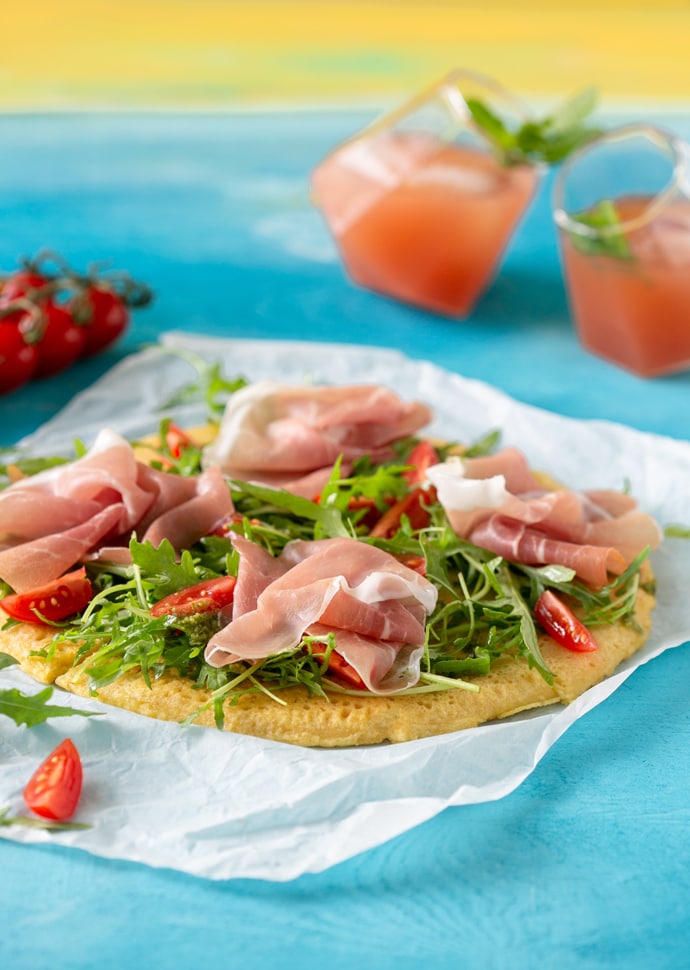 Make a meal out of it and serve it with a simple salad for a summer lunch. And make sure you don't skip the Parma Ham.
A few thin slices of the famous Italian Prosciutto di Parma will totally bring this simple pizza to the next level.
WHAT IS SOCCA?
Socca is a traditional street food from Nice, France. It's typically cooked on large hot grills and served in a cone with generous salt and pepper.
Fun fact: Socca originated in the Genoa region of Italy, where it goes by the name of La Farinata di Ceci, and arrived in Southern France through the Genoese immigrants in the nineteenth century.
There are different techniques for cooking this traditional chickpea batter, but the ingredients are usually the same: chickpea flour, water, and olive oil.
HOW TO MAKE SOCCA PIZZA
This recipe requires just 5 ingredients and 1 bowl to make, and comes together in about 1 hour.
Unlikely other gluten-free pizza crust recipes, this is totally egg-free and grain-free, which is a bonus!
Here's how to easily make it at home:
Bring the batter together by mixing the chickpea flour, water, extra-virgin and salt & pepper. You can add a pinch of cumin or nutritional yeast for extra flavour if you like.
Let the batter rest for about 30 minutes.
Preheat the oven to 430°F and then heat a cast iron pan for 2-3 minutes before cooking.
Pour the chickpea batter into the cast iron pan and cook the socca for 5 minutes over medium-low heat. Transfer in the oven and bake for a further 10 minutes.
The pizza crust is ready when it comes away easily from the edge of the skillet, and it's golden brown on top.
HOW TO SERVE SOCCA?
There are endless combinations when it comes to toppings and food pairings.
I love to top my socca pizza with crispy and peppery rocket leaves, juicy tomatoes and one of my favourite Italian ingredients, Parma Ham.
MORE ON PARMA HAM
This unique Italian product is part of my heritage and culture, and I'm so happy to be able to enjoy it outside of Italy, knowing it is exactly the same quality I enjoy in Italy.
Parma Ham is famously made with just 4 ingredients: Italian pork, salt, air and time.
It's 100% natural, and unlike other hams, there are no additives, nitrates, or nitrites.
The traditional preserving process has been the same for centuries. And it's carried out exclusively in the area of Parma, where the unique weather conditions make it possible to produce the highest quality hams.
Each pork leg undergoes a slow curing process that lasts from a minimum of a year to up to three years.
This helps develop the complex and unique flavours that we get to enjoy in every single bite.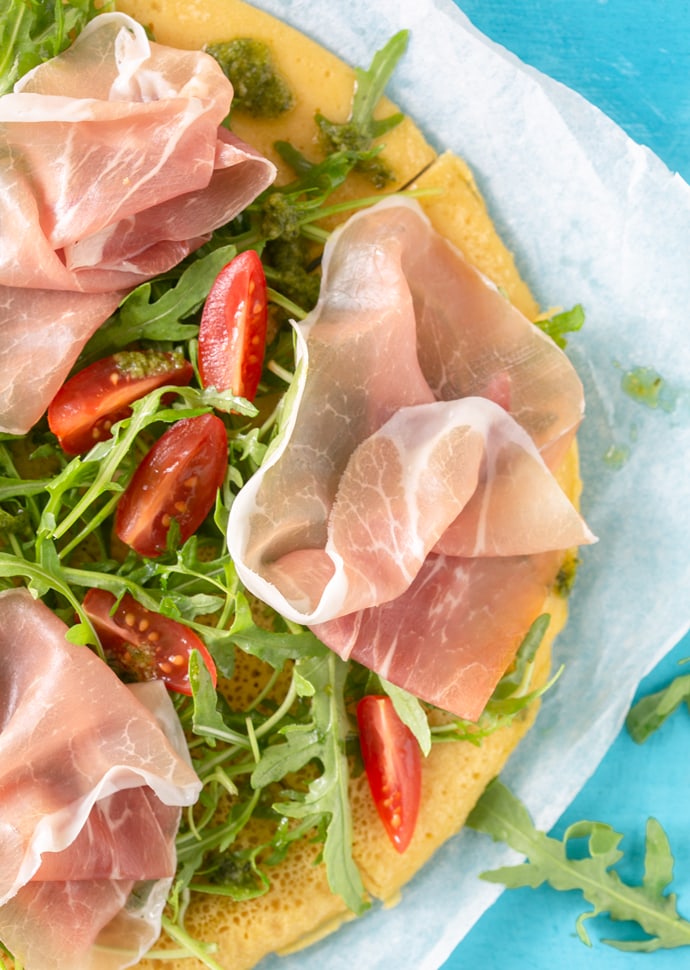 When buying Parma Ham always look for the Ducal Crown symbol on the packaging, which guarantees its authenticity and quality.
Best enjoyed thinly sliced, Prosciutto di Parma has a unique sweetness and a silky texture and it's loaded with umami flavour.
Most importantly Parma Ham is packed with protein and vitamin B, and it's rich in amino acids, which makes it overall a highly nutritious and super digestible food.
You can serve it on its own, or add it to your favourite meals, including this super easy gluten-free pizza!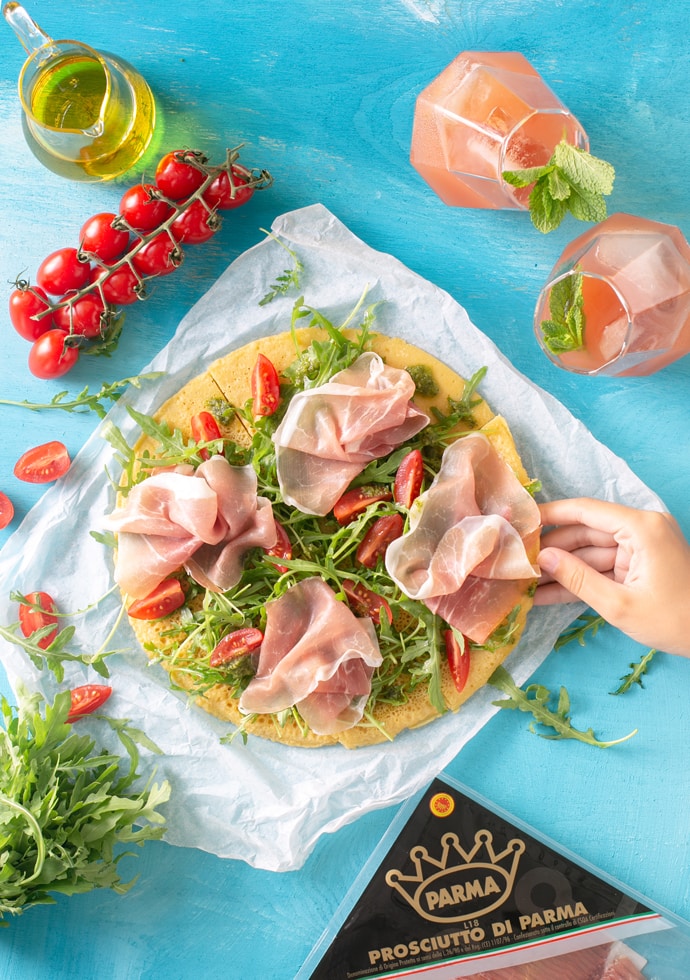 This pizza would make the perfect appetizer for a French/Italian dinner party or even a main course when paired with some extra salad and sides. I'll leave some of my favourite options below.
HOW TO STORE LEFTOVERS?
You can store leftover chickpea pizza in a sealed air-tight container and refrigerated it for up to 2-3 days.
WHAT TO SERVE WITH SOCCA?
There are tons of ways to serve this delicious chickpea flatbread, from a simple green salad to roasted veggies:
Here are a few of my favourite sides that go super well with it:
DID YOU MAKE THIS RECIPE?
Please let me know how you liked it! Leave a comment below and share a picture on Instagram tag @thepetitecook!
Looking at your pictures always makes me smile *and super hungry*!
Recipe
Socca Pizza with Parma Ham
Socca is a french chickpea flatbread that can easily turn into a super easy gluten-free pizza crust. Just 5 ingredients and ready in 30 min!
Ingredients
200

ml

warm water

125

g

chickpea flour

2

tablespoon

extra-virgin olive oil

,

divided

sea salt and freshly-cracked black pepper to taste
Topping:
4

Parma Ham thin slices

Handful of rocket leaves

6

cherry tomatoes

,

sliced

1

tablespoon

basil pesto

,

(optional)
Instructions
Place the water in a large bowl and slowly whisk in the chickpea flour until fully incorporated, then whisk in 1 tablespoon (15 ml) of extra-virgin olive oil and season with ¼ teaspoon of sea salt and freshly-cracked black pepper to taste. Whisk gently to combine all the ingredients, until the batter has reached a lump-free creamy consistency. Cover the bowl and refrigerate for 30 minutes and up to 2 hours.

Preheat oven to 430 F/220 C and arrange the baking tray onto the middle shelf.

Heat a 10 or 12-inch oven-safe cast-iron or metal skillet over low-medium heat, then brush with the remaining 1 tablespoon (15 ml) of extra-virgin olive oil and pour in the chickpea batter. Cook for 5 minutes over medium-low heat.

Transfer the skillet to the oven and bake for about 8 minutes or until the top is slightly golden brown and the edges have browned nicely.

Remove the skillet from the oven (always use oven gloves, the skillet is hot!) allow to cool slightly, then gently loosen the bottom with a spatula and transfer the socca onto a wood board or serving plate.

Top the socca with rocket leaves, sliced cherry tomatoes, thin slices of Parma Ham, drizzle with optional basil pesto sauce and serve.
Notes
You can store leftover chickpea pizza in a sealed air-tight container and refrigerated it for up to 2-3 days.
Nutrition
Calories:
235
kcal
|
Carbohydrates:
19
g
|
Protein:
8
g
|
Fat:
14
g
|
Saturated Fat:
2
g
|
Polyunsaturated Fat:
2
g
|
Monounsaturated Fat:
7
g
|
Trans Fat:
1
g
|
Cholesterol:
6
mg
|
Sodium:
111
mg
|
Potassium:
336
mg
|
Fiber:
4
g
|
Sugar:
4
g
|
Vitamin A:
216
IU
|
Vitamin C:
6
mg
|
Calcium:
23
mg
|
Iron:
2
mg
The information shown is an estimate provided by an online nutrition calculator. It should not be considered a substitute for a professional nutritionist's advice.