Delicious, easy, Homemade Chocolate Granola, that is also vegan, gluten-free. Ditch the store-bought version and try making your own at a fraction of the cost.
---
It took me quite some time to realize I could make my own homemade granola.
But once I found out how easy it was, I never went back buying overpriced store-bought granola.
Making homemade granola won't only save you tons of money (especially if you like it as much as I do), but it also allows you to throw in the mix everything you like, and mix&match the ingredients for endless fun combinations.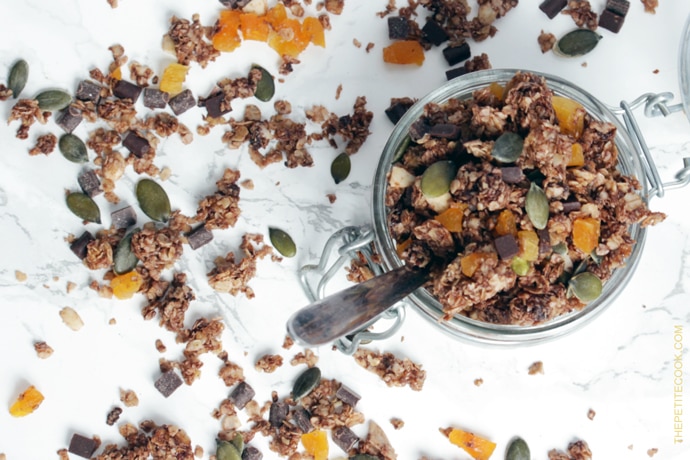 Making your best ever homemade granola, only requires very simple and customizable ingredients, one large bowl and a baking tray.
For this chocolatey winter version, I used a combination of jumbo oats, coconut & almond flakes, dried apricots, pumpkin seeds, honey and of course a handful of dark chocolate chunks.
Because, you know, chocolate is always welcome.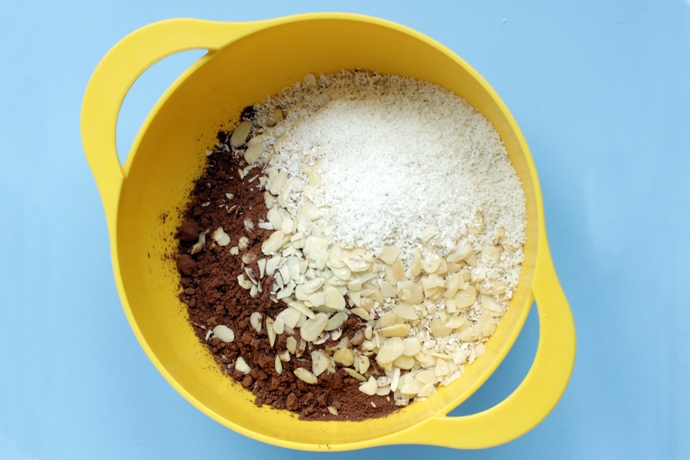 All you have to do is mix all the nuts, seeds, dried fruits and oats in a large bowl.
Pour honey and coconut oil over the dry ingredients and mix everything to combine.
It takes minimum effort and no more than 5 mins.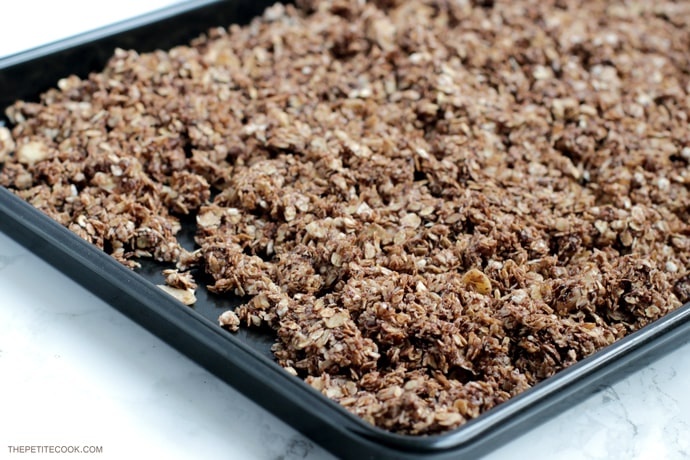 Spread the raw granola mixture on a baking tray and bake into the preheated oven, making sure to stir the granola every 15 mins or so.
Don't skip this step and set your timer up, otherwise your homemade granola can turn up burnt on the outside and moist and mushy on the inside.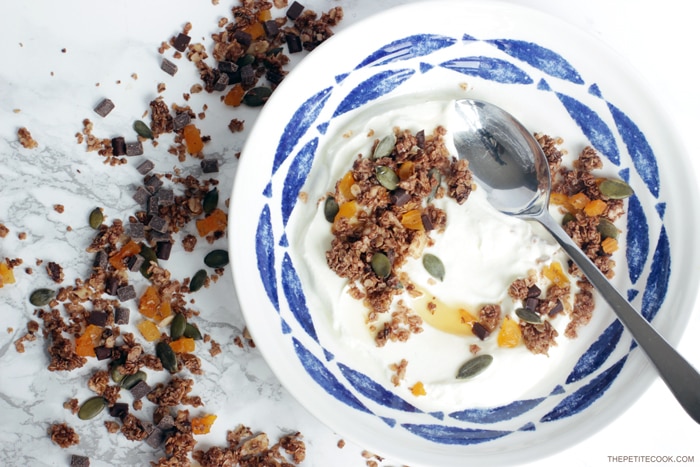 Lately, my favourite brekfast meal has been a nice bowl of Greek yogurt, a few tablespoons of this lovely homemade chocolate granola and a few drops of manuka honey.
So simple, nutritious and so easy to put together. I also love to add some crunchy granola bits to yogurt parfaits, and I even used it to make a cheesecake crust.
As you can see granola is super versatile, and it's perfect to satisfy chocolate cravings without feeling guilty!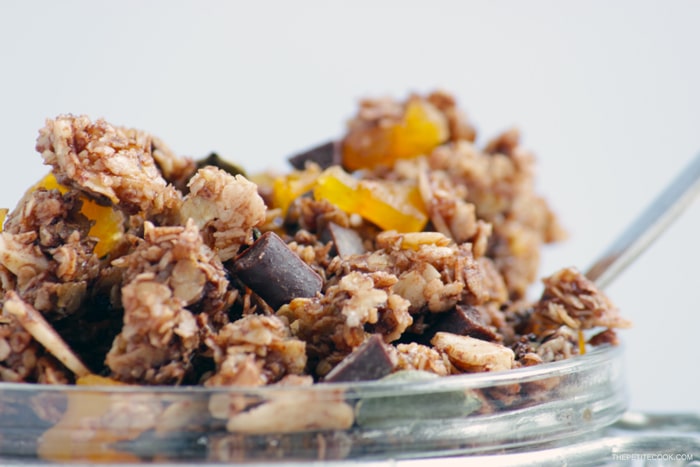 I promise you'll fall in love with this glorious homemade granola.
Packed with oats, nuts, dried fruit and healthy goodness, with no refined sugar and totally allergy-friendly - This is my all-time FAVORITE granola recipe!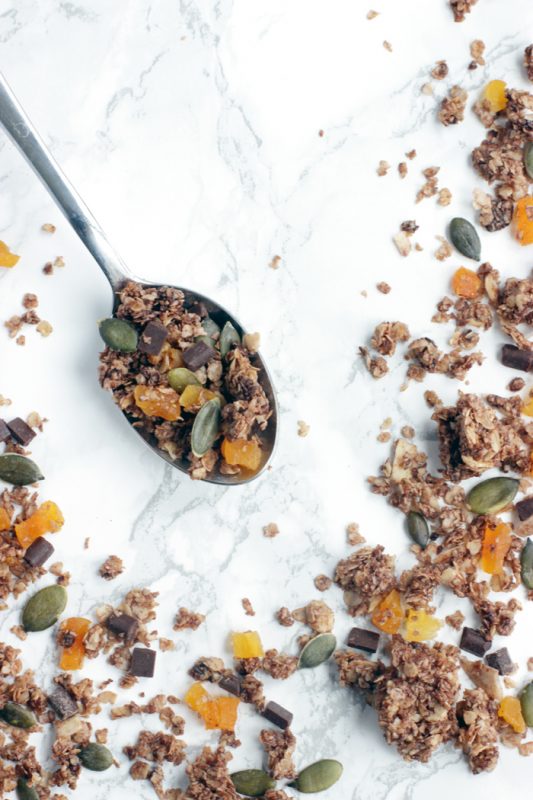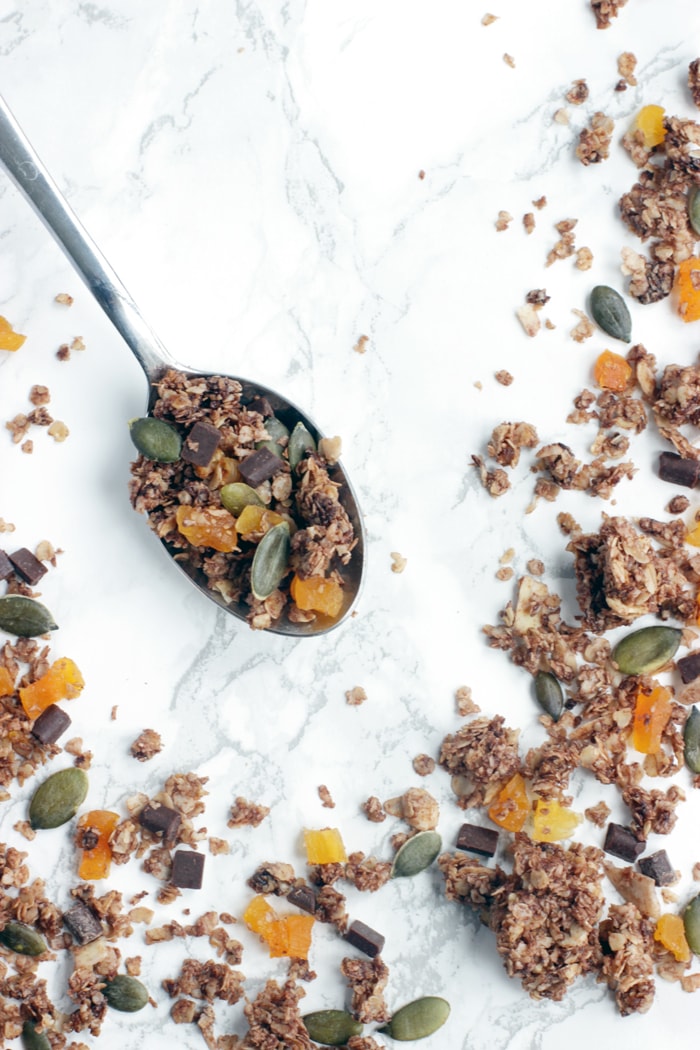 I really hope you give this crunchy Homemade Chocolate Granola a try. If you do, make sure to comment here below or on my facebook/twitter.
Even better, snap a picture, tag it #thepetitecook and share it with me on Instagram! Looking at your pictures always makes my day!
Recipe
Homemade Chocolate Granola
Delicious, easy, Homemade Chocolate Granola, that is also vegan, gluten-free. Ditch the store-bought version and try making your own at a fraction of the cost.
Ingredients
400

g

rolled oats / jumbo oats

,

I use certified gluten-free oats

100

g

almond flakes

3

tablespoon

unsweetened cocoa powder

50

g

coconut flakes

6

tablespoon

honey or maple syrup

4

tablespoon

coconut oil

,

melted

100

g

dark chocolate chips or chunks

100

g

dried apricots

,

finely chopped

50

g

pumpkin seeds

A pinch of sea salt
Instructions
Pre-heat oven to 140ºC/120ºC fan oven.

In a large bowl mix together oats, cocoa, almonds, salt.

Add coconut oil and honey into the dry one and mix throughly until combined.

Spread the granola mixture on a large non-stick baking tray.

Bake for 40 minutes, gently stirring the mixture with a spatula every 15 mins or so. Do not over stir, as this prevents the granola clusters from forming.

Remove from the oven and mix in the pumpkin seeds and chopped dried apricots. Return to the oven and bake for a further 10 minutes, until granola is golden and crunchy.

Remove from the oven and allow to cool. Transfer into a large bowl and mix in the chocolate chips. Break into clusters and enjoy for breakfast or as a snack during the day.

Store in an airtight container or large jar for up to 1 month.
The information shown is an estimate provided by an online nutrition calculator. It should not be considered a substitute for a professional nutritionist's advice.