If you're planning an al fresco event to entertain your guests this summer, look no further - It really doesn't get easier (and tastier) than Italian aperitivo!
To throw the perfect Italian aperitivo you don't need particular cooking skills, in fact, you don't need any cooking skills at all, because no stove or oven is required.
Putting together this al fresco aperitivo platter is incredibly easy and ready in less than 15 mins.
All you need is high-quality Italian ingredients, paired with some veggies and fruits.
This post is sponsored by Ciao Gusto. All opinions, as usual, are my own.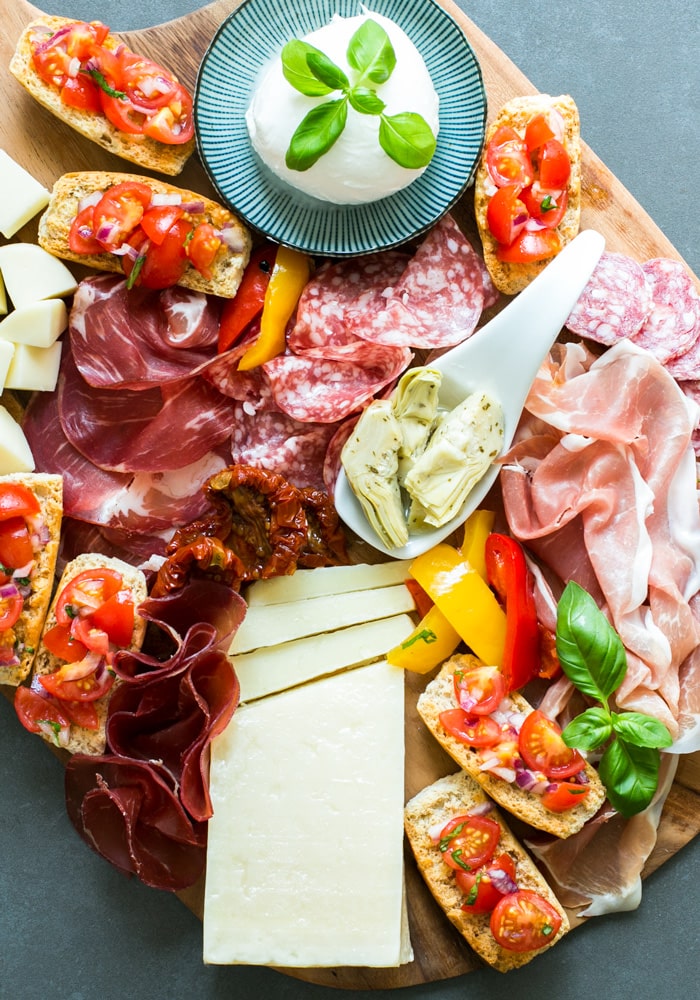 To show you how simple it is, I've partnered up with Ciao Gusto, the all Italian shop tab on Ocado, where you can easily order authentic Italian food and drink products and all the ingredients I've used to make this tasty platter.
Growing up in Italy, I've known the trust-worthy Italian brands, Negroni, Auricchio, Ponti and Amica Chips for a long time, and I can assure you of the quality of their products.
For a true Italian like me, it's really exciting to be able to find all these delicious ingredients and more at Ciao Gusto, a one-stop online shop!
Back to this Italian aperitivo, it really is super quick to throw together.
Once you have all the ingredients at hand, all you need to do is arrange them nicely on a platter and call it a day.
Plus, the whole board can be made in advance, covered and kept in the fridge until ready to serve.
Just add the bruschetta and veggies before serving and you'll be good to go. Easy-peasy, right?
How to Assemble An Aperitivo Platter

1. Charcuterie: Make sure to showcase a few different types of cured meats, offering diverse textures and tastes.
I used Negroni Salami Milano, Coppa, Prosciutto di San Daniele DOP, Bresaola and a small whole salami.
2. Cheese: Add in few cheese options with different textures and flavours. On summertime a fresh Auricchio Buffalo Mozzarella DOP is a must – make sure to serve it whole to preserve its freshness.
For strong-flavours cheese lovers, add in Auricchio Pecorino Romano DOP, and to please the taste of sweet cheese lovers, add in a softer cheese such as Auricchio Provolone Dolce.
3. Veggies & Fruit: Add in some fresh fruits and preserved vegetables to freshen up the palate.
I used fresh cherry tomatoes, Ponti artichoke hearts in olive oil, Ponti soft sundried tomatoes, and Ponti roasted peppers in olive oil.
4. Crunchy bread: Although freshly grilled bread is always a good option, it's quite fulfilling, and ultimately time-consuming to prepare, so, I opted for Amica Chips crunchy croutons.
Top them up with some fresh tomatoes mixed with chopped red onion, basil and extra-virgin olive oil for the easiest bruschetta you can possibly make.
5. Drinks: Last but not least, serve your antipasti platter with super-chilled extra-dry Prosecco.
If you fancy a summer cocktail, go all the way for a refreshing Bellini (or check out my this bramble cocktail).
You can visit the Ciao Gusto Italian shop on Ocado or, to find out more about Ciao Gusto, you can visit their website.
More Italian Recipes For Your Aperitivo Party