Cheesy, gooey, slightly spicy and ready in less than 20 minutes – Baked Camembert is super easy to make and the best ever appetizer to share!
Did you know you can bake Camembert in the first place? I didn't, and it turns out I've been eating this delicious French cheese wrong!
What is Camembert Cheese?
If you are not familiar with Camembert, it's a French round cheese that is very similar to Brie, but comes in a wood box.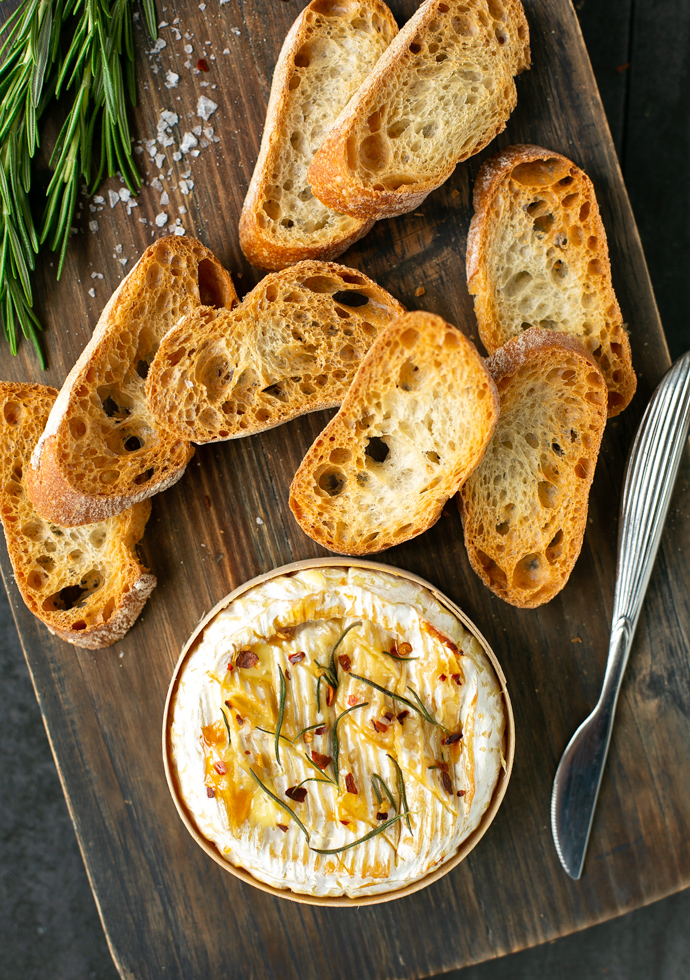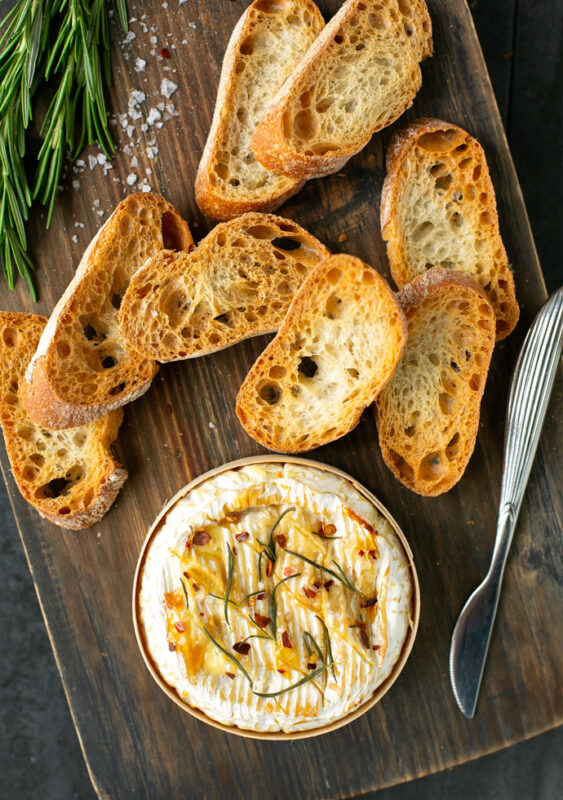 Both these kinds of cheese come from a similar recipe using cow's milk.
The main difference between the two cheeses is that Brie has added cream in it, making it slightly creamier and higher in fat.
They have both an earthy flavour and aroma (slightly similar to mushrooms), but Brie has a more buttery and delicate flavour in my point of view.
Camembert, on the other hand, has a more intense and nutty flavour.
You can find more details about the difference between the two cheese here.
Camembert is also sold in a whole wheel, making it easier to bake. If you have the chance, look for the AOC Camembert de Normandie, which is made with unpasteurized milk, you'll get the best of the best.
But if you want to make baked Brie instead (which is usually sold in slices), you should be able to find baby Brie wheels nowadays.
How To Make Baked Camembert At Home
Baked Camembert is quickly becoming a popular appetizer to share, whether you go to a fancy restaurant or to the local pub.
Good news is, you can totally make this delicacy at home, and it takes just 20 minutes!
If you're looking for an easy happy hour food for your next dinner party, this is the best recipe out there.
I promise that with minimum efforts, you'll get an amazing appetizer to feed a large crowd. Pair it with a French bottle of red wine or white wine, and you can't go wrong with it.
This is truly the best recipe out there, and you don't need fancy equipment or ingredients!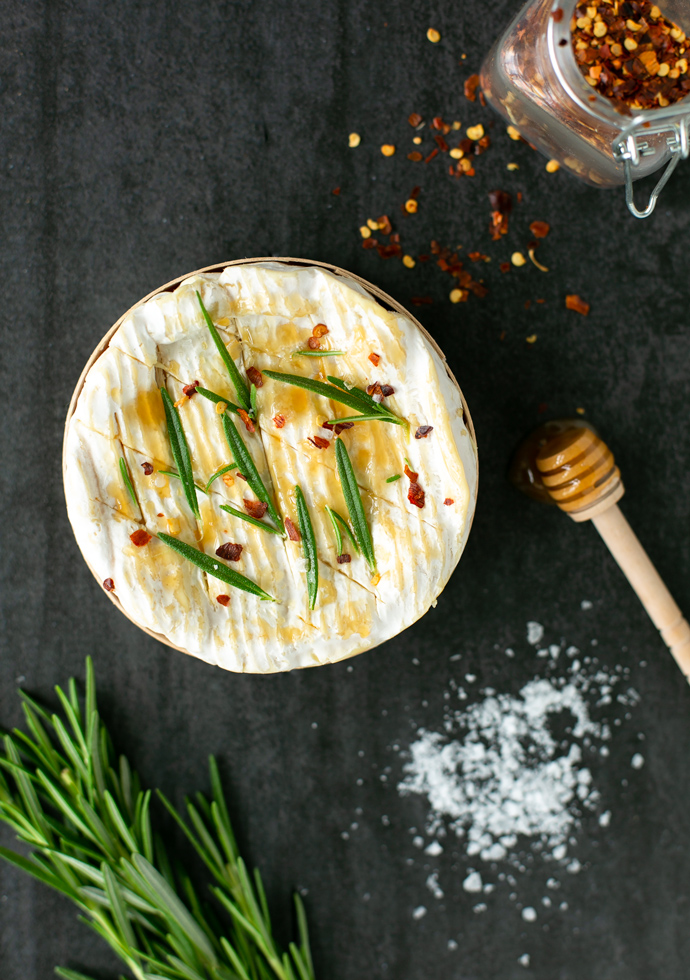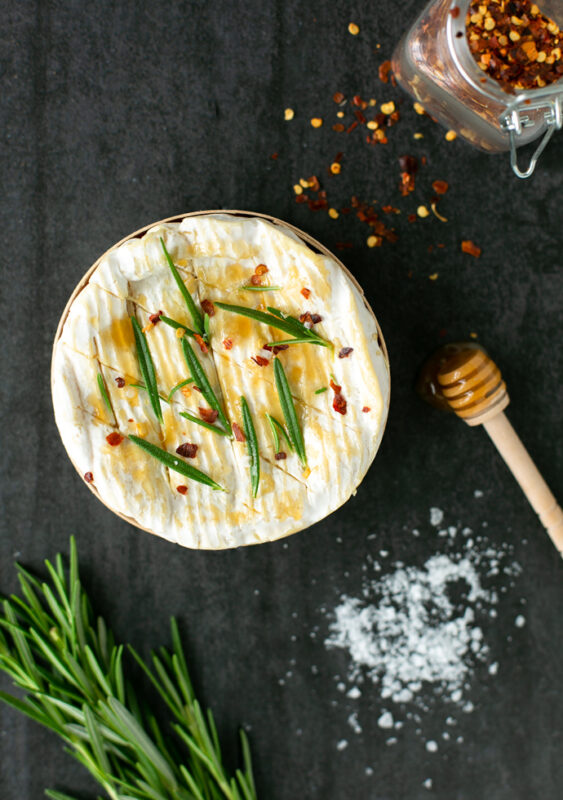 All you need is a Camembert, its wooden box, some favourite herbs and spices and honey or extra-virgin olive oil.
I used rosemary and chilli flakes to season my baked Camembert.
Other herbs (such as thyme) will work just as great, and you can also add a sliced garlic clove if you like.
I also like to brush the cheese with a bit of honey, but a drizzle of olive oil is also ok.
Easy tips to make the best baked Camembert
I've been making this baked Camembert for over 6 years now, and not once it has failed me.
This recipe is totally fool-proof, but make sure to follow these easy tips for best results.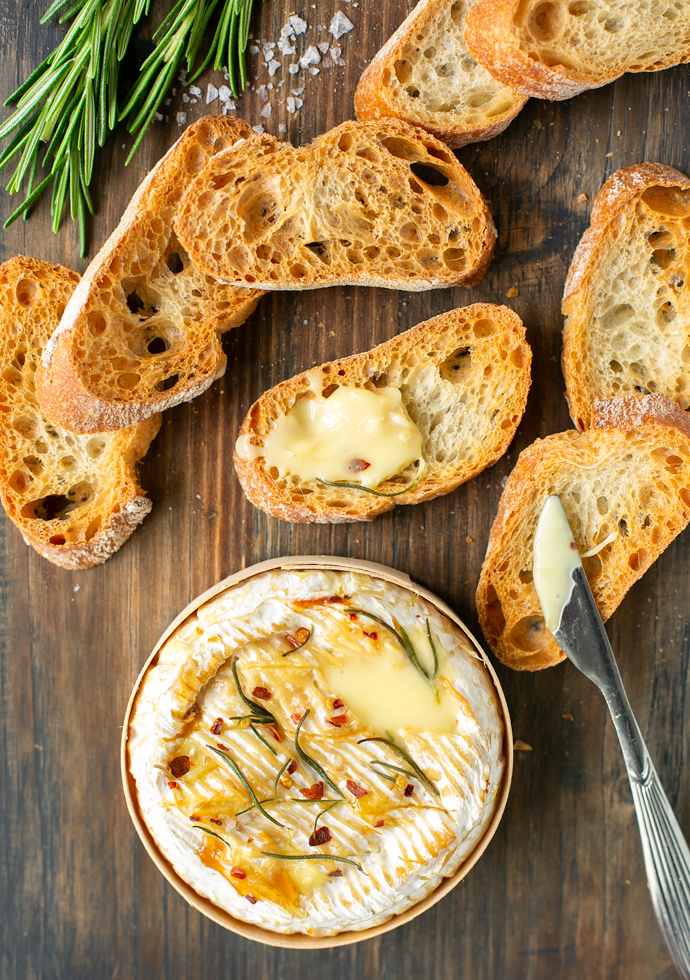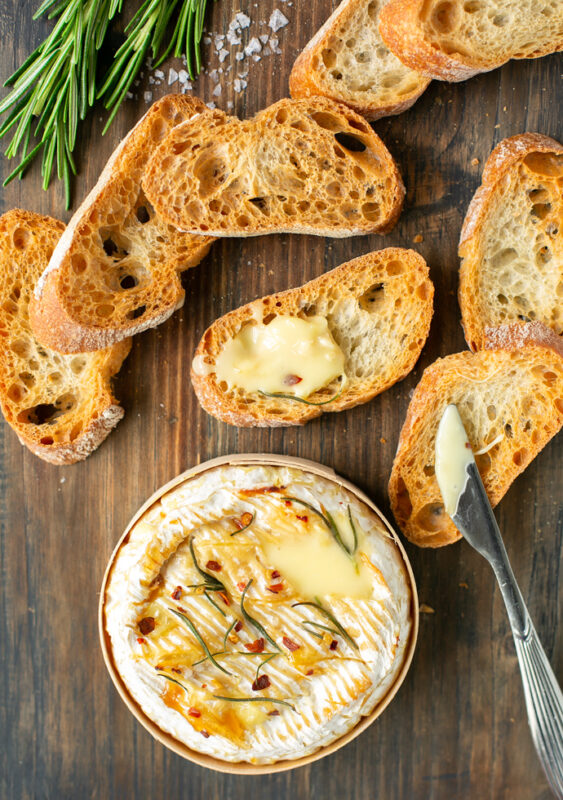 – Bake the Camembert in the wooden box
Use the box it comes with, but obviously, remove the plastic wrapping. If it doesn't come in a wooden box, you can use a small baking pot or a Camembert baker (affiliate).
Do not put the Camembert in the oven without one of the two, as it will spread around leaving you with just a big mess and no cheese to indulge into.
Additionally, to be extra safe, wrap the wooden box in foil, and arrange it on a baking sheet to avoid any cheese spillage (I never had this issue, but just in case).
– Check the oven temperature
Make sure the oven temperature sticks to 180ºC/350ºF/Gas 4 (fan oven 160C), and not above than that.
– Score a deep cross or a crosshatch pattern
Using a sharp knife, score the top of the cheese, this will allow the air to escape while cooking.
Some people actually cut the top rind entirely, this is really up to your taste, I'm definitely a rind lover, so I keep it on mine.
– Season well the Camembert
Sprinkle sea salt flakes and freshly cracked black pepper or chilli flakes to give a little spiciness to the cheese.
Either drizzle the Camembert with Extra-virgin olive oil, or some honey which gives a nice sweetness to it.
– The most important step is the baking time
Bake the Camembert for 12-15 minutes, not more than that.
Forget who tells you the more you bake it the softer and gooeyer it gets, this is just A BIG FAT lie.
If you bake it more than you should, the cheese will harden back again and there's no chance you can rescue it from there.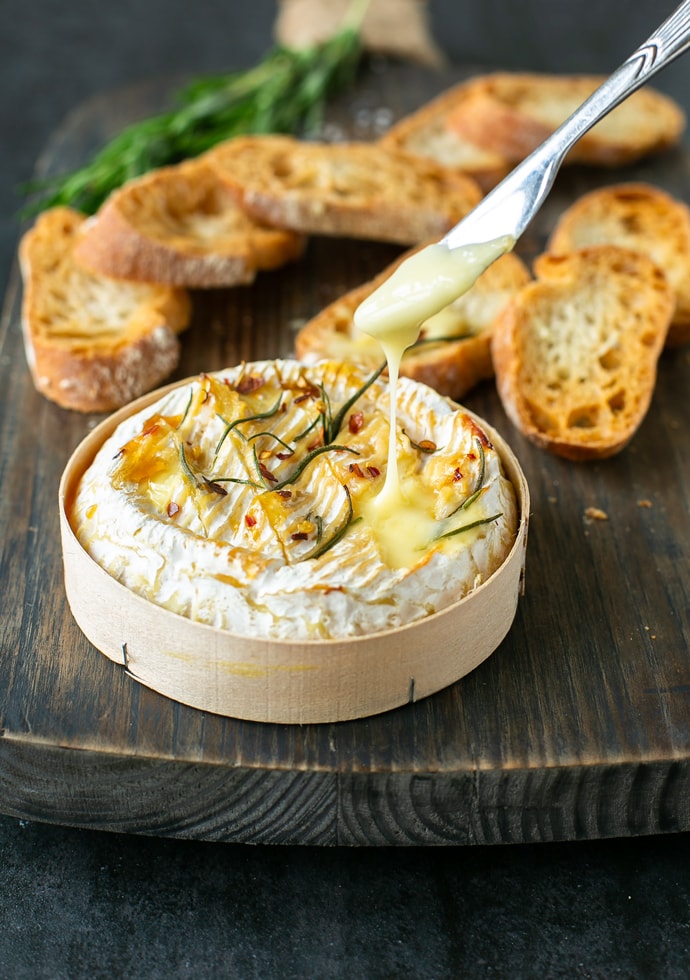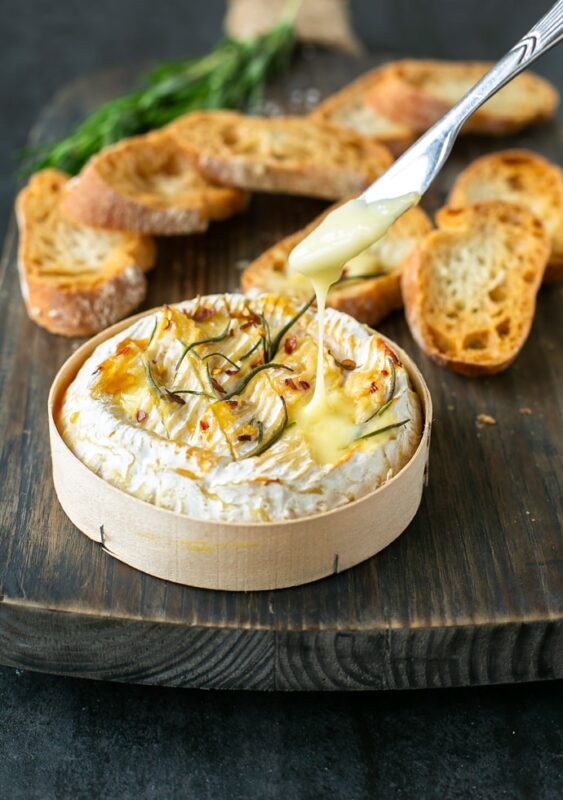 Serve your soft and creamy baked Camembert with cheese crackers, toasted ciabatta or baguette slices or garlic bread.
Once you have mastered the basics, get creative and try different spices and flavour combinations.
Now, is your Camembert in the oven already? Get your dinner party ready, open up your favourite bottle of wine and enjoy this gooey delicacy all year long!
DID YOU MAKE THIS RECIPE?
Please let me know how you liked it! Leave a comment below and share a picture on Instagram with the hashtag #thepetitecook! Looking at your pictures always makes me smile *and super hungry*!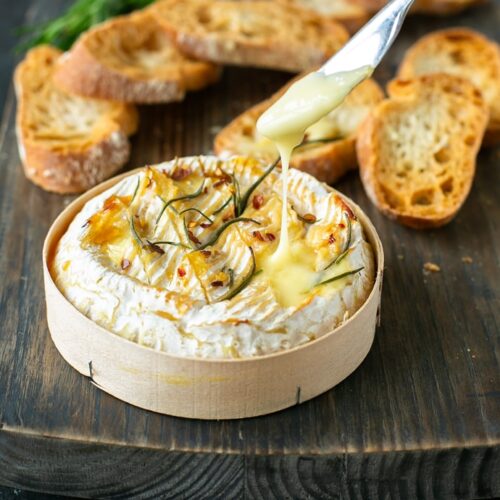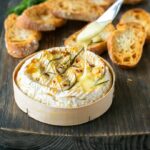 Print Recipe
How To Make The Best Baked Camembert
Cheesy, gooey, slightly spicy and ready in less than 20 minutes – Baked Camembert is the best ever appetizer to share!
Ingredients
1

Camembert cheese in wooden box

about 350 gr

1

sprig of rosemary

1

pinch

of chili flakes

1

tbsp

honey or extra-virgin olive oil to drizzle

Sea salt flakes and black pepper

to taste
Instructions
Preheat oven to 180°C /350°F (oven fan 160°C). Arrange a baking tray onto the middle shelf.

Remove the plastic packaging and arrange the Camembert back in its wooden box, or in a small baking pot.

Score a deep cross or a crosshatch pattern on the top rind of the cheese. Drizzle with honey or extra-virgin olive oil, and insert the leaves of one sprig of rosemary into the gaps.

Sprinkle with chili flakes, season with sea salt flakes and optional black pepper.

Bake in the oven for 12-15 minutes.

Remove from the oven, and serve with cheese crackers or toasted bread slices.
**This recipe was originally posted in January 2015 and updated with new images and more info.**