Ready in just 15 minutes, these tasty and crispy sweetcorn fritters are perfect for a quick lunch/dinner or appetizer!
---
Not quite like any other fritters – these are inspired by Gordon Ramsay's famous sweetcorn fritters!
The first time I saw this recipe was on Gordon Ramsay's 'Ultimate Cookery Course' TV show, and it gave me the inspiration to give it a try.
Over the years, I've been making these on repeat, and my family never gets tired of them.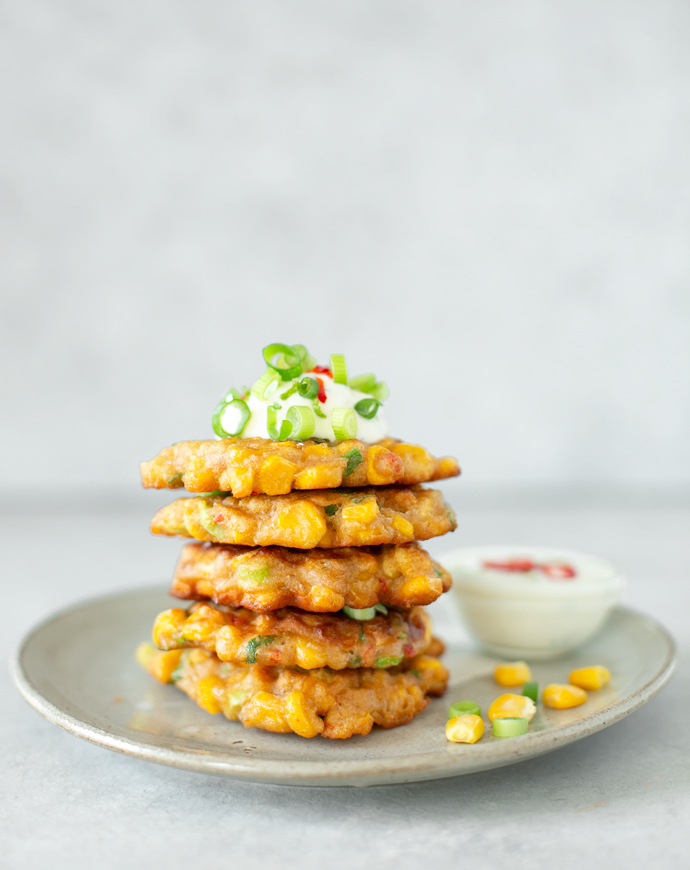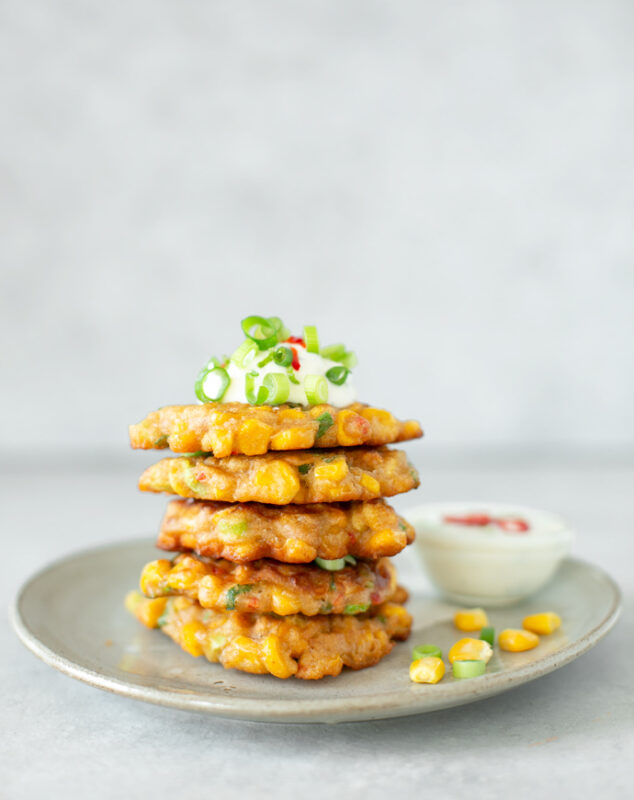 This recipe has been tested (and tasted) and perfected over and over again, and I can fully guarantee it's absolutely fool-proof and 100% awesome.
The recipe for these corn fritters couldn't be easier. It all comes together in less than 15 minutes, and it's one of the easiest fritters recipes around, made with super simple ingredients and requiring very little cooking skills.
Sweetcorn Fritters Ingredients
This recipe is beautifully easy and requires just a bunch of simple inexpensive ingredients.
All you need is less than 10 ingredients:
sweetcorn
flour
fresh whole milk
extra-virgin olive oil
spring onions
red chili pepper
free-range egg
baking powder
cilantro
These are very easy-to-find ingredients, but here are some ingredients tips based on the many questions I received in the few years over these popular fritters.
What kind of corn do I need?
The short answer is, any kind you like.
The best option is obviously fresh corn kernels whenever you find it.
But you can definitely use canned sweetcorn if you like. Make sure you drain them well and pat the kernels with kitchen paper before use.
And you can totally go for frozen sweetcorn (as I usually do). In this case, transfer the kernels in a colander and place them under cool running water for a minute, then drain and pat them dry before use.
Honestly, these fritters taste amazing, whether you use fresh, frozen or canned corn.
What is the best flour to use?
I use organic wholemeal flour (wholewheat flour for US friends!) and I totally recommend it.
However, these corn patties will be just as good using all-purpose flour, whether organic or not.
What's a good substitute for coriander?
Coriander ( cilantro for US friends) is definitely not for everyone, and even for those who like it, it may be hard to find it in small grocery stores.
I usually substitute coriander with parsley for a more subtle flavour, but mint, tarragon or basil leaves will all work well too.
Can I substitute extra-virgin olive oil with vegetable oil?
I'm Italian, so for me, it's extra-virgin olive oil all the way.
I use it as an ingredient for the fritters, and also for gently frying them in the pan. You can, of course, use vegetable oil if you like, the difference is very subtle.
Fritters + Yogurt Dip = Perfect Combo!
I said it before and I'll say it again, these easy fritters taste absolutely incredible.
But they taste even better when paired with a flavorful and super easy yogurt dip.
This yogurt dip is my go-to sauce. It's refreshing, slightly spicy, citrusy and best of all, it takes 2 minutes to make!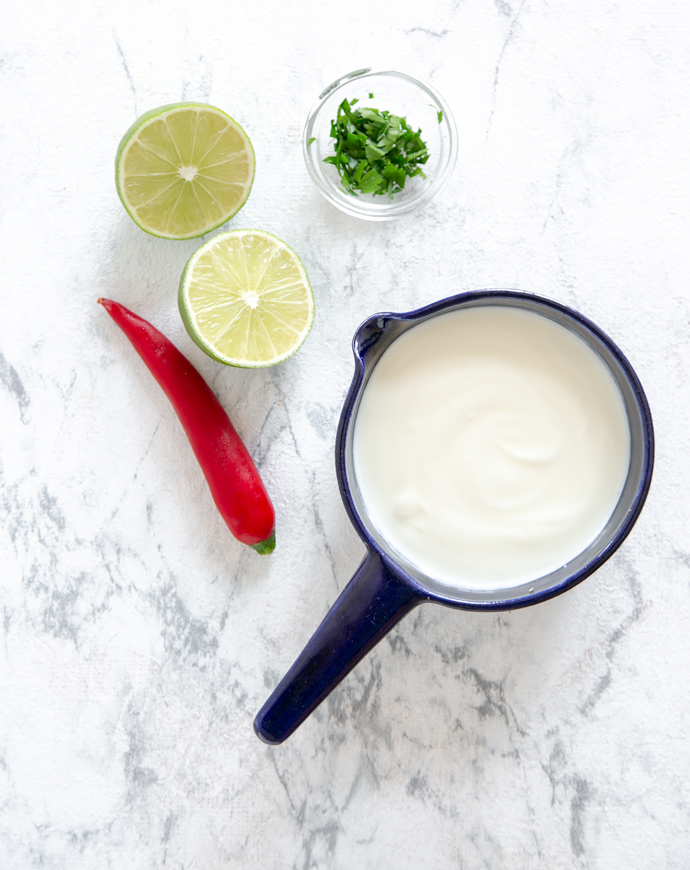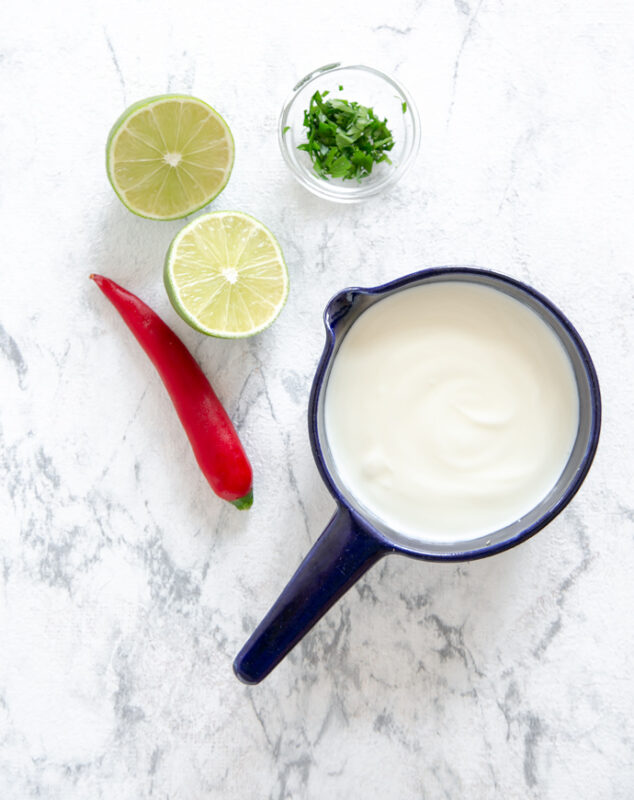 All you need is Greek yogurt, finely chopped red chili pepper & cilantro, lime zest and juice.
Most of the ingredients are part of the fritters already, so that makes it even more convenient when shopping for this recipe.
Put everything in a bowl and mix until combined. And that's pretty much it.
I'm totally in love with the flavours of this dipping sauce and it just goes SO well with these fritters.
I'm pretty confident it could bring any kind of fritters to the next level, but on these corn fritters, I know it for sure. Don't skip it!
And if you really really don't like yogurt dips, then you can definitely serve these patties with chilli sauce for a nice kick.
Ready in Just 15 Minutes!
These quick and easy corn fritters are a total breeze to prep, and your whole journey from measuring the ingredients to biting into a hot crunchy fritter will take you no more than 15 minutes.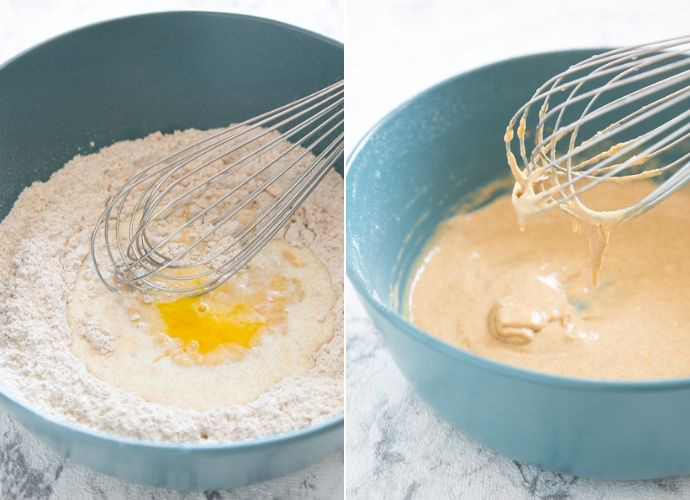 Start by adding flour and baking powder into a large bowl.
Make a well and add the beaten egg and milk, then give it a nice whisk until your batter reaches a nice velvety consistency.
Stir the sweetcorn kernels, red chili, cilantro and spring onion into the batter, and mix until just combined.
Now, it's time to cook your corn patties!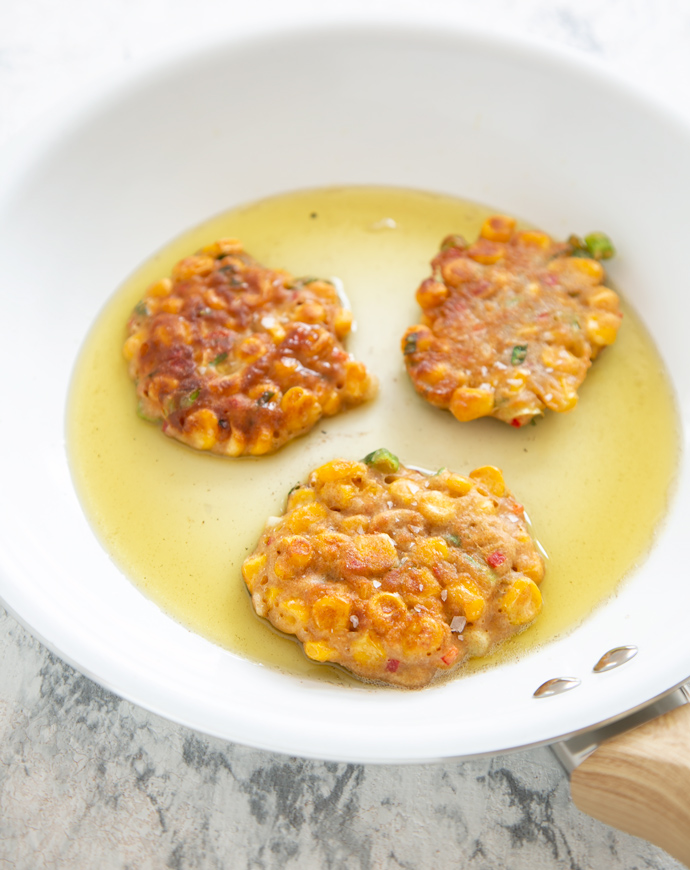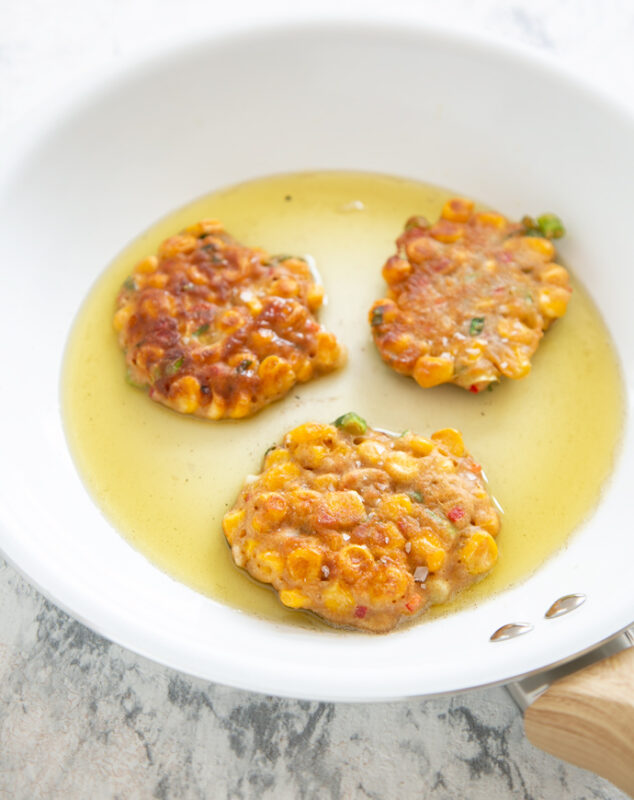 Heat the oil in a medium skillet (it should be enough to coat the pan), then place one spoonful of the batter into the pan, and flatten it down with a spatula to shape it into a patty.
Let your fritters cook for about 2 minutes per side, then serve them piping hot with the yogurt dip. Et-voila'!
It will probably take you more to read the whole recipe than actually making it. But I promise it's worth it!
Ready in just 15 minutes and made with super simple ingredients, these tasty and crispy corn fritters will easily become a family favourite!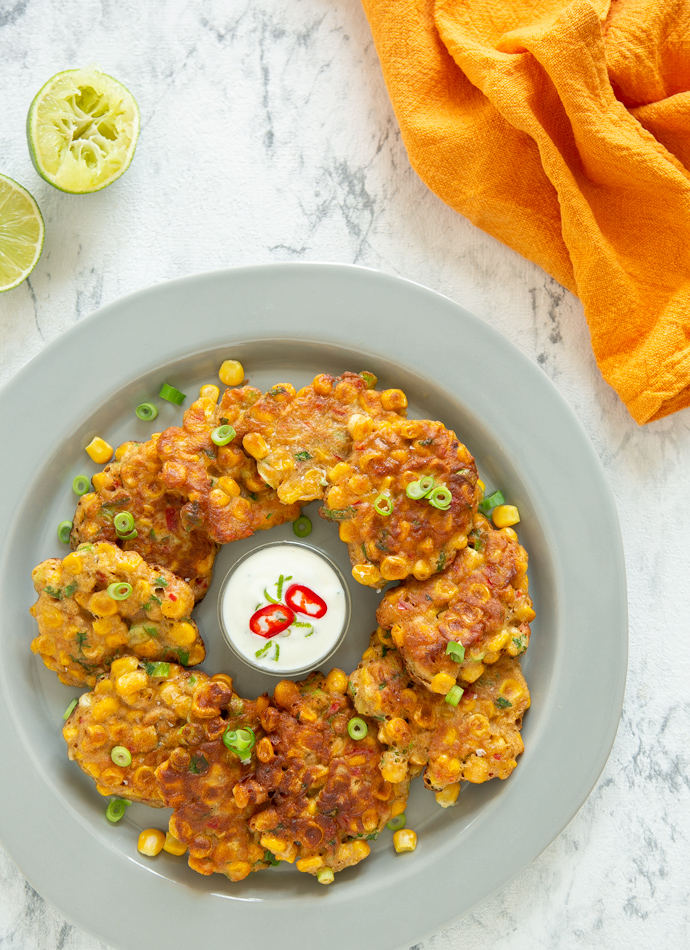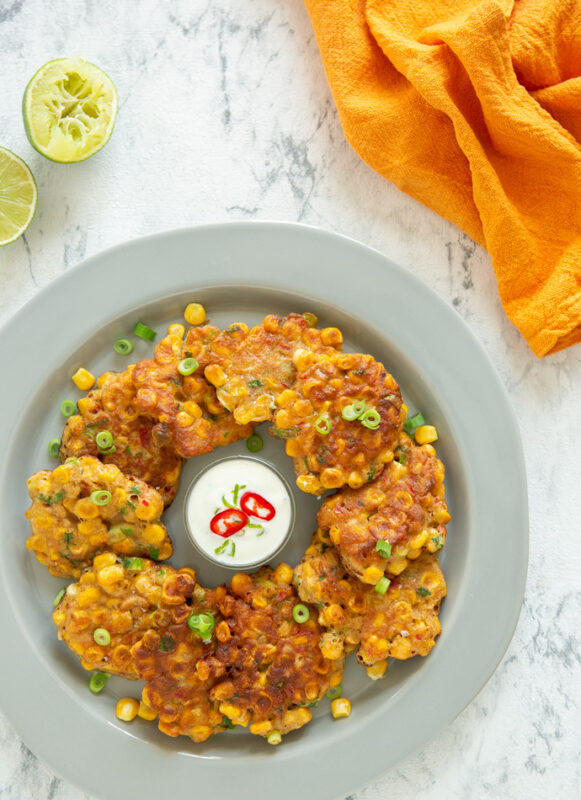 Can I freeze them?
Yes! In fact, these sweetcorn fritters freeze beautifully.
Arrange them on a baking tray covered with parchment paper and put them in the freezer for 10 minutes (to prevent them from sticking to each other), then store them in a freezable bag for later use.
Whenever you fancy, just take them out from the freezer, leave them on the kitchen counter for an hour (or in the fridge overnight) and reheat in a pan with a splash of olive oil.
How to reheat them?
If you want to reheat a large batch of fritters, I feel it's best to pop them in a warm oven for about 10 minutes.
Alternatively, you can reheat them in a pan with a small amount of olive oil.
More Vegetarian Fritters Recipes You'll Love:
Sweetcorn Fritters with Yogurt dip
Ready in just 15 minutes, these tasty and crispy sweetcorn fritters are perfect for a quick lunch/dinner or appetizer!
Ingredients
100

g

wholemeal flour

½

teaspoon

baking powder

sea salt and freshly ground black pepper

1

free-range egg

,

beaten

80

ml

whole fresh milk

3

tablespoon

extra-virgin olive oil

2

spring onions

,

thinly sliced

1

red chili pepper

,

seeded and finely chopped

2

tablespoon

chopped cilantro

240

g

sweetcorn kernels

,

drained and dried on paper towels
For the yogurt dip:
240

ml

greek yogurt

½

red chili pepper

,

seeded and finely chopped

juice & zest of ½ lime

2

tablespoon

chopped cilantro

Sea salt and freshly ground black pepper
Instructions
Sift the flour and baking powder into a mixing bowl and season with salt and pepper to taste.

Create a well in the centre of the flour, and add in the beaten egg and milk.

Whisk, gradually bringing the flour into the wet mixture until it forms a smooth and silky batter.

Add 1 tablespoon of extra-virgin olive oil and whisk the batter until smooth, adding a little more milk if necessary.

Fold in the chopped spring onions, chilli pepper, coriander, and sweetcorn kernels into the batter and mix until just combined.

Heat 2 tablespoons of extra-virgin olive oil in a large frying pan over medium heat.

Place a spoonful of the batter per fritter into the hot pan, flattening the patties slightly with a spatula, and spacing them at least 1 inch apart.

Cook the fritters for 2 minutes then flip them on the other side and continue cooking them an additional 1 to 2 minutes until they're crispy and golden brown.

Transfer the fritters, onto a plate lined with kitchen paper to absorb the oil in excess, then serve them with the yogurt dip on the side.
For the yogurt dip:
Mix together all the ingredients in a small bowl. Taste and season with salt and pepper as needed, then refrigerate until ready to serve.
Notes
Flour: You can use wholemeal flour, all-purpose flour or even rice flour and gluten-free flour.
Sweetcorn: You can use fresh sweetcorn kernels, frozen sweetcorn or canned sweetcorn. If you use frozen sweetcorn, place under running water for 2 minutes, then drain and pat dry. If you use canned sweetcorn, drain and pat dry before proceeding with the recipe.
Store: These sweetcorn fritters can be stored in the fridge for up to 2 days, and reheated in a pan with a little amount of olive oil.
They can be freezed individually and stored in the freezer for up to 1 month. 
Nutrition
Calories:
308
kcal
|
Carbohydrates:
36
g
|
Protein:
14
g
|
Fat:
14
g
|
Saturated Fat:
2
g
|
Cholesterol:
46
mg
|
Sodium:
103
mg
|
Potassium:
419
mg
|
Fiber:
5
g
|
Sugar:
7
g
|
Vitamin A:
470
IU
|
Vitamin C:
29
mg
|
Calcium:
137
mg
|
Iron:
2
mg
The information shown is an estimate provided by an online nutrition calculator. It should not be considered a substitute for a professional nutritionist's advice.
*This post was originally published in November 2014, and updated with new photos, info and improved recipe.*