Ditch the deep-fryer in favour of these healthier and easy-to-make crispy patties – These light Baked Cauliflower Fritters are a delicious vegetarian dinner option and are ready in less than 30 min!
When I was a kid, cauliflower was absolutely out of question for me.
No matter what, I would avoid at all costs being anywhere near cooked cauliflower. Except for one thing, fritters.
My mum cleverly came up with these yummy bites to help me and my brothers get over the smelly veggie, and it did work! We used to totally love cauliflower fritters and begged her to make them over and over again.
I have to say, I still have issues with plain cooked cauliflower, but I do love it in all sorts of recipes now.
However, making fritters is still my favorite way to enjoy them. I like preparing a big batch of these little guys, and an extra batch of my baked zucchini fritters and serve them as finger food at parties and dinners.
They're light, full of flavour and usually disappear within minutes!
What You Need To Make These Vegetarian Fritters
This healthy version of baked cauliflower fritters only requires 7 simple ingredients such as: steamed cauliflower florets, garlic and aromatic herbs, panko breadcrumbs, egg white, optional Parmesan cheese and a little flour.
Best of all, this recipe takes only 30 mins to prepare, making these simple patties a great dinner option on busy days.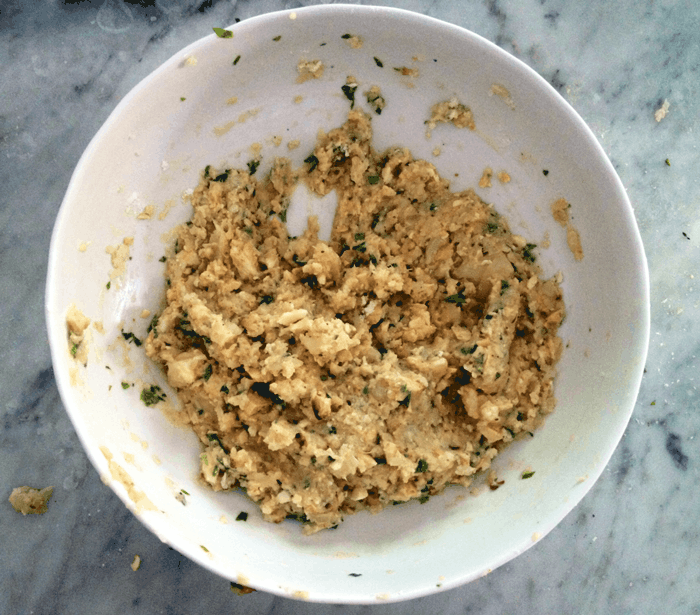 To make these baked cauliflower fritters all you have to do is mix together the ingredients in a large bowl, just as you would do with meatballs.
Then, form small patties with the help of your hands and lightly dust them with flour.
Spray a little olive oil on both sides of each fritter and arrange them on a baking tray, or heat a large pan with some olive oil (in this case you don't need to spray them with oil beforehand).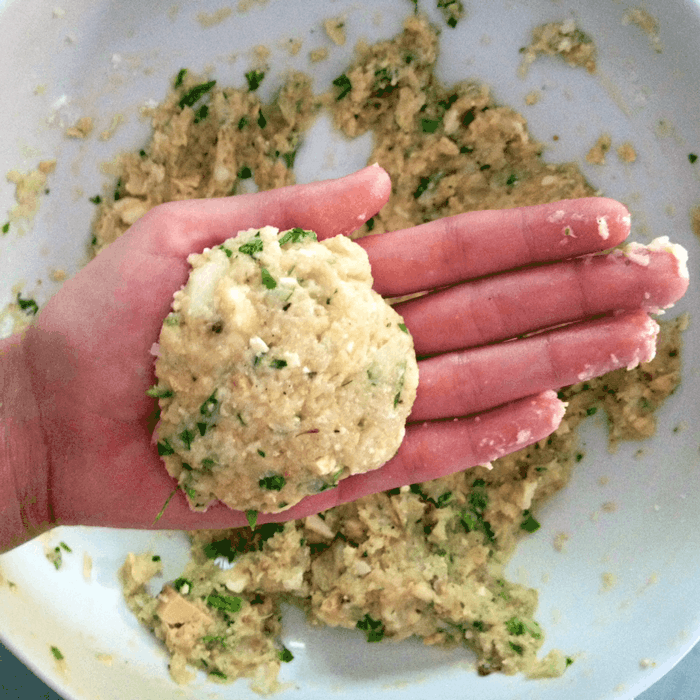 I prefer to bake the fritters in the oven, but you can also give them a go in the airfryer.
However, if you prefer to fry them (I won't judge), the best advice I can give is to fry the fritters in small batches so they get extra crispy and turn into that lovely golden-brown colour.
How Can I Make These Cauliflower Fritters Dairy-free?
To keep them 100% dairy-free, take the Parmesan out and substitute with extra panko and fresh aromatic herbs. You won't compromise the flavour, I promise!
Can I Freeze These Fritters?
Absolutely, I do that all the time! Once the fritters are ready, place them in airtight containers, with baking paper between the layers of fritters, and freeze for up to 1 month.
What To Serve with Cauliflower Fritters?
Serve them piping hot plain as they are with a squeeze of lemon on top if you like.
Or even better, try them dipped in this spicy marinara sauce.
For a healthy breakfast, serve them with poached or scrambled eggs.
Try them with a large nutritious quinoa salad for a balanced meal.
These cauliflower fritters are so good you'll want to make them over and over again!
Print Recipe
Baked Cauliflower Fritters
Ditch the deep-fryer in favour of these healthier and easy-to-make crispy patties – These light Baked Cauliflower Fritters are a delicious vegetarian and dairy-free dinner option and are ready in less than 30 min!

Ingredients
300

gr

cauliflower florets

steamed

1

egg white

1

garlic clove

finely minced

a bunch of fresh parsley and basil leaves

chopped

1/2

cup

panko breadcrumbs

1/2

cup

Parmesan cheese

optional

sea salt and pepper

to taste

all purpose flour

for dusting

Extra-virgin olive oil

for spraying or frying
Instructions
Preheat oven to 200C/395F.

In a large bowl or food processor, mix together panko, fresh parsley/basil, minced garlic and Parmesan if using. Season with salt and pepper.

Fold in the tender cauliflower florets and egg white and mix all the ingredients until you have a dense mixture. Add in more panko if too wet, or an extra egg if too dry. Adjust seasoning.

Form small patties with your hands and lightly dust with flour.

Spray with olive oil on both sides and place on a baking sheet lined with parchment paper.

Bake in the oven for 10 min of each side, or until crispy and golden-brown.

Serve the fritters piping hot, and enjoy plain, or with a squeeze of lemon on top and optional marinara sauce on the side.
Notes
Recipe originally posted in April 2016 and updated with more info.
I hope you guys will give these awesome baked cauliflower fritters a try!
Don't forget to leave a comment below and let me know how you liked it!
You can also snap a picture, add the hashtag #thepetitecook or tag @thepetitecook and share it on Instagram! I can't wait to see all your delicious creations :).