Homemade ketchup in just 5 minutes - Super easy to make, rich in flavour and definitely healthier than the store-bought version.
Probably the most famous tomato sauce in the world, ketchup is super versatile and can be used in a lot of different recipes.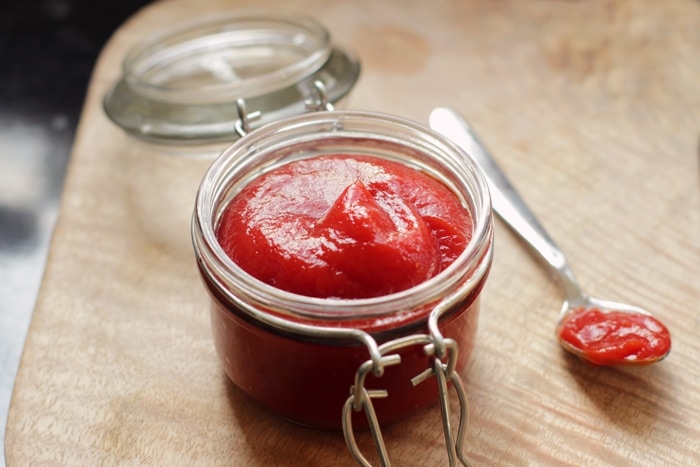 Obviously, the best way to enjoy it is with french fries together with some good homemade mayonnaise.
An all-time-favorite among kids and grown-ups, ketchup is a staple sauce for so many dishes, just think about chunky hot chips, hot dogs or burgers.
But have you ever tried making your own?
Homemade vs Store-bought
Store-bought ketchup contains some ingredients that I tend to avoid, such as high-fructose corn syrup and a list of preservative.
The homemade version, on the other hand, is cheaper and all about natural flavouring, ingredients and spices.
It really takes very little effort to make and tastes so much better than supermarket ones.
Some pretty good reasons to choose to make homemade ketchup over buying it!
Two ways to make it at home
There are a lot of variations on the original ketchup recipe, which involve the use of various spices or different kinds of vinegar.
I try to keep it as simple as possible, using only a few ingredients and just the basic spices.
Once you master the basics, it's easy to get carried away and try new ingredient combinations or add some fresh herbs, as I did in this
spicy basil ketchup
.
Over the years I've tried both the slow-cooked version, which remains a little bit thicker and grainy and the quick version, where all you need to do is throw the ingredients in a blender and mix until smooth.
Although the latter is quick and effortlessly easy, the cooked tomato ketchup uses canned tomatoes instead of paste and delivers much more flavour.
If you have a little more time on hand, give the slow-cook version a try and you won't be disappointed!
Ketchup recipe (slow-cook version)
Total time: about 1 hour
Ingredients
2lb (800gr) Plum canned Tomatoes, pureed
1 Onion, medium and finely chopped
2 tbsp Extra virgin Olive Oil
3 oz (80gr) brown sugar
1 tsp Salt
4 fl oz (120ml) white vinegar or cider vinegar
1 tbsp Tomato paste
1 tsp Cinnamon powder
1 tsp Black Pepper powder
grated nutmeg and chilli flakes to taste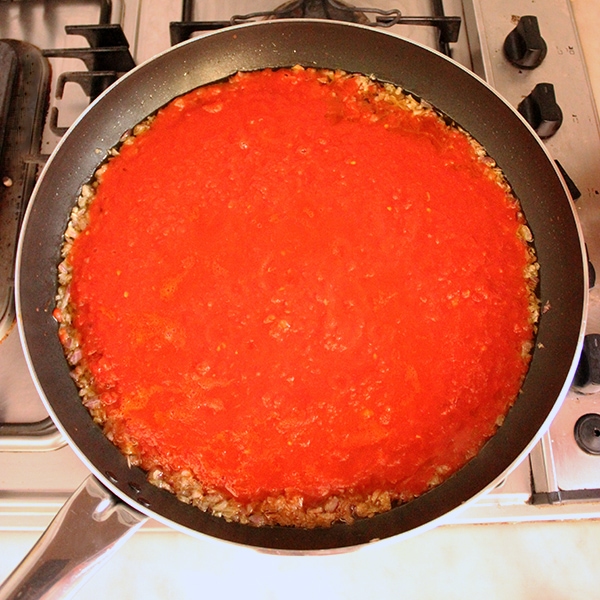 Heat a large saucepan with extra virgin olive oil over medium heat, add chopped onion and sautée until translucent.
Then pour in the pureed tomatoes.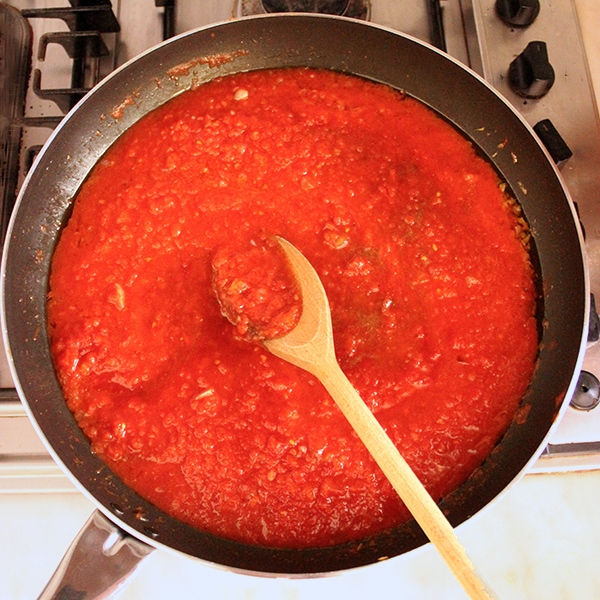 Add brown sugar, tomato paste, vinegar, cinnamon, black pepper and salt to taste, and mix well.
Cook for about 40 minutes on very low heat, stirring often, until the sauce thickens.
Once it's ready, you can add nutmeg and spicy red pepper flakes according to your taste, to give your sauce a little bit of heat.
Then, simply blend all ingredients in a food processor or blender.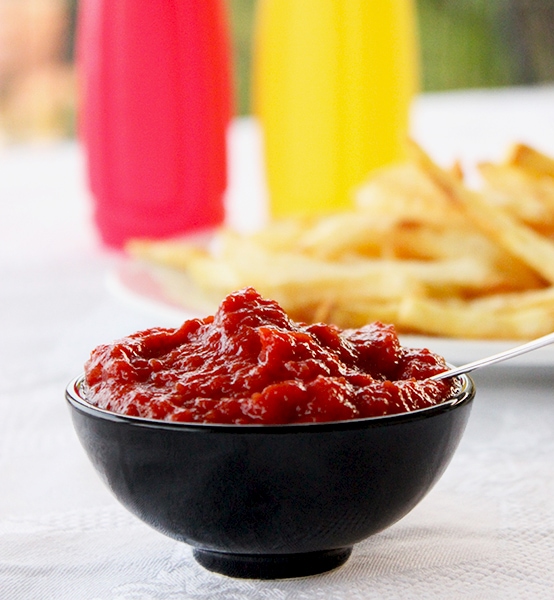 Pour your tomato ketchup into sterilized bottles, then seal tightly and place in the fridge until needed.
No-cook quick ketchup recipe
If you're looking for a super quick alternative, go for the no-cook route, which calls for tomato paste and a little water instead of canned tomatoes.
I use this method every time I'm in a rush, it's a bit mild in flavour but still delicious and still better than the store-bought version.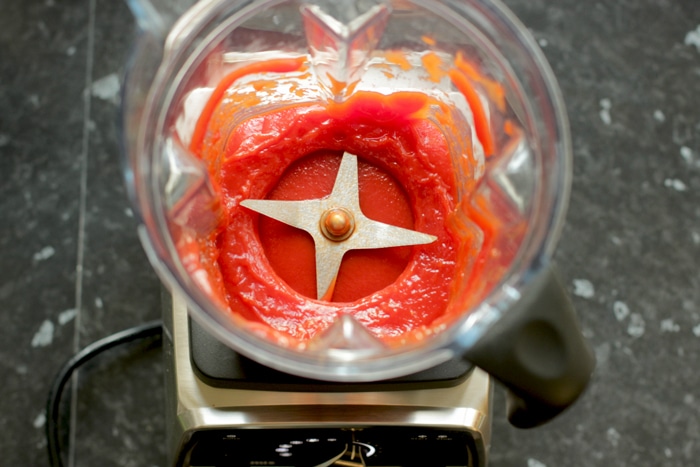 This easy ketchup recipe takes literally zero efforts.
Throw all ingredients in a blender (you can use an immersion blender too) and blend until combined into a smooth texture.
I like to add a pinch of nutmeg and chilli powder at the end for a spicy kick, as I do for the slow-cooking version.
How long does it keep in the fridge?
Store your homemade sauce (both the slow-cooking version and the quick no-cook one) in an airtight container.
Place it in the fridge for up to 2 weeks. Mine usually disappear in less than a week!
Homemade Ketchup in Just 5 Minutes!
Homemade ketchup in just 5 minutes - Easy, rich in flavour and definitely healthier than the store-bought version. 
Ingredients
300

gr

double-concentrate tomato paste

organic if possible

80

gr

maple syrup

60

ml

white vinegar

or cider vinegar

3

tbsp

water

2

tbsp

onion powder

1

tsp

garlic powder

1

tsp

sea salt

1

tsp

cinnamon powder

1

tsp

black pepper powder

grated nutmeg and chilli powder to taste

optional
Instructions
Place all ingredients in powerful blender.

Blend until combined and you reach a smooth texture.

Add a pinch of nutmeg and chilli powder at the end for a spicy kick, or leave the ketchup plain.

Store in an airtight container in the fridge for up to 1 week.
Notes
Store your homemade ketchup in an airtight container and place it in the fridge for up to 2 weeks. 
Nutrition
Calories:
80
kcal
|
Carbohydrates:
16.6
g
|
Protein:
1.4
g
|
Fat:
0.1
g
|
Sodium:
288
mg
|
Potassium:
57
mg
|
Fiber:
2.5
g
|
Sugar:
13.3
g
|
Calcium:
40
mg
|
Iron:
1
mg
The information shown is an estimate provided by an online nutrition calculator. It should not be considered a substitute for a professional nutritionist's advice.