Drinking a lot of water  is the best and easiest way to have a healthy and happy life – Try detox water to get extra health benefits!
Water makes up a significant fraction of the human body, so drinking at least 8-10 glasses per day is important to keep your body working perfectly. Staying well-hydrated through out the day also keeps your skin moisturized and glow and your hair strong and fresh.
I love drinking detox waters because is  the easiest way to get extra vitamins, antioxidants and nutritions from the fruits you mix the water with.
This week I've started drinking this new orange and raspberry detox water! It's super refreshing and bursts with tangy flavors, not to mention it tastes absolutely delicious!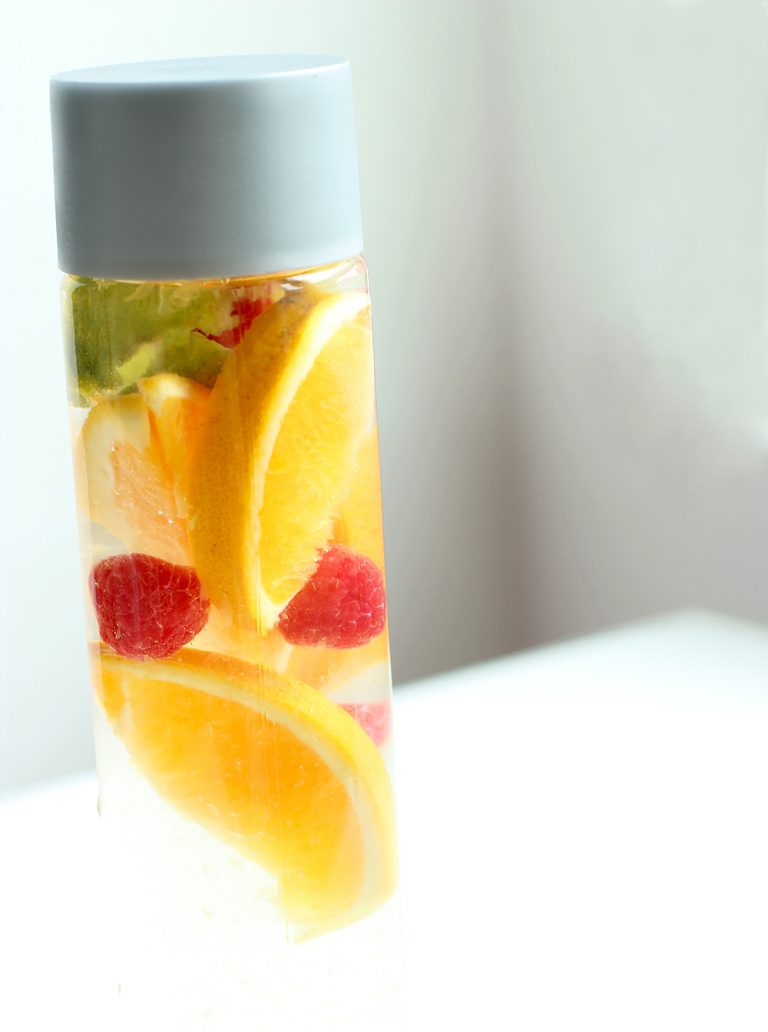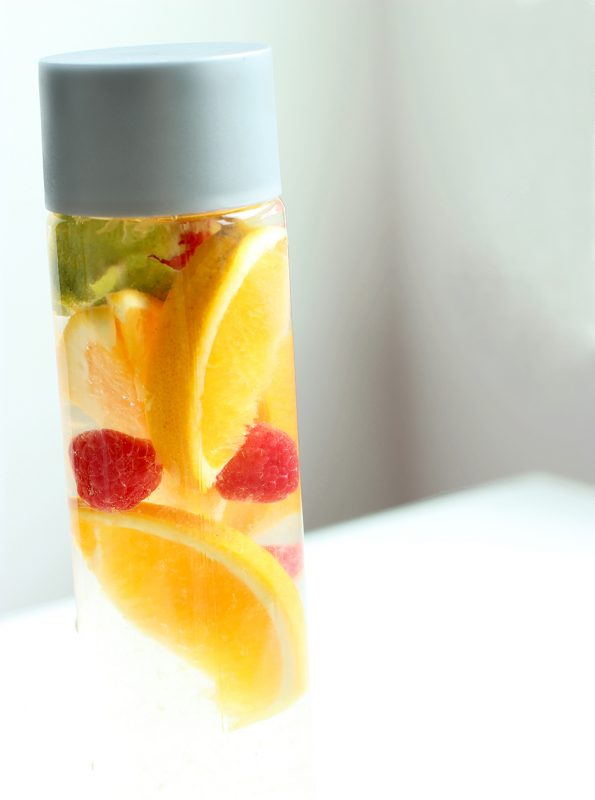 Making your own detox water couldn't be easier. You only need the peel of a lime, a sliced orange ( make sure they're both unwaxed and organic), 8-10 raspberries and of course water. Add all the ingredients into a water bottle, fill it up with cold water and let the ingredients infuse for at least two hours. Easy, right!
You can also make the mix the night before, and have it ready to drink the next morning. I usually drink half a bottle of detox water first thing when I wake up, and finish the rest during the morning. Make sure you don't reuse the ingredients, but you can of course eat the fruits after.
This orange and raspberry detox water is an all-fruity water, so no herbs are added (unlike  other detox waters). It's the perfect detox water if you usually struggle to find fresh aromatic herbs such as basil and mint.
[easy-tweet tweet="Orange & raspberry #detox water – Boost your metabolism and your energy up!" user="PetiteCook"]
Orange and raspberry is a fantastic flavor combo: sweet & tangy at the same time, it's a real treat to drink.  most importantly, it's packed with vitamins and antioxidants. Both these fruits contain tons of vitamin C & A and antioxidants.
Lime peel is a great addition (avoid the bitter white part), gives a refreshing and extra  zesty flavor to this detox water, and extra health benefits too. Lemons and limes protect you from infections, thanks to their antioxidant, disinfectant and antibiotic properties. They're high in vitamin C and help clear out the digestive system, they also provide an inner glow to your skin.
This orange and raspberry detox water will help you boost your metabolism, feel energized and flush out all those nasty toxins from your body!