Simple but so satisfying. Making Italian Potato Gnocchi from scratch only requires 3 simple ingredients and are guaranteed to wow your guests!
---
First things first. If you're not familiar with gnocchi, they're simply tricky-to-pronounce Italian dumplings.
Pillowy and tender, potato gnocchi have a delicate flavour that works well with all sorts of sauces.
You can make gnocchi with any kind of floury potatoes, but vibrant purple potatoes make these gnocchi pretty unique.
Purple potatoes (not to be confused with sweet purple potatoes), also called Vitelotte.
They have both the peel and the pulp of a vibrant violet color, are native to Peru, and are slightly different than the classic potatoes.
They have a very floury texture and a unique flavor similar to chestnuts, they're also rich in a particular natural coloring, called anthocyanins, which have a beneficial effect on our body.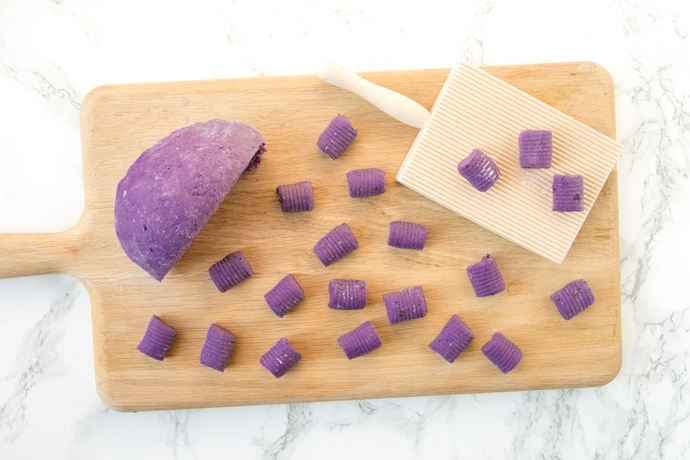 Just 3 Ingredients!
Once you have picked your favorite spud, homemade potato gnocchi is pretty straightforward to make and take no more than 10 mins once your potatoes are cooked through.
The beauty of gnocchi is that they only require very 3 very basic ingredients:
potatoes ( I used Vitelotte potatoes but Russet or Yukon Gold would work just fine),
plain flour
a beaten egg
So marvelously simple.
Making potato gnocchi isn't difficult at all. It's a really simple process, but getting the dough right can be a little tricky.
It should be soft, but not too soft or sticky, if you add too much flour they can become heavy and hard, but if you use less flour they can get easily smashed when boiled.
The secret is to find a perfect balance between the flour, potatoes and eggs.
Best Tips To Make Homemade Potato Gnocchi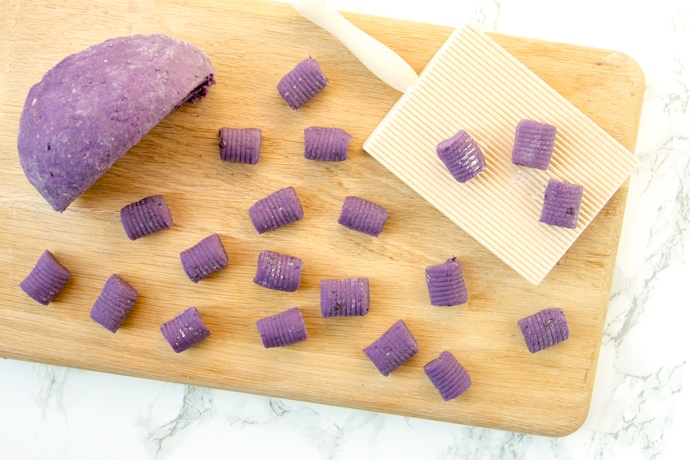 Potato gnocchi are not exactly steady science. If you're looking for a fool-prof recipe that will give you perfect gnocchi every single time, I'm afraid, it doesn't exist.
Measurements MUST BE a bit approximated, mostly because it really depends on the potatoes you use. Moister potatoes will require more flour; drier ones less.
When making homemade gnocchi, my best advice is to trust your senses and follow these extra tips to help you achieve darn good potato gnocchi from scratch.
- Choose the right potatoes.
You need floury potatoes in order to make proper gnocchi, so go for Russet or Yukon Gold varieties, or opt for Vitelotte potatoes for a purple version.
- Boil the potatoes whole and unpeeled
Boil them until fork-tender (20-30 minutes), then run them through a potato ricer (do not use a food processor or masher )./
Allow to cool them until lukewarm on a clean work surface before incorporating the other ingredients.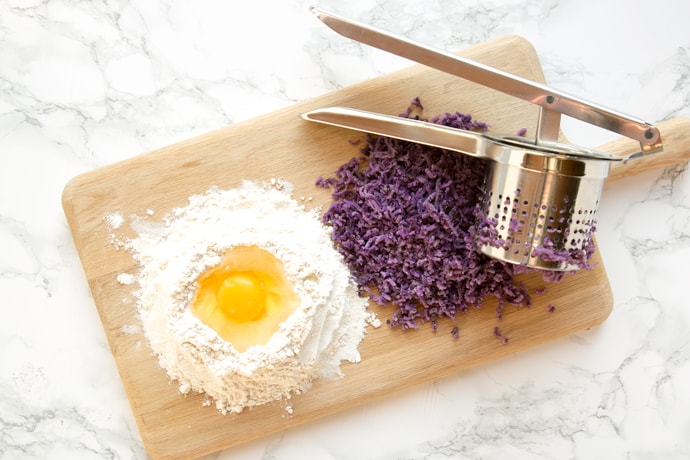 - Add flour & egg in batches.
Start with ½ the amount of the flour, then add ½ the egg and knead.
Repeat one more time, incorporating the remaining flour until you feel it's enough.
- Work your dough fast.
The more you knead, the more flour you'll need and the heavier the gnocchi become, so don't work the dough for more than 2-3 minutes.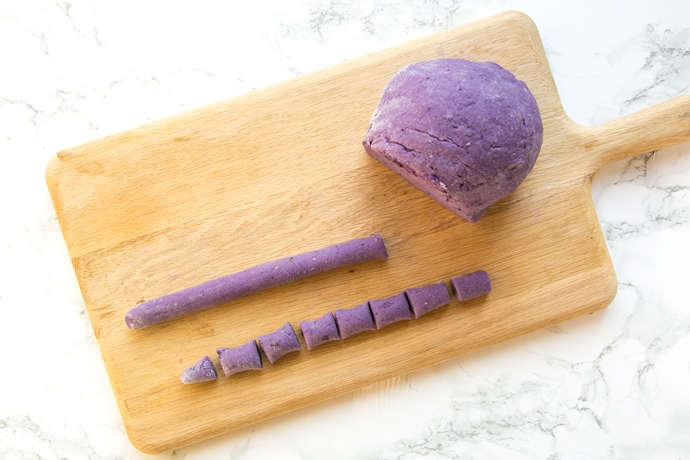 - If your dough is too sticky.
Mix in 1 tablespoon of extra flour or potato starch, if it's too dry, add 1 tablespoon of beaten egg.
- How to "mark" your potato gnocchi,.
Make an indent with your index finger and roll them on a gnocchi board. Alternatively, simply mark the gnocchi with the tines of a fork.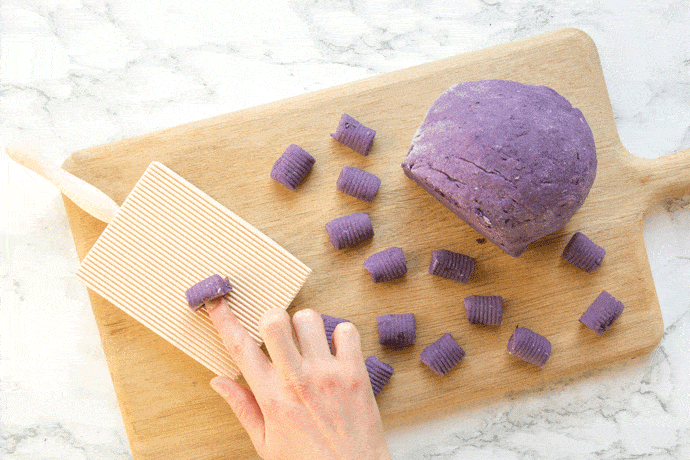 Making potato gnocchi is something a little more special than everyday cooking for me, so I tend to make them on weekends.
I recommend making a big batch, so you can freeze them and have them ready whenever you fancy a big bowl of comforting homemade gnocchi.
Once your potato gnocchi are all ready to cook, choose your favourite sauce to mix them with.
I recommend sauces that won't require you to further cook the gnocchi in the pan, so they don't become all soft and mushy.
How To Serve Gnocchi
Here are few of my favorite sauces to serve potato gnocchi:
Pea & Basil Pesto: Just a few fresh ingredients are needed to make this quick and vibrant sauce!
Classic Italian Tomato Sauce: You can never go wrong with a proper-made tomato sauce.
Sage and Butter Sauce: The most simple yet delicious Italian sauce you can possibly make!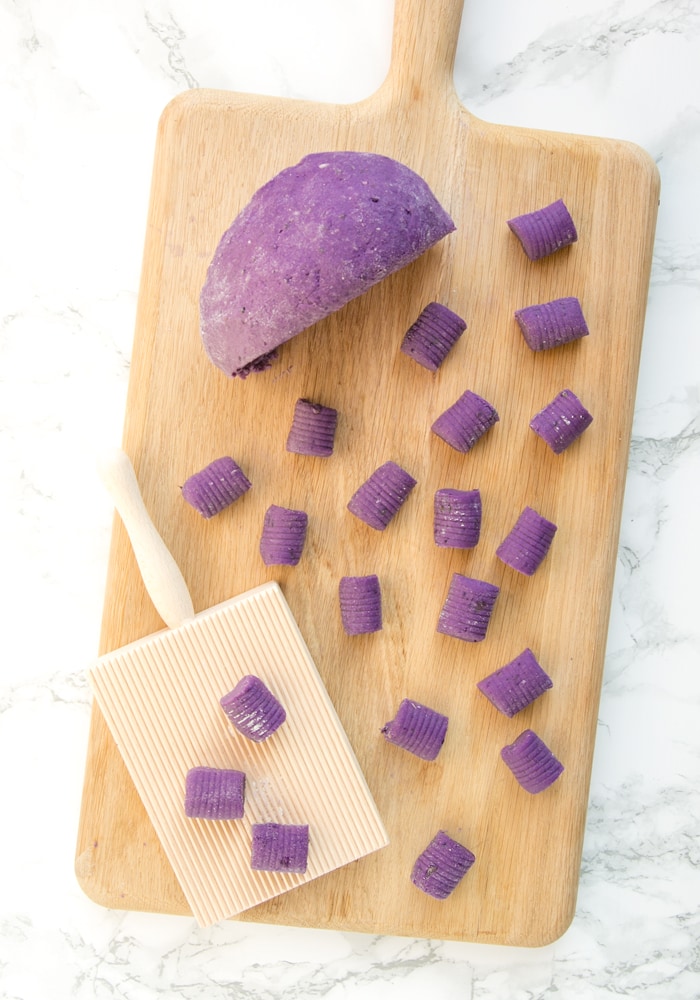 More traditional Italian recipes
Did you make this recipe?
Please let me know how you liked it! Leave a comment and/or a rating below, and share a picture and tag @thepetitecook on Instagram! Reading your feedback and looking at your pictures always makes me smile *and super hungry*!
Recipe
How to Make Potato Gnocchi
Simple but so satisfying. Making Italian Potato Gnocchi from scratch only requires 3 simple ingredients and are guaranteed to wow your guests!
Ingredients
1

kg

floury potatoes

,

Russet, Yukon Gold, Vitelotte, etc

300

g

plain flour + extra if needed

1

small free-range egg

,

beaten

a pinch of sea salt
Instructions
Boil the potatoes whole and unpeeled until fork-tender, about 20-30 minutes.

Cut each potato lengthwise, and using a spoon, scoop potato flesh into a ricer fitted with the finest disk. Press the potato flesh onto a clean work surface, spreading it into an even layer, and season with a pinch of salt.

Mix in ½ the amount of the flour, then add ½ the egg and knead. Repeat one more time, kneading the dough gently, and incorporating the remaining flour until you the dough reaches a soft but compact consistency.

Slice a small portion of dough and gently roll into a thread about ½ inch thick.

Cut the thread into 1-inch thick logs, then make an indent with your index finger and roll each gnocco on a gnocchi board, or "mark" them on the tines of a fork.

Transfer gnocchi to a well-floured baking tray and repeat with remaining dough.

Cook gnocchi in lightly salted soft-boiling water, for 1-2 minutes until they rise on the surface,

Spoon them out with a slotted spoon, mix them with your favorite sauce and serve.

if you don't intend to boil the gnocchi right away, you should freeze them in a single layer (see notes), and then drop them frozen directly into the boiling water when needed.
Notes
To freeze potato gnocchi:
Simply line them up on a baking sheet, pop them in the freezer for a few hours, then divide them into freezing bags and store them back in the freezer until needed.
The information shown is an estimate provided by an online nutrition calculator. It should not be considered a substitute for a professional nutritionist's advice.