This healthy Superfood Salmon Lasagna with Kale is sure to become a family favorite. Quick and easy to put together, made with fresh, simple seasonal ingredients.
There's something special about lasagne. This hearty pasta dish is the quintessential get-together meal. Lasagne were just meant to be shared with the people you love, and have the magic power to upgrade any week-day meal to a special occasion.
When you are struggling on what to make for dinner, this salmon lasagna with kale and spinach comes to rescue you. Simple ingredients come together in a hearty meal that take just as little as 40 mins and it's packed with healthy nutrients for your body.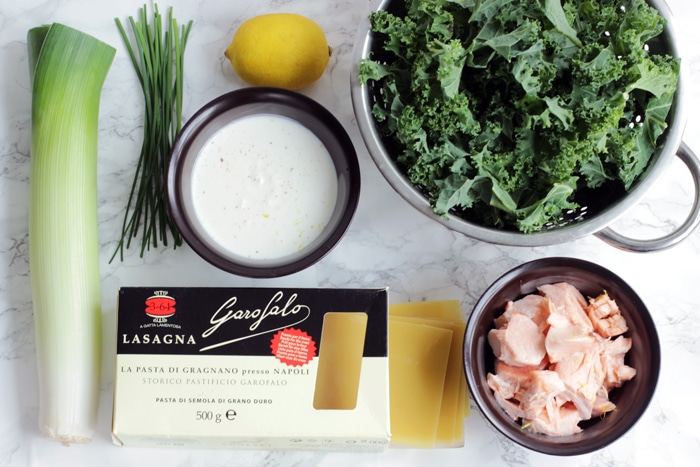 This fall lasagne version is much quicker and lighter than most traditional recipes, and features some of the best superfoods out there. Salmon, kale and spinach are all fuelled with healthy benefits. Kale is higher in vitamin C than oranges and like spinach is packed with antioxidants, fiber and iron. Salmon gives you extra protein and a healthy dose of omega-3 fatty acids, which may help reduce the risk of cardiovascular disease.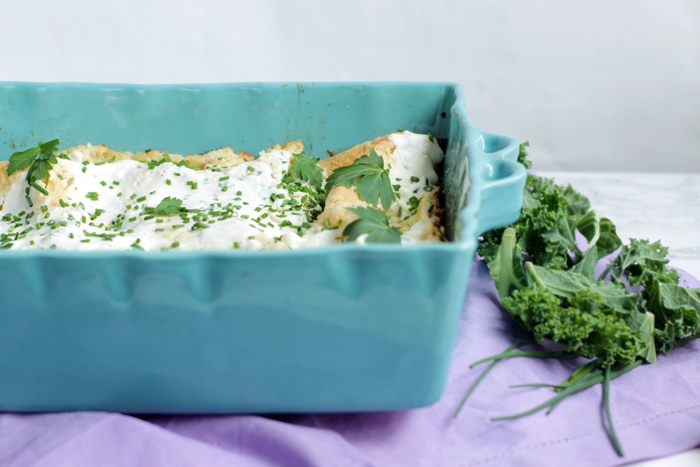 To make this salmon lasagna light but still rich and comforting, I've swapped bechamel sauce with a hassle-free healthy ricotta sauce. For a quick and delicate ricotta white sauce, all you have to do is blending the cheese with a splash of milk or water, and season with a little nutmeg, sea salt and white pepper.
It takes less than 1 min to make this low-fat and low-cal  magic white sauce, and it's so good you'll want to use it for any kind of pasta dish (like these pumpkin cannelloni).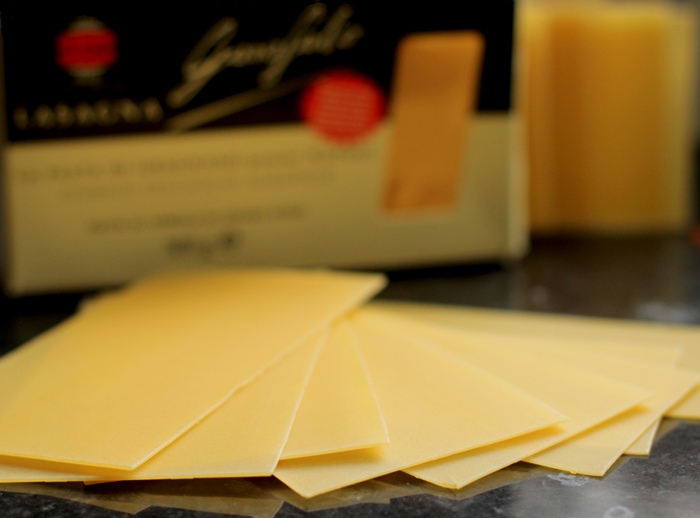 Make sure to choose your pasta right, I use Garofalo dry lasagne whenever I fancy authentic italian flavors. The quality of semolina used by this traditional italian pasta maker delivers an incredible pasta, with great taste and a rough texture that binds perfectly with the sauce. I've been a fan of Garofalo pasta for a while now, and I can't recommend it enough.
[easy-tweet tweet="This healthy #Superfood Salmon Lasagna with Kale is sure to become a family favorite!" user="@petitecook"]
When baking lasagne, some people opt to put them straight away in the baking dish, between rich layers of sauce and fillings. Others - me included- prefer to give a quick boiling to the lasagna sheet before baking them. A lightly boiled pasta ensures even cooking, and it's more pleasant when biting into it whilst remaining nicely crispy on the edges.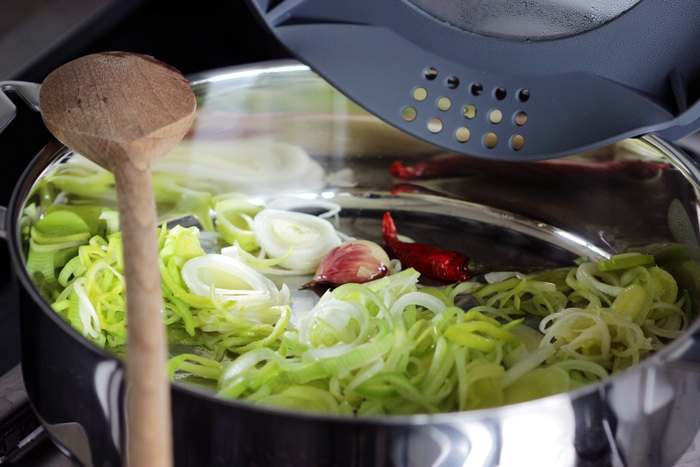 The filling of this delicious seasonal lasagna is made with a mix of spinach leaves, kale, leek and freshly chopped skinless scottish salmon. All the ingredients are quickly stir-fried in a pan with a little extra-virgin olive oil and some garlic. It doesn't get easier than this.I also like to add a small red chili to give a bit of a spicy kick to the dish.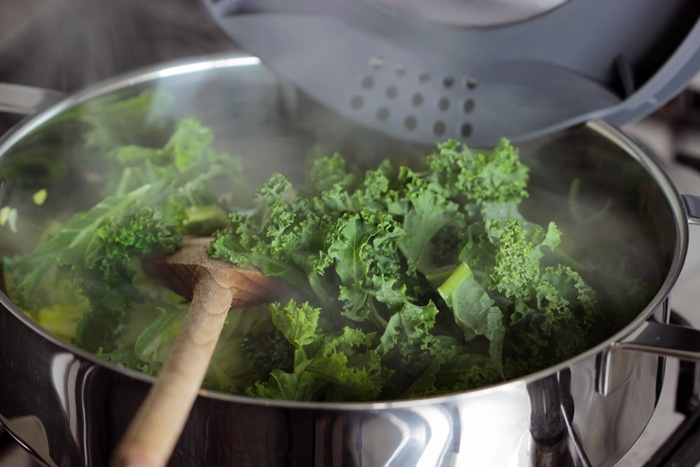 Once the veggies and fish are cooked through and you have your pasta sheets and ricotta white sauce ready, it's time to assemble your lasagna.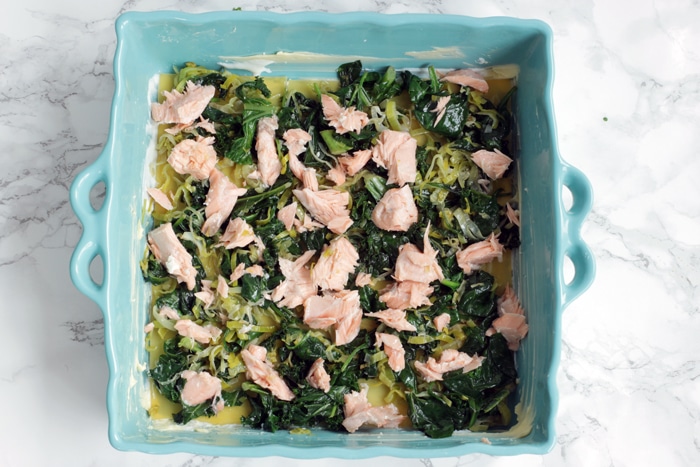 Brush the base of a large baking dish with a little extra virgin olive oil and ricotta white sauce. Arrange the lasagna sheets over and top with half the vegetables and  salmon ( I like to chop it into flakes). Pour over more white sauce and add another layer of lasagna and filling. Top with extra ricotta sauce and some grated parmesan cheese. Season with white pepper, sea salt and a pinch of nutmeg.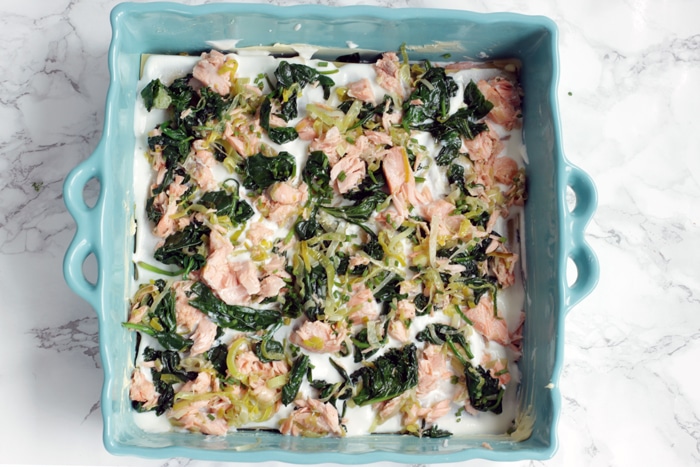 Bake in the oven for 20 mins or until the pasta is cooked and the edges are nicely crisp and golden. Allow to cool a little, sprinkle chives and parsley on top and devour it all up!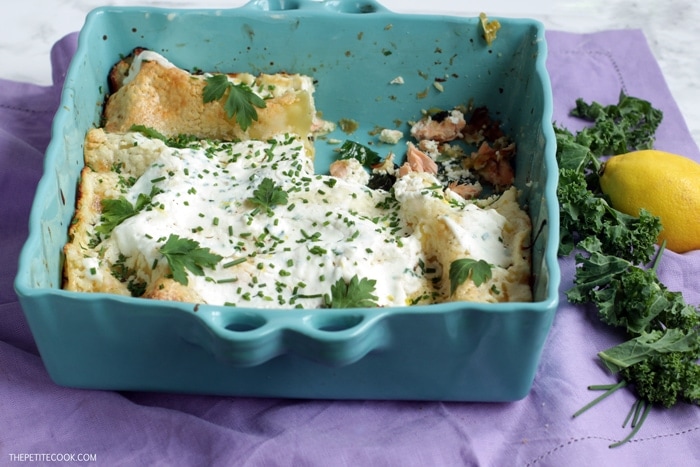 This Superfood Salmon Lasagna with Kale and Spinach is the perfect healthy version of fall comfort food. Best of all, it's ready in less than 40 min and made with fresh, simple seasonal ingredients!
I hope you give this delicious lasagna a try! If you do, please leave a comment below and let me know how you liked it! Or even better, take a picture, tag it #thepetitecook and share it on Instagram! Looking at your yummy creations always makes me smile :)!
Recipe
Superfood Salmon Lasagna with Kale and Spinach
Ingredients
8-10

dry lasagne sheet

, I use Garofalo

1

leek

,

trimmed, washed and cut into thin slices

10

oz/300g baby spinach leaves

7

oz/200gr chopped kale leaves

1

garlic cloves

,

peeled and crushed

400

g

fresh skinless salmon fillets

,

cubed

zest of 1 lemon

1

small red chili pepper

,

finely chopped (optional)

100

g

parmesan cheese

,

grated

4

tablespoon

fresh chopped chives

4

tablespoon

fresh chopped parsley

a pinch of nutmeg

extra virgin olive oil
For the ricotta white sauce:
½

cup

fresh ricotta

a splash of milk/water

a generous pinch of ground nutmeg

salt & white pepper
Instructions
Heat the oven to 180C/360F/Gas 4.

In a large pot of lightly salted boiling water, blanch the lasagna sheet one by one for 1 min. Drain and pat dry on a kitchen towel.

For the ricotta sauce: simply blend ricotta with a splash of milk/water until it reaches a creamy consistency. Adjust with more liquid if necessary. Season with salt, white pepper and a pinch of nutmeg.

Heat a large skillet over medium-low heat. Add a glug of olive oil, garlic and chili. Fold in leeks and stir-fry gently until softened.

Add in spinach and kale and cover with a lid. Allow to cook for 2-3 min, then sautee all ingredients until cooked through. Pour a little water if necessary.

Half-way through cooking, add the chopped salmon and cook until pale pink.

Season with salt, pepper, lemon zest and a pinch of nutmeg.

In a large oven dish, start to layer the lasagna. Spread a little extra virgin olive oil and white sauce on the bottom.

Add a layer of lasagna sheets, then fold in half the cooked vegetables and fish. Sprinkle half the fresh herbs and pour more white sauce over. Repeat the layers until the dish is nearly full.

Top with a layer of white sauce and grated parmesan cheese.

Bake for 20-25 minutes or until crispy and golden-brown.
Notes
I prefer to lightly boil the pasta sheet before-hand. If you have little time you can skip this step and use dry lasagna sheet, but may result in a dryer lasagna.
The information shown is an estimate provided by an online nutrition calculator. It should not be considered a substitute for a professional nutritionist's advice.