Tomato Confit is a super easy side that can jazz up any kind of meal, and requires just 5 minutes prep. It's also gluten-free, dairy-free and vegan.
Delicious, slowly cooked to perfection and packed with tons of flavour, Tomato Confit can elevate almost any kind of meal.
Summer is the perfect time to make the most of fresh tomatoes, so it's worth stocking your fridge up with these gorgeous beauties.
Tomatoes are one of the stars of Italian cuisine, so I OBVIOUSLY have tons of recipes on the blog using tomatoes, and I could never get tired of them.
BUT, there's one recipe that's just a step above all others, and it's probably one of the most simple as well (together with this classic Italian tomato sauce).
I'm talking about delicious, mouthwatering, loaded with flavour Tomato Confit.
A super easy condiment (or side) that can jazz up any kind of meal, whether is pasta, grain bowls, salads or grilled meat & fish.
As an added bonus, it's totally gluten-free, dairy-free and vegan.
Choosing The Right Tomatoes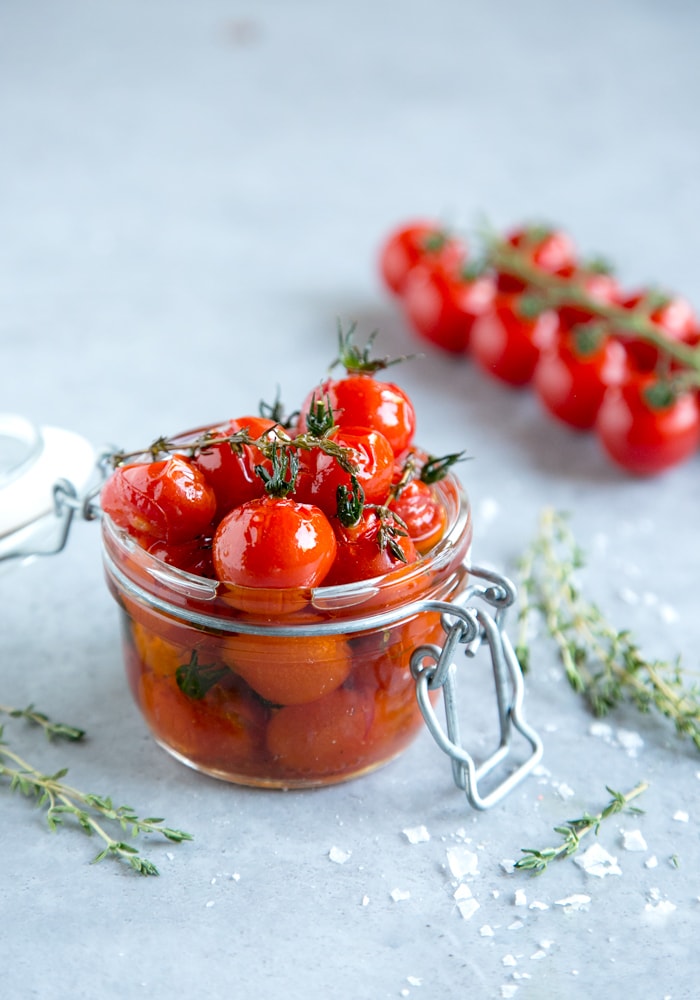 For this super simple recipe, you need tomatoes at their best: fresh, ripe and loaded with flavour, even better if they're from local farmers.
I opt hands down for cherry tomatoes, but the mixed coloured variety works just as great, and if you fancy, you can totally use Piccadilly tomatoes, or simply halved plum tomatoes.
Confit Tomatoes VS Roasted Tomatoes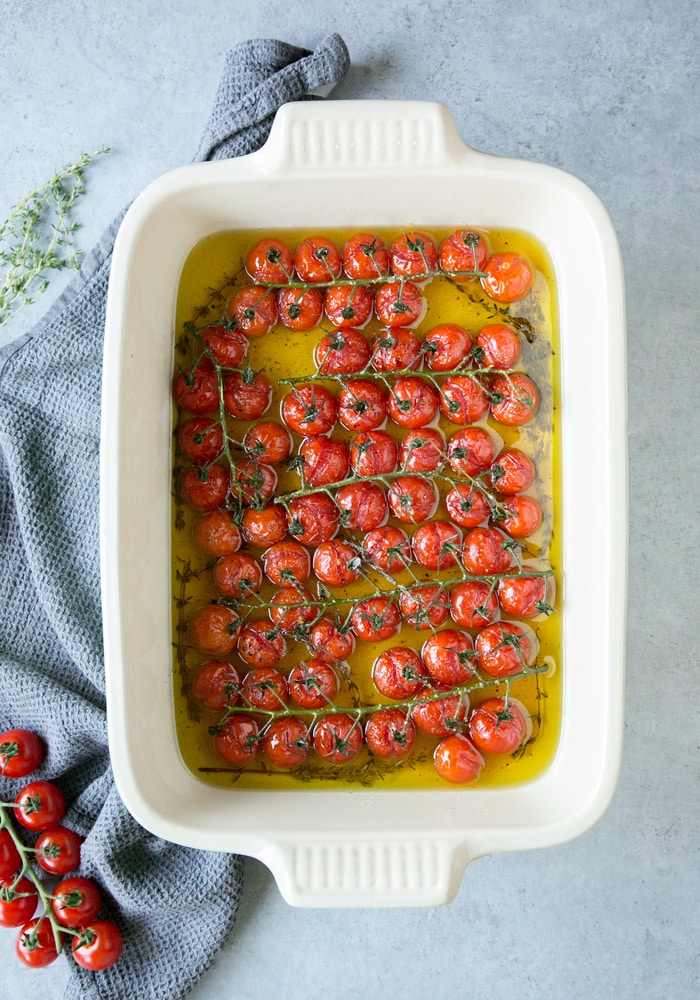 Confit is a French word that means "preserved"- even though it sounds a pretty sophisticated technique, it's actually incredibly straightforward.
The "confit" technique simply refers to something that has been slowly and gently cooked in oil (or sugar syrup). Most common foods to get confit are duck, garlic and obviously, tomatoes.
When tomatoes are made confit, they hold their shape well and retain their natural flavour, but ooze a sweet, complex and intense flavour within.
On the other hand, roasted tomatoes are cooked using just a light coating of oil and are baked at high temperature.
This cooking method leads to a quicker caramelization, resulting in tomatoes with a very intense sweet flavour, (perhaps a little too sweet), losing part of their natural flavour.
How To Make Tomato Confit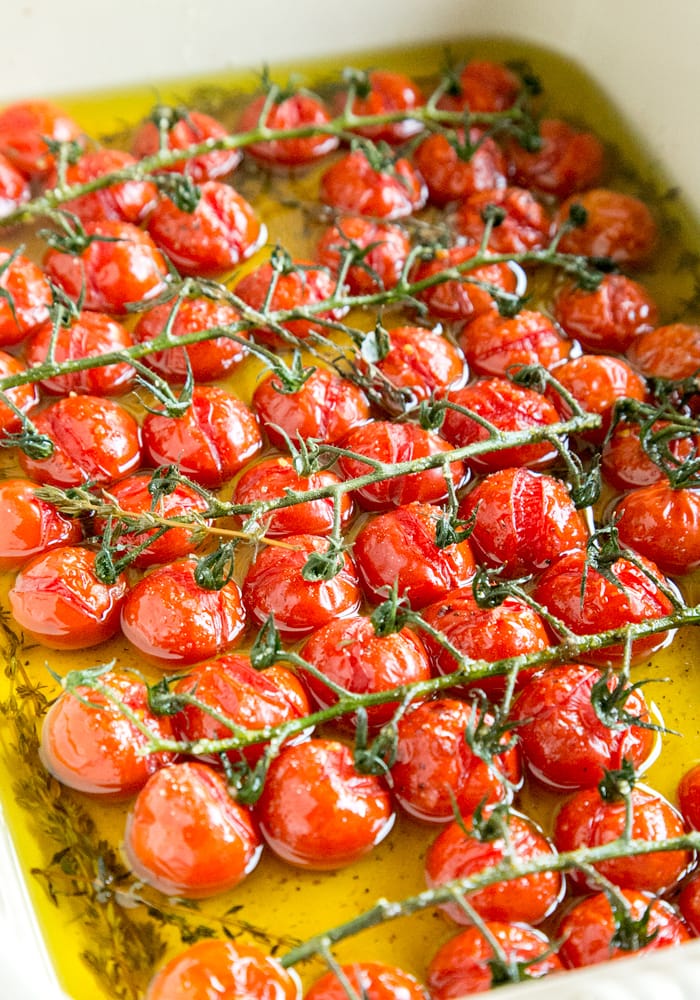 I know I said it already, but making tomato confit is pretty simple. And I mean it!
Mix a handful of cherry tomatoes (or whatever variety you're using) with high-quality extra-virgin olive oil, crushed garlic, thyme sprigs, a glug of balsamic vinegar and a pinch of brown sugar.
Then, slow roast them in the oven for an hour or a little longer.
The tomatoes will slowly caramelize to perfection undisturbed, requiring nothing else from your side than waiting until they're done.
That's it! I told you it was E A S Y!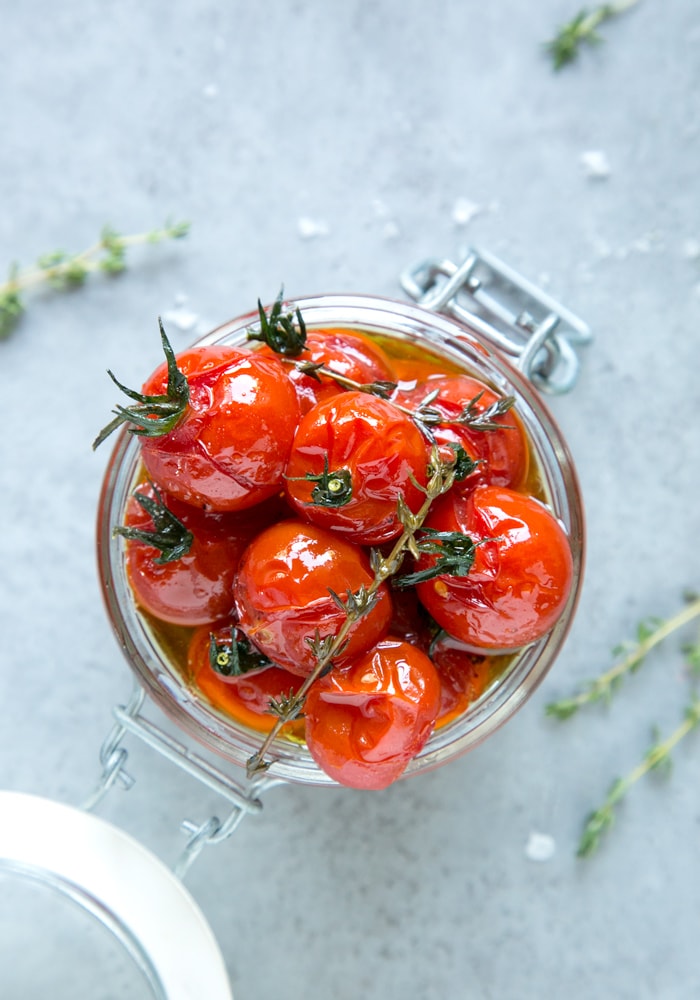 Store the confit tomatoes in an airtight jar, making sure to cover the tomatoes with their cooking olive oil (top it off with a little bit of extra oil if necessary), to preserve them properly.
They can be stored in the fridge for weeks, but a jar doesn't usually last longer than a few days in mine!
How To Serve Tomato Confit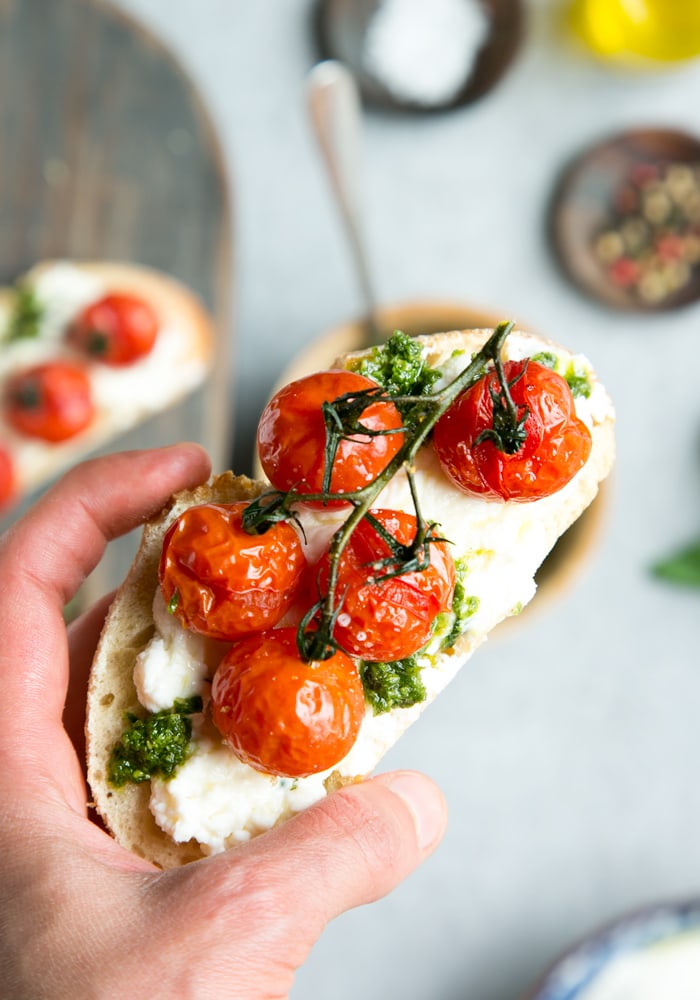 Tomato confit can quickly become your new secret ingredient. It can easily elevate the most simple meals from boring to AMAZING.
If you follow my Instagram stories, you have seen me make a bowl of gnocchi with some of this tomato confit and Parmesan cheese in less than 4 minutes - Seriously!
Other ways you can serve tomato confit is simply tossed with pasta, perhaps with a spoonful of basil pesto on top, or as a side to grilled meat, chicken or fish.
If you ask me, I could eat tomato confit simply on a slice of toasted rustic bread all day long.
It's even better if you pair it with ricotta and make this awesome bruschetta. You can also top your homemade pizza with it!
There are endless ingredients combos, so make a BIG batch of this tomato confit, and let me know what's your favourite way to enjoy it!
Recipe
How To Make Tomato Confit
Delicious, slowly cooked to perfection and packed with tons of flavour, tomato confit can elevate almost any kind of meal and they require just 2 minutes prep! Naturally dairy-free, gluten-free and vegan.
Ingredients
450

g

high-quality cherry tomatoes

,

(1 lb)

3

garlic cloves

,

grated

7-8

sprigs fresh thyme

2

teaspoon

demerara sugar

4

tablespoon

Extra-virgin olive oil

sea salt

,

I used Maldon sea salt flakes & black pepper

1

teaspoon

high-quality balsamic vinegar
Instructions
Arrange the cherry tomatoes and grated garlic on a baking dish and tuck thyme sprigs around. Drizzle generously with olive oil, until the tomatoes are half-way submerged.

Sprinkle with sugar and season with salt & pepper to taste. Add the balsamic vinegar and toss gently to coat.

Bake at 130°C/260°F until the tomatoes are wrinkly but not all have burst, about 1-½ to 2 hours.

Once ready, remove the tomatoes from the oven and cool at room temperature.

Store in airtight containers, topping the tomatoes with their cooking oil (add extra olive oil if necessary). Store in the fridge for up to 2 weeks.
Notes
Storing tips:
Store in airtight containers, topping the tomatoes with their cooking oil (add extra olive oil if necessary). Store in the refrigerator for up to 2 weeks.
Nutrition
Calories:
63
kcal
|
Carbohydrates:
3
g
|
Protein:
1
g
|
Fat:
6
g
|
Saturated Fat:
1
g
|
Sodium:
5
mg
|
Potassium:
107
mg
|
Fiber:
1
g
|
Sugar:
2
g
|
Vitamin A:
253
IU
|
Vitamin C:
12
mg
|
Calcium:
10
mg
|
Iron:
1
mg
The information shown is an estimate provided by an online nutrition calculator. It should not be considered a substitute for a professional nutritionist's advice.
DID YOU MAKE THIS RECIPE?
Please let me know how you liked it! Leave a comment below and share a picture on Instagram with the hashtag #thepetitecook! Looking at your pictures always makes me smile *and super hungry*!