Cannelloni make a wonderfully comforting fall dish, the rich filling of creamy roasted eggplant is perfectly accompanied by authentic Italian tomato sauce for a hard-to-beat vegetarian meal. 
An impressive but simple pasta dish that even your kids will love to help you cook – simple Mediterranean flavours upgrade a traditional italian comfort food to an elegant vegetarian main course. Perfect both for a cozy dinner for two or to please a large crowd at your next get-together event.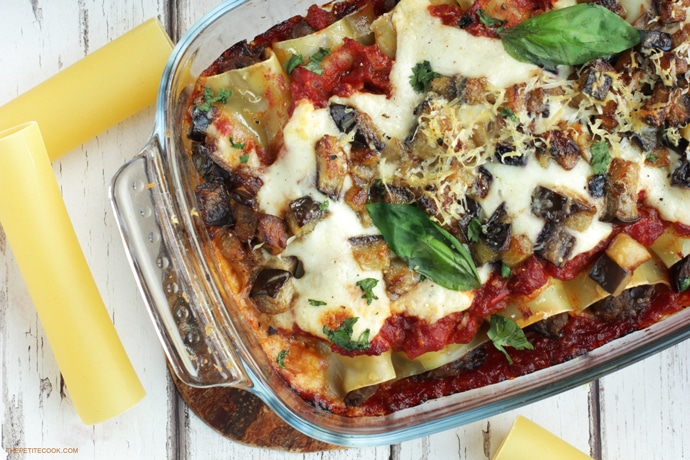 Baked with layers of light white sauce and truly-impossible-to-resist tomato sauce, this hearty baked pasta is quick and very easy to put together. Light but full-filling at the same time, these roasted eggplant cannelloni make a scrumptious meal on their own. You can also serve a light appetizer right before, or follow with a veggie-packed salad after. I personally like to skip the starter, have 4 of these bad-ass pasta tubes and jump over to dessert directly.
To make this delicious roasted eggplant/ aubergine cannelloni, start by roasting the starring vegetable. You can either cube the eggplant, or cut the veggie horizontally in two and lightly score each half. Arrange your eggplants over a non-stick baking tray, season with a generous glug of olive oil, sea salt and black pepper. Once they're baked and soft, simply pop them in a powerful food processor ( I use a KitchenAid) and blend until creamy. There you go, ready in 30 seconds. This is probably the easiest sauce in the world after pesto.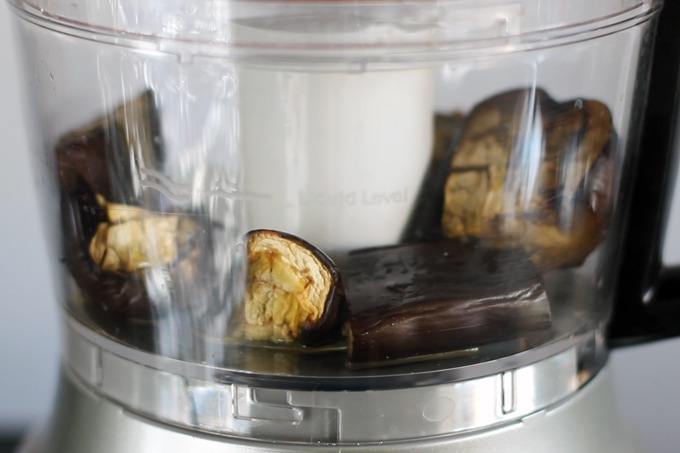 My favorite thing about this sauce? You can easily store any leftovers in the fridge and use it along other pasta shapes, or spread over a warm toasted bun paired with some mozzarella and salad leaves. Yes, I'm a BIG fan of this roasted eggplant sauce. It's everything you want from a condiment and even more. Light, super versatile, creamy, deep in flavor and absolutely vegan. You can bet there will be more recipes coming with this wicked ingredient.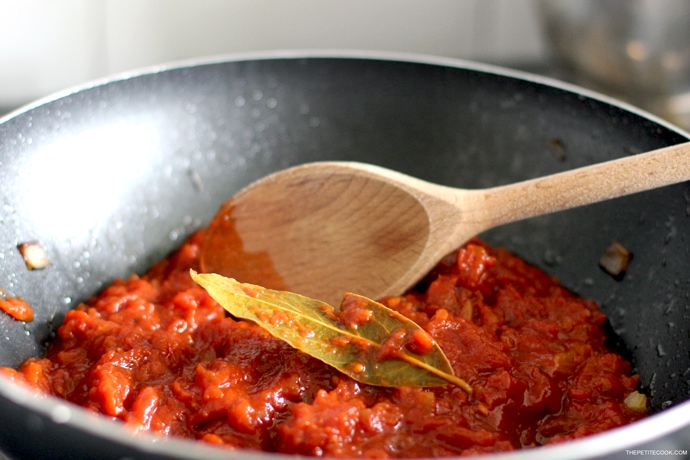 The tomato sauce is extremely simple to prepare, and it's just the way my sicilian mummy taught me. The ingredients you use will make a massive difference, so choose them wisely. I recommend  high-quality bottled ( or canned) whole peeled tomatoes, the San Marzano tomato variety is my favorite but hard to find, but most organic italian tomatoes will do the job. Leave out any dried herb you may think of, and only use fresh bay and basil leaves. Last but not least, opt for high-quality organic extra virgin olive oil; I know it's on the expensive side, but it's worth every penny. Plus, thanks to the deep aromatic flavor, you'll find yourself using less oil than when you opt for cheaper commercial options.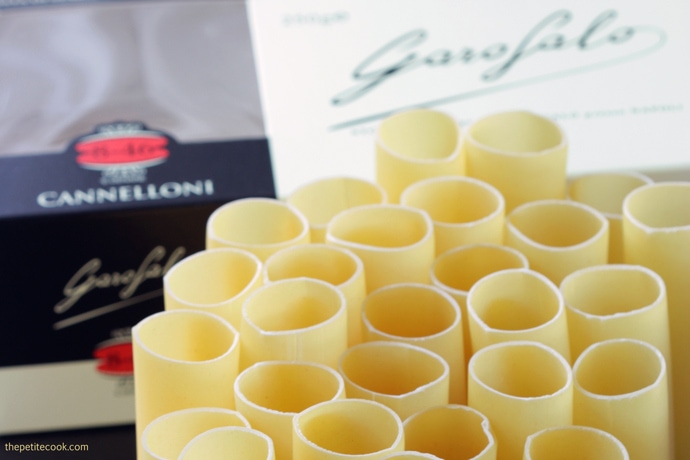 For the pasta, I go hands-down for Garofalo Cannelloni. As you know already, I'm a big supporter of this italian pasta brand, not only because it was born in the city of Gragnano (the heart of italian pasta), but also for its high-quality ingredients. The pasta has a fantastic texture and authentic flavour. Most importantly it stays al dente, even after you blanch the cannelloni and bake them for 20 min.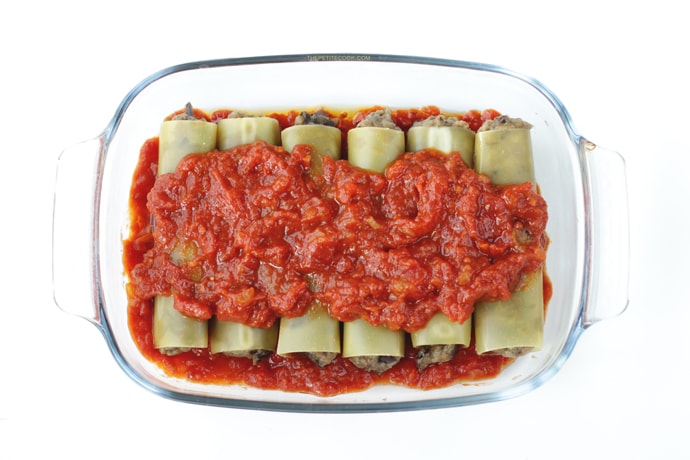 Once you have all the basic ingredients ready, start putting together your cannelloni. Brush the base of a baking dish with a little extra virgin olive oil and tomato sauce. Transfer the roasted eggplant sauce in a piping bag and fill each cannelloni all the way. Arrange them on the baking dish and pour the remaining tomato sauce over them. Top with white sauce ( go for either bechamel sauce or my quick ricotta sauce) and some grated parmesan cheese.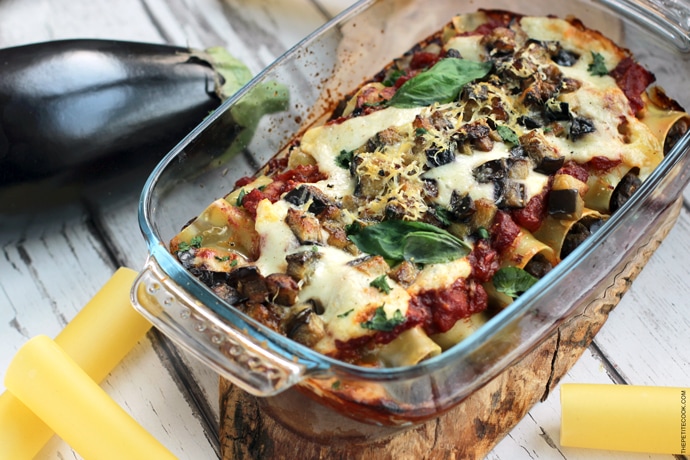 Bake in the oven for 20 mins or until the pasta is cooked through and the edges are nicely crisp and golden. Allow to cool a little, scatter some basil leaves on top and devour straight from the pan.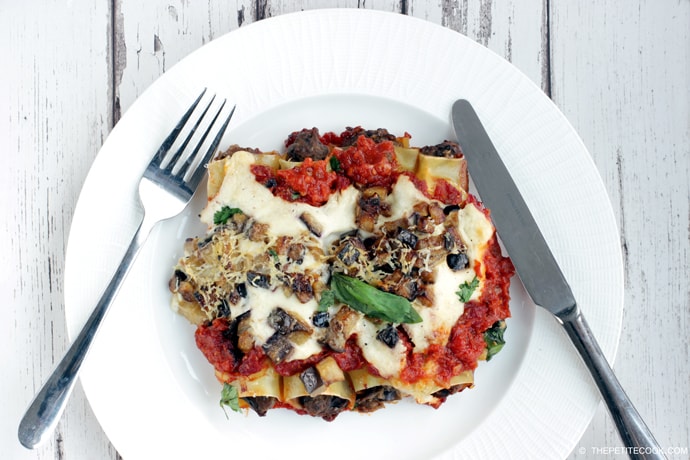 This roasted eggplant cannelloni recipe is comfort food heaven. You can even prepare it well in advance, then pop it into the oven when you're ready to eat. Enjoy this fantastic vegetarian baked pasta for meatless monday, or any day of the week really. It's so easy to put together you'll want to make it all over again!
Watch me preparing these Vegetarian Roasted Eggplant Cannelloni: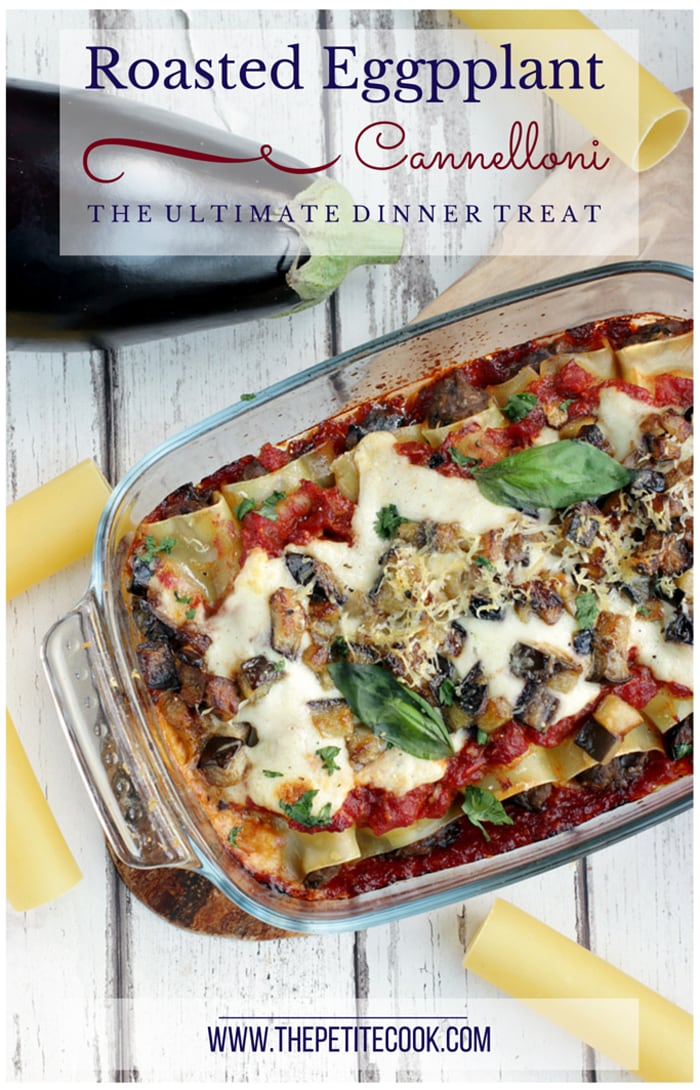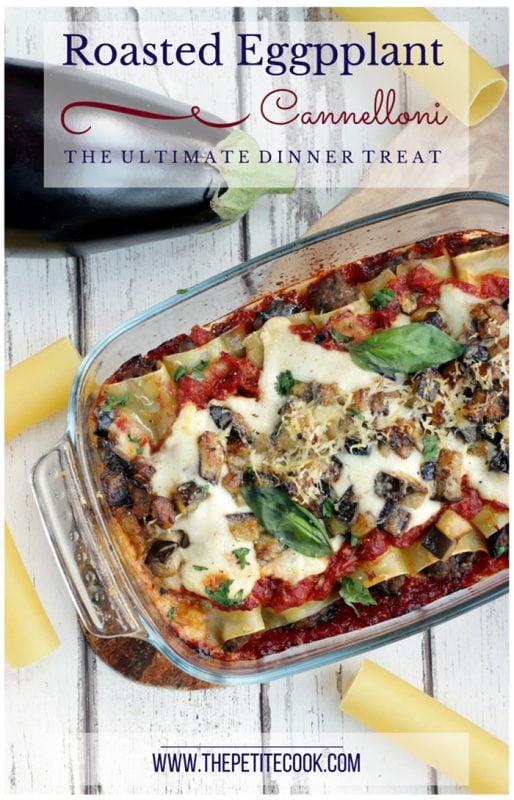 I hope you give this delicious recipe a try! If you do, please leave a comment below and let me know how you liked it! Or even better, take a picture, tag it #thepetitecook and share it on Instagram! Looking at your yummy creations always makes me smile :)!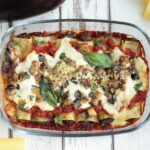 Print Recipe
Roasted Eggplant Cannelloni
Ingredients
6

Cannelloni pasta

I use Garofalo

<span></span>1/2 cup /100gr bechamel sauce

I use ricotta white sauce
<span></span>2 cups/400gr italian tomato sauce

2

tbsp

grana padano cheese

grated ( or parmigiano reggiano)

a bunch of fresh basil leaves

to decorate
For the roasted eggplant sauce:
3

medium-large long eggplants / aubergines

extra virgin olive oil

sea salt and black pepper

1

garlic clove

optional
Instructions
<span></span>Preheat oven to 180C/360F/160 fan.

<span class="mceItemHidden" data-mce-bogus="1"><span></span>Cube the eggplant, or cut the veggie horizontally in two and lightly score each half. Arrange your eggplants over a non-stick baking tray, add garlic, season with a generous glug of olive oil, sea salt and black pepper.</span>

Bake in the oven for 20 min or until soft and cooked through. Then simply pop them in a powerful food processor and blend until creamy.

<span class="mceItemHidden" data-mce-bogus="1"><span></span>Fold the cannelloni in a large pot of lightly salted boiling water. Cook for about 1-2 min, they should be still very hard. Drain and pat dry on a kitchen cloth.</span>

Fill a piping bag with the roasted eggplant sauce.

Hold each cannelloni up on your palm to avoid the filling to escape and fill with the prepared mixture.

Brush the base of a baking dish with a little extra virgin olive oil and tomato sauce.

Arrange the filled cannelloni on top and pour the remaining tomato sauce over them.

<span class="mceItemHidden" data-mce-bogus="1"><span></span>Top with bechamel or my quick ricotta sauce and some grated parmesan cheese.</span>

<span class="mceItemHidden" data-mce-bogus="1"><span></span>Bake in the oven for 15-20 min, until the pasta is cooked through and the edges are slightly crispy. Scatter basil leaves over the top and serve immediately</span>