Calling all soup lovers! It's that time of the year for the BEST ever comfort meal. So, here are 30 Homemade Soup Recipes to keep you warm and cosy during the cold season!
It's officially soup season!
The beauty of homemade soup recipes is that they can be made with simple ingredients and there are endless flavour combinations.
It's an inexpensive meal, perfect to feed a whole bunch of people, and loaded with nutritional value. All the good reasons for loving a good, heart-warming bowl of homemade soup!
I asked my food blogger friends for their favorite homemade soup recipes, so here are plenty of ideas to inspire you get your weekly soup intake during the cold season.
Whether you're looking for traditional homemade soup recipes, quick versions, or vegan & gluten-free alternatives to make the soup-lover in your life *including yourself* happy – I've got you covered!
Chicken/Meat/Fish Homemade Soups
Creamy Potato Soup with Bacon and Cheddar – Perfect for those days when you're looking for a comforting hot soup.
Instant Pho Ga – A classic Vietnamese chicken noodle soup made easy in the pressure cooker.
Slow Cooker Thai Chicken and Wild Rice Soup – An Asian-inspired chicken soup, perfect to warm yourself up on a cold day.
Brazilian Shrimp Soup– This is a perfect, healthy weeknight dinner as it takes only one pot and can be made start to finish in 20 minutes.
Slow Cooker Vegetable Beef Barley Soup – This is winter comfort food and just 10 minutes of prep required.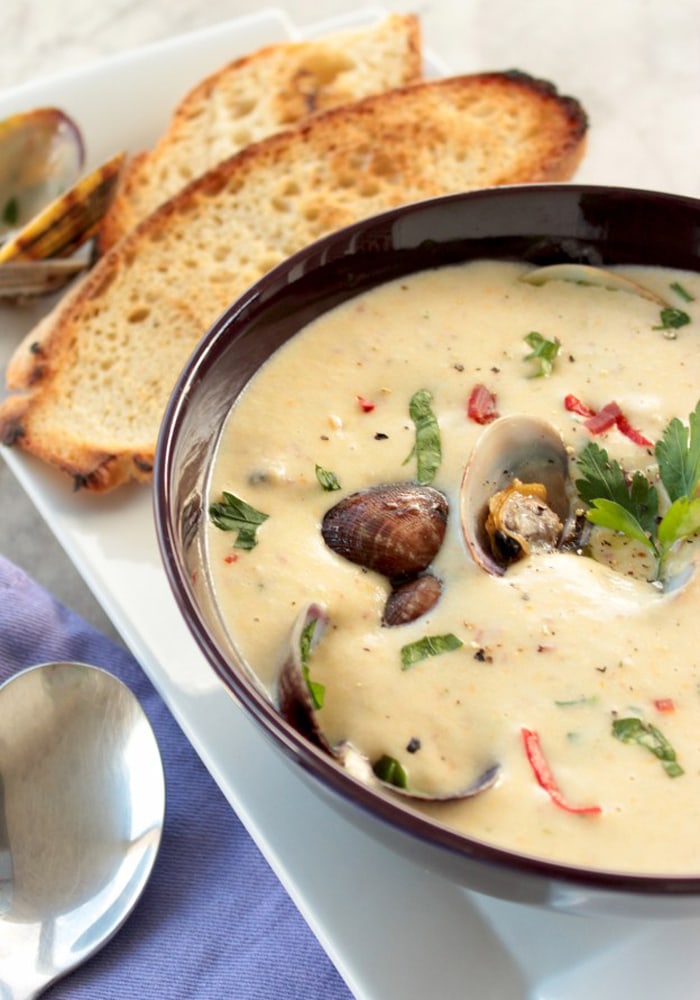 New England Clam Chowder – Fresh clams, potatoes and bacon make this heart-warming soup impossible to resist.
Slow Cooker Chicken White Chilli – Flavorful, hearty, dairy-free, and mild enough for the whole family to enjoy.
Zuppa Toscana – A popular flavour-packed Italian soup, made with sausage, kale, potatoes, onions, cream, and garlic.
Chinese Coconut Pork Soup – A sweet, nutty and hearty pork soup loaded with tender ribs and vegetables.
Creamy Curry Meat Soup – This is a hearty winter-proof soup made with a hint of orange juice, curry powder and cream.
Gluten-free Homemade Soups
Baked sweet potato and carrot soup with cheddar potato skin croutons – A warming healthier soup. Gluten-free & vegetarian.
Black Bean Soup – Full of veggies and black beans, this soup makes a high fiber and protein meal.
Slow Cooker Chicken Quinoa Soup – With only 5 minutes of prep, this makes a healthy dinner that the whole family will love.
Chestnut and Parsnip Soup – Put parsnips and chestnuts together and you have a quintessentially British, seasonal soup.
Albondigas Soup (Spicy Mexican Meatballs Soup) – A traditional Mexican soup loaded with flavour and with a nice spicy kick.
Roasted Carrot Apple Soup – A nutty and sweet fall soup recipe that's naturally paleo, whole 30 and gluten-free.
Mexican Chicken Chile Soup – Classic Mexican flavours combine to create a soup that is loaded with fresh ingredients and full of flavour.
Roasted Fresh Tomato Bisque – Juicy roasted tomatoes and fresh basil make the perfect combo for this lovely refreshing soup.
Chicken Squash Noodle Soup – This paleo, low carb chicken soup recipe is super easy with just 8 ingredients and 10 minutes prep time.
Zucchini Corn Chowder -This is just the kind of soup for fall. Packed full of veggies, creamy and filling and naturally gluten-free and vegan.
Vegan & Vegetarian Homemade Soups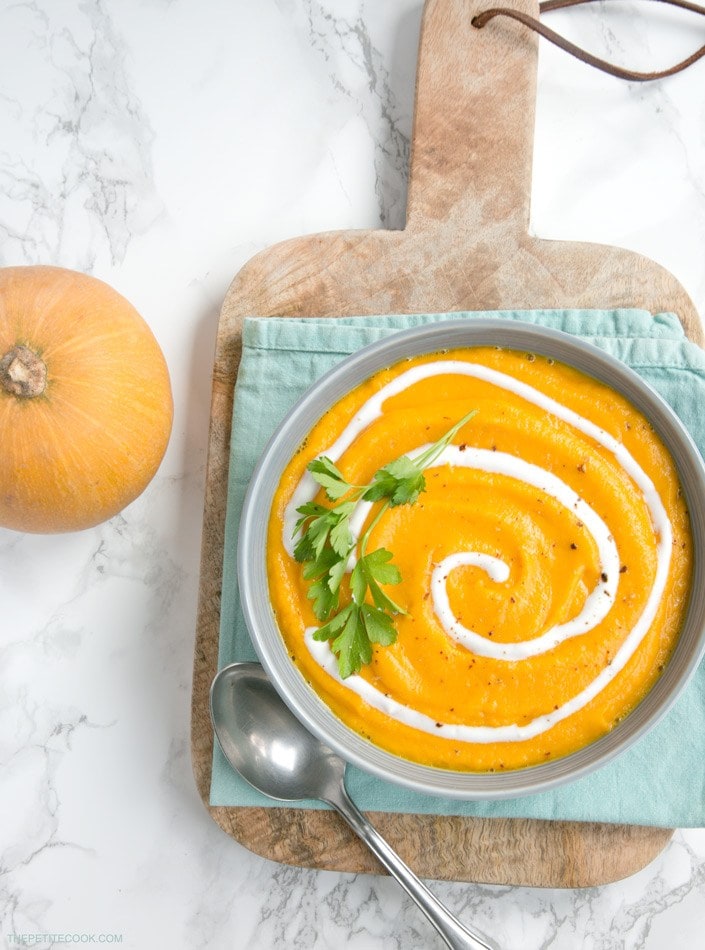 Spicy Pumpkin and Carrot Soup – This fall-perfect recipe is easy to make, packed with nutritional value and awesomely gluten-free. What's not to love?
Leek and Potato Soup with Toasted Hazelnut -A classic hard-to-beat dish, and makes one of the most creamy soups you'll ever taste.
Spicy Chipotle Sweet Potato Soup – A healthy and flavorful vegan soup with a nice kick of heat!
Broccoli Cheese Soup – Creamy, thick and full of flavour, you won't miss the cheese in this soup. And it's also gluten-free.
Zucchini Corn Chowder – Packed full of veggies, creamy and filling. And it's both vegan and gluten-free!
Spinach, coconut and zucchini soup – A vibrant green soup full of goodness.
Potato Corn Chowder – A thick and hearty soup that takes only one pot, and a few simple ingredients you have in your kitchen.
Moroccan Chickpea Lentil Soup – It's hearty, satisfying, and full of protein thanks to the double power of lentils and chickpeas
Feel Better Vegan Pho -An easy, 15-minute, vegan recipe to satisfy your Pho cravings on a cold day.
Curry Lentil Soup – Made with coconut milk and cashews this soup is rich and creamy and loaded with nutrients.
Pin & Save For Later:

Check out My New Cookbook: