This easy Ratatouille recipe comes together quickly for an easy one-pot weeknight dinner. It's a light and fresh French meal that's naturally gluten-free, dairy-free and vegan.
---
This classic easy ratatouille is a French classic that makes a hearty and well-balanced meal to enjoy all year-long. You can use all your favorite veggies, but I recommend you stick to anything local and seasonal whenever possible, to get the best flavors and nutritional value.
Ingredients for This Easy Ratatouille
To recreate this easy ratatouille all you need is a bunch of fresh aromatic herbs and simple everyday veggies such as red peppers, tomatoes, eggplant, zucchini and onions.
It all comes together in less than 1 hour, and it's one of the easiest one-pot meals around, made with super simple, wholesome ingredients and requiring very little cooking skills. Plus, it's naturally dairy-free, gluten-free, and vegan, making a fantastic allergy-friendly option.
Great fresh vegetables have a fantastic flavor on their own, but also make sure to choose super high quality canned tomatoes. I pick the Italian San Marzano variety whenever I find it, but any great organic plum tomato variety will do.
I cannot stress you enough on the importance of the ingredients in this easy ratatouille. Try to get the absolute best quality vegetables you can. It will definitely take this dish from good to AMAZING.
For the herbs, if you have Herbs de Provence at hand, totally go for it! Otherwise, you'll be just as happy with some freshly dried oregano (I used my mom's Sicilian oregano!) and fresh thyme sprigs.
To cook and serve this easy ratatouille, I've partnered up with the well-known french brand Le Creuset.
Le Creuset has been making amazing long-lasting cast iron casserole cookware since 1925 in France, using only the finest materials. I love using their casserole pots, as they are suitable for all types of heat sources and can be transferred from the stove to the oven, and then straight to the dining table.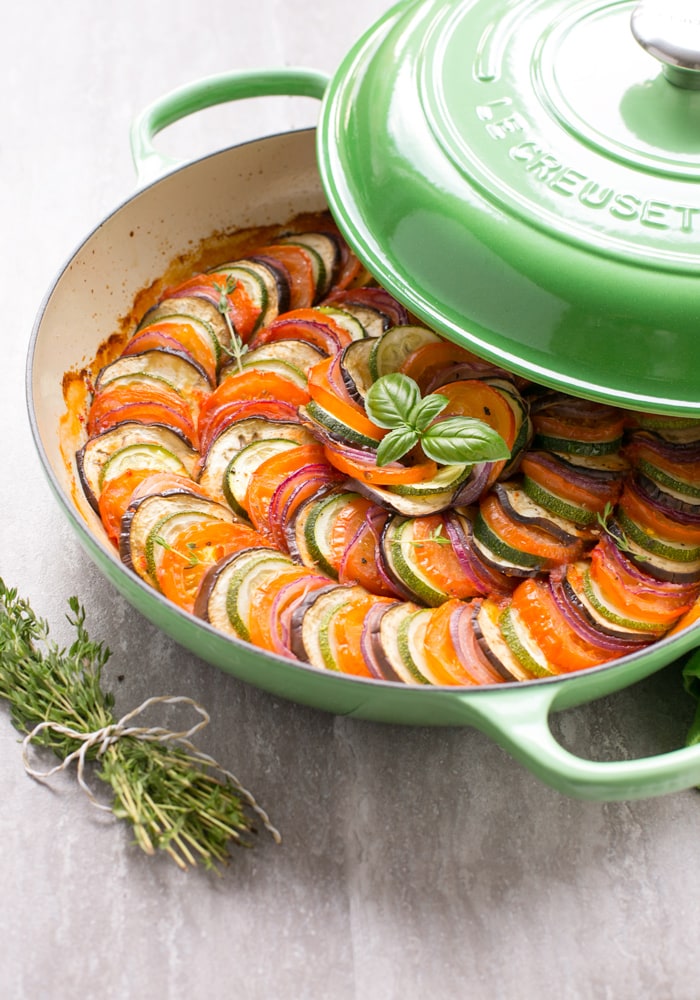 Lately, I've been obsessed with their shallow casserole pot, which comes in different colours including the new Rosemary (showcased here). I've been using it for making anything from classic tomato sauce, chicken stew and this delicious easy ratatouille, of course.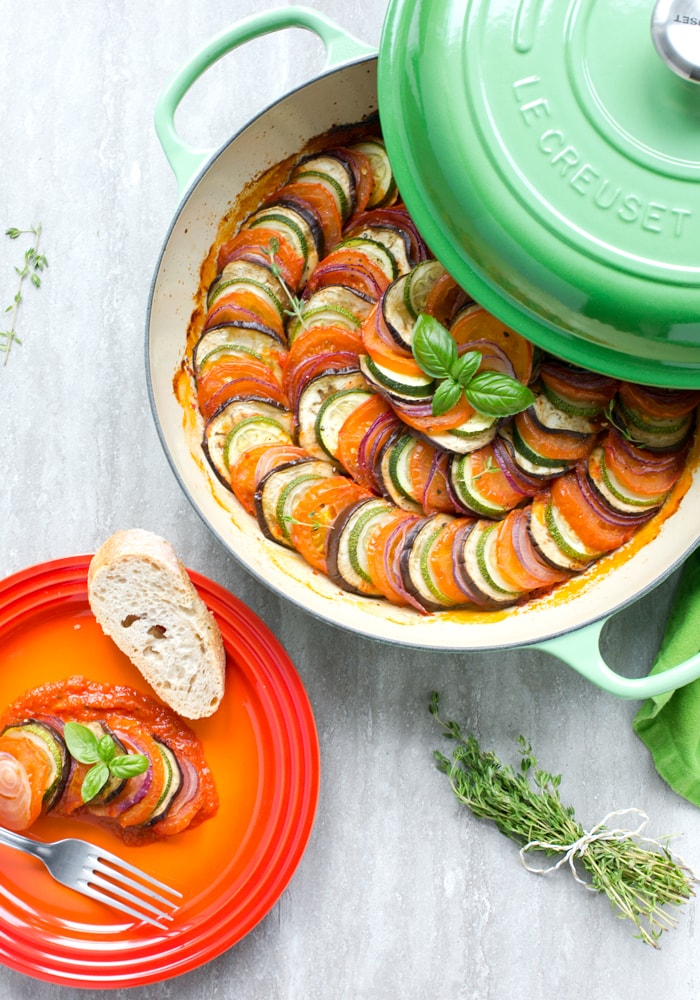 Back to this easy ratatouille, I cannot tell you enough how tasty it is. It is one of those easy one-pan weeknight dinner. It's super healthy, quick and fulfilling, and all you need to make it a meal is your favorite protein.
Try it with classic grilled fish and roasted chicken, or go for something new such as these salmon quinoa burgers.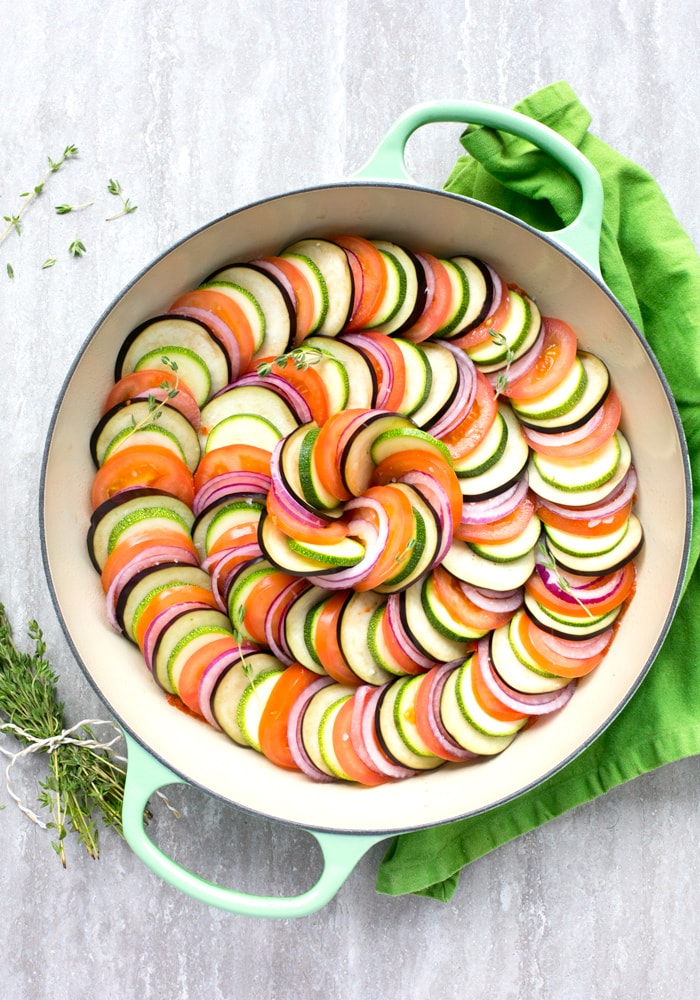 For the best fuss-free results, quickly stir the sauce together and pour it into the bottom of the pan before layering the veggies on top.
You can simply cube all the veggies, but for a pretty presentation, I like to slice them up separately and line them up in order. It takes few minutes more but will make this dish look like you spent the whole day on it!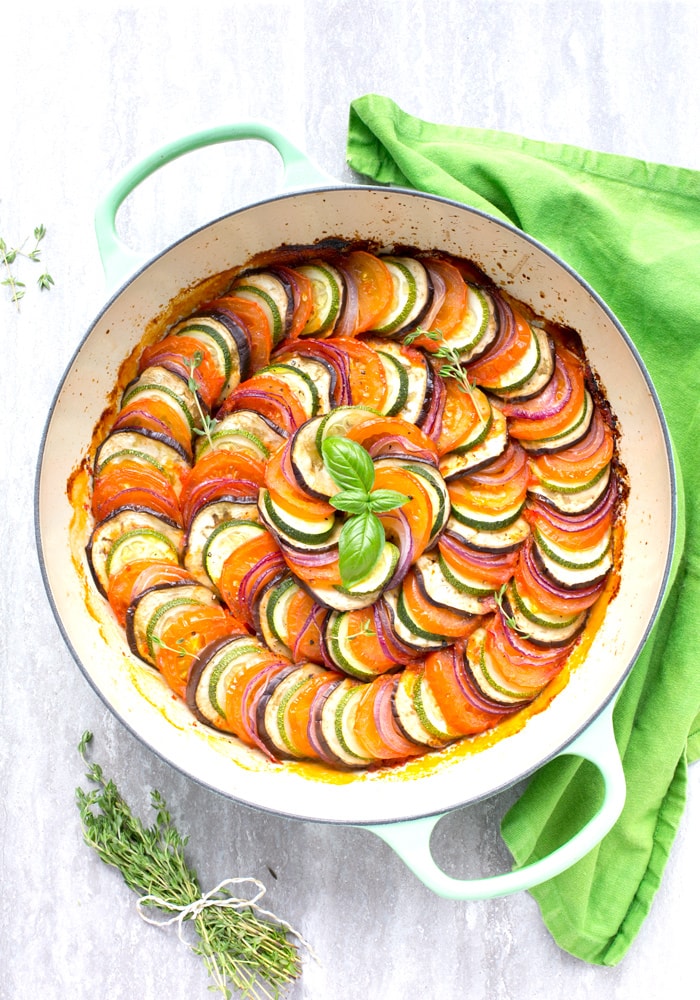 **This post is sponsored by Le Creuset. This is an unpaid collaboration, but I did receive Le Creuset products in exchange for my honest review**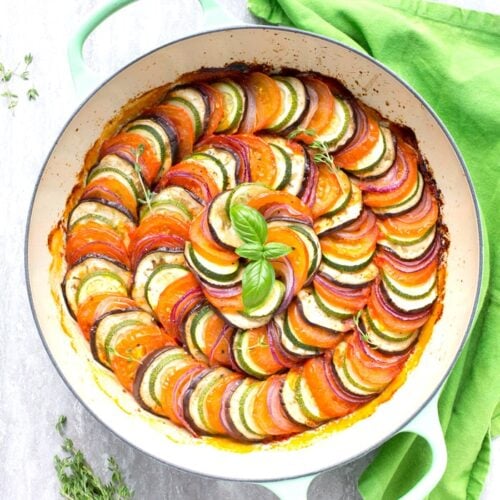 Print Recipe
Easy Ratatouille
This easy Ratatouille recipe comes together quickly for an easy one-pot weeknight dinner. It's a light and fresh meal that's naturally gluten-free, dairy-free and vegan.
Ingredients
For the sauce:
2

tbsp

extra-virgin olive oil

1/2

large red onion

finely chopped

1

red bell pepper

cubed

1

can

organic plum tomatoes, drained

(400 gr)

1

garlic clove

1

tsp

sugar

1

tbsp

balsamic vinegar

1

tsp

freshly teared thyme leaves

1

tsp

freshly dried oregano

sea salt and black pepper to taste
For the ratatouille:
2

large zucchini

3

japanese eggplants

or small regular ones

2

salad tomatoes

2

small red onions

2

thyme sprigs

a pinch of freshy dried oregano

a glug of extra-virgin olive oil

sea salt and black pepper to taste
Instructions
For the tomato sauce: heat a shallow cast-iron pan over medium-low heat. Fold in olive oil, red onion, whole canned tomatoes, cubed red bell pepper and garlic.

Stir-fry for 5 min, then add in the sugar, balsamic vinegar, thyme and oregano. Mix all the ingredients together and gently crush the tomatoes with a wooden spoon.

Allow to cook for about 10 min, then season with salt and pepper to taste.

Preheat oven to 180C/375F.

Transfer the sauce into a food processor and mix until creamy but still a bit chunky.

Spread 1 cup of the tomato sauce evenly over the bottom of your shallow cast-iron pan.

To make the ratatouille, start by slicing zucchini, eggplants, red onions and tomatoes into even thin slices and set them aside.

Arrange one slice of each vegetable on the pan and continue until the pan is full. To make things easier, stack the veggie slices in your hand then layer them into the pan.

Season with a pinch of oregano, sea salt and black pepper on top and a swirl of olive oil.

Bake for 30 minutes or until veggies are tender and the sauce is gently bubbling on the sides.

Remove the pan from the oven, allow to cool for 5 min, then serve.

Store in an airtight container in the fridge for up to 2 days, or freeze for up to 1 month.