For very little time and money, you can whip up homemade treats guaranteed to please everyone, from the pasta lover to the chocolate obsessed foodie.
Handmade gifts are the best kind, especially when they're edible. Who can possibly resist a jar of homemade italian pesto or a special kit to make the best hot chocolate in the world? Offering these delicious treats to friends is so much more than a small gift - it shows all the care and affection, recreating the true spirit of this special holiday.
I love making my own homemade Christmas food gifts, I think they give a really nice personal touch. I've particularly selected these below because they're super easy to personalize and totally allergy-friendly, in case you'll be gifting someone following a special diet.
To prepare these gorgeous and alternative holiday baskets I've teamed up once again with HomeSense. I'm kind of obsessed with this store, it's the place where you can easily find me when I'm not busy in the kitchen or travelling around the world.
I could probably spend days browsing and hunting for little treasures in their deparments.  To put together these foodie kits, I've used anything from pretty jars, tins and textiles, to handy utensils and high-quality ingredients. The gourmet food department at HomeSense is like heaven for foodies. They have amazing products from the best producers at such bargain prices! DOP Extravirgin olive oil, bronze-died pasta and belgian chocolate are just a few things you'll be able to put your hands on.
These foodie ideas are all easy to make, and require only few inexpensive simple things that will deliver incredibly cute homemade Christmas food gifts for your family and friends.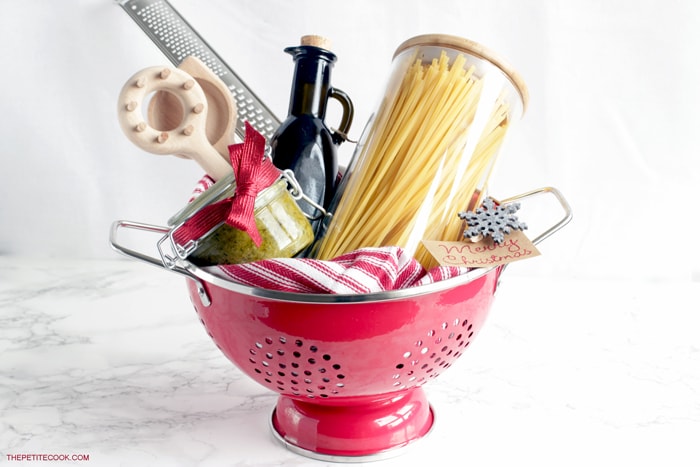 Who knew a colander would make such a cute Christmas basket? Also, just looking at this picture is making me crave an awesome bowl of pasta. Easy to customize with your favorite pasta ( bronze-died, wholewheat, gluten-free) and pesto sauces (traditional, vegan, dairy-free), to make this awesome kit you'll need: one small pot for the pesto, one large spaghetti jar, a festive red colander, a cheese grater, some utensils and high-quality extravirgin olive oil. A truly italian feast! Check out the recipe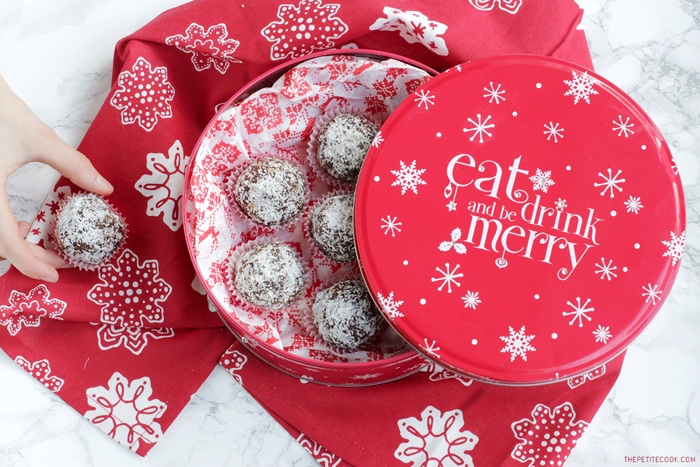 Kokosballs are a super popular and traditional swedish sweet treat. Vegan, gluten-free and ready in 5 mins, they're the perfect bite-sized treat to satisfy your chocolate cravings. All you need to put together this chocolatey gift is a small cookie tin, some pretty mini cupcakes liners, and of course a batch of delicious kokosballs. Check out the recipe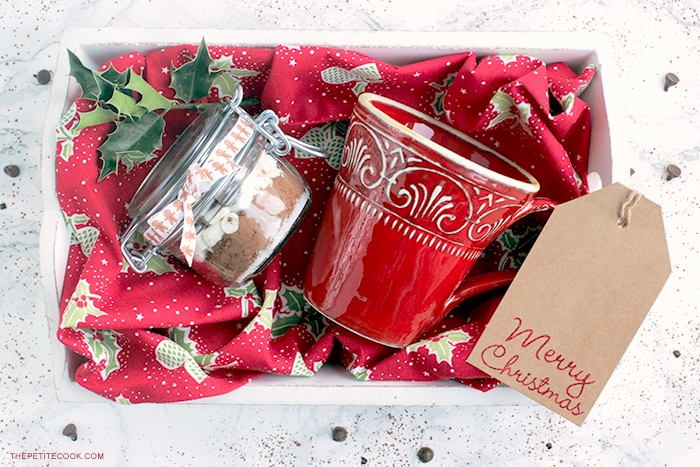 This is hands down the best hot chocolate in the world. Incredibly rich and smooth, it has nothing to do with the watery hot chocs out there.
To prepare this special gift all you need is a small tray, a nice festive mug, and a small jar filled with all the dry ingredients ( including cute mini marshmallows). Perfect for all the chocolate lovers, milk is not included in the kit, making it easier for all vegan or dairy-free friends to choose their own drink. Plus, it's gluten-free too! Check out the recipe
[easy-tweet tweet="Homemade Allergy-friendly Food Gifts For Christmas" user="PetiteCook" hashtags="#vegan"]
Hope you guys will give these cute kits a go! If you do, please leave a comment below and let me know what will you put in your homemade Christmas baskets. Even better, snap a picture, tag it #thepetitecook and share it on Instagram! I can't wait to see all your festive creations!
This post is sponsored by HomeSense. All the products present in the shooting were purchased at HomeSense and may be available at your local store. All opinions are my own as always, and yes, I'm truly obsessed with HomeSense. Thank you for supporting the brands that support The Petite Cook!