Make the most of pumpkin season with super easy, delicious, dairy-free Pumpkin Muffins! Ready in just 20 minutes and no butter required.
---
Soft and moist, with warm fall spices and indulging chocolate in every single bite, these incredibly easy-to-make pumpkin muffins are the perfect way to embrace fall baking season.
Whether you make them for breakfast or dessert these guys are super satisfying and sure to be a crowd-pleaser.
Even though these muffins are butter-free and milk-free, they're still melt-in-your-mouth moist. In fact, these are some of the softest, healthy muffins I've ever baked!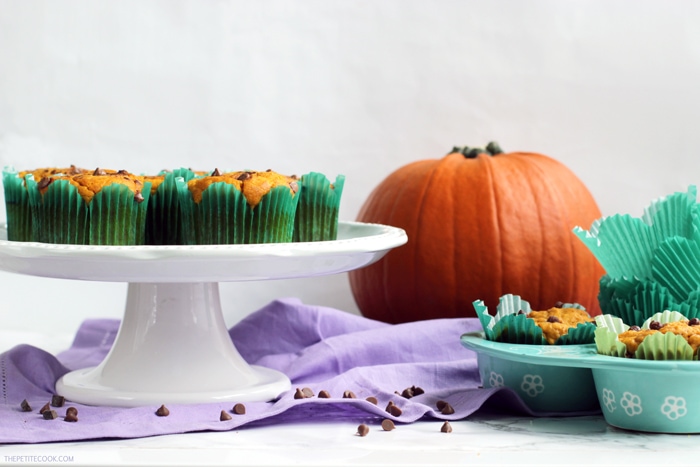 Once you take the plunge and start replacing butter with much-better-for-you extra-virgin olive oil, it opens all kind of new recipes to you!
Olive oil shortcrust pastry, chicken cottage pie, butternut squash soup and apple cake, are just a few of my other favourite recipes using extra-virgin olive oil. Once you try them, I promise, you'll never go back using butter!
Dairy-free Pumpkin Muffins Ingredients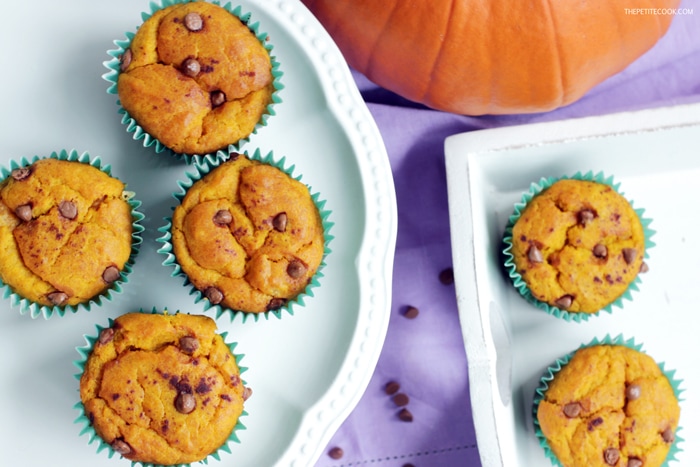 This dairy-free pumpkin muffins recipe is a total breeze to make and only requires super simple ingredients:
Pure Pumpkin. I like to use homemade pumpkin puree, which I find it tastes way better than the can, plus it's very easy to make a big batch and freeze into portions for later use.
Spices: The pumpkin spice mix bring these dairy-free muffins to the next level. Cinnamon, cloves, and nutmeg will perfectly complement the pumpkin flavor.
Eggs. The eggs are needed to bind the bread and help it rise. )
Sugar. I like to use fine organic brown sugar, as it adds a natural caramel note to the mix. But you could also replace the same amount with pure maple syrup if you like.
Chocolate chips: I am a massive fan of chocolate and pumpkin together, so I make my pumpkin muffins with chocolate chips. You can replace with toasted walnuts, hazelnuts or pecans if you like, they all work great too.
How to Bake the Best Dairy-free Pumpkin Muffins
Pumpkin & chocolate chip muffins bake beautifully and really require little effort on your part. This muffins recipe is super easy to prepare and will take you just 20 minutes to make.
Before you know it, you'll be indulging in warm, freshly baked pumpkin muffins that melt in your mouth!
Directions: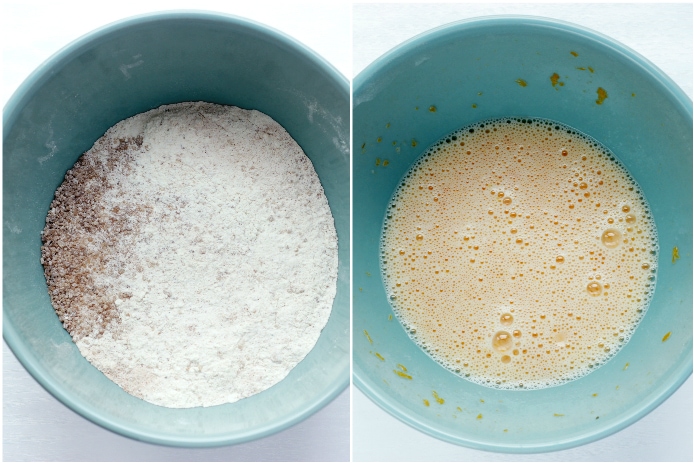 Fill a standard 6-cup muffin tin with paper liners.
In one bowl, mix your dry ingredients and spices together. In the other bowl, whisk your wet ingredients together.
Then, slowly incorporate your dry ingredients into your wet ingredients.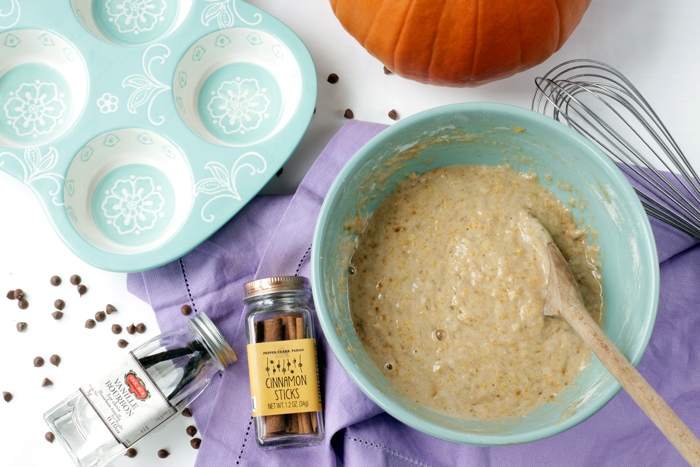 Stir all the ingredients together until they're just combined. Finally, mix in the chocolate chips or any other favourite add-in.
Divide the muffin batter evenly between each of the 6 cups, and fill almost to the top.
Bake for 20 to 24 minutes at 350 degrees F or 175 degrees C, until a toothpick inserted in the center of a muffin comes out clean.
When your muffins are ready, remove the muffin pan from the oven, and let the muffins cool in the pan for 5 minutes. Then, remove each muffin and let it cool slightly before devouring it. ENJOY!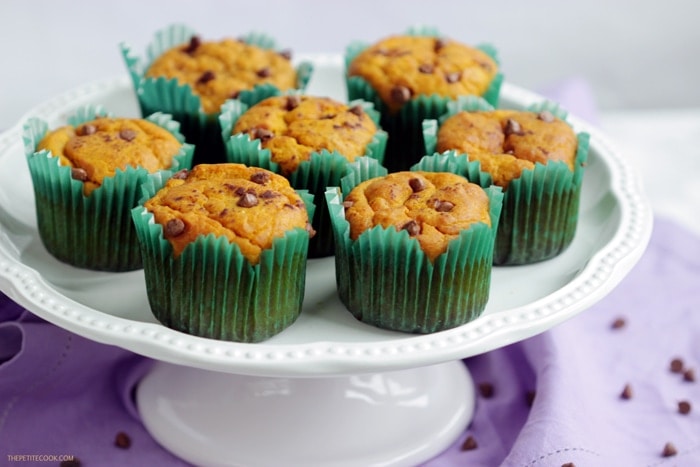 Top Tips For Best Muffins
To make the best pumpkin muffins ever, remember to not over mix the batter and not over bake.
Otherwise, you'll end up with dry, dense muffins. And that's definitely not what you want.
Give your muffin batter a nice quick mix, and make sure you set up a timer when you place them in the oven, so there's no chance of overbaking them!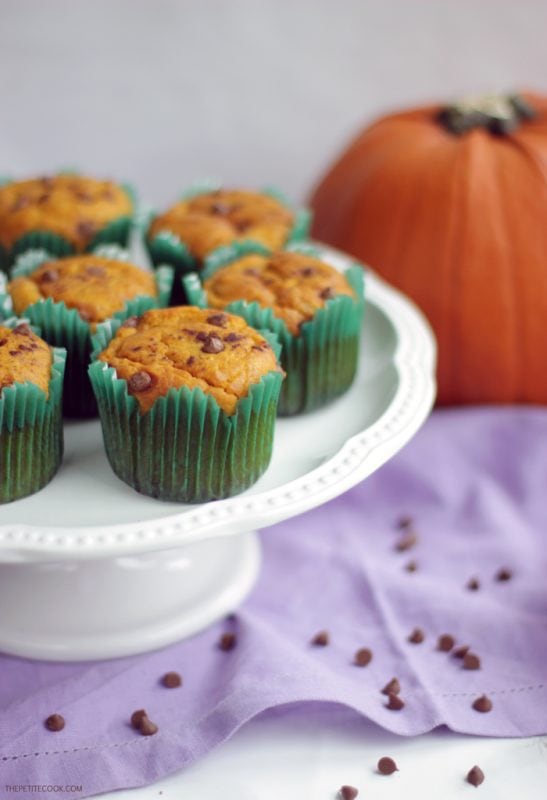 Tools You Need For Pumpkin Muffins:
Mixing Bowl (affiliate): You'll need two mixing bowls for those muffins, one for mixing up the dry ingredients, and one for mixing the wet ingredients.
Muffin Tin(affiliate): I love my ceramic muffin tin, not only is super pretty but also ensures even baking. Plus, it makes a beautiful gift for any baking-lover in your life.
Muffin Liners (affiliate): You can, of course, bake these muffins without them, but paper liners guarantee no muffin sticks to the bottom. So why take the risk?
More Pumpkin Recipes To Try:
One-Pot Barley Risotto with Pumpkin and Rosemary
Did you make this recipe?
Please let me know how you liked it! Leave a comment below and share a picture on Instagram with the hashtag #thepetitecook! Looking at your pictures always makes me smile *and super hungry*!
Recipe
Pumpkin Muffins With Chocolate Chips (dairy-free!)
Make the most of pumpkin season with super easy, delicious, dairy-free Pumpkin Muffins! Ready in less than 30 min and no butter required.
Ingredients
200

g

pumpkin puree

3

tablespoon

fine brown sugar

2

large eggs

,

beaten

120

ml

light extra virgin olive oil

140

g

all-purpose flour

1

teaspoon

pumpkin pie spice

,

see notes

1

teaspoon

ground cinnamon

a pinch of salt

1

baking powder

60

g

dark chocolate chips
Instructions
Preheat the oven to 175 degrees C.

In a large bowl, beat the pumpkin puree together with the sugar, eggs and extra-virgin oil until smooth.

In another bowl combine the flour, pumpkin pie spice, cinnamon, salt and baking powder.

Slowly incorporate the dry ingredients into the wet ones, making sure of not over mixing. Add the chocolate chips and stir everything quickly together.

Divide the mixture into a non-stick muffin tin folded with paper cases, filling ¾ of each cup.

Bake for 20 minutes or until a skewer inserted in the center of a muffin comes out clean.

Remove the muffin pan from the oven. Cool the pumpkin muffins in the tin for 10 minutes, then take them out and serve.
Notes
How to make homemade pumpkin pie spice mix:
1 tablespoon pumpkin spice mix: 1½ teaspoons cinnamon, ½ teaspoon nutmeg, ½ teaspoon ginger, ¼ teaspoon allspice.
The information shown is an estimate provided by an online nutrition calculator. It should not be considered a substitute for a professional nutritionist's advice.
*This post was originally published in 2015 and updated with more helpful info.*