Pumpkin Barley Risotto is comfort food at its best. Simple seasonal ingredients create a hearty vegetarian meal that is sure to become a hit on your winter menu!
Barley risotto is also called orzotto , and it's like an italian risotto but instead of being made with rice it's made with barley. If you ask me, a glass of red wine (or two), is the perfect accompaniment to this heart-warming meal , and exactly what I want to enjoy on a cold winter day.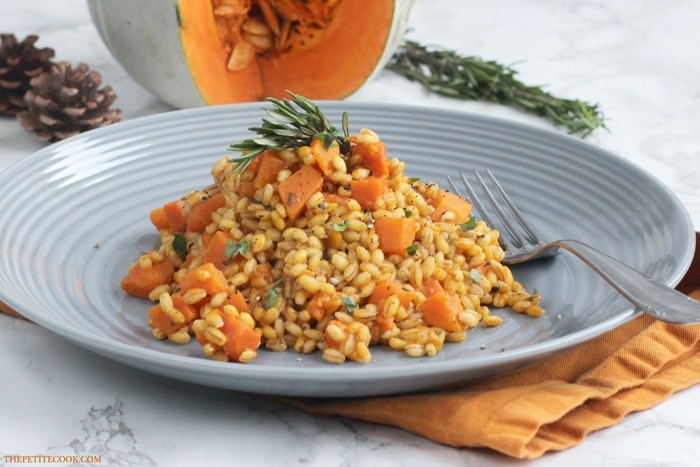 What I love the most about this barley risotto is that it's hearty and filling without being heavy. Just as creamy as traditional risotto, but much lighter and healthier. Not only barley is a whole grain and contains more nutritional value than rice, but this recipe doesn't recall for butter, a classic ingredient in the italian risotto.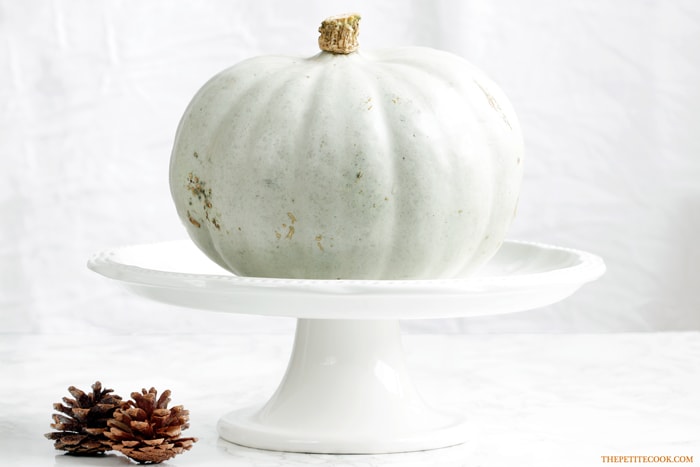 I can't seem to get enough of pumpkin this year, and I fell in love wit this Casper pumpkin while shopping at the local market the other day. Casper pumpkins are known for their bright orange meaty flesh and their succulent sweet flavor. And this 1-pot barley risotto was just the perfect excuse to use up some of this special pumpkin variety.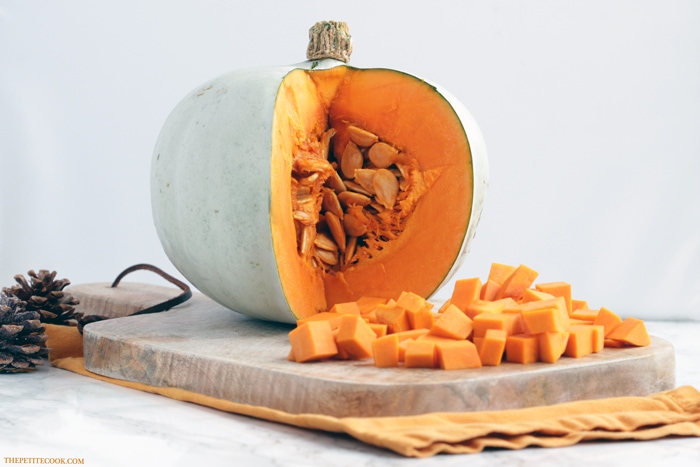 Ready in just as little as 30-mins, this Barley Risotto with Pumpkin and Rosemary only requires one pot and 5 simple ingredients: pearl barley, pumpkin, rosemary sprigs, garlic and extravirgin olive oil. Some grated parmesan is always welcome, but not necessary, especially if you want to keep it vegan and dairy-free.
I usually ditch the butter in favor of a high-quality, lightly fruity extravirgin olive oil, a little goes along away and will give a pleasant aromatic note. Thanks to the pumpkin, even if you won't be using butter, this barley risotto is just as creamy as it supposed to be. Also, barley requires a bit less attention than rice, so you can just add all the stock in one go and just stir from time to time.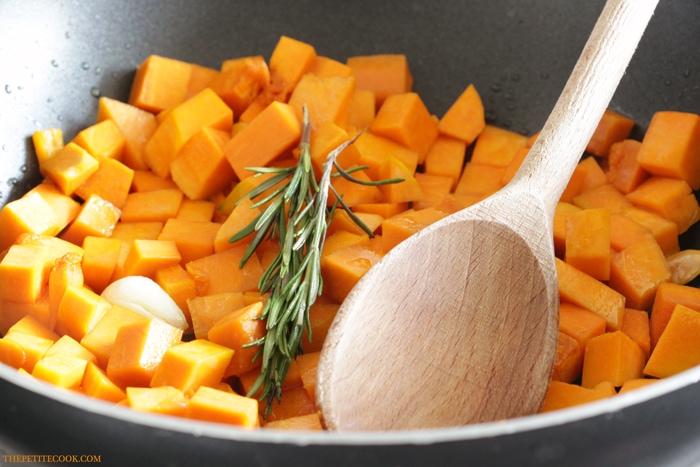 Start by cooking the pumpkin in a large skillet with some garlic, olive oil and rosemary. Then add the barley and gently toast all the ingredients.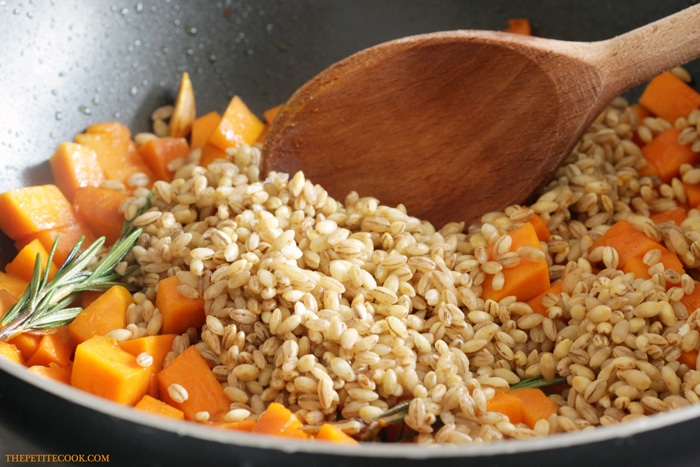 At this stage, simply pour over the stock and allow to simmer until all the ingredients are cooked. All you have to do is stirring every now and then, and pour extra stock if necessary.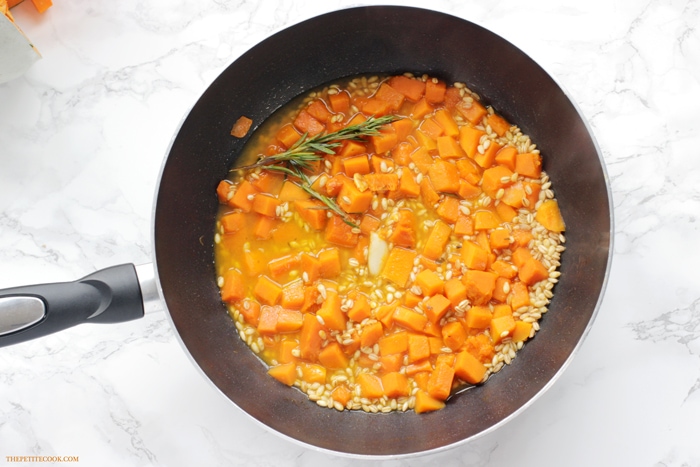 Your barley risotto comes together in about 20-30 mins. Once it's cooked through, remove from the heat and add optional parmesan cheese and a knob of butter if you like the traditional way, or keep it simple and light as I did, and just pour over a glug of exravirgin olive oil, some freshly cracked pepper and serve it straight away to your guests.
This Barley Risotto with Pumpkin and Rosemary is vegan and dairy-free but incredibly flavorful and hearty. One of those comfort foods you can't possibly feel guilty about!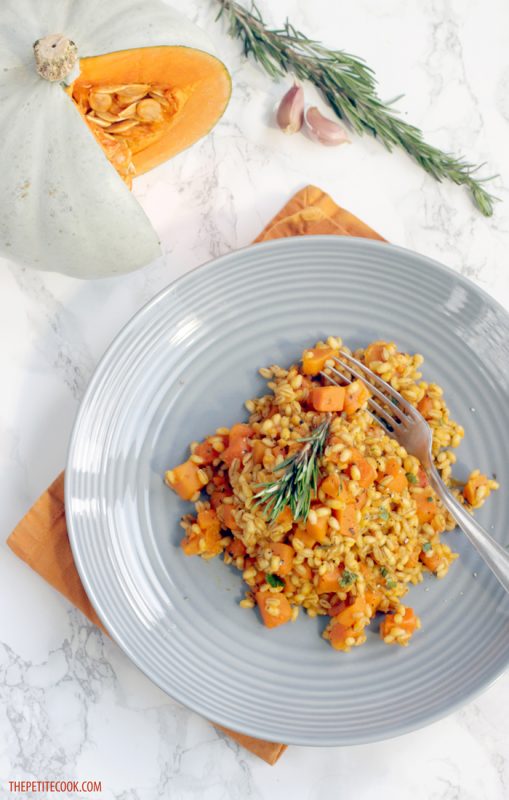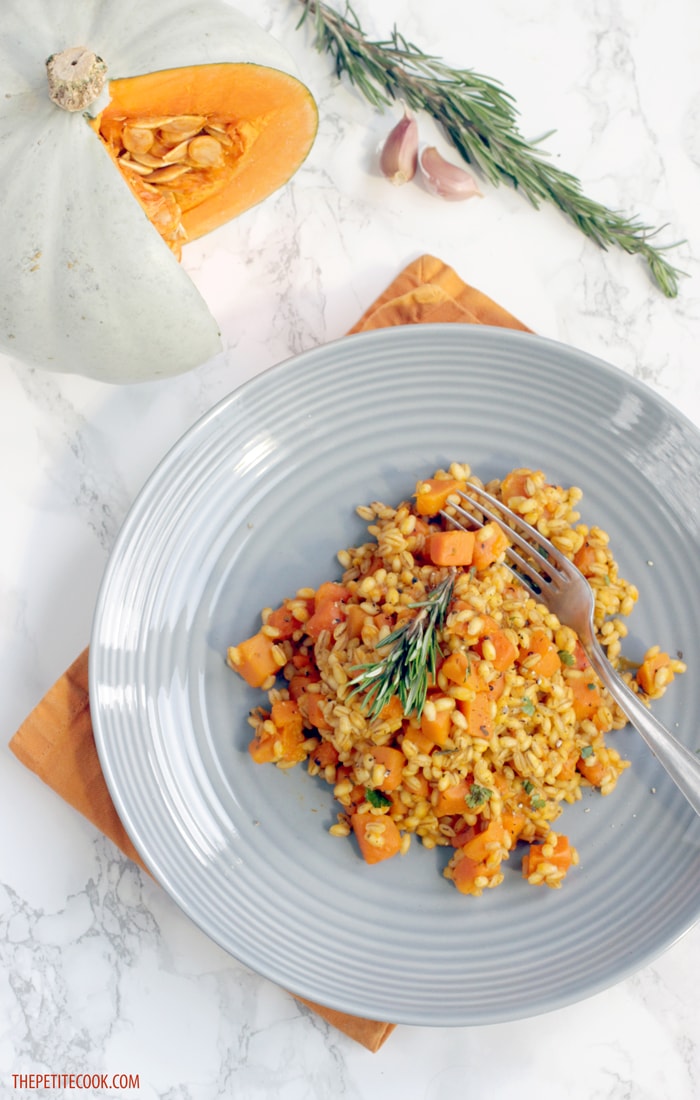 I hope you guys give this delicious risotto/orzotto a try! If you do, please leave a comment below and let me know how you liked it! Or even better, take a picture, tag it #thepetitecook and share it on Instagram! Looking at your yummy creations always makes me smile :)!

Barley Risotto with Pumpkin and Rosemary
Pumpkin Barley Risotto is comfort food at its best. Simple seasonal ingredients create a hearty vegetarian meal that is sure to become a hit on your winter menu!
Ingredients
3 tbsp Extravirgin olive oil

250g/ 1 cup organic pumpkin, cubed

2 sprigs fresh rosemary + extra chopped to garnish (optional)
1 garlic clove, peeled and gently crushed

½ cup ( 120gr) pearl barley

450ml/ 2 cups vegetable stock

½ cup parmesan cheese (optional)
salt and freshly ground black pepper
Instructions
Heat the oil in a saute' pan and stir in garlic, rosemary and cubed pumpkin. Cook over medium-heat, add ⅓ of the stock and allow to reduce.

Fold in the barley and toast for about 1 minute.Pour in the remaining stock, cover with a lid and allow to cook for 20 mins.

Make sure to stir the risotto every now and then, and feel free to pour in some water if it goes dry.

Continue to cook until the pumpkin is soft and and barley tender to the bite.

Remove from the heat and stir in chopped parsley and rosemary, a glug of olive oil, optional parmesan cheese and freshly ground black pepper.

Serve immediately, or store in airtight container in the fridge for up to 2 days.