This Sweet Potato Chicken Cottage Pie is a super easy healthy take on one of the most popular British comfort foods – Ready in 30 min, gluten-free and packed with extra veggies!
I'm currently in Germany (where I have a second home) and let me tell you, it's absolutely FREEEEEZING here. So I find myself craving more comfort foods than I usually do, and this pie is the perfect example.
Shepherd's pie or cottage pie is a meat pie topped with a crust of mashed potato. As good as it is the traditional version, I've completely fallen in love with this healthier awesome alternative. Plus, it's awesomely gluten-free, in case you have dietary requirements you need to follow.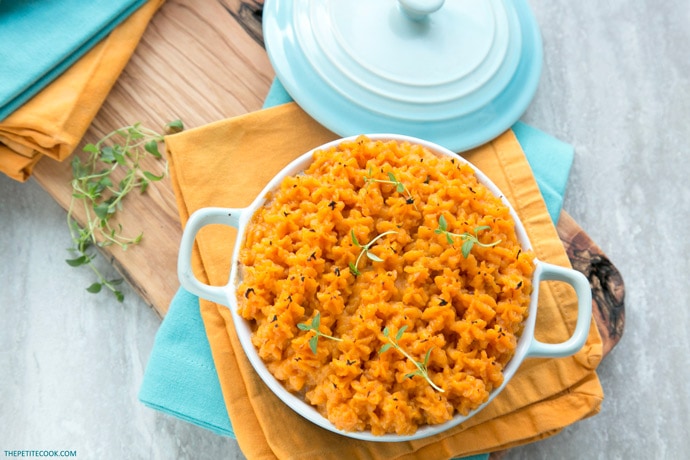 This heart-warming Sweet Potato Chicken Cottage Pie is super easy to put together. It takes less than 30 min to make start to finish, and only requires few simple ingredients such as chicken breast, sweet potato, leek, mushrooms, peas, flour, milk, stock and fresh aromatic herbs.
Instead of using minced beef/lamb, I opted for chicken breast bites, to add some chunky texture to the mix (you can go for homemade chicken mince too). You may use your favorite veggies for the filling. Don't like mushrooms & peas? Opt for broccoli, carrots, green beans, or all three. Don't fancy leeks? Switch for onions or shallots. Just use as many veggies as you like – sky is the limit!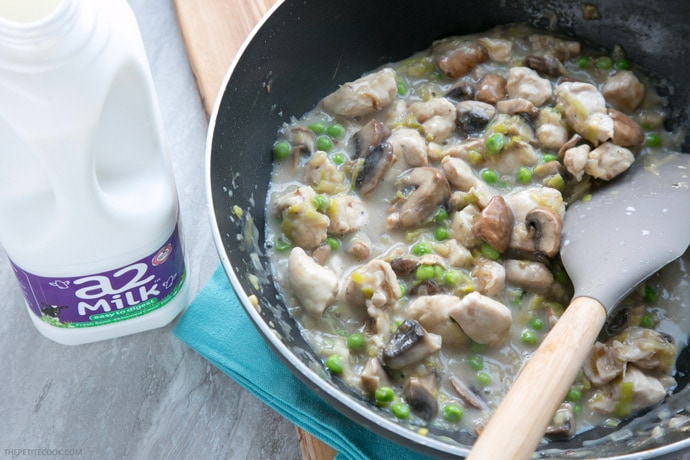 To make things lighter and healthier, I usually go for a little homemade butter and a glug of olive oil. I've also switched the heavy cream traditionally used for the white sauce, with vegetable stock and a2milk semi-skimmed milk.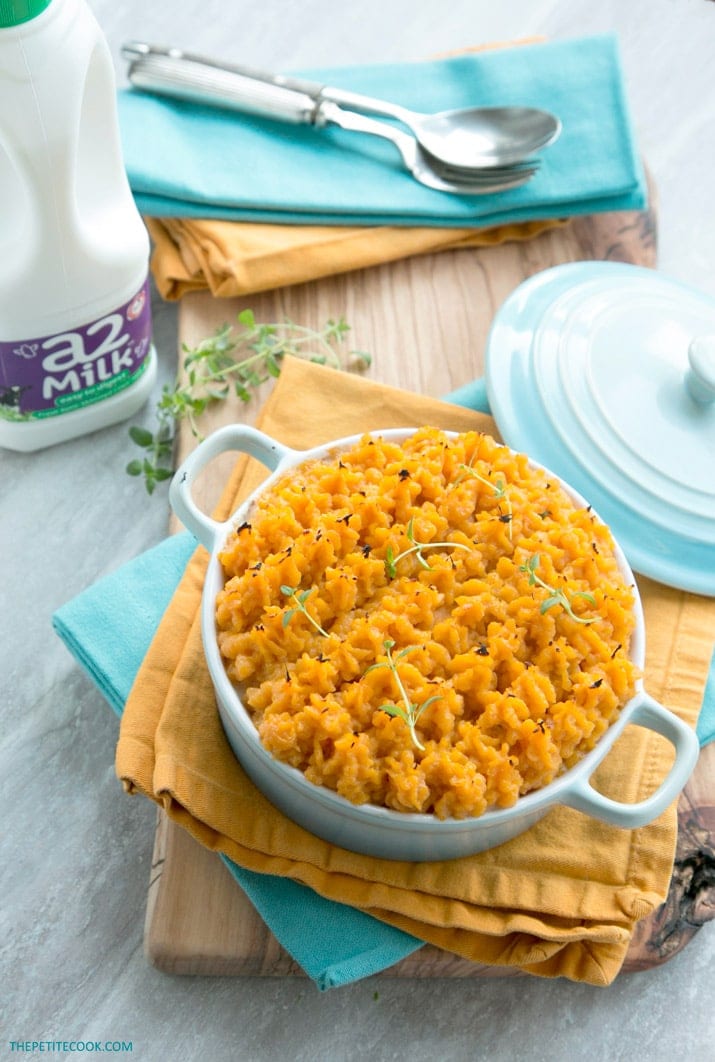 I've been collaborating with this award-winning milk brand for a few years now, and cannot recommend it enough. A2milk is easier to digest than normal cow milk, and is super gentle to your tummy. As you know I'm dairy intolerant, but have enjoyed a2milk for a long time now, without suffering the painful effects I had before with other cow milk/dairy products (bloating, stomachache, just to name a few).
Perfect all winter-long, dig into a deliciously creamy white sauce, with juicy succulent chicken topped with a fluffly sweet potato mash – This Sweet Potato Chicken Cottage Pie is comfort food at its best!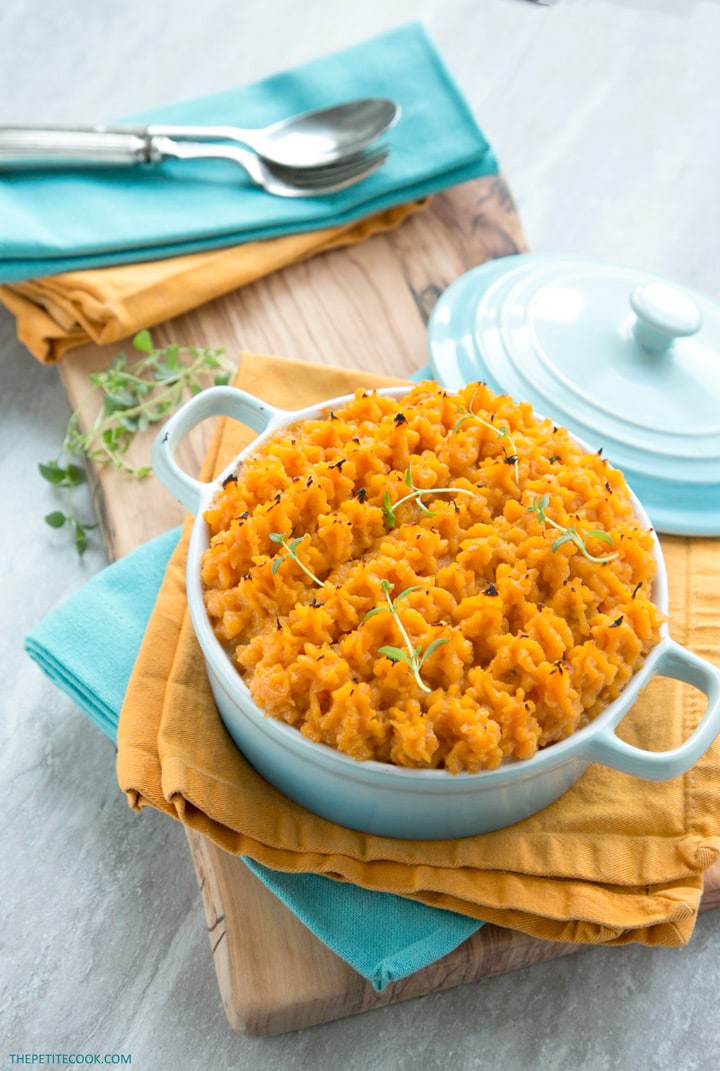 Did you make this recipe?
Please let me know how you liked it! Leave a comment below and share a picture on Instagram with the hashtag #thepetitecook! Looking at your pictures always makes me smile *and super hungry*!
Sweet Potato Chicken Cottage Pie
Ingredients
For the filling:
a glug of extra virgin olive oil
400g skinless chicken breast, cut into chunks
150gr fresh mushrooms, chopped
1 leek, finely sliced
½ tbsp homemade butter
150ml chicken stock
1 + ½ tbsps rice flour
200ml semi-skimmed a2milk, warmed
100gr frozen peas
handful fresh thyme leaves, chopped
sea salt and pepper
For the topping:
750g sweet potatoes, cut into chunks
1 tbsp semi-skimmed a2milk, warmed
sea salt and pepper
Instructions
Heat the oven to 180C / 350F.
Heat a large skillet with the olive oil over medium heat. Fold in chopped leek and mushrooms and cook until slightly soften, about 2-3 min. Add in the chicken breast chunks, and brown the meat for a further 2 min on both sides. Season with salt and pepper.
Add in butter and frozen peas, and sprinkle the flour all over the mixture. Gently pour in the stock while mixing, then pour the milk in too. Add thyme leaves, lower the heat and simmer for about 10 min, until the sauce has thickened and reaches a creamy consistency. Season with salt and pepper to taste.
While the sauce cooks, steam the sweet potato chunks for about 10 min, until soften. Transfer into a large bowl, and mash with a potato masher, slowing incorporating the milk in. Season with salt and pepper.
When the chicken filling is cooked through, transfer to an ovenproof dish, top with the mash and ruffle with a fork.
Bake for 10 mins, until slightly browned and crunchy on top ( you may also put it under the grill to brown, if you like).
Serve nicely hot straight from the oven.
Notes
I used rice flour to make the pie gluten-free, you may of course use all purpose flour if you don't have any dietary restrictions.
This post is sponsored by a2Milk. I am a huge fan of this brand and I'm really proud to collaborate with their team. I use a2Milk regularly and I can't recommend it enough. Thank you for supporting the brands that support The Petite Cook!