This Pasta with Chanterelle Mushrooms and Crispy Prosciutto is Italian fall comfort food at its finest. Ready in just 20 minutes and only 8 simple ingredients required!
---
This heart-warming pasta with chanterelle mushrooms makes such a great weeknight meal for this time of the year.
It's the kind of comfort food I crave when the temperature drops and it's just freezing out there.
Together with my even easier vegetarian mushroom pasta (ready in just 15 minutes), this is my go-to mushroom recipe.
This recipe is deliberately inspired by a traditional Italian pasta dish, pasta alla boscaiola (literally woodman's pasta).
This classic Italian dish has many variations, one of my favourite versions includes wild mushrooms (or porcini), Italian sausage and fresh double cream.
I wanted to lighten things up a little, so I've swapped the sausage with crispy Parma prosciutto and made a creamy white sauce with no cream or butter in sight.
And wow, I couldn't expect it to taste any better!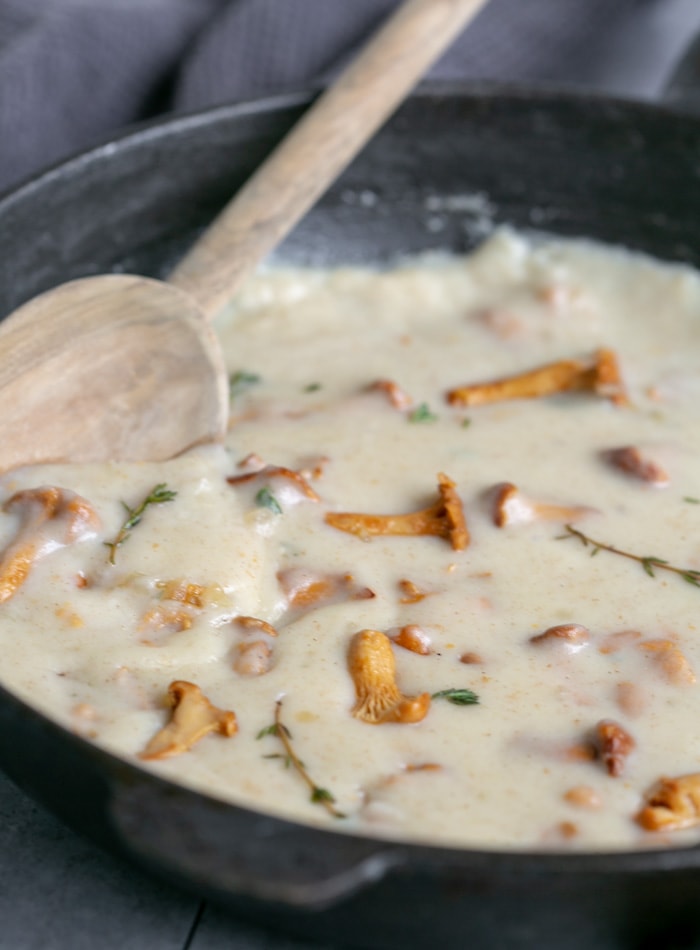 This creamy pasta with chanterelle mushrooms features perfectly al dente bucatini pasta, coated evenly in a beautiful, velvety and creamy chanterelle mushroom sauce and topped off with crispy flavourful prosciutto.
Ingredients For Pasta With Chanterelle Mushrooms
Beautifully comforting and ready in just 20 minutes, that's just so much to love about this pasta with chanterelle mushrooms.
Since you only need a bunch of simple ingredients, try to get the best you can find, here are a few tips and recommendations.
MILK
For an incredibly rich sauce loaded with flavour, I prefer to use whole fresh milk.
If you'd like to use semi-skimmed milk, please note that the sauce might be thinner, and perhaps less rich in flavour.
PASTA
You can use any kind of pasta you like: rigatoni, mezze maniche, penne, tagliatelle, fusilli, they all work great.
Try to opt for bronze-cut pasta *the best one is made in Italy, in Gragnano*, as it has a more rustic texture and flavour.
I love pairing bucatini pasta with this kind of creamy sauces.
Similar to the spaghetti, this unique pasta shape is thicker with a hole running through the centre, which means bucatini get coated and filled with sauce, for the ultimate creamy pasta experience!
PROSCIUTTO
The unique smoky and sweet flavour combination of crispy Parma prosciutto brings this pasta to the next level.
I like to get the prosciutto from the deli and not the pre-packaged, it tastes better and most of the time happens to be cheaper.
MUSHROOMS
Umami-packed, nutty and meaty chanterelles are my go-to mushrooms when making this pasta.
You can also use porcini, or a mix of wild mushrooms of your choice for extra umami flavour.
Below you can find more helpful info about cooking chanterelle mushrooms.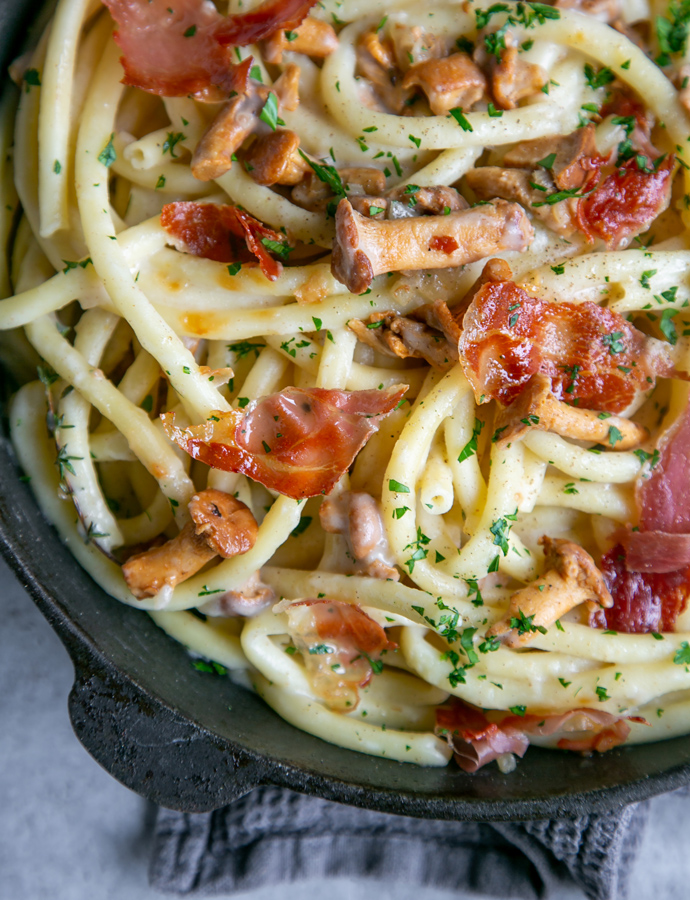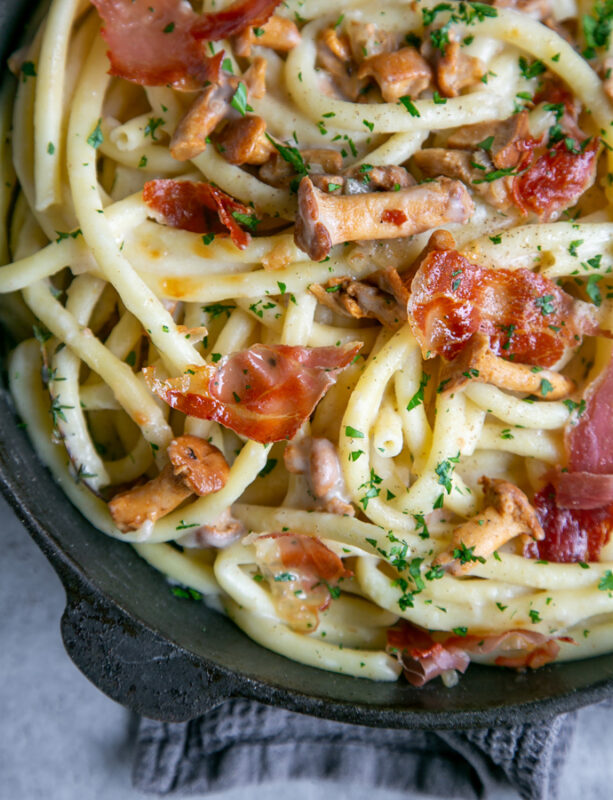 Chanterelle Mushrooms Mini Guide
Chanterelle mushrooms have a bright golden colour, a hearty woodsy flavour and a chewy meaty consistency.
They're delicious stir-fried, paired with pasta or risotto, and make a great side for meat and poultry dishes.
The best periods of the year to buy (or hunt) the wild chanterelles are late summer and early fall.
How do you clean them?
Cleaning chanterelles requires just a little bit of brushing with a kitchen brusher. If they're extremely dirty, you can quickly wash them and pat them dry immediately after. You can also prep them one day before if you like.
Do you eat the stems of chanterelle mushrooms?
Yes, of course. The stems are a little more fibrous and harder to chew than the caps, but are totally edible. make sure to trim their ends before use.
How long do chanterelles keep and how to store them?
Chanterelles usually keep well for about one week, but make sure you store them in a paper bag in the fridge.
For more extra info about these delicious mushrooms, check out this helpful guide.
How To Make This Creamy Mushroom Pasta
Making this easy mushroom pasta is truly simple and delivers a hearty meal on the table with no fuss at all.
Whilst your pasta cooks, you simply sauté the mushrooms, then sprinkle them with flour.
Gently stir in the milk and continue to simmer until your sauce reaches a creamy velvety texture.
Make sure to drain the pasta al dente, and toss it together with the mushroom sauce (you may need to add a bit of pasta cooking water for extra creaminess).
Then top it off with crispy prosciutto and fresh parsley, and serve piping hot.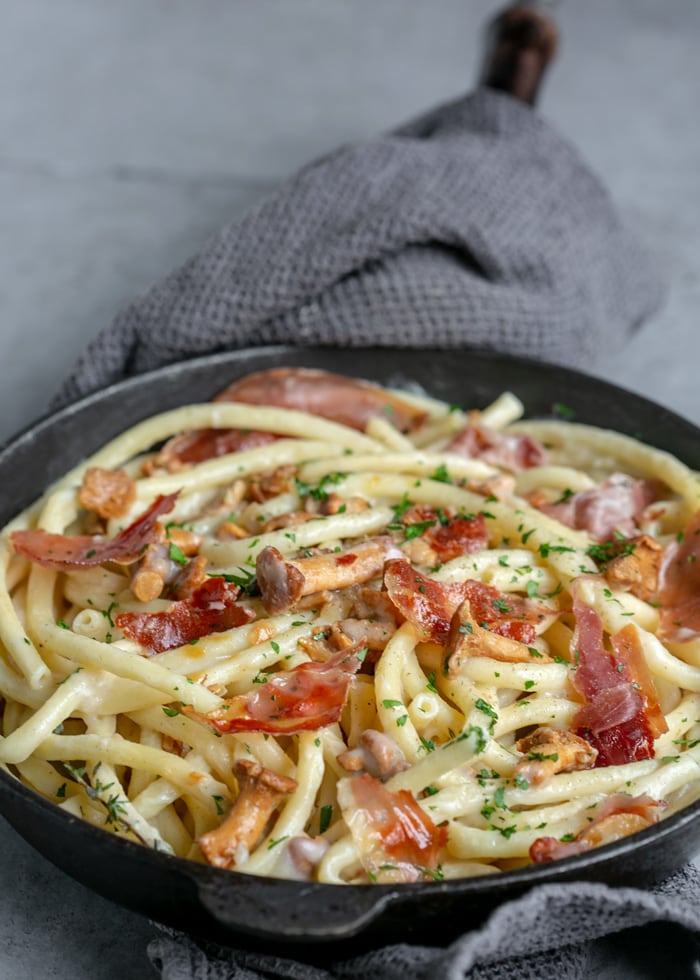 This creamy pasta with chanterelle mushrooms and crispy prosciutto is truly the perfect option for a quick and cosy fall dinner that comes together in just about 20 minutes!
More Mushroom Recipes To try:
DID YOU MAKE THIS RECIPE?
Please let me know how you liked it! Leave a comment below and share a picture on Instagram with the hashtag #thepetitecook! Looking at your pictures always makes me smile *and super hungry*!
Recipe
Pasta with Chanterelle Mushrooms and Crispy Prosciutto
This Pasta with Chanterelle Mushrooms and Crispy Prosciutto is Italian-inspired fall comfort food at its finest. Ready in just 20 minutes and only 8 simple ingredients required!
Ingredients
350

g

bucatini pasta

,

(12 oz)

280

g

chanterelle mushrooms

,

(10 oz)

3

tablespoon

extra-virgin olive oil

1

shallot

,

finely minced

Sea salt and freshly-cracked black pepper

1

tablespoon

all-purpose flour, sifted

85

ml

fresh whole milk

,

( ⅓ cup), warmed

4

Parma Prosciutto thin slices

,

roughly chopped

2

tablespoon

fresh parsley leaves, finely minced
Instructions
Bring a large pot of water to a boil.

Lightly salt the boiling water, fold in the pasta and cook until al dente, according to package directions, about 8 minutes. Remove ¼ cup (60 ml) of pasta cooking water from the pot and set aside.

Heat 2 tablespoon of extra-virgin olive in large pan over medium-low heat, add the shallot and cook until it begins to turn golden, adding a bit of warm water if necessary.

Fold the mushrooms into the pan and sautée for 5 minutes over a medium-high heat, or until cooked through, then season with sea salt and black pepper to taste.

Sprinkle the mushroom mixture with sifted flour, then pour the warm milk in and gently stir all ingredients together. Continue to cook until the sauce thickens, about 2 minutes, then season with freshly-grated nutmeg, sea salt and black pepper to taste, and remove the pan from the heat.

Heat 1 tablespoon of olive oil in a small pan over medium-low heat, add the chopped prosciutto and cook, stirring occasionally, until crispy, about 2 minutes. Remove from the pan using tongs and arrange the prosciutto on a dish covered with kitchen paper, then cover and set aside.

Drain the pasta al dente, add it to the pan with the chanterelle mushroom sauce, pour the reserved cooking water, and return to the heat. Cook until the sauce is velvety and creamy, about 2 minutes, tossing to combine all the ingredients.

Remove the pan from the heat, and stir in the crispy prosciutto and parsley. Sprinkle with freshly-cracked black pepper and serve.
Notes
Substitute chanterelle mushrooms with porcini or shiitake mushrooms if you like.
This pasta is best eaten straight away, however, you can store leftovers in an airtight container and keep in the fridge for up to 1 day.
The information shown is an estimate provided by an online nutrition calculator. It should not be considered a substitute for a professional nutritionist's advice.