Chicken Piccata, an impressive yet simple Italian classic recipe, makes dinner sorted in just 15 min!
---
Piccata is an Italian cooking technique where the meat is sliced, gently coated in flour, stir-fried and served with a sauce made from the pan drippings with added lemon, capers, wine, shallots and extra butter. Although in Italy the most famous version is Veal Piccata, the chicken variation is even better, indeed is more popular than the original one.

This Chicken Piccata recipe couldn't be more easier, all you need is a bunch of simple ingredients, 15 min of your time and some hungry guests to impress!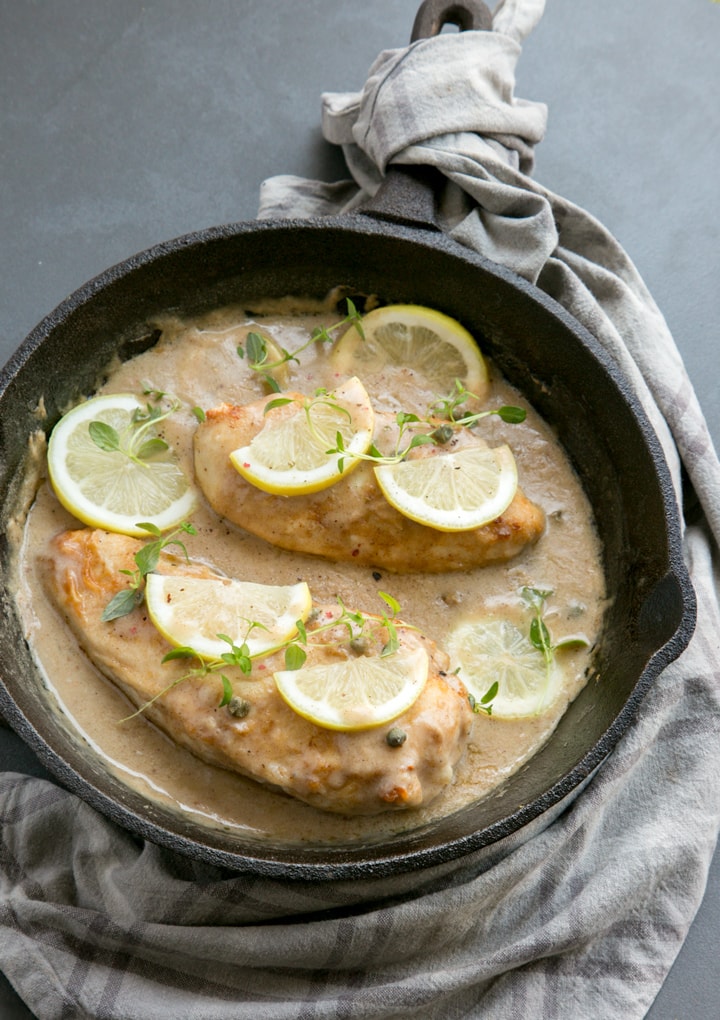 You can use whole chicken breasts or butterfly them in half for a quick cooking time. Season them generously with salt and pepper then dredge the meat through flour. The chicken is then pan fried on both sides in butter and olive oil until perfectly golden.
Once the chicken is almost cooked through, keep it aside in a warm place and get back to the skillet to prepare the sauce. Add lemon juice, shallots, white wine ( you can also use chicken broth) and capers, and remember to scrape well all those delicious brown bits from the bottom of the skillet. That's where all the flavor is!
At this point, add the chicken back to the pan and gently simmer all ingredients for about 4 mins, then transfer the chicken to a serving plate. Thicken the sauce for 1 more min and add a little butter to give it a shiny, silky texture.  Pour the sauce over the chicken, sprinkle with parsley or thyme leaves and you're good to go!
If you want to please your family with an all-Italian dinner menu, serve Chicken Piccata as a secondo after a tasty pasta dish, like this Pasta alla Norma. Everyone around the table will love you forevah!
Did you make this recipe?
Please let me know how you liked it! Leave a comment below and share a picture on Instagram with the hashtag #thepetitecook! Looking at your pictures always makes me smile *and super hungry*!

Quick Chicken Piccata
Chicken Piccata, an impressive yet simple Italian recipe, makes dinner sorted in just 15 min!
Ingredients
2 skinless chicken breasts
all purpose flour, for dredging
4 tbsp butter
2 tbsp extravirgin olive oil
3 tbsp fresh lemon juice
60ml dry white wine or chicken stock
1 tbsp capers ( well washed)
1 shallot, finely minced
a handful of fresh parsley or thyme, chopped
Instructions
Pound the chicken breasts with a meat tenderiser for a quick cooking time.
Season the chicken breasts generously. Dredge them in flour and shake off excess.
In a large skillet melt 2 tbsp of butter with the olive oil, over medium heat.
Add the chicken slices to the skillet and cook for about 3 to 4 min per side until golden. Remove the chicken from the skillet and set aside in a warm place.
Adjust heat temperature to very low. Add lemon juice, chicken stock or wine, capers and shallots, and scrape well up the brown bits from the pan.
Return skillet to medium heat and bring to a boil. Season to taste, add chicken back to the skillet and simmer for about 5 minutes.
Remove chicken to a serving plate. Add remaining butter to the sauce and whisk for about a minute until it has a nice, silky texture.
Pour the sauce over the chicken and garnish with parsley and extra pepper. Enjoy!