Sautéed baby broccoli (or tenderstem broccoli) make a great and healthy side dish, here's how to cook them in just 5 minutes!
Learn how to make sautéed baby broccoli in two simple steps!
This easy sautéed broccolini recipe makes a light, healthy side dish or a delicious addition to grilled fish and chicken, salad bowls, or even a simple pasta dish.
I love sautéed baby broccoli way more than roasted broccoli, mostly because they're quicker to make and don't dry out (which it's often the case when you roast them).
Since baby broccoli is in season, today I'm sharing a simple technique to sautée this awesome green veggie and have it on your table in just about 5 minutes!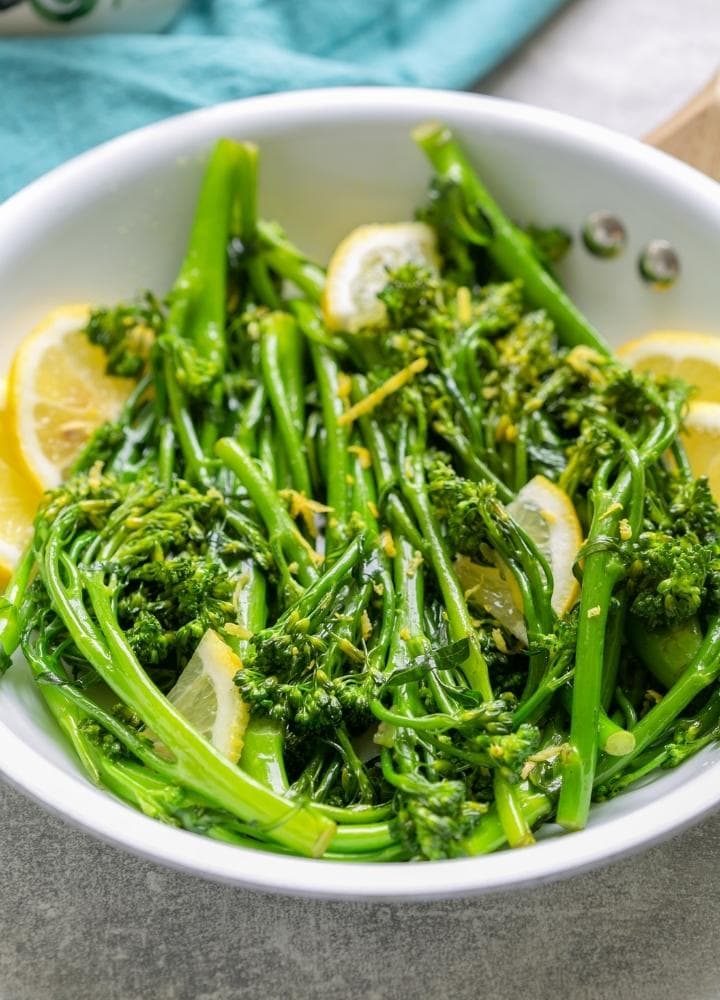 WHAT IS BABY BROCCOLI?
Baby broccoli is also called tenderstem broccoli, long-stem broccoli, or broccolini.
It's similar to broccoli but with smaller florets and longer stems, and it's a hybrid between broccoli and Chinese kale (or gai lan).
The entire vegetable (leaves, young stems, and flowers) is es edible and it's full of vitamins and nutritional value.
You can eat baby broccoli cooked but they're tender enough to be eaten raw too.
SAUTEED BABY BROCCOLI INGREDIENTS
For this easy sautéed tenderstem broccoli recipe you'll need just three ingredients: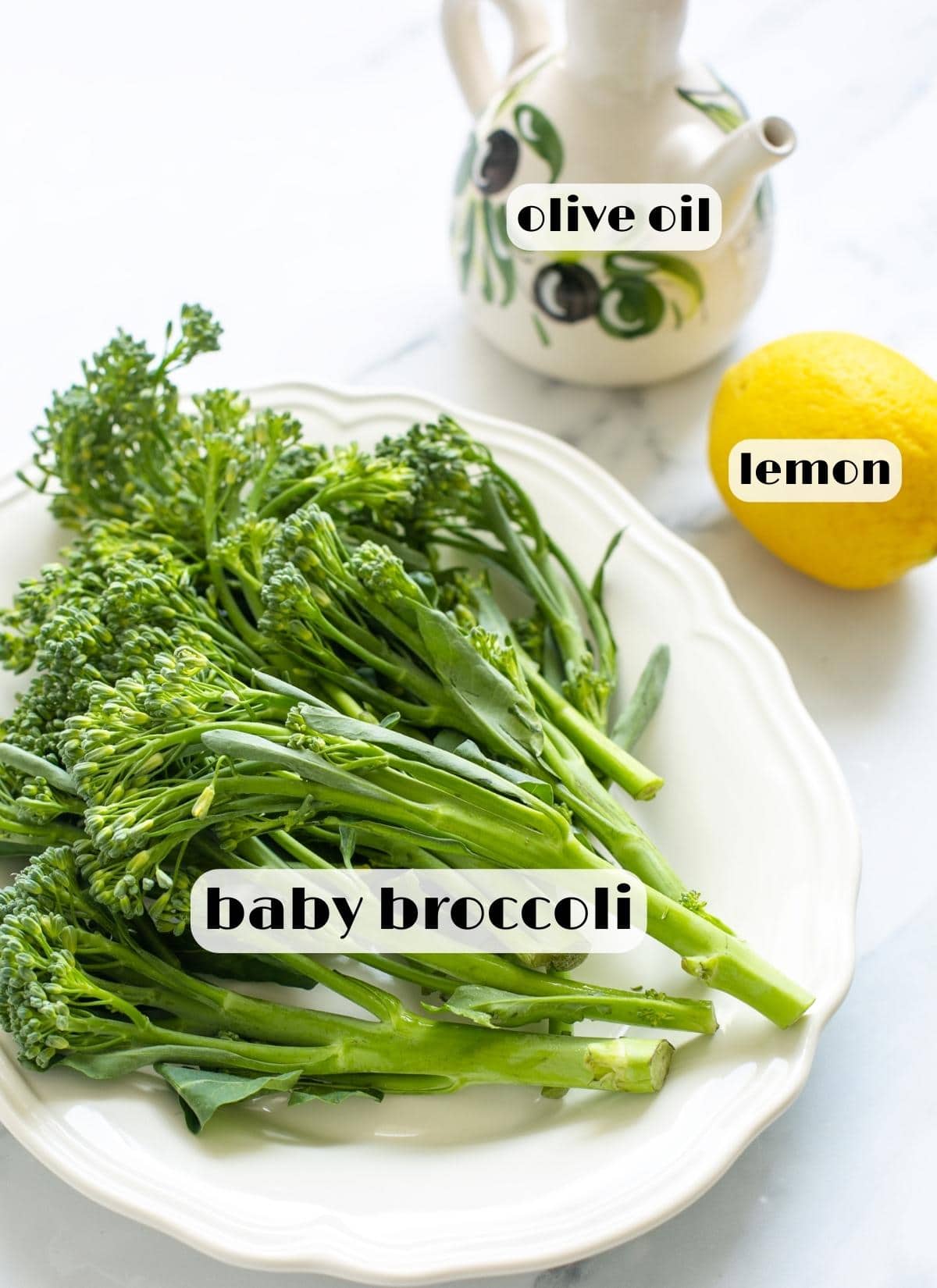 Baby broccoli: look for firm stems and crisp florets, they keep well in the fridge for up to 2 days.
Lemon: opt for organic lemons as you will use both the zest and juice.
Olive oil: I like to use high-quality, lightly fruity extra-virgin olive oil, but any other olive oil would work.
EXTRA FLAVOURS YOU CAN ADD
Red chili: use dried red chili flakes or fresh finely chopped chili to add a nice spicy kick.
Garlic: you can add it whole for a delicate note, or chop it finely for a stronger flavour.
Sesame seeds: for extra crunchiness add toasted sesame seeds.
Parmesan cheese: add a few shavings of Parmigiano Reggiano just before serving if you like, it's a great pairing!
Almonds: toasted almonds add a little crunch and sweetness and work amazingly well with long-stem broccoli.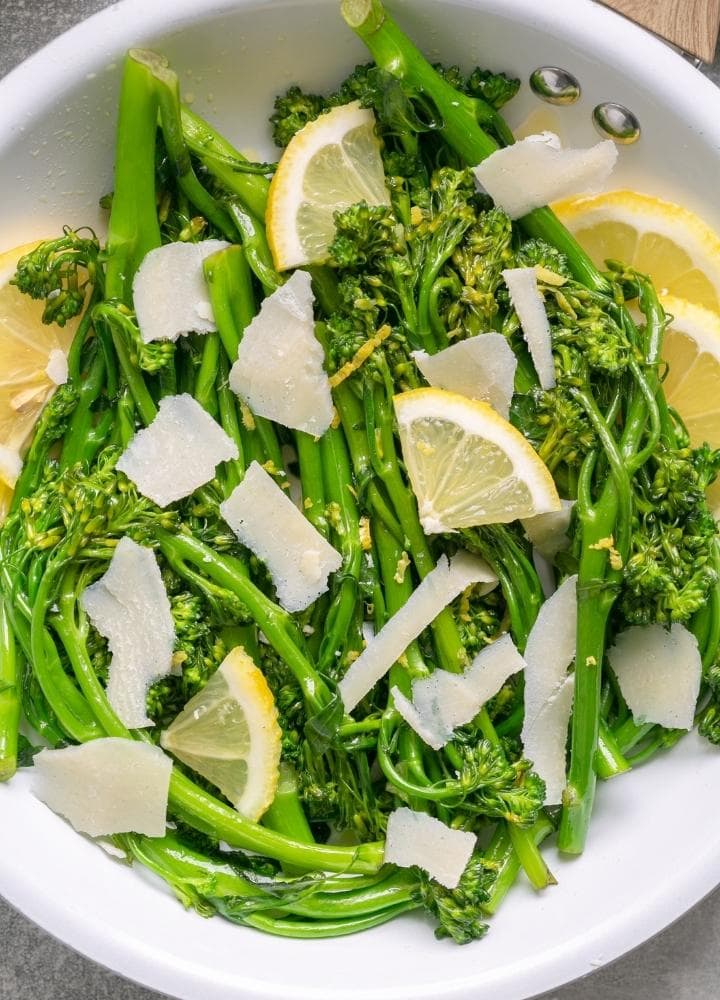 SAUTEED BABY BROCCOLI STEP-BY-STEP
The easiest and most delicious way to cook baby broccoli is to sauté them until just tender.
Here are the two simple steps to make them.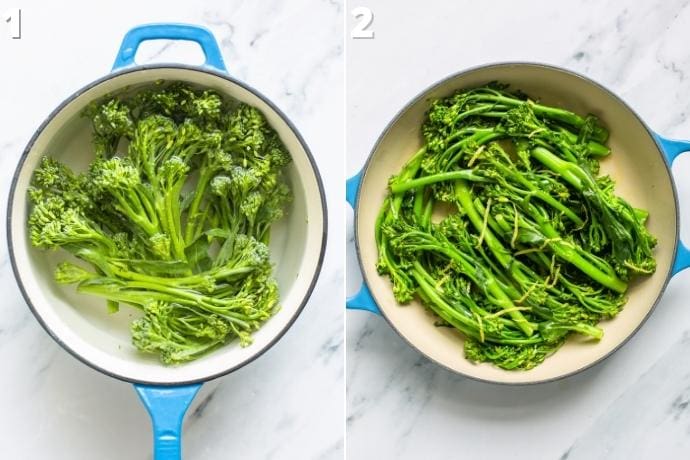 STEP 1 - Blanch them.
Boil them for a little less than 2 minutes.
STEP 2 - Sauté them.
Add the broccolini to a large pan and sauté them for 2 minutes.
Add lemon zest and juice, season with salt and pepper, and serve.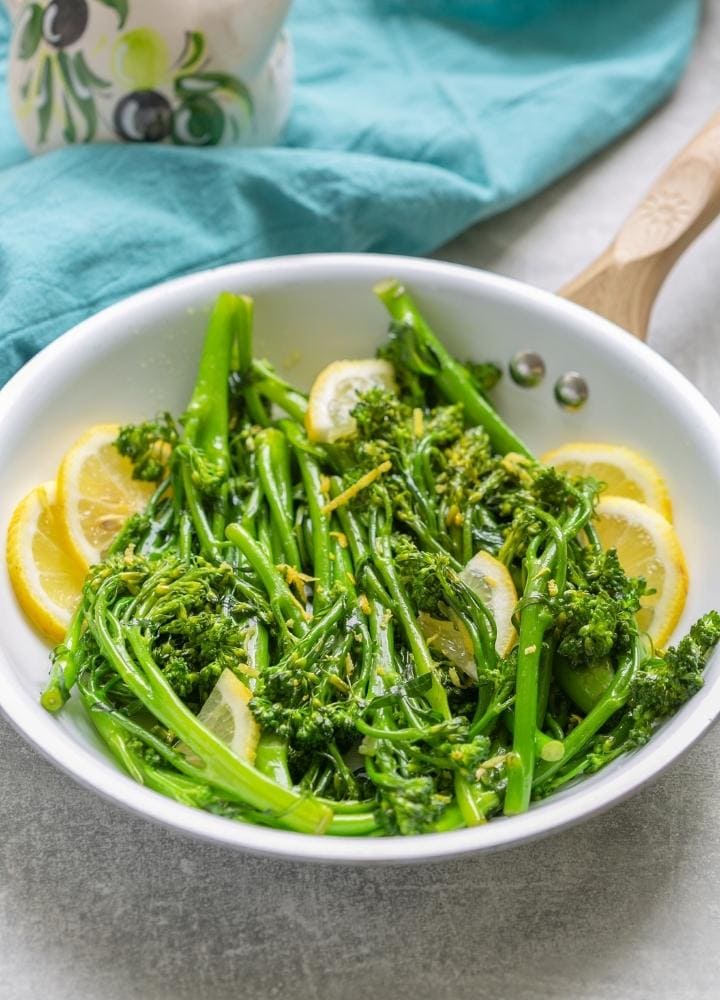 HOW TO COOK BABY BROCCOLI
There are tons of ways to cook broccolini, so if you're looking for more ideas other than sautéeing them, here are a few ideas:
Steam: Steam them for 3 minutes or until just tender.
Stir-fry: Stir-fry them with a little olive oil (or sesame oil) and garlic for 2 minutes.
Roast: Drizzle them with oil and roast them for 10 minutes.
Grill: Brush them with oil and grill them for 2 minutes per side to add a nice smoky flavour.
FREQUENTLY ASKED QUESTIONS
Do you eat the stems of broccolini?
You can eat the stems, leaves, florets, and even the small yellow flowers.
Do you need to trim the baby broccoli?
You may cut ½ of the stems if they're a bit rough, but otherwise, you don't need to trim them.
HOW TO SERVE LONG-STEM BROCCOLI
Sautéed tenderstem broccoli makes a great side dish for fish, chicken, meat, and veggie recipes.
Here are a few recipes that I love serving sautéed broccolini with:
DID YOU TRY THIS RECIPE?
Please let me know how you liked it! Leave a comment below and share a picture on Instagram with the hashtag #thepetitecook!
Looking at your pictures always makes me smile *and super hungry*!
Recipe
Sauteed Baby Broccoli
Sautéed baby broccoli (or tenderstem broccoli) make a great and healthy side dish, here's how to cook them in just 5 minutes!
Ingredients
450

g

baby broccoli

2

tablespoon

extra-virgin olive oil

1

teaspoon

lemon zest

1

tablespoon

fresh lemon juice
Instructions
Add the baby broccoli in a large pot of lightly salted boiling water, let them cook for 2 minutes.

Heat the extra-virgin olive oil in a large pan over medium heat. Drain the broccolini and add them to the pan. Sauté for two minutes, then remove the pan from the heat.

Drizzle the lemon juice over the baby broccoli, sprinkle with lemon zest, and season with salt and pepper to taste. Serve immediately.
Notes
Store leftovers in an airtight container in the refrigerator for up to 2 days. Reheat in a pan for a couple of minutes, or in a hot oven until warmed through.
Nutrition
Calories:
109
kcal
|
Carbohydrates:
8
g
|
Protein:
4
g
|
Fat:
7
g
|
Saturated Fat:
1
g
|
Polyunsaturated Fat:
1
g
|
Monounsaturated Fat:
5
g
|
Sodium:
33
mg
|
Potassium:
5
mg
|
Fiber:
1
g
|
Sugar:
3
g
|
Vitamin A:
1986
IU
|
Vitamin C:
105
mg
|
Calcium:
80
mg
|
Iron:
1
mg
The information shown is an estimate provided by an online nutrition calculator. It should not be considered a substitute for a professional nutritionist's advice.