What would the world be without Spaghetti? Give a twist to the Italian classic and make this fun Sicilian version of Norma spaghetti cupcakes.
As much as we love pasta at home, I love to come up with creative ideas, especially when they turn into pretty bite-sized happy hour snacks.
These spaghetti cupcakes are perfect to please a large crowd for any occasion, whether it's a birthday or just a fun night with your friends, they always get devoured within seconds.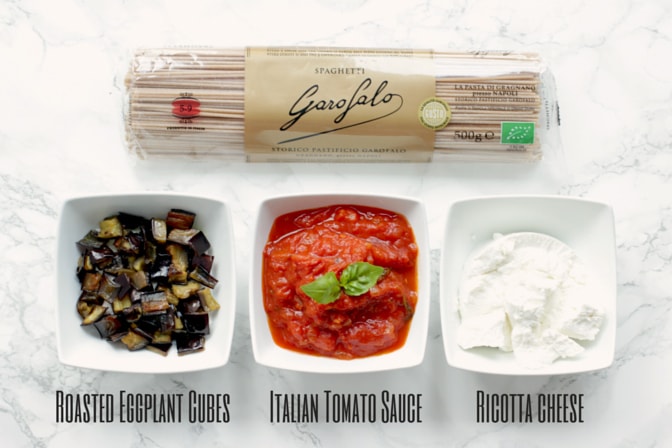 Pasta alla norma, made with Italian-style tomato sauce, roasted/fried eggplant cubes and ricotta, is one of my all-time favorite things to eat.
This dish reminds me of my days back in Sicily. In fact, this is one of the most famous and traditional Sicilian dishes.
I could probably eat a whole pot of pasta alla norma , so in an attempt to control portion sizes, I found that these cupcakes work incredibly well and are extremely filling and satisfying for dinner.
Plus, the presentation of these pretty pasta cupcakes is gorgeous with very little effort!
The recipe is really simple and altogether takes less than 30 min to make, from start to the table.
To make these spaghetti cupcakes I use leftover spaghetti from the night before.
It's no secret that leftover spaghetti stir-fried the next day is even better than the fresh ones, they get crunchy and more flavorful.
But you can obviously cook spaghetti just to make these cupcakes.
While they cook, all you have to do is prepare a simple and easy Italian tomato sauce and pop in the oven your eggplant cubes.
The traditional norma version calls for fried eggplant, but I rather prefer to roast them in the oven, they're definitely lighter and require only a glug of good extra virgin olive oil.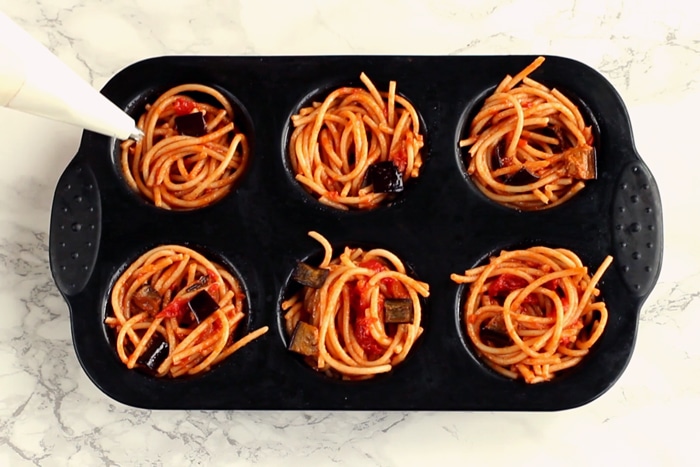 Once all the ingredients are ready, toss the spaghetti in the tomato sauce and mix in the eggplant cubes.
Turn the cupcakes maker on ( or preheat the oven to 360F/180C), twist a small amount of spaghetti with the help of a fork (just the way you would do to eat them), and arrange in the cupcake tins.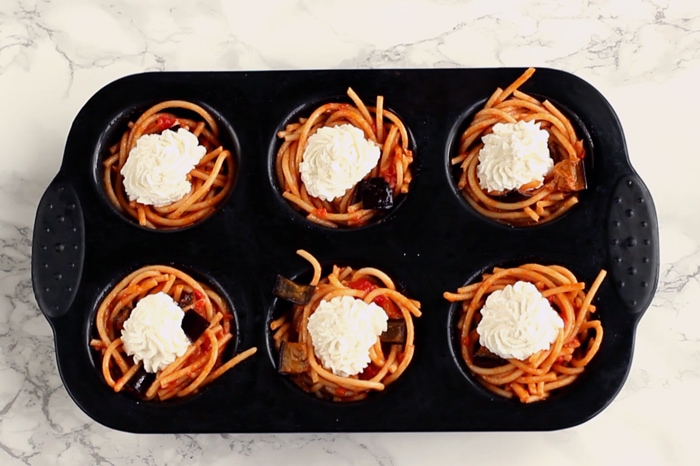 Go the extra mile and fill the heart of each spaghetti nest with a delicious, fresh and totally healthy ricotta.
You can go for natural ricotta, or opt for my crazy-good herby ricotta - trust me on this.
Bake your spaghetti cupcakes for 5-10 min or until crisp and serve them immediately to your hungry guests.
Tomato sauce works best for these yummy cupcakes, but I've also successfully tried them with my homemade pesto sauce and they were over the top!
Be creative and add your favorites vegetables, or proteins such as tuna, salmon, minced beef, or anything else you like.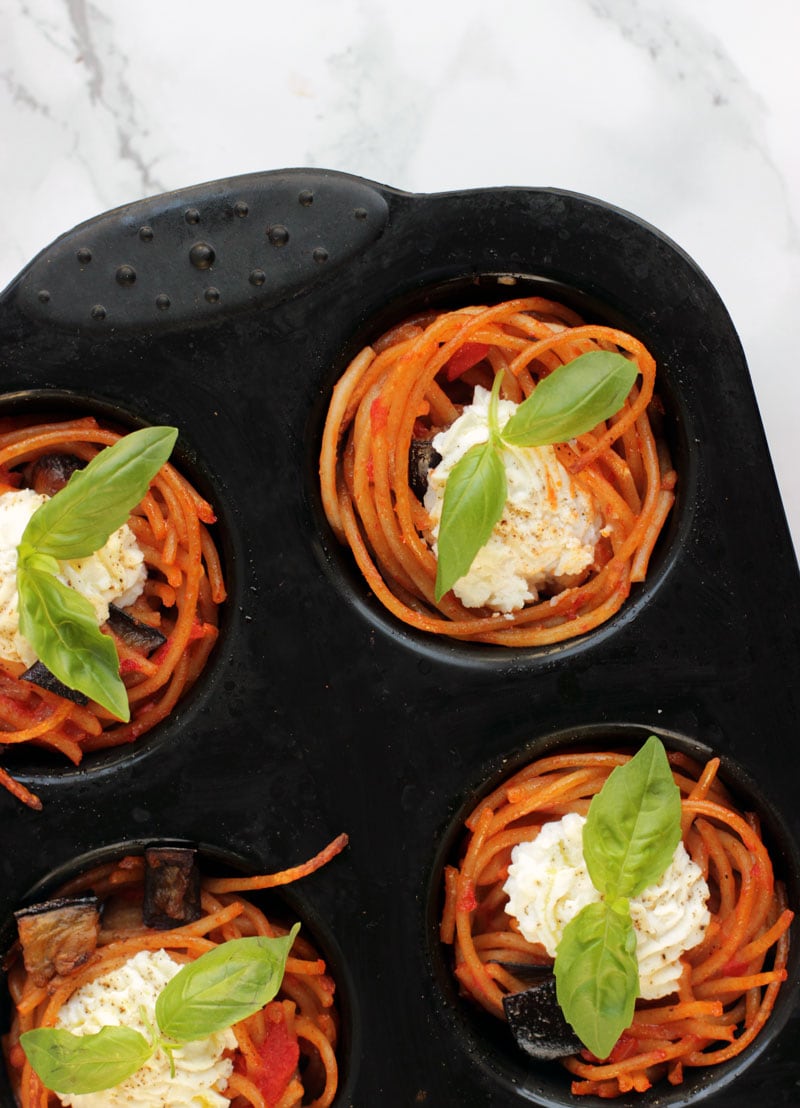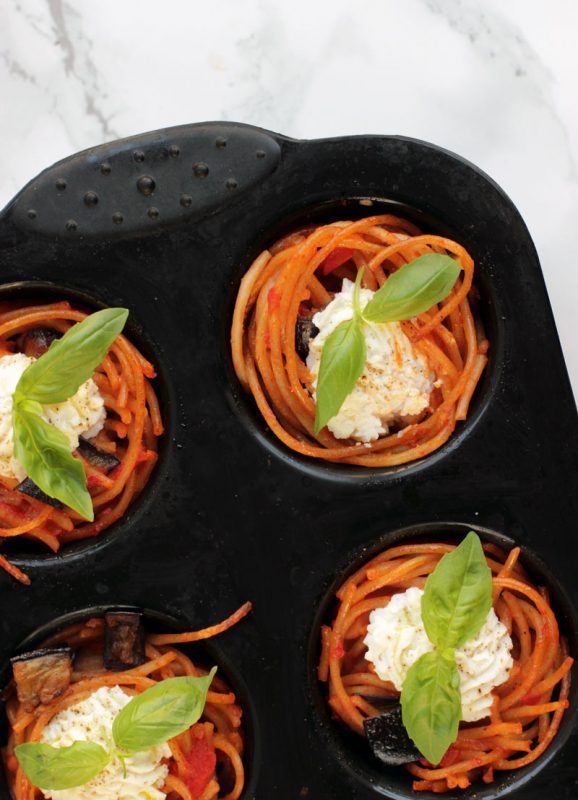 These spaghetti cupcakes will give a little twist to the usual version, they're perfect for kids so they don't mess around and I'm sure some grown-ups will thank me for this too.
They're also completely vegetarian and can easily become a regular meatless monday recipe.
These savory spaghetti cupcakes also make a perfect bite-sized snack to serve at parties and impress your friends!
Let me know if you try these super cute spaghetti cupcakes!
If you do, please leave a comment below and let me know how you enjoyed it, and what are your favorite ingredients to upgrade leftover spaghetti. And don't forget to take a picture, tag it #thepetitecook and share it with me on Instagram!
Watch me making this recipe:
Recipe
Sicilian Spaghetti Cupcakes
What would the world be without Spaghetti? Give a twist to the Italian classic and make this fun Sicilian version of Norma spaghetti cupcakes. 
Ingredients
250

g

spaghetti

250

g

ricotta cheese

1

aubergine

,

finely cubed

extravirgin olive oil
For the tomato sauce:
1

can peeled whole tomatoes

,

inside juices and seeds removed

½

red onion

,

finely chopped

1

garlic glove

,

slightly mashed

A few basil leaves

1

tablespoon

Extravirgin olive oil

Salt & Pepper to taste
Instructions
Preheat oven to 350°F/180°C.

Arrange the eggplant cubes into a baking tray and drizzle with a little olive oil.

Roast them for about 10 min, or until crispy.

In the meantime prepare the tomato sauce. Heat a large frying pan over low temperature. Drizzle with oil and add onion and garlic.

While the onion is cooking, remove the juices and seeds inside the tomatoes.

Discard the garlic, and dd the tomatoes and the tomatoes into the pan and stir fry over high heat for about 2 min.

Add half the basil and season with salt and pepper. Pour in the remaining tomatoes can juices, slightly cover with a lid and cook over low heat for about 20 min. Pour a little water through out cooking time if the sauce is getting too dry.

In the meantime cook your spaghetti. Add them into a pot of salted boiling water and cook for about 10 min for al dente ( see package cooking time instructions).

Drain the spaghetti and add them into the sauce pan. Add the remaining basil leaves and drizzle with a little olive oil.

Stir fry for a minute to allow all the ingredients to mix together.

When the pasta is ready, form small cupcakes by rolling a little amount of spaghetti with a fork, just as you would do to eat them.

Arrange the spaghetti nest into muffin tins. With the help of a spoon or a piping back, fill the center of each cupcake with ricotta.

Bake for 5-10 min or until crisp in a preheated oven to 360°F/190°C.

Season with freshly cracked black pepper, decorate with extra basil leaves and serve.
Nutrition
Calories:
261
kcal
|
Carbohydrates:
40
g
|
Protein:
12
g
|
Fat:
6
g
|
Saturated Fat:
4
g
|
Polyunsaturated Fat:
1
g
|
Monounsaturated Fat:
2
g
|
Cholesterol:
21
mg
|
Sodium:
137
mg
|
Potassium:
454
mg
|
Fiber:
4
g
|
Sugar:
6
g
|
Vitamin A:
283
IU
|
Vitamin C:
9
mg
|
Calcium:
125
mg
|
Iron:
2
mg
The information shown is an estimate provided by an online nutrition calculator. It should not be considered a substitute for a professional nutritionist's advice.