A simple filling of quinoa, salsa fresca and melted mozzarella cheese make these stuffed zucchini boats a delicious, satisfying vegetarian summer side dish.
Summer is the perfect time to savor zucchini at their best. Raw or cooked, chopped in salads, spiralized in frittatas, or loaded with couscous, there are endless ways to enjoy this light and versatile veggie during the hot season.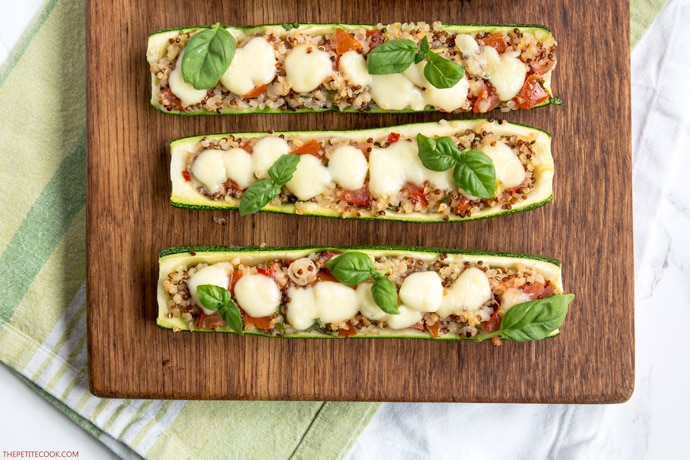 These rockin' stuffed zucchini boats are both a feast for the eyes and the mouth!  Naturally gluten-free, they can be easily made vegan by skipping out the mozzarella cheese, and served instead with extra salsa fresca ( aka pico de gallo) or your favorite toppings – guacamole is definitely one of my favorite options.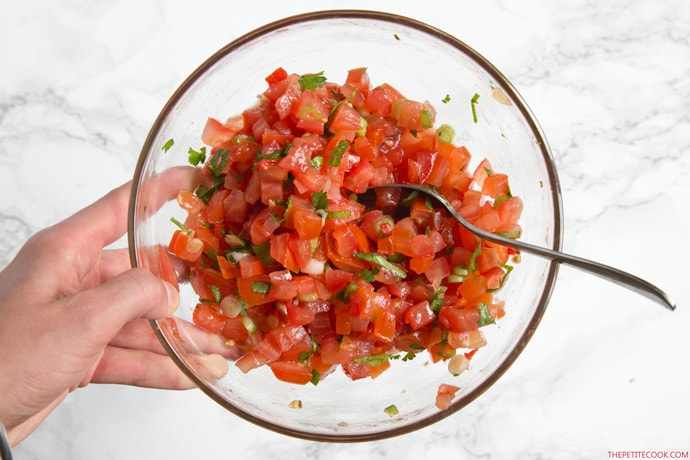 It all starts with a simple, nutritious and flavoursome quinoa & pico de gallo filling. Fresh aromatic herbs, bright citrus flavors and a nice spicy kick from the jalapeño chile. This vibrant quinoa filling is SO good, I've been enjoying it all summer long. It's delicious with grilled fish, poached eggs, chicken lemon skewers, or customizable with your favorite ingredients.
Once your quinoa filling is ready, it's super easy to prep these awesome stuffed zucchini boats.
Quinoa Stuffed Zucchini Boats - A tasty, #glutenfree #vegetarian summer side dish!
Scoop out the zucchini flesh.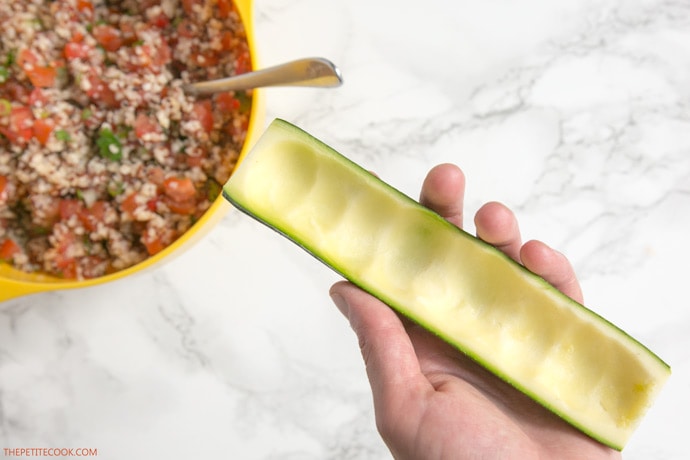 Fill the "boats" with the quinoa filling.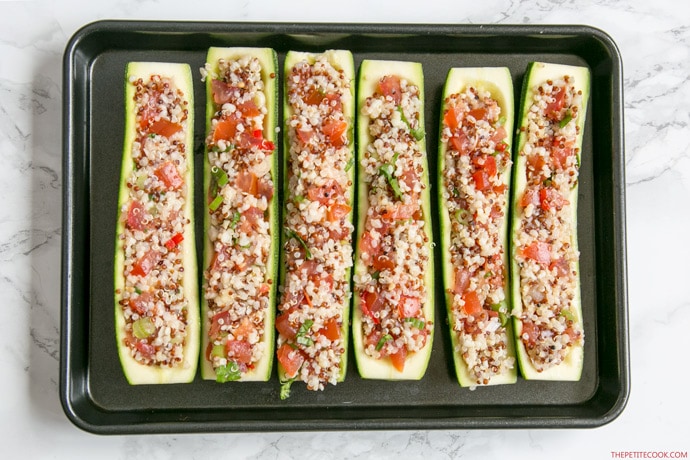 Sprinkle some mozzarella cubes on top.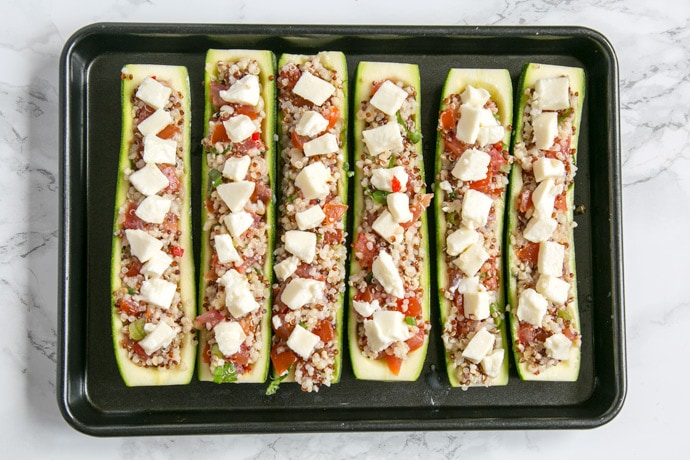 And bake them to perfection!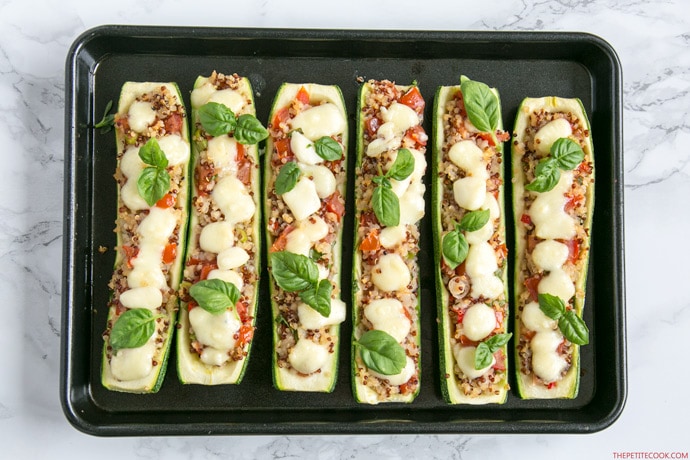 The trick to totally nail this recipe is to keep an eye on the zucchini while they bake. You want them slightly soft but not mushy. They can be easily done either in the oven or on the bbq, but make sure not to cook them longer than about 10 min  – so that the zucchini still keep a nice little crunch.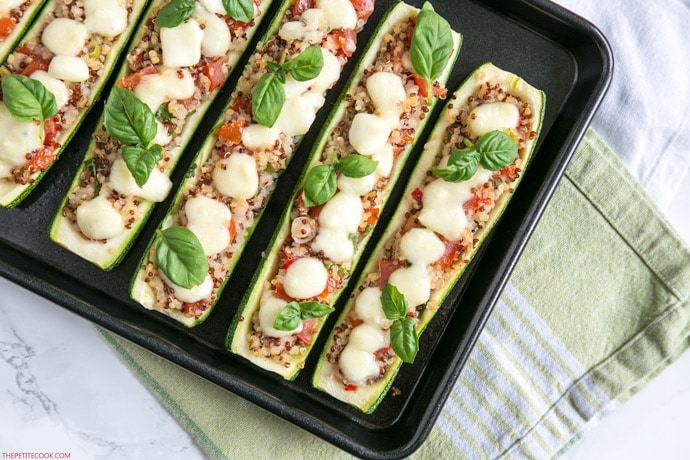 Ready in less than 30 min, these Stuffed Zucchini Boats make a super easy and quick weeknight / meatless monday option. They can be adapted with what you have on hand, are packed with nutrients, and surprisingly filling too. Light, flavorful and fun to make, these guys really have it all!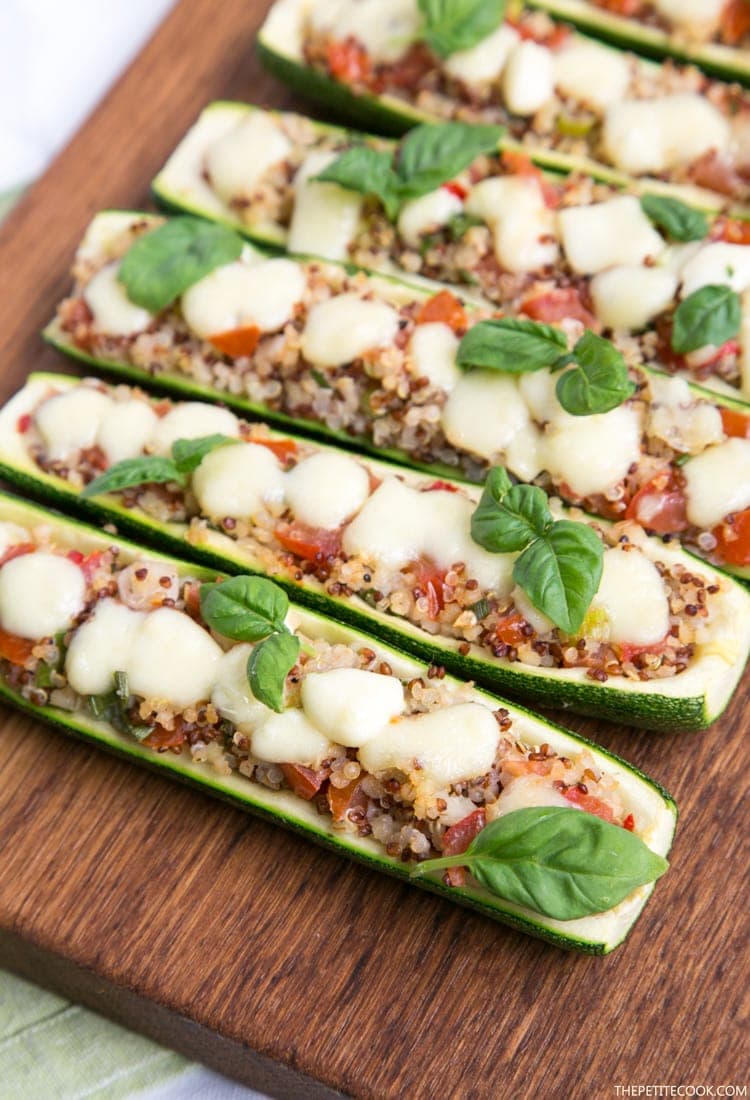 I hope you guys have fun making these tasty stuffed zucchini boats! Don't forget to leave a comment below or on my Facebook page, and let me know how you liked it! Even better, snap a picture, tag it #thepetitecook and share it on Instagram! Looking at your pictures makes me always happy :).
Watch me making these easy Stuffed Zucchini Boats
Stuffed Zucchini Boats With Quinoa and Pico De Gallo
A simple filling of quinoa, salsa fresca and melted mozzarella cheese make these stuffed zucchini boats a delicious, satisfying vegetarian summer side dish.
Ingredients
4 zucchini
1 cup/ 250gr cooked quinoa
a glug of extra virgin olive oil
1 small mozzarella ball, drained and cubed
fresh basil leaves ( optional)
sea salt and black pepper
For the Pico de Gallo:
2 large salad tomatoes, seeded and diced
1 small red onion, minced
2 spring onions, finely chopped
juice and zest of ½ lime
zest of ½ lemon (optional)
a bunch of fresh cilantro, finely chopped
½ jalapeno red chilli, finely minced
sea salt and black pepper
Instructions
Preheat the oven to 375°F /190°C. Lightly grease with oil a 13 x 9 baking tray and set aside.
For the Pico de Gallo: In a bowl, combine diced tomato, red onion, chopped cilantro, zest of 1 lemon, zest of 1 lime, scallions and lime juice. Mix it up, season and set it aside.
In a large bowl mix cooked quinoa and pico de gallo. Add a glug of olive oil and season to taste.
Trim the zucchini ends and cut in half.
With the help of a melon baller, scoop the flesh out of the zucchini (you can add it to the quinoa filling or in salads).
Fill the zucchini "boats" with the quinoa mix, and arrange on the baking tray.
Sprinkle with mozzarella cubes and a little olive oil.
Bake in the oven for about 10 min, until the cheese is melted and the zucchini are slightly crispy.
Allow them to cool for 5-10 minutes then top with fresh basil and serve. Store leftovers in an airtight container for up to 2 days.