Give a twist to the classic italian caprese salad and add some awesome micro melons for a refreshing summer treat!
It's hard to beat the simple amazing flavors of caprese salad - Rich and fresh mozzarella, juicy tomatoes and aromatic basil all lightly dressed with fruity Extravirgin olive oil. Simply heaven on a plate.
The secret to make the best caprese salad is the quality of the ingredients. Make sure you pick organic tomatoes and avoid industrial mozzarella, which usually lacks in flavor. Even the Extravirgin olive oil you use should be organic and made with selected olives, it costs a little more but its fruity, fantastic flavor will easily repay for.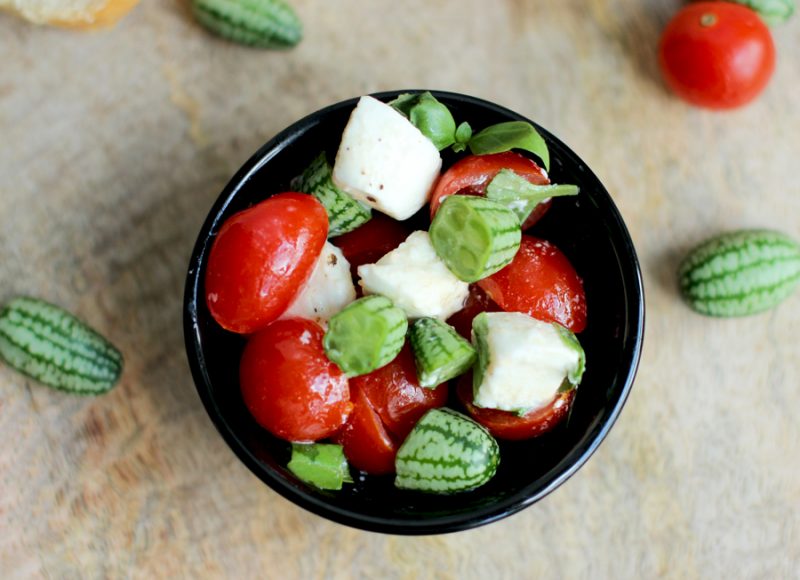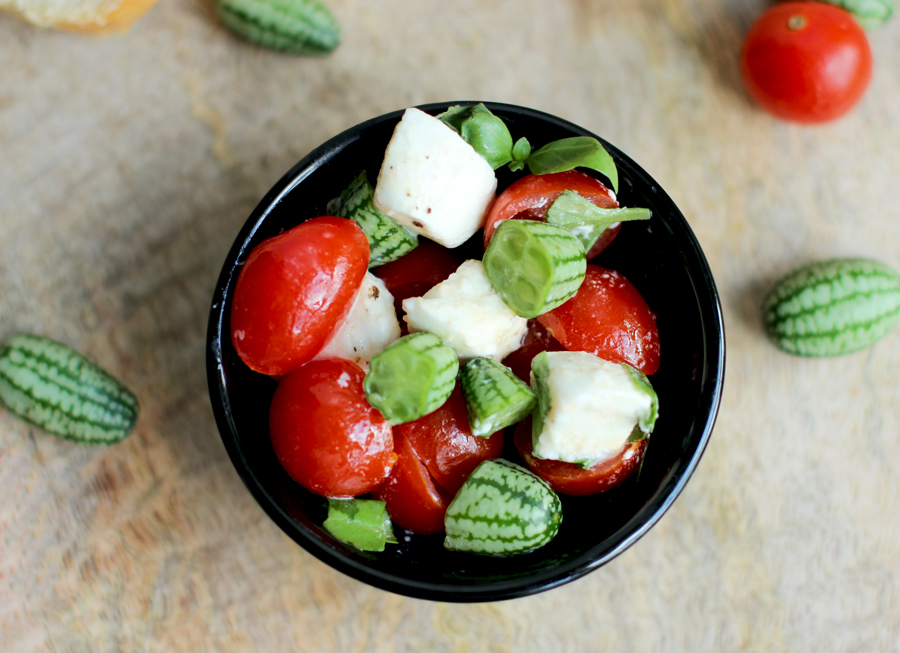 Caprese is one of my favorite salad, I coud eat it all day long and ask for more. It's super fresh, vibrant, summery and perfect for a quick bite - it takes less than 5 mins to make.It's also naturally gluten free and vegetarian.
When it comes to choosing the ingredients, I love my caprese salad with buffalo mozzarella and cherry tomatoes. This time, I've decided to give a little twist to this classic dish and add a bunch of cute ( almost too cute to be eaten) micro melons.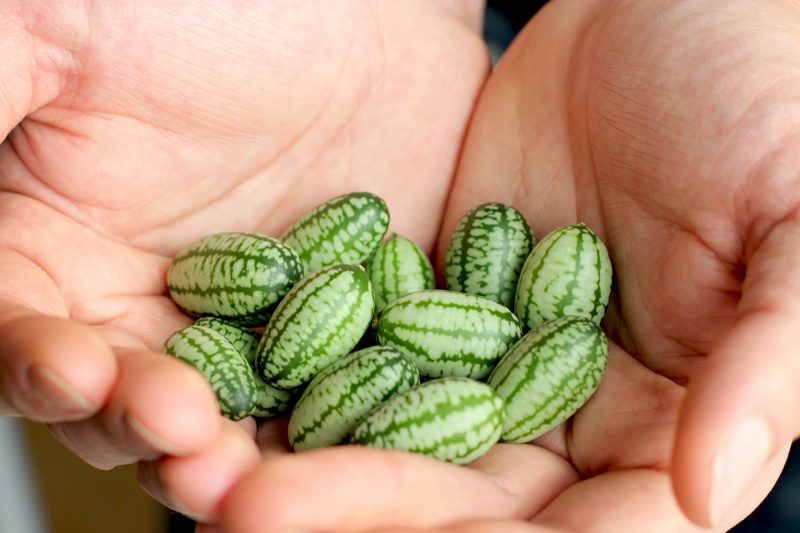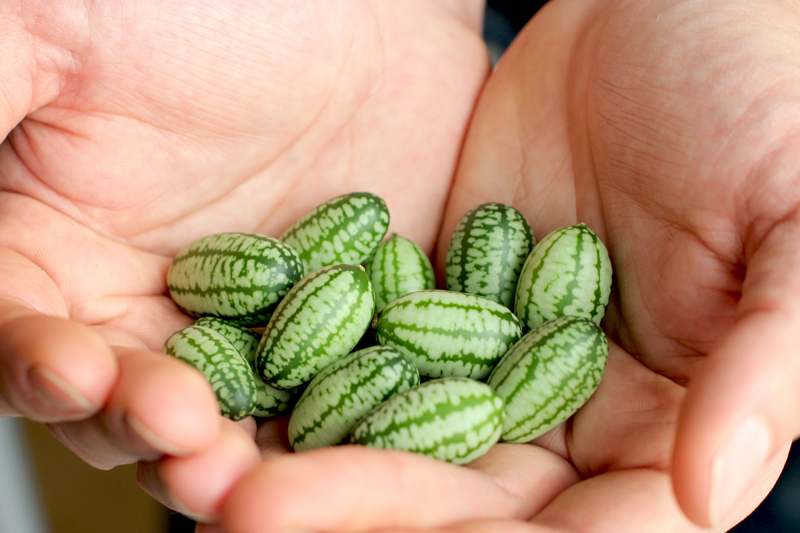 Micro melons also known as pepquino melons, look just like really tiny watermelons and taste like cucumber with a hint of lime. They're great on their own as a snack, but are also an extremely yummy addition to salads. Just use micro melons the way you use cucumber ( I'm already planning a Pepquino Tzatziki!) and you won't go wrong.
Highly refreshing and crunchy, you don't have to peel them or anything, eat them whole or cut into halves. They're mostly available at organic veggies & fruits market, but if you struggle in the research just browse the web, they're available to buy online too.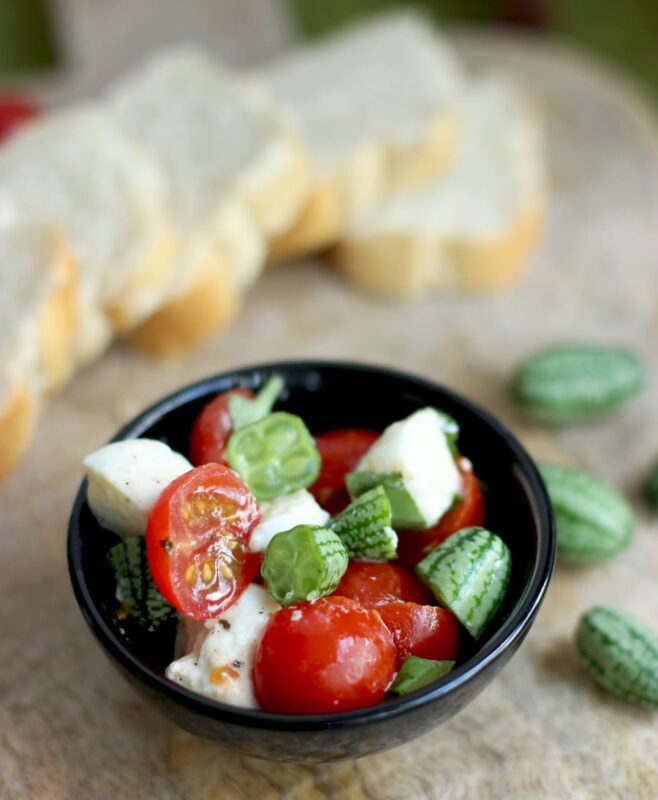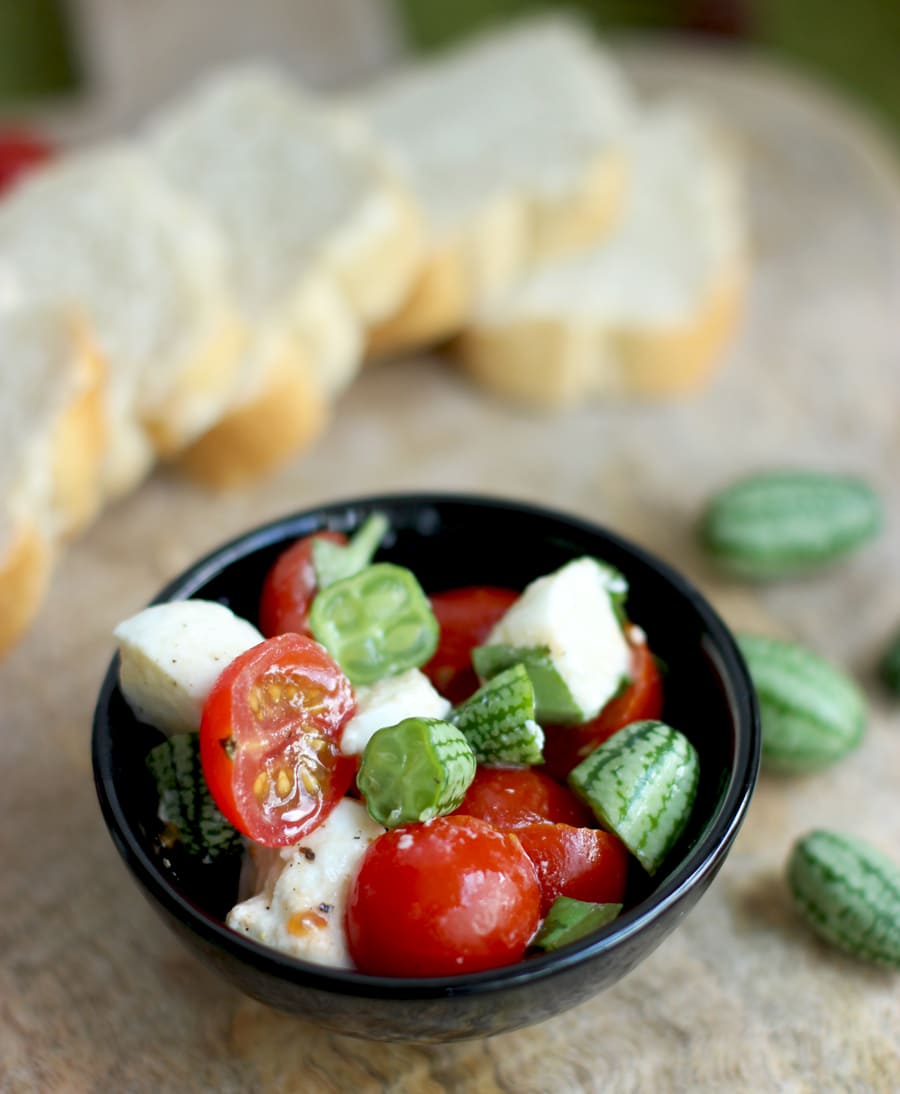 My favorite way to serve this caprese salad is in small bowls along with grilled bread for an easy-going bruschetta platter to share with friends. If you like you can  simply enjoy it as a salad, and it's perfect for outdoor parties, barbecues and picnics.
This caprese salad with micro melons is the perfect refreshing summer salad and will surely surprise all your guests!
Recipe
Caprese Salad With Micro Melons
Ingredients
1

cup

cherry tomatoes

1

cup

micro melons

1

x 125gr large buffalo mozzarella or normal mozzarella

4-5

basil leaves

extravirgin olive oil

salt and pepper
Instructions
Cut tomatoes and micro melons into halves and add them into a bowl.

Cut the mozzarella in small cubes and fold into the bowl with the other ingredients.

Season with salt and pepper to taste and drizzle with extravirgin olive oil. Tear the basil leaves up and sprinkle them over before serving.

Serve with toasted bread for some delicious bruschettas or in a plate as a salad. Enjoy!
The information shown is an estimate provided by an online nutrition calculator. It should not be considered a substitute for a professional nutritionist's advice.