Tempura pasta is happening and is as tasty as you can only imagine.
Have you ever thought about making a tasty-looking finger food out of a rigatone? NO? Honestly, this is absolutely genius.
Let me introduce you to a wonderfully unique snack that will amaze all your guests - and you will win the love of vegetarians too!
Crunchy on the outside and creamy on the inside, tempura pasta filled with ricotta and basil filling may be the ultimate vegetarian foodporn - I mean it.
Delicious rigatoni are cooked al dente, and filled with mouth-watering fresh ricotta.
They're sealed in a crispy panko coating and deep-fried to perfection ( or baked in the oven) to be immediately served with a spicy marinara sauce. Are you drooling already?
There are 4 key ingredients you need to make tempura pasta: good pasta, delicious marinara sauce, fresh ricotta, best panko breadcrumbs you can find.
The spicy marinara sauce is super easy to make, use organic canned tomatoes if you can, and simply remove seeds and juice inside, give it a quick whiz together with fresh basil, and season with salt and pepper.
Add sriracha if you can handle hot stuff, sweet and fairly spicy, it gives a nice kick to the marinara sauce.
Once you're happy with the taste and spiciness of your marinara sauce, move forward to the ricotta filling.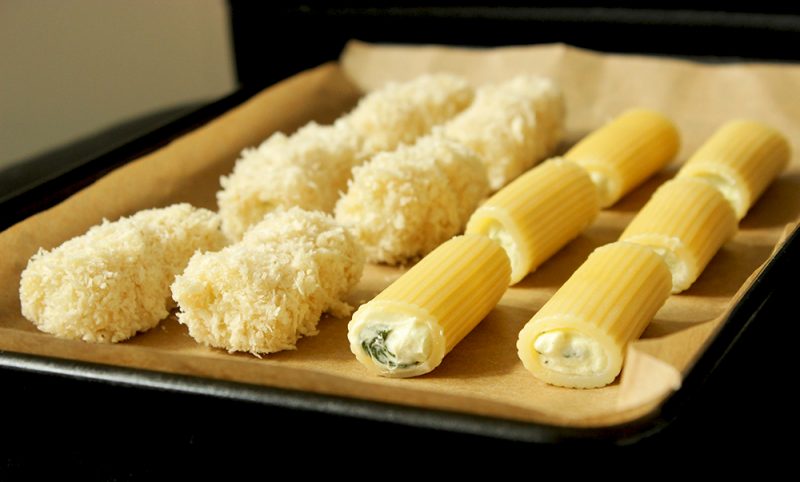 To make the delicious filling of this tempura rigatoni, I've simply mixed some fresh organic ricotta with basil leaves and a little seasoning.
It tastes amazing just like that, but you can also get creative and try different fillings, for example, add some fresh spinach leaves, or swap the ricotta for mozzarella and mix it with some basil pesto.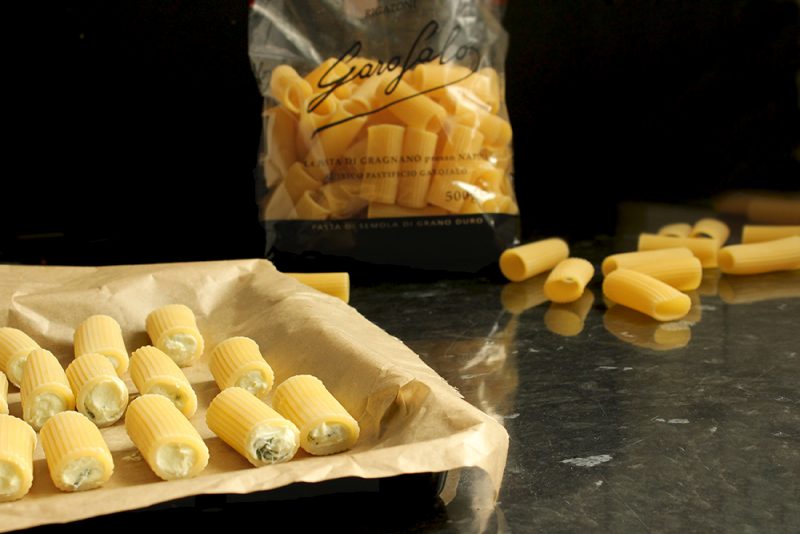 The choice of the pasta here is critical for a great result. I use bronze drawn (trafilata al bronzo) pasta.
This means the pasta dough passes through special dyes or molds made of bronze, which gives the pasta a rough surface to attract and bind the sauce perfectly.
Last but not least, panko is what makes the tempura pasta so crispy & crunchy.
Panko is a Japanese breadcrumb made from bread without crusts. It has a crisper, airier texture than most types of breadcrumbs.
Also, it stays crisp after cooking, unlike other types of breading, which can get soggy.
You can find it in most supermarkets or, alternatively go to your local Asian food store, it's worth hunting it, panko will upgrade all your favorite recipes with breadcrumbs.
For a light version of this tempura pasta you can bake the rigatoni in the oven instead of deep-frying.
I actually used my air fryer ( 180F for 10 min), but if you don't have one pop them in the oven and bake at 375F/170C until golden on both sides.
If you ask me, anytime is the perfect time to try these tempura pasta filled with ricotta & spicy marinara sauce.
They're great party material and surely entertaining, so make at least two large batches and bring them to the next picnics, barbecues or get-together events!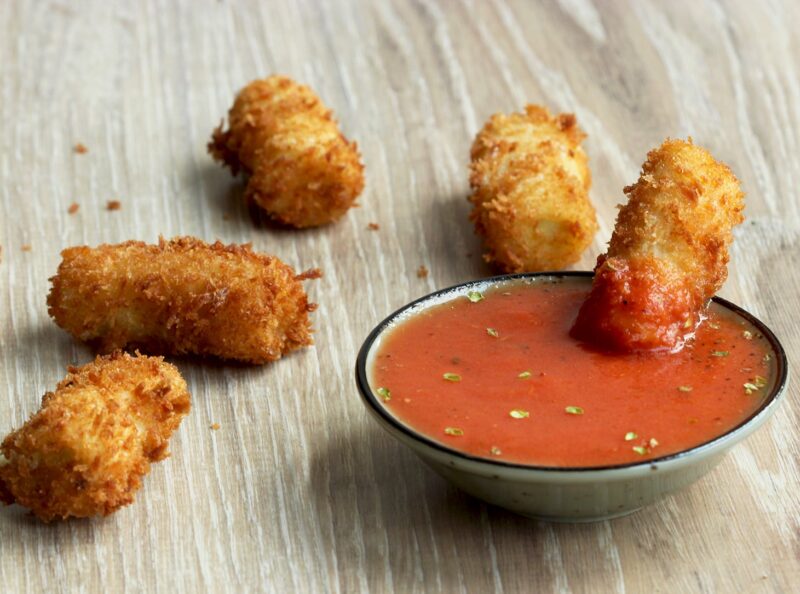 DID YOU MAKE THIS RECIPE?
Please let me know how you liked it! Leave a comment below and share a picture on Instagram with the hashtag #thepetitecook! Looking at your pictures always makes me smile *and super hungry*!
Recipe
Tempura Pasta Stuffed With Ricotta Cheese
Did you ever try tempura pasta? It makes a wonderfully unique vegetarian snack that will amaze all your guests!
Ingredients
For the marinara sauce:
3

canned tomatoes

1

tablespoon

chopped basil leaves

1

tablespoon

sriracha

,

optional

sea salt and pepper to taste
Instructions
Remove seeds and juice from the tomatoes and put in a blender with basil and salt and pepper to taste. Add sriracha and pulse until just combined. Refrigerate unti ready to serve.

In a bowl mix the ricotta, basil leaves and season wit salt and pepper to taste. Transfer the mixture into a piping bag and refrigerate until ready to use.

Cook the rigatoni in boiling salted water for about 10 mins, or until al dente. Drain and cool under cold running water.

Drain the rigatoni and pat dry with a clean towel.

Fill them with the ricotta filling , then gently toss them in flour until evenly coated, then in beaten egg white and then in panko bread crumbs .

Heat a deep-sauce pan with oil until hot. Fry each rigatoni for a few seconds, until crisp and golden.

Drain on kitchen paper and season with a pinch of sea salt flakes. Serve immediately with marinara sauce on the side. Enjoy!
The information shown is an estimate provided by an online nutrition calculator. It should not be considered a substitute for a professional nutritionist's advice.