If you're spending only one day in Mykonos, make sure you make the best of it!
The island of fun has a thousand faces starting with its beautiful old town made up of picturesque alleys and small white and blue houses, and ending with gorgeous sandy beaches and clear turquoise waters.
This is Mykonos , the island everyone loves: both families looking for a relaxing getaway and young people looking for unrestrained fun will find plenty to do here.
From strolling around the historic old town, Little Venice, mills, and museums to visiting one of the many beaches, there's so much you can do in Mykonos in just 24 hours.
Jump to:
MYKONOS OLD TOWN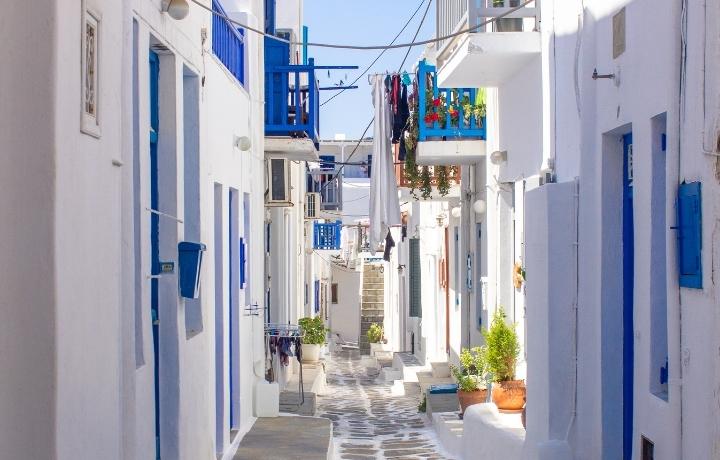 Mykonos' picturesque capital is called Chora (also known as "Mykonos Town" or "Hora").
The city centre is full of narrow little streets, bougainvillea in bloom and beautiful white houses with doors and windows painted in blue.
My advice is to simply pick one of the many alleys and wander around this maze of narrow streets full of boutiques, small churches, trendy clubs, and vibrant taverns.
MYKONOS OLD PORT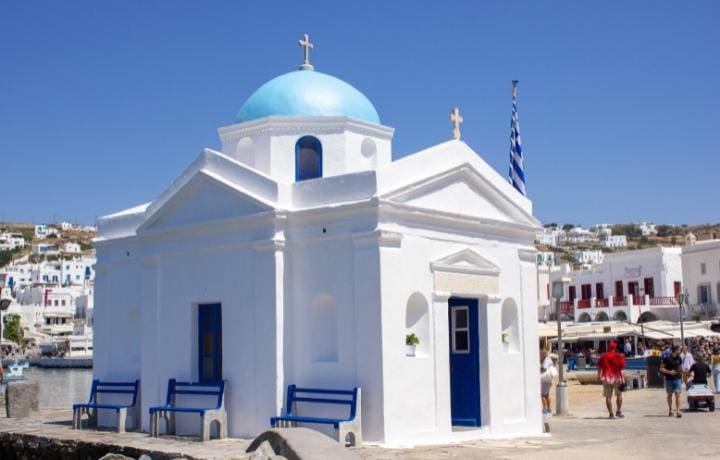 The Old Port of Mykonos is located in Mykonos town, just behind the famous Little Venice.
It's crowded with local bars, taverns, and fancy restaurants.
Here you will also find the famous Agios Nikolakis Church, a tiny little church well worth a visit.
The old port also offers magnificent views, and makes a perfect location to watch one of the famous Cycladic sunsets.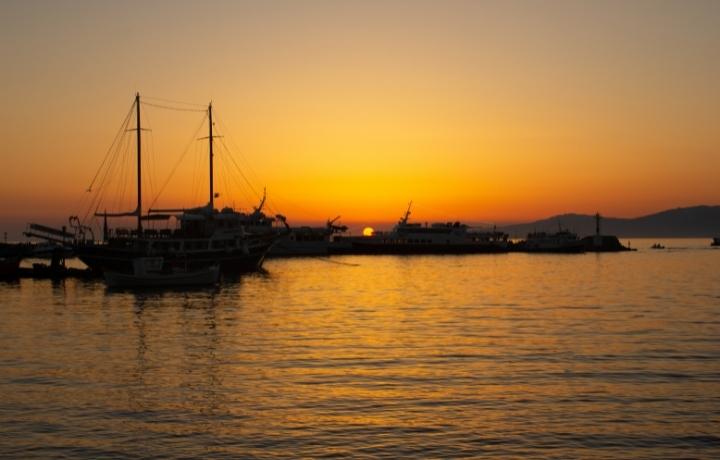 LITTLE VENICE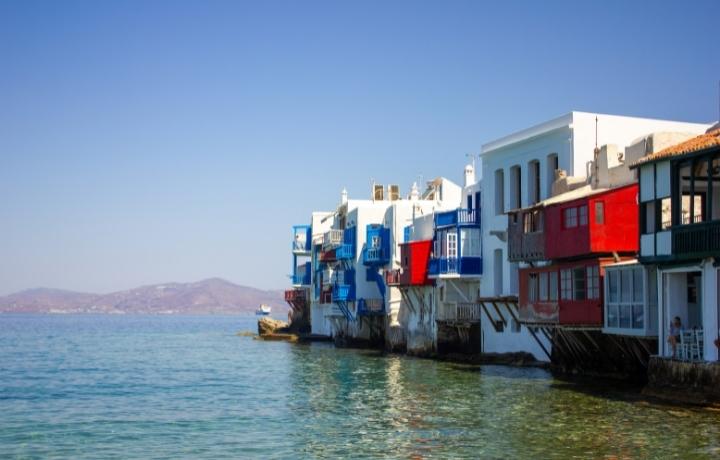 Originally, the area was named Alefkandra (which means "whitening", after the nearby beach). In the 13th century, Mykonos was an important part of the trade routes of the Republic of Venice.
At the time, most of the houses right at the edge of the waterfront used to belong to wealthy merchants and were built in Venetian style.
The balconies, the arches, and byways gave an impression of being in Venice, and that's why was later called "Little Venice".
Here you will find some of the most scenographic spots in Mykonos. The area is filled with vibrant bars and restaurants, where you can enjoy some drinks and the breathtaking sea view.
And if you're lucky enough, you'll have a chance to see one of the local friendly pelicans ( we met Petros II) strolling around.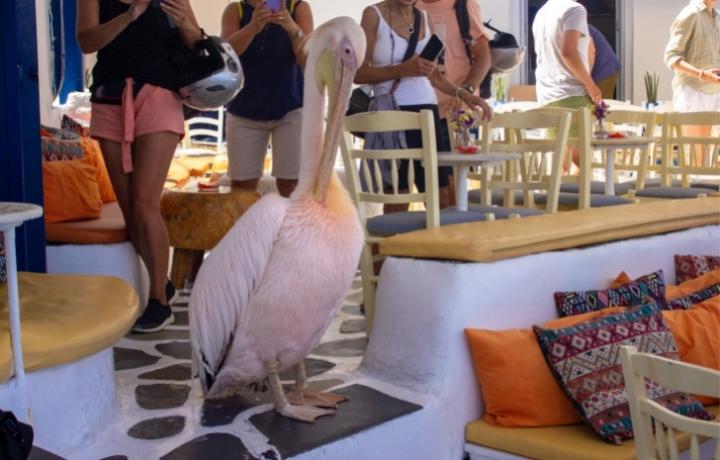 If you're looking to watch a sunset to remember, make sure to secure a spot in one of the many seafront bars and restaurants.
You can also simply stroll down to the nearby little beach right at the end of the neighborhood.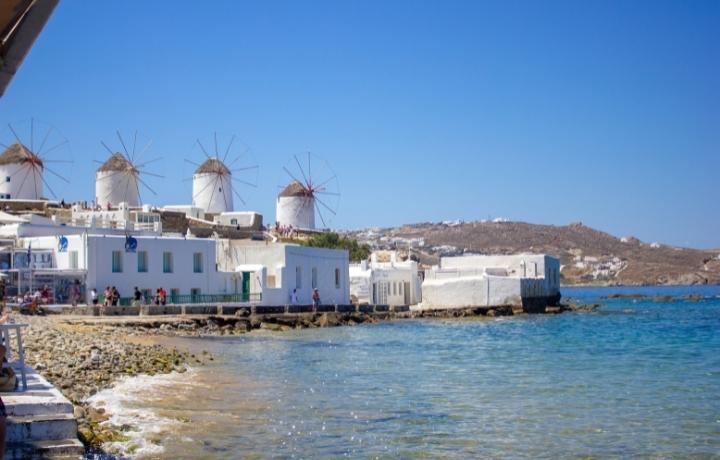 WINDMILLS
Just a few minutes away from Little Venice, you'll find the famous windmills.
They date back to the sixteenth century and were used to grind the wheat grown on the island, which was then exported in the form of flour.
You can get there comfortably on foot from the city center, taking a short climb. The view from the mills is particularly beautiful, so don't forget to bring your camera along!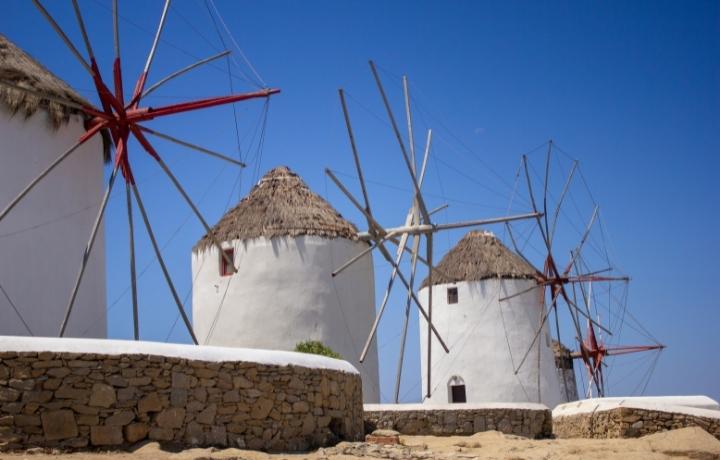 BEST MYKONOS BEACHES
Mykonos is home to some of the most beautiful beaches in Greece. If you're staying just for one day, I recommend you visit one of the below beaches near Chora.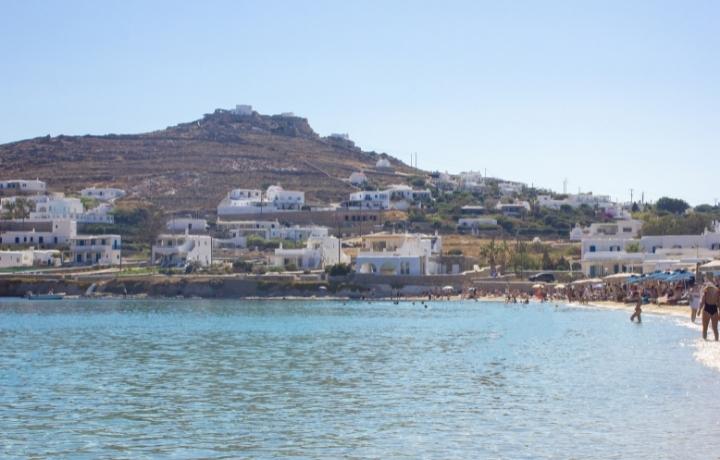 You can catch a bus from the terminal called South Station (more commonly known as "Fabrika"). Buses run often until late evening in summer:
Ornos Beach: it's the most kid-friendly beach on the island, with its fine golden sand and calm turquoise water. We spent a lovely day here, comfortable sunbeds are available, and there are very good restaurants (check out Kuzina restaurant!).
Paradise Beach: Paradise is one of the most famous party beaches of Mykonos, usually attracting mostly young crows. It's full of lively bars and after the sunset, the party just gets crazier!
Psarrou Beach: Definitely one of the most popular beaches in Mykonos, Psarrou is known for its luxury prices and VIP presence. It's ideal for sunbathing, swimming and water sports, but due to its popularity, I recommend booking online sunbeds and umbrellas in advance. The famous Nammos restaurant is also well worth a visit, the food is simply divine.
MUSEUMS IN MYKONOS
Mykonos is not all about gorgeous beaches and pretty little alleys.
So if you have some extra time, I recommend you visit to one of the many museums on the island:
Archaeological Museum with a vast collection of exhibits from the Hellenist period.
Aegean Maritime Museum with ancient navigation instruments and models of the pre-Mycenaean fleet.
Folklore Museum to discover the traditional Mykonian life in the last century.
Agricultural Museum to learn everything about how the Mykonians were able to sustain themselves in ancient times.
Casa di Lena to admire an old traditional house of the Mykonos bourgeoisie.