A weekend in Basel, what to do and see - Explore this historic swiss city packed with hidden gems around every corner!
We spent a weekend in Basel for the first time this summer, and we fell in love with this lively city!
This gorgeous Swiss city is an unmissable destination for those who want to visit a place where ancient and modern blend perfectly.
Located on the border with France and Germany, Basel is famous for its international vibe and friendly atmosphere.
Considered the cultural capital of Switzerland, Basel is home to more than 40 museums.
It's also home to the international art fair Art Basel, one of the most important modern and contemporary art fairs in the world.
If you're visiting Switzerland and not sure if you should include it in your travel plans, then here are some great ideas on how to spend a weekend in Basel and what to do and see.
And if you're short on time, do not fret.
Exploring the narrow streets and alleyways of this historic swiss city is itself a treat, with surprises and hidden gems around every corner!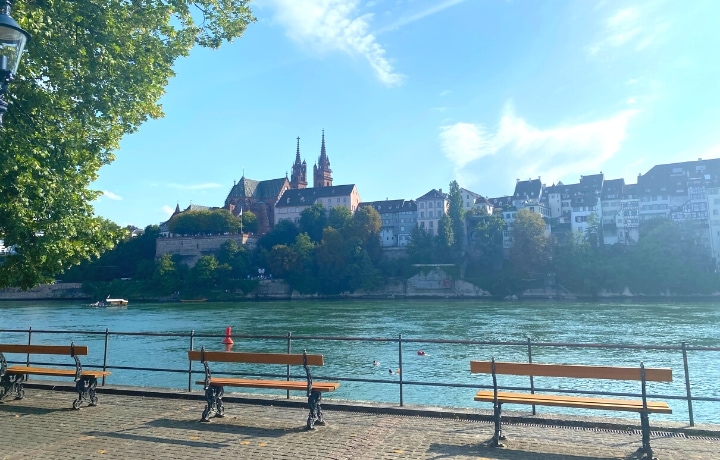 Jump to:
Basel Altstadt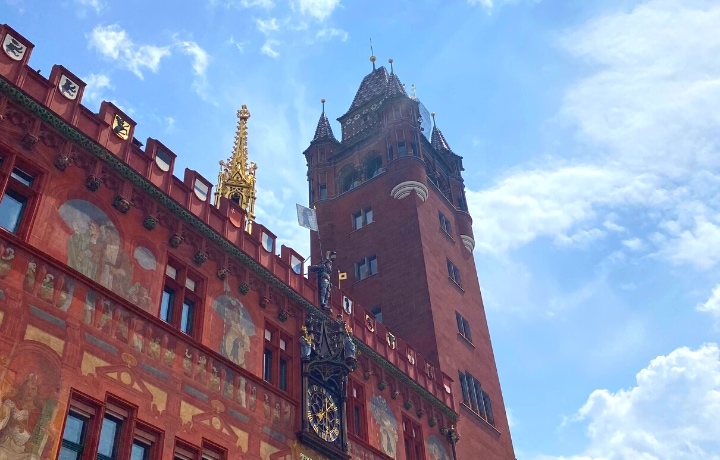 The Altstadt (Old Town) of Basel is a charming and picturesque area packed with historic buildings and numerous landmarks.
Here are some of the must-see attractions in Basel Altstadt:
Basel Minster: The Gothic-style cathedral dominates the Old Town skyline. It was built between the 12th and 15th centuries and features a striking red sandstone facade, ornate stained glass windows, and a soaring spire. Visitors can climb the tower for panoramic views of the city.
Marktplatz: This bustling square is located in the heart of the Old Town. The impressive 16th-century Town Hall with its bright red facade is absolutely worth visiting, as well as the numerous market stalls selling fresh produce, flowers, and other goods.
Rheinsprung: This picturesque street that runs along the Rhine river offers stunning views of the riverside and the city beyond. It is lined with historic buildings, cafes, and shops.
Spalentor: This 15th-century gatehouse once formed part of the city's fortifications. It is one of the most well-preserved medieval gateways in Switzerland and is a popular spot for photos.
Tinguely Fountain: Created by Swiss artist Jean Tinguely in 1977, the Tinguely Fountain is a whimsical sculpture located in Theaterplatz. This unique fountain features a series of moving metal parts that shoot water in various directions, and has become one of the most loved city landmarks.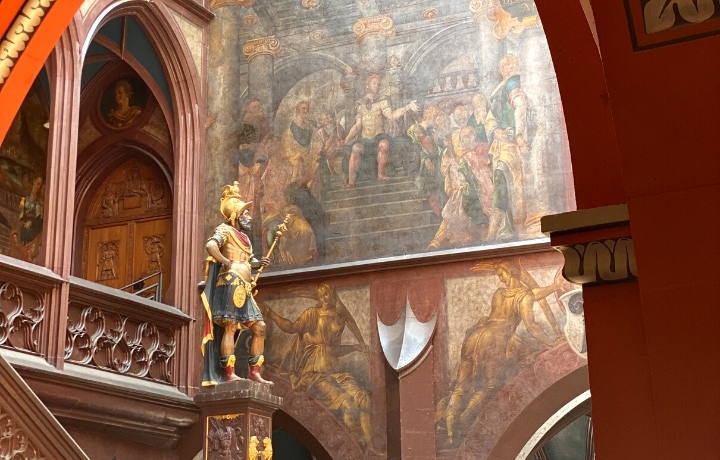 Basel Riverside
Strolling around the Rhine riverside was one of our favorite things to do in Basel.
If you're visiting during the summertime, don't forget to bring your swimsuit, get a Wickelfisch swim bag and have a float on the Rhine river.
I know it sounds strange but it's a local favorite and it's absolutely fun!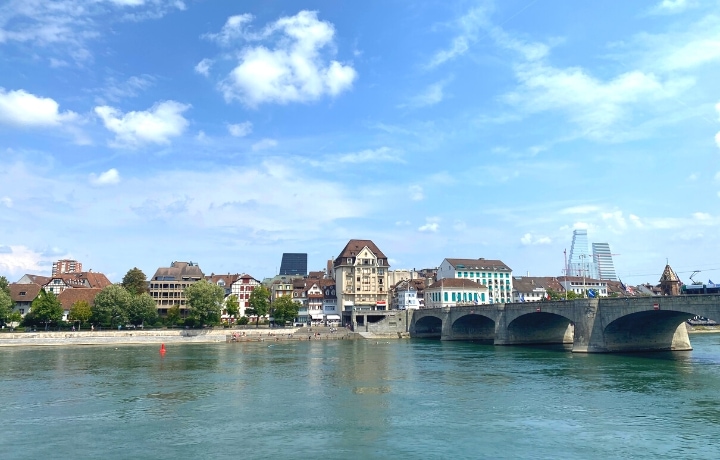 Basel Museums
Basel is famous for its many museums, making it one of the largest cultural centres in Switzerland.
These are just a few of the many museums the city has to offer, but they are all definitely worth checking out if you have the chance!
Kunstmuseum Basel: It's one of the oldest and most renowned art museums in Europe, with a collection spanning from the 15th century to the present day. The museum is home to a vast array of paintings, sculptures, drawings, and prints, including works by famous artists such as Picasso, Monet, and van Gogh.
Museum Tinguely: Home to the work of Swiss sculptor Jean Tinguely, the museum Tinguely houses a large collection of Tinguely's sculptures, as well as a variety of temporary exhibitions that showcase the work of other contemporary artists.
Basel Historical Museum: House in three separate buildings, the museum covers everything from medieval artifacts to contemporary art and design, and offers a fascinating look into the city's rich cultural heritage.
Museum der Kulturen: Dedicated to the study of non-European cultures, the museum's exhibits explore everything from traditional art to contemporary design, and offer a unique perspective on the world's diverse cultures.
Where To Eat and Drink in Basel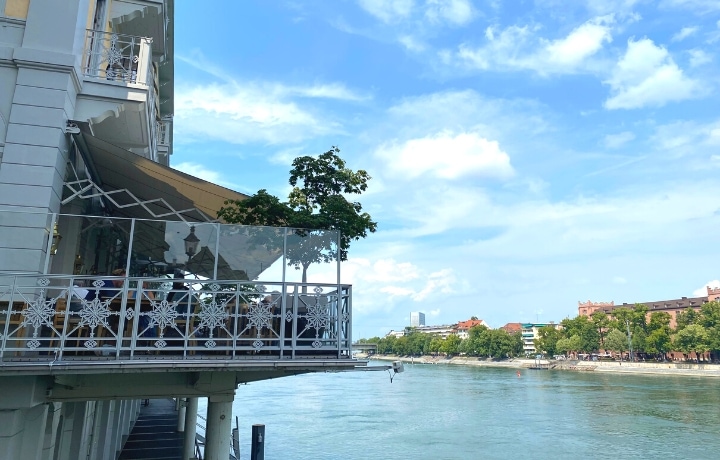 For a local foodie experience, head over to the town hall for the largest and most traditional fresh produce market in the city.
here you'll find swiss delicacies and specialties and you can enjoy delicious street food.
If you want to eat like a local, head over to Fischerstube restaurant.
It has a lovely atmosphere, a welcoming back terrace, and its seasonal menu is filled with fantastic options (including veggie options!).
Don't forget to try the local Ueli bier - the oldest craft beer in Basel.
For the most luxurious foodie experience, visit the Cheval Blanc by Peter Knogl, which has been awarded three stars, and it's one of the only few 3-Michelin stars restaurants in Switzerland.
Located inside the luxury Les Trois Rois hotel overlooking the Rhine river, the Cheval Blanc restaurant offers modern French haute cuisine with Asian and Mediterranean influences.
Where To Stay in Basel?
Choosing which area to stay in depends on your reason for visiting Basel.
Here are a few recommendations based on our favorite areas in the city:
Messe Basel: If the fair is your main reason for visiting BaseI, I recommend staying at the Basel Marriott Hotel, located directly at the largest exhibition center in Switzerland, and at the same time only a few minutes away from the old town.
When we stayed at the Basel Marriott hotel, it had just reopened after an extensive renovation.
The service, location, and rooms were top-notch, and we will definitely go back there next time we visit Basel for an exhibition.
Basel Old Town: Staying in the historic old town of Basel has plenty of things to offer, from museums to little bars and restaurants and lots of historical landmarks.
I would absolutely recommend staying at the luxury hotel Les Trois Rois, one of the best and oldest hotels in Switzerland.
Conveniently located in the heart of Basel's old town, the 5-star hotel is unmatched in its historic charm and is a unique gem among Basel's luxury hotels.
More Travel Destinations Ideas
If you're planning a nice little holiday in Europe here are a few recommendations on what to do in Sicily, how to spend a day in Mykonos, and our favorite luxury hotel in Paris.