Here are some suggestions for things to do over a weekend in Brussels- Find out what to do and see in the capital of Europe.
Planning a weekend in Brussels? I promise you won't be disappointed!
Bruxelles, the capital city of Belgium, is a vibrant and culturally rich destination with plenty of activities to keep you entertained on a weekend trip.
Here are some suggestions for things to do in Brussels on a weekend.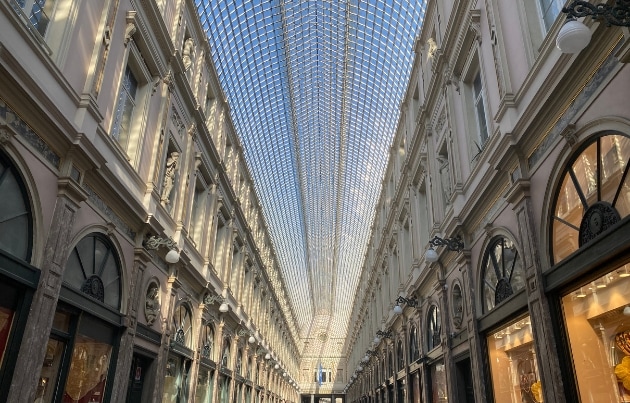 Jump to:
Visit The Grand Place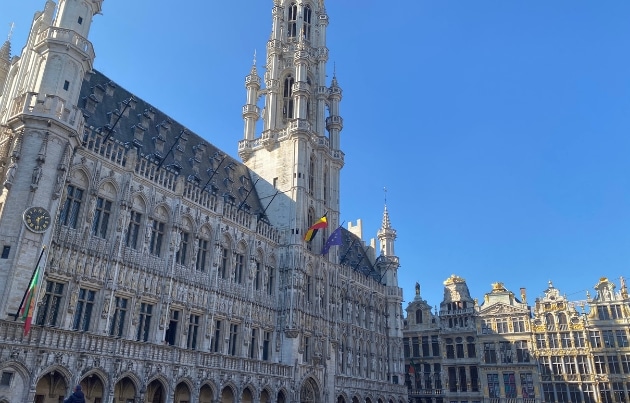 The Grand Place is the main square in Brussels and is known for its stunning architecture and beautiful fountains.
Take a stroll around the square and admire the beautiful buildings, including the City Hall and the Maison du Roi.
Explore the Atomium
The Atomium is a famous landmark in Brussels, featuring a unique architecture of a giant atom. Take a trip up to the top of the Atomium for a panoramic view of the city and explore the exhibitions on science, design, and innovation.
You can buy tickets at the official Atonium website. The Atomium ticket includes entrance to Design Museum Brussels (150m away).
Sample Belgian Delicacies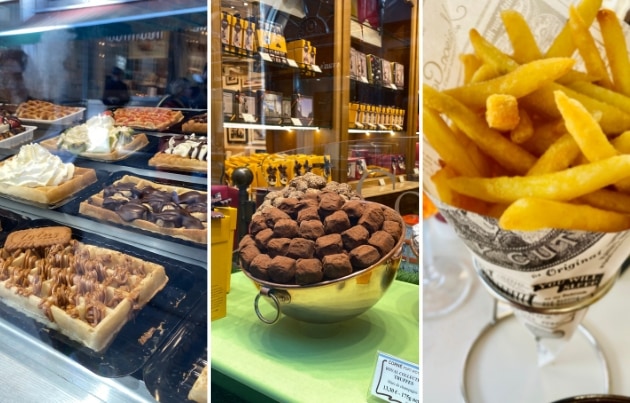 Brussels is known for its delicious cuisine, including waffles, chocolate, beer, and of course frites (the famous Belgian french fries).
Take a food tour or simply wander around the city and sample some of the local delicacies.
Here are some of the local foods that you have to try whilst in Brussels:
Moules-frites: This is a classic Belgian dish that consists of mussels cooked in white wine and served with a side of crispy fries.
Belgian Waffles: crispy on the outside and fluffy on the inside, Belgian waffles are often served with whipped cream, fruit, and chocolate sauce.
Belgian Chocolate: Belgium is famous for its chocolate, and you'll find chocolate shops all over Brussels that offer a variety of handmade chocolates.
Stoemp: This is a traditional Belgian dish made with mashed potatoes and vegetables, such as carrots, onions, and cabbage.
Carbonnade Flamande: This is a hearty beef stew that is cooked with beer, onions, and herbs. It is usually served with bread or fries.
Speculoos: This is a type of spiced biscuit that is often served with coffee or tea.
Visit The Museums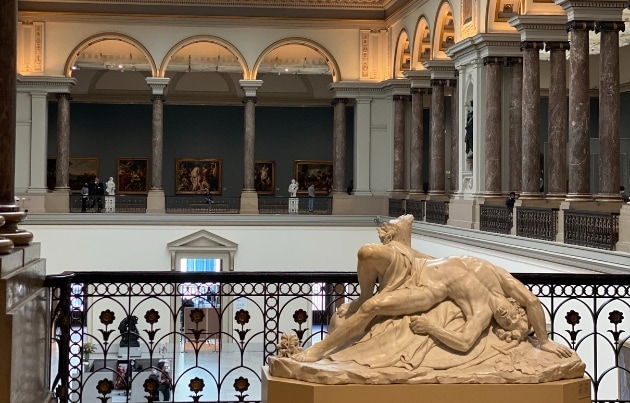 Brussels has a range of museums to suit all interests. The Royal Museum of Fine Arts, the Belgian Comic Strip Center, and the Museum of the City of Brussels are all worth visiting.
If you have kids, I highly recommend visiting the Royal Belgian Institute of Natural Sciences, there's so much to see and do, and perfect to entertain and educationally engage your kids for hours.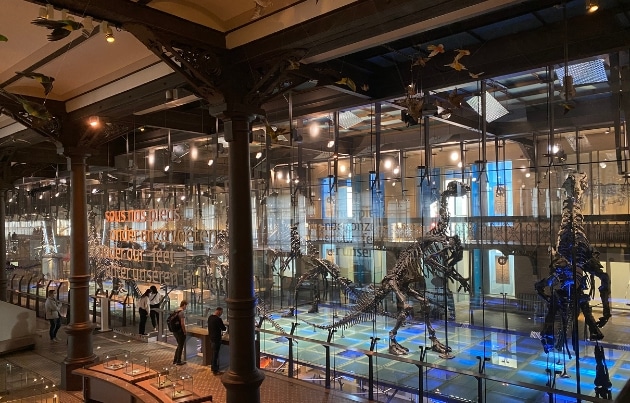 Relax At The Parks
Brussels has plenty of gorgeous parks to enjoy.
Take a walk in the beautiful Parc du Cinquantenaire, or stroll around the amazing Jardin du Mont des Arts, the Bois de la Cambre, or the Jardin du Petit Sablon.
Visit the European Parliament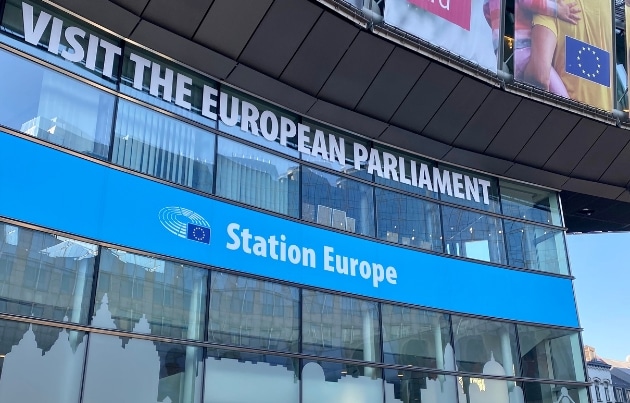 Explore the European Union institutions: Brussels is home to the European Union headquarters. Visit the European Parliament, the European Commission, and the Council of the European Union for a unique insight into the workings of the EU.
The visitors centre is open seven days a week and entrance is free of charge.
Shop At The Markets
Brussels has a range of incredible markets selling everything from fresh produce to vintage clothes and antiques.
One of my favorite little markets is the vintage market located in the Sablon neighborhood.
A must for every Brussels visitor, the Sablon antiques market takes place every weekend on the magnificent Place du Grand Sablon.
Also worth checking out is the Sunday market at the Place du Jeu de Balle or the Midi Market on Sundays.
Where To Stay in Brussels
Here are a few recommendations based on my favorite areas in the city:
European Quarter
Close to many of the city landmarks, there are plenty of things to do in the European Quarter, it's a relatively serene neighborhood but with lots of vibrant cafes and restaurants.
There are plenty of hotels to choose from, but we stayed at the Renaissance Brussels hotel and highly recommend it.
Featuring a casual yet stylish ambiance, modern rooms, a heated pool and a fitness area, it's a super family-friendly hotel, and very conveniently located just a few steps away from the European Parliament.
The Sablon
You will absolutely love this area. It's very close to the main square, a walk away from the central station and the most famous museums.
Sablon is also considered the chocolate lovers neighborhood, and it's packed with artisanal patisseries, chocolate shops, and modern restaurants.
Head over to the NH Collection Brussels Grand Sablon for an unforgettable stay in the Sablon area.
Welcoming, comfortable, and situeted in the perfect location to explore the city centre.
Where To Eat in Brussels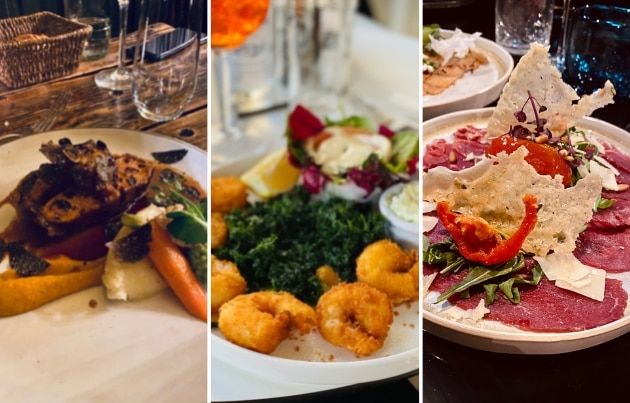 There are many great restaurants in Brussels that offer a wide range of culinary experiences, from traditional Belgian cuisine to international dishes.
Here are some of the best restaurants in Brussels and why they're worth a visit:
La Villa Lorraine: La Villa Lorraine is a Michelin-starred restaurant located in a beautiful art deco building. They serve a variety of creative, seasonal dishes made with high-quality ingredients.
Fin de Siècle: Fin de Siècle is a cozy, traditional Belgian restaurant that serves classic dishes like moules-frites (mussels and fries) and carbonnade flamande (beef stew). The restaurant has a laid-back atmosphere and friendly staff.
Chou: Located in the European quarter, Chou is a cozy and intimate restaurant that serves a creative and contemporary take on traditional Belgian cuisine. The staff at Chou are friendly, knowledgeable, and attentive, providing excellent service to diners.
Nüetnigenough: Nüetnigenough is a small restaurant that serves traditional Belgian dishes like stoemp (mashed potatoes with vegetables) and stoverij (beef stew). They also offer a great selection of Belgian beers to accompany your meal.
Popup Sablon: located in the heart of the Sablon area, Popup Sablon offers a convivial laid-back atmosphere. The menu features a selection of Belgian brasserie-style dishes and seasonal suggestions, the shrimp croquettes and chicken vol-au-vent are a must-try.
These are just a few ideas for things to do in Bruxelles on a weekend. Whatever your interests, you're sure to find plenty of things to see and do in this vibrant city.
More Travel Destinations Ideas
If you're planning a nice little holiday in Europe here are a few recommendations on what to do in Sicily, ideas on how to spend a weekend in Basel, make the most of one day in Mykonos, and our favorite luxury hotel in Paris.