The Ritz-Carlton, Berlin is the perfect luxury accommodation in the city. Centrally located in Berlin's famous Potsdamer Platz, it offers an unforgettable stay in a fantastic location.
The Ritz-Carlton, Berlin is centrally located in the heart of Potsdamer Platz, one of the most dynamic city districts, offering a unique mix of history, entertainment, art, shopping and high-end restaurants.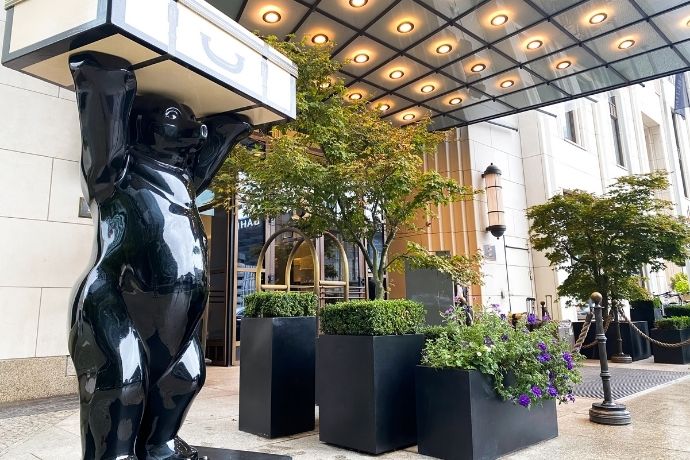 It is also a few minutes away from Berlin's most famous landmark, the Brandenburg gate.
The luxurious hotel opened in June 2004 and underwent an extensive renovation in the 2019. The renovation has been carried out with a great eye for detail, combining exclusive Art Deco styled design elements with contemporary touches in homage to Berlin's Golden Age.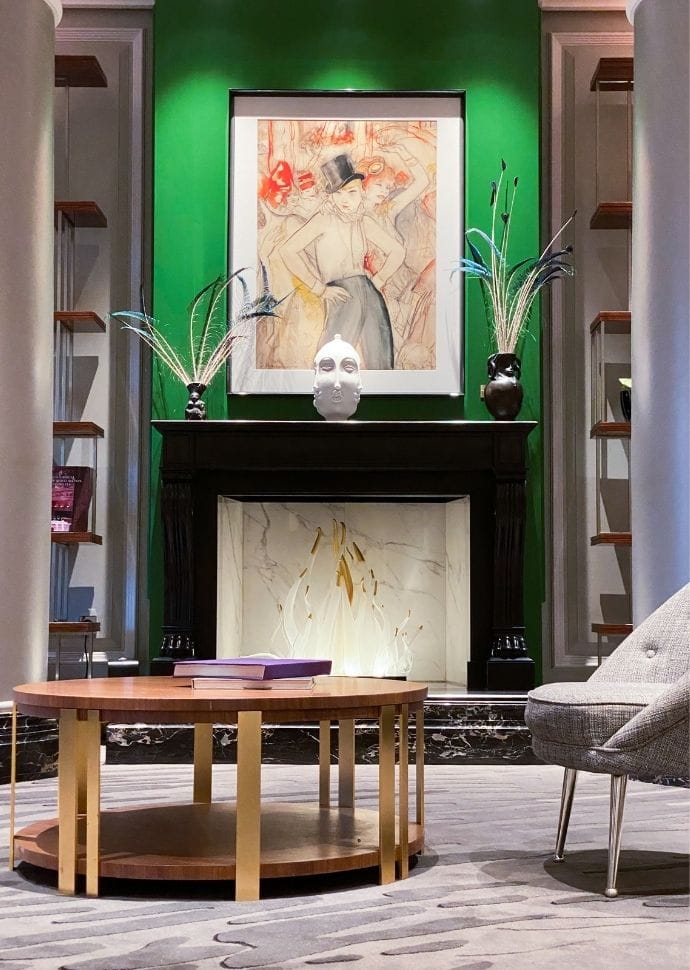 CORNER DELUXE ROOM
The hotel offers 303 rooms, ranging from Deluxe rooms up to the Ritz-Carlton suite.
We stayed in a spacious Corner Deluxe Room, and it was nothing short than perfect. Beautifully decorated with the Art Deco theme in mind, and harmoniously equipped with modern touches.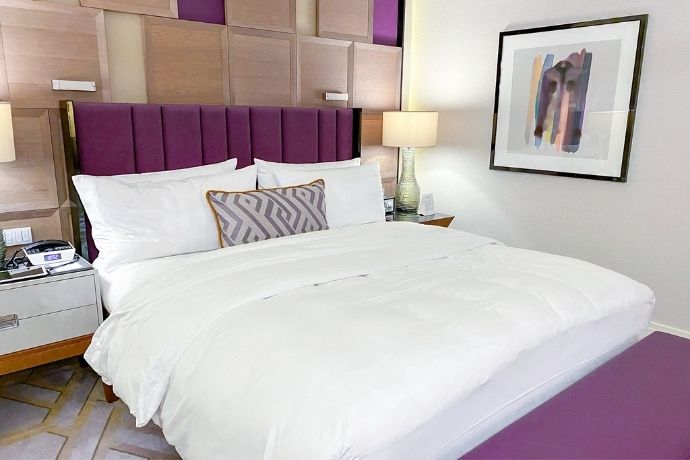 The room offers a comfy luxurious king bed, and a spacious seating area with a sofa with hidden power sockets on the side, armchairs, a beautiful large desk, and a large flat-screen TV.
A fully-equipped minibar and a Nespresso coffee machine are tastefully hidden in an exquisite cabinet right under the TV.
All lights, blinds, and curtains can be controlled from the switch panels above the bedside table.
The pink marble bathroom is huge and fully equipped with anything you might need, including a powerful hairdryer, soft towels, and bathrobes.
The bathroom also includes a spacious bathtub, a large walk-in rain shower, and exclusive bathroom amenities from Asprey.
WELLNESS AREA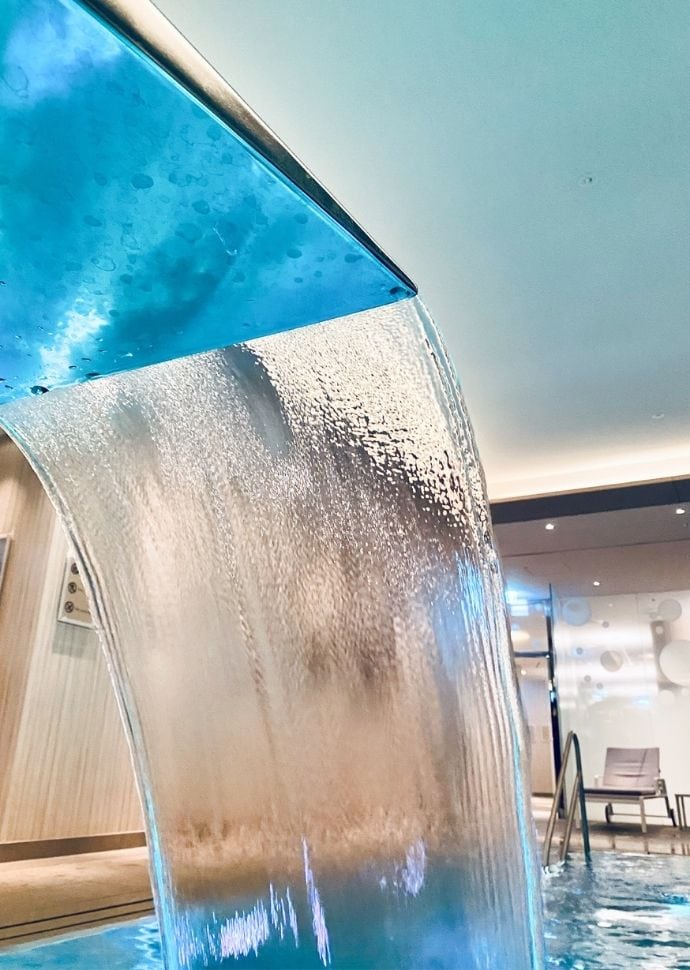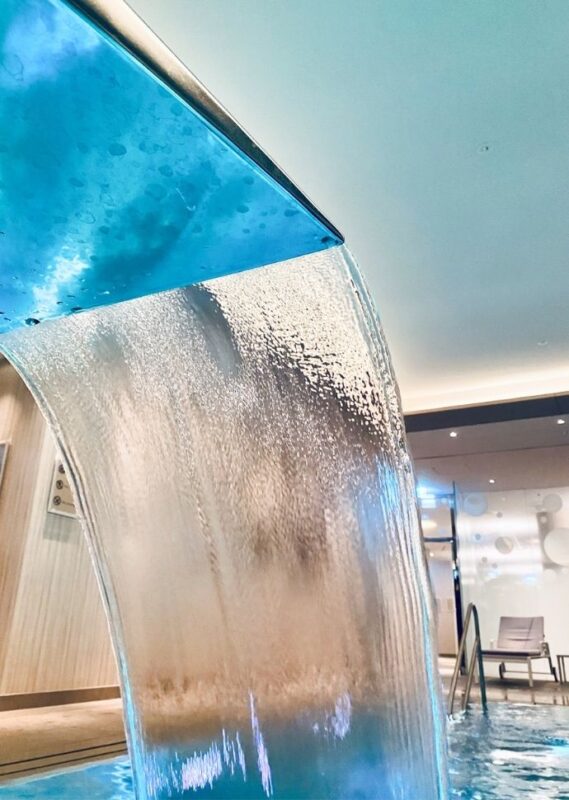 The wellness area is available to all hotel guests. The relaxation area is completed with a good-sized pool and a jacuzzi.
Two sauna rooms are also available, and for the gym enthusiasts, there's a nicely equipped gym open 24/7.
DRINKING AND DINING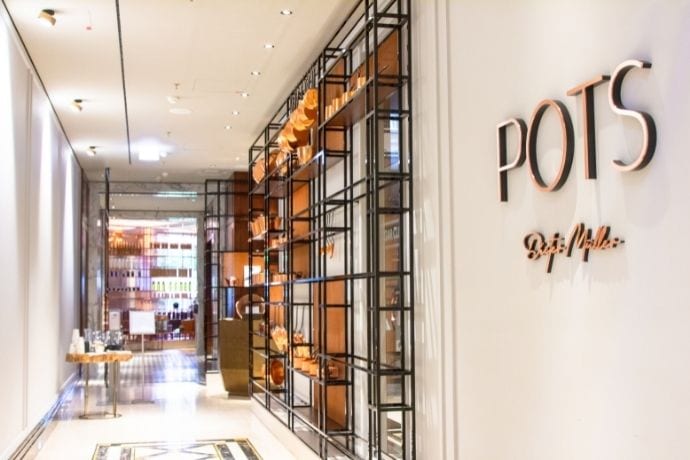 The Ritz-Carlton, Berlin is home to the famous POTS restaurant.
Renovated in 2019, the new dining concept is an exciting collaboration between Michelin-starred chef Dieter Müller, chef de cuisine Christopher Kujanski and restaurant manager and award-winning sommelier, Mathias Brandweiner.
Offering a modern German cuisine and an immersive wine experience, this is an excellent dining choice if you'd like to have a taste of German cuisine without the need to step outside of the hotel.
Unfortunately, the restaurant was closed at the time we were visiting, but we did sample the bar menu and in-room service and we were not disappointed.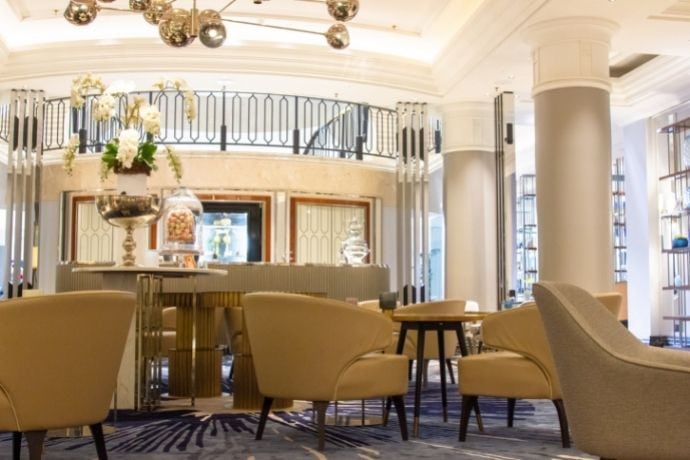 The Lounge bar offers a delightful afternoon tea, small appetizers, international dishes and desserts. We shared a classic club sandwich with cocktails, and both were delicious and satisfying.
The Curtain club bar offers an intimate and elegant atmosphere with Art Deco design and a Latin American vibe. The cocktail menu is intriguing and offers both classic and extravagant drinks.
The Fragrances bar offers a unique concept with "fragrant" cocktail creations.
Instead of a classic menu, guests are invited to choose their drink from the Hall of Fame, a walk-in bar menu, showcasing hand-picked fragrances from well-known brands such as Giorgio Armani and Bulgari, that are brilliantly transformed into signature cocktails.
Fragrances is currently closed but can be booked for events for at least 20 people.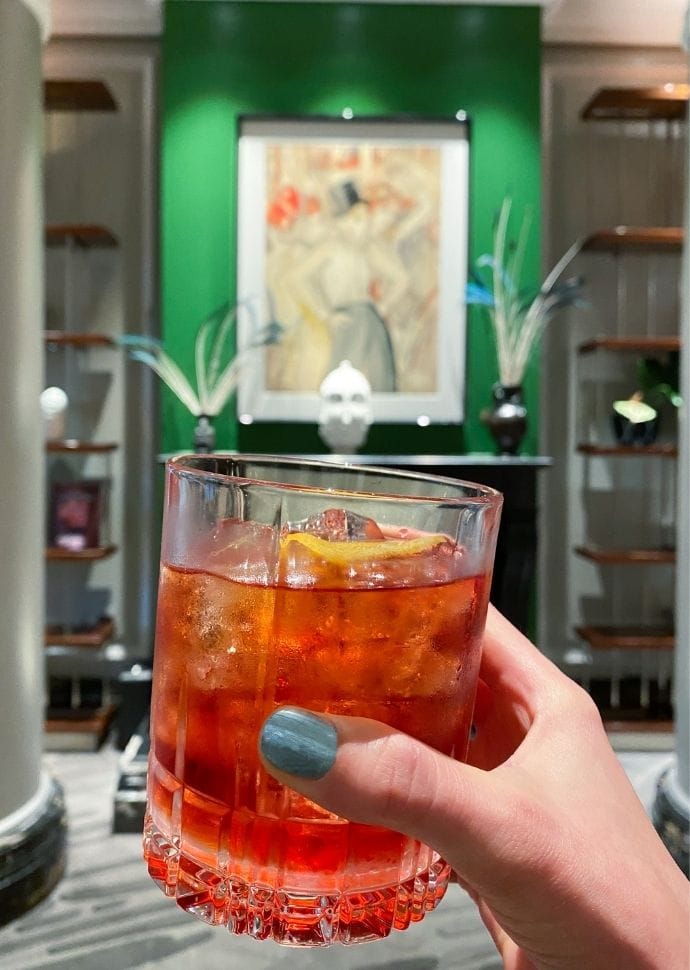 Finally, a small note on the in-room dining service, which is top-notch.
We ordered from the in-room service for our 4 years old and I wish I ordered it for the whole family.
From the kids menu, we ordered the steamed cod over French mashed potatoes with crispy veggies, it was absolutely delicious and well made, not to mention healthy and nourishing.
I wish more hotels and restaurants would follow The Ritz-Carlton, Berlin philosophy over the kids menu.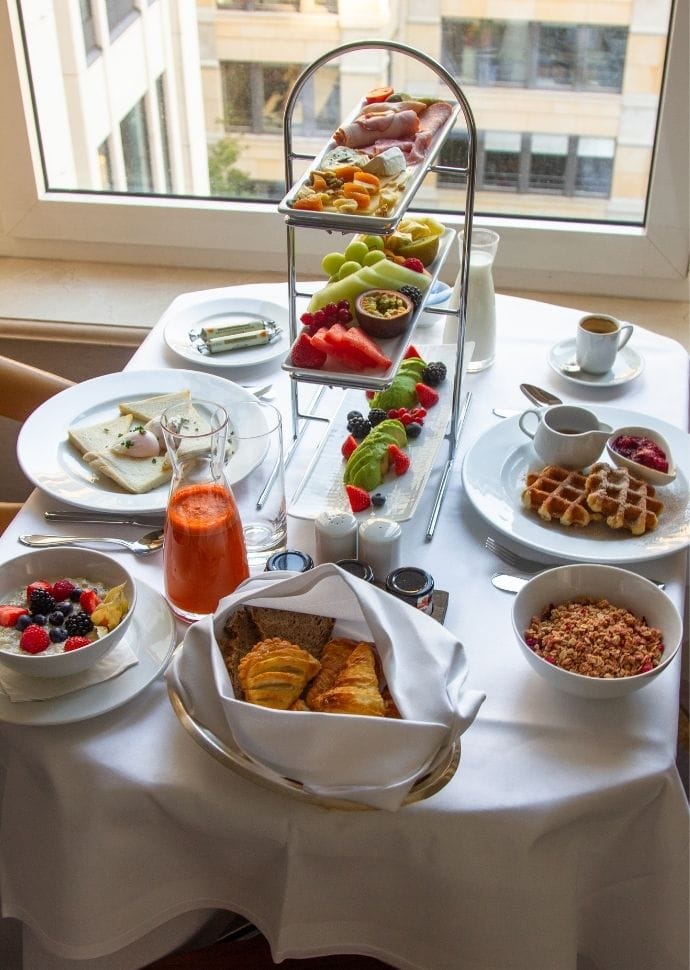 We also had quite possibly one of the best room service breakfasts in existence. The breakfast menu includes a selection of freshly made juices, specialty teas, pastries, cheese and charcuterie platter, lots of healthy options such as fruit platter, avocado toast, and poached eggs.
RITZ KIDS
The Ritz Kids is proof that little guests are taken care of just as much as the grown-ups.
Extra beds and cots are available for the little ones, together with their own little bathrobes, slippers, and amenities.
I was pleasantly surprised to find a small play area arranged in the room, my kid absolutely loved it.
Other special features include posh and delicious little afternoon tea delivered straight to the room, a special in-room dining menu with healthier and more creative options than the classic burger and fries, and a delicious kids corner at the breakfast buffet, full of healthy and nourishing options.
Overall, I found the Ritz-Carlton, Berlin to be an excellent choice for families traveling with young kids and my little boy would most definitely agree with me.
MY STAY AT THE RITZ-CARLTON, BERLIN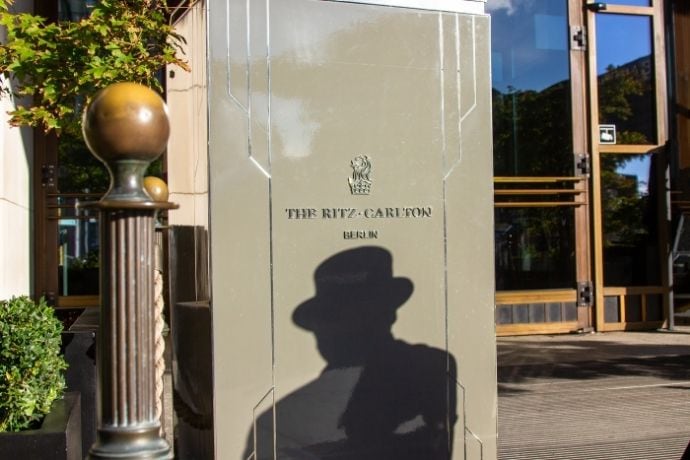 Overall, I loved every bit of our stay at The Ritz-Carlton, Berlin, and I can totally recommend it.
The whole team behind the hotel is gracious, friendly and highly professional, we were really well taken care of, and we will definitely return to this hotel.
If you fancy a relaxing weekend in Berlin, close to museums, parks and the city landmarks, look no further than The Ritz-Carlton, Berlin - It makes an excellent base to explore the city.
*Please note that we paid a media rate for our stay and this is an unpaid review. All opinions are my own. *
MORE HOTEL REVIEWS
A weekend At The Park Hyatt Vienna
Shangri-La Le Touessrok- A Luxury Foodie Holiday in Mauritius