Breakfast, brunch, lunch, snack or dinner, mini frittatas got your back - The perfect stress-free meal is easy, nutritious and ready in just minutes!
Frittata is a staple in traditional Italian cuisine. Similar to a crust-less quiche but not quite, like an omelette but way easier, frittata is simple and no-fuss, and the only rule you need to follow is "everything you like goes into frittata" - well, not everything but almost.
I grew up with my mum's spring frittata, one of her best signature dishes. Moist and rich,  loaded with healthy and seasonal vegetables, she also adds fresh ricotta and tiny bits of crispy prosciutto - Parma ham, making it truly impossible to resist!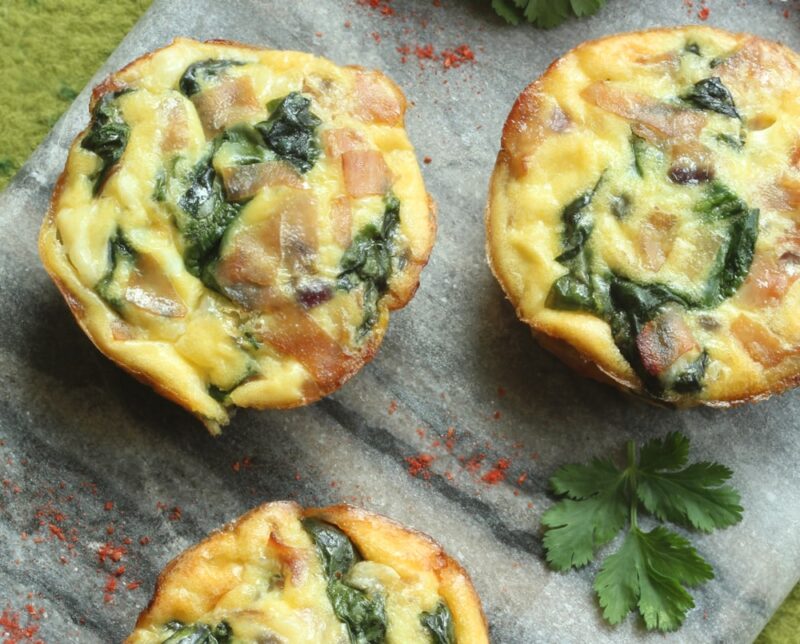 Baked in muffin tins, these bite-sized frittatas are a mini version of my mum's tasty spring recipe. Easy and quick to make, they're ready just in 30 min. If you have friends over for a last-minute dinner, these frittatas will surely rescue up. You can also make a traditional big roundy frittata using a large pan , but the mini version is just as addicting and tasty, and perfect if you have a large crowd to feed.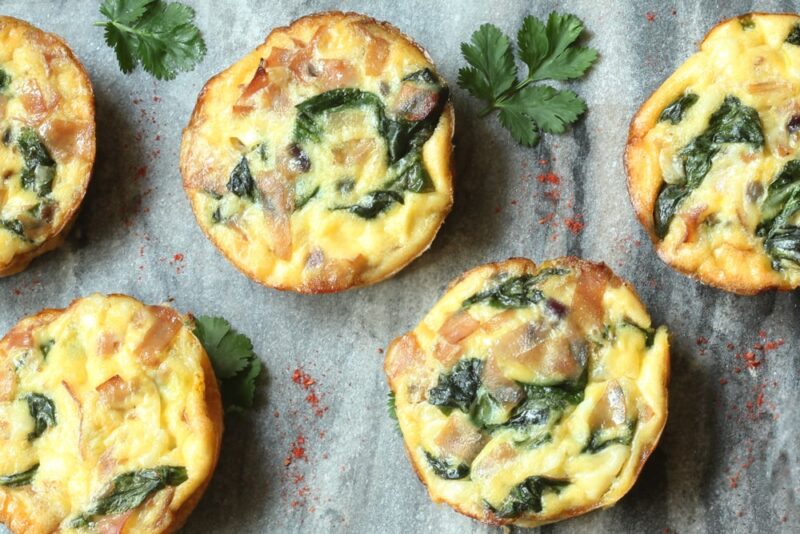 I love how easy this recipe is. All you have to do is quickly stir-fry a bunch of fresh seasonal baby spinach leaves until soft, mix them up with eggs, ricotta and parmesan cheese and bake your mini frittatas for 15 mins, until they're crispy and golden on top and scream EAT ME all over!
These spring mini frittatas are a great way to get some protein, veggies, and healthy fats into your daily diet with very minimal effort. Paired with a wholegrain bread roll or toast and some fruit, it's a meal that will power you through your day. Plus, spinach are high in vitamins, antioxidants and fiber, some extra good reasons to have these bite-sized frittatas!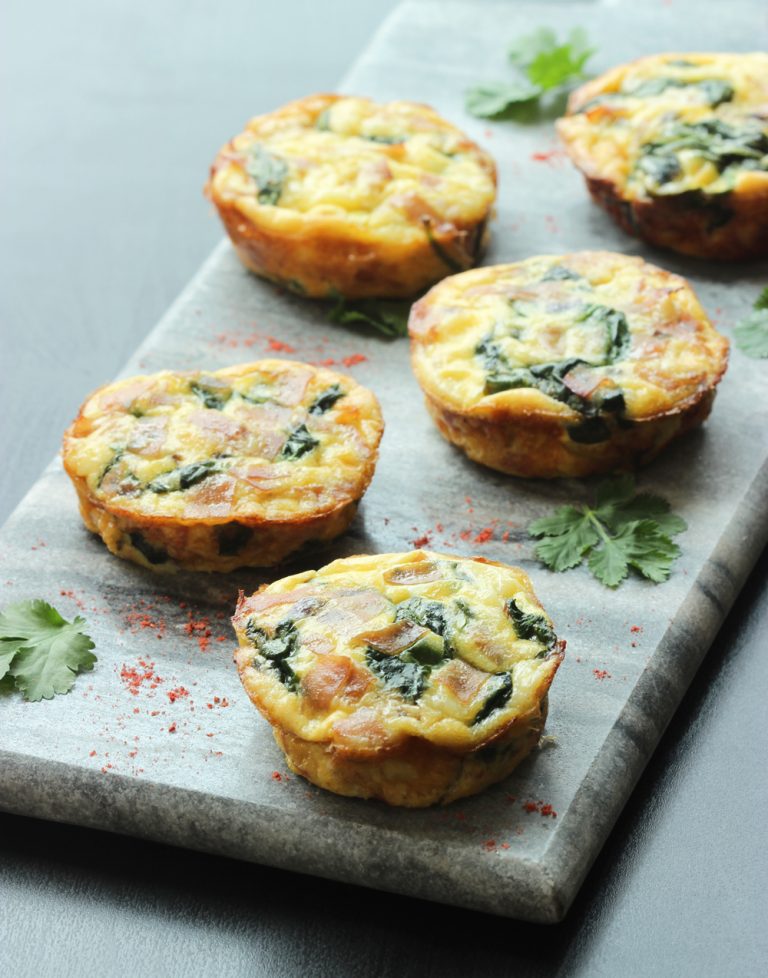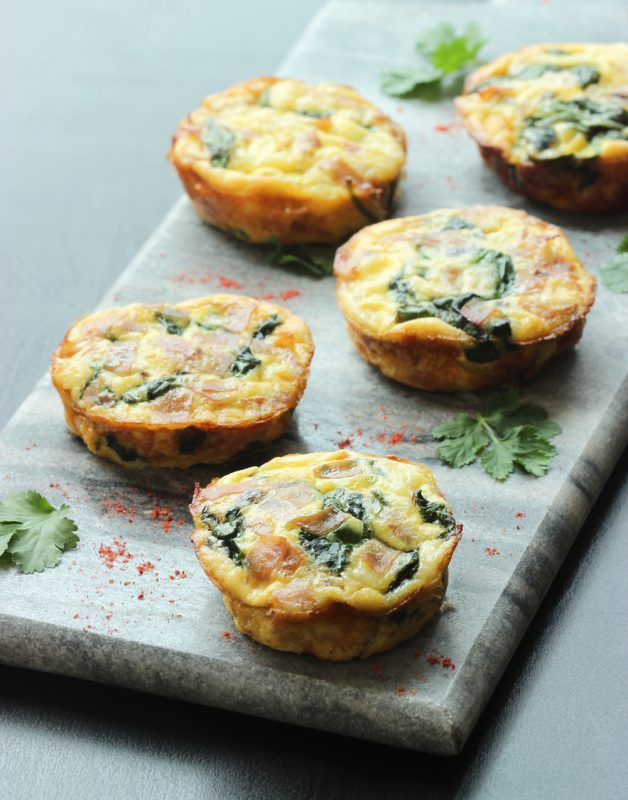 These simple savouries are a fantastic breakfast or brunch idea, but they're great anytime of the day.  You can serve them piping hot from the oven or at room temperature, making them perfect for picnics too!
Recipe
Spring Mini Frittata
Breakfast, brunch, lunch, snack or dinner, mini frittatas got your back - The perfect stress-free meal is easy, nutritious and ready in just minutes!
Ingredients
6

thin slices Parma ham

,

finely chopped

4

oz/125gr baby spinach leaves

6

eggs

4

tablespoon

grated parmesan cheese

3.5

oz/ 100gr ricotta cheese

,

well drained

2

spring onions

,

finely chopped

½

red onion

,

finely minced

1

tablespoon

fresh thyme leaves

a pinch of nutmeg

Extravirgin olive oil

salt and freshly cracked black pepper
Instructions
Heat a large skillet over med-low heat, with 1 tablespoon of olive oil. Fold in chopped red onion and spinach leaves.

Cook for about 3 min stirring occasionally. Add parma ham half-way through, and continue to cook until the spinach soften.

Season with salt, pepper and a pinch of nutmeg and allow to cool.

In a large bowl whisk together eggs, ricotta and parmesan cheese. Season with salt and pepper.

Fold the spinach and ham into the egg mixture and mix until combined. Finally mix in spring onion, thyme and season to taste.

Spray with oil a non-stick muffin tin. Divide the frittata mixture evenly, filling ⅔ of each mold.

Bake for 15 min or until crispy and golden on top.

Remove from the oven, allow to cool and serve immediately or at room temperature,

Store in an air-tight container in the fridge for up to 2 days.
The information shown is an estimate provided by an online nutrition calculator. It should not be considered a substitute for a professional nutritionist's advice.