Looking for easy vegan pasta recipes for a stress-free meal? These delicious recipes are made with simple everyday ingredients and taste incredible!
From traditional recipes to something a bit more creative, today I'm sharing with you the best vegan pasta recipes out there.
I mean, who doesn't love pasta? I'm pretty sure it's on everybody's favorite comfort food list!
So, if you're looking for a super easy vegan pasta dish to make for dinner tonight, you've come to the right place!
These 20 easy vegan pasta dishes are proof that you do not need dairy, meat or fish to make awesome pasta! Most are ready in 15 or 30 minutes and only require few simple ingredients.
If you're looking to spice up your pasta game and cook something different, give these pasta recipes a try!
Vegan Broccoli Pesto Pasta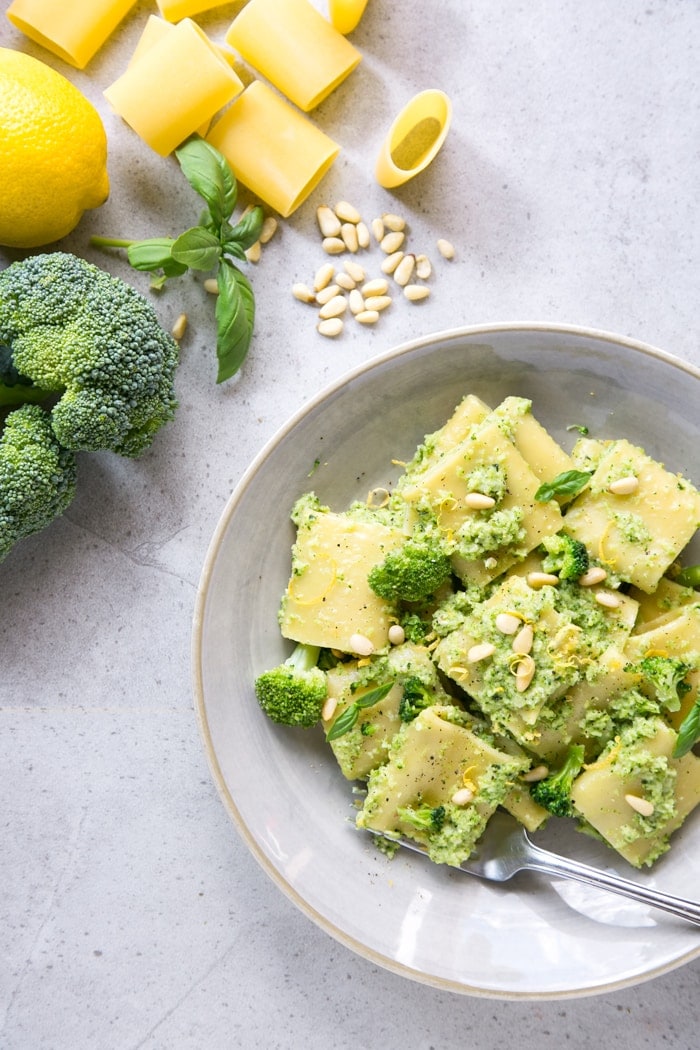 Perfect for busy nights, this broccoli pesto is probably the vegan pasta sauce recipe I make more often. It's deliciously creamy and the broccoli go almost undetected, perfect for picky eaters!
Vegan Pasta and Chickpeas
Pasta e ceci, aka pasta and chickpeas, is a traditional Italian dish full of flavour and ready in 20 minutes.
Pasta alla Norma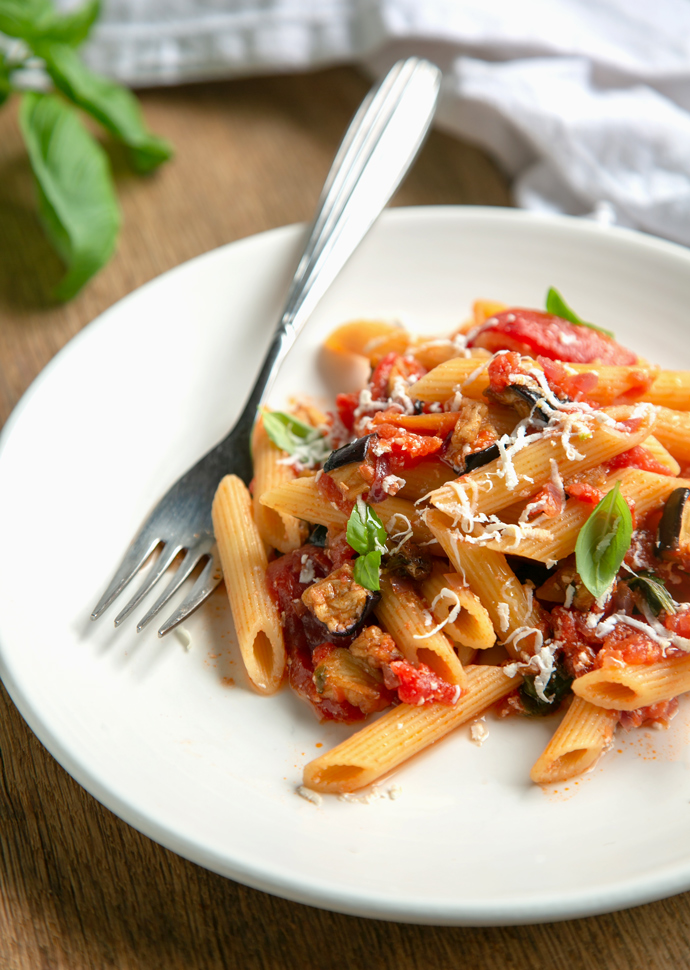 Traditional Sicilian pasta alla Norma is a beautifully simple 20-minute pasta dish that features crispy eggplant in a rich tomato sauce. Top with vegan ricotta to complete the dish.
Vegan Bolognese Sauce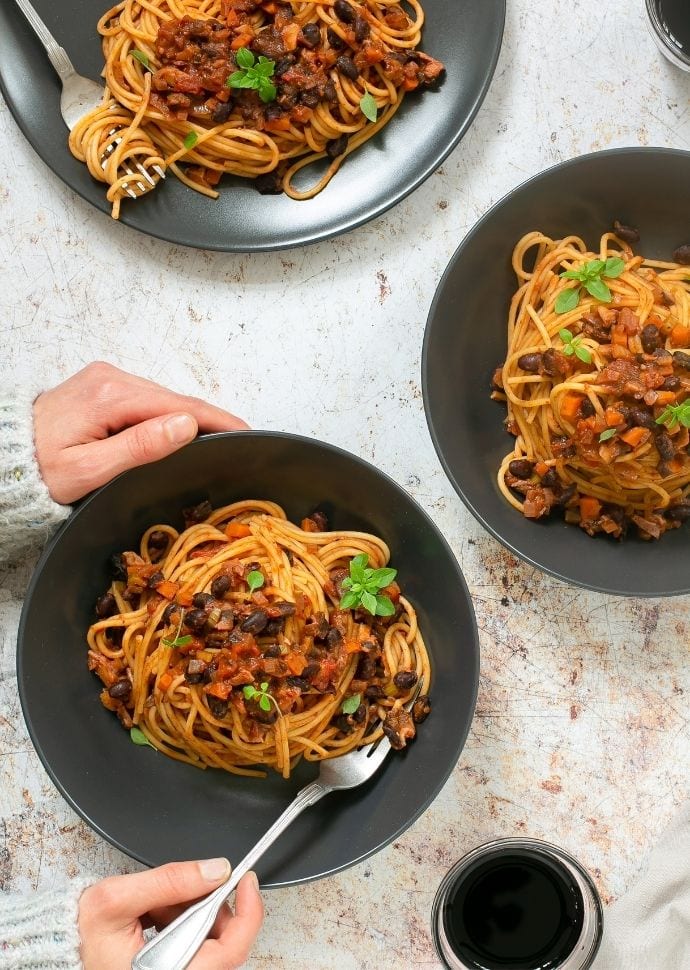 Hearty and filling, this Vegan Bolognese is made with beans, mushrooms, and a variety of veggies. Serve over your favorite pasta for a delicious and healthy meal the whole family will love!
Creamy Vegan Mushroom Pasta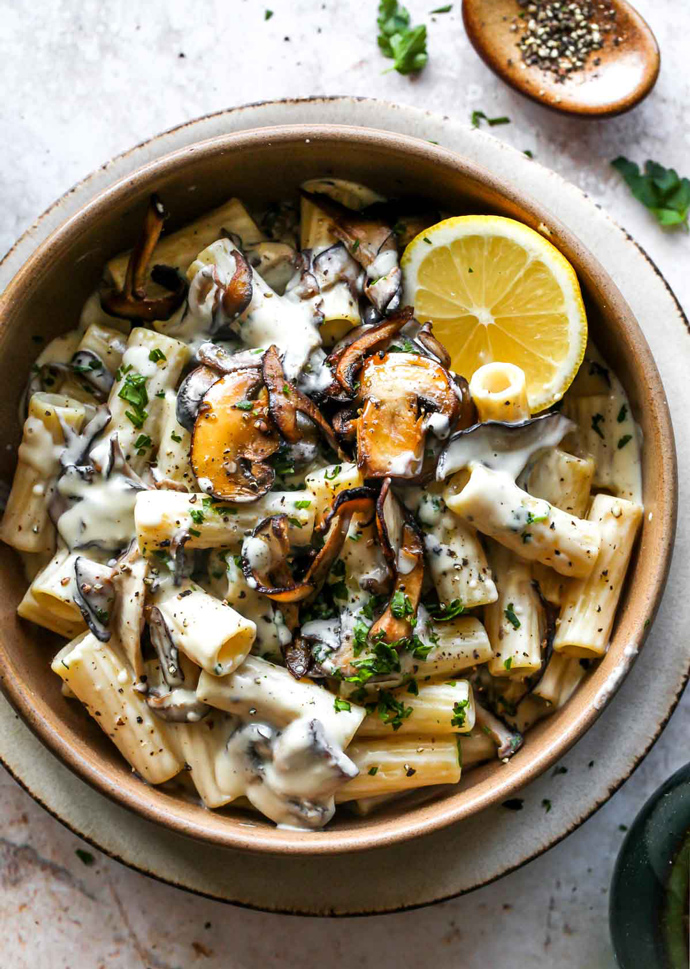 This creamy mushroom pasta is nutritious comfort food at its finest. Featuring a mix of mushrooms, garlic, and a luscious cashew-cream sauce, this vegan mushroom pasta has it all.
Vegan Ravioli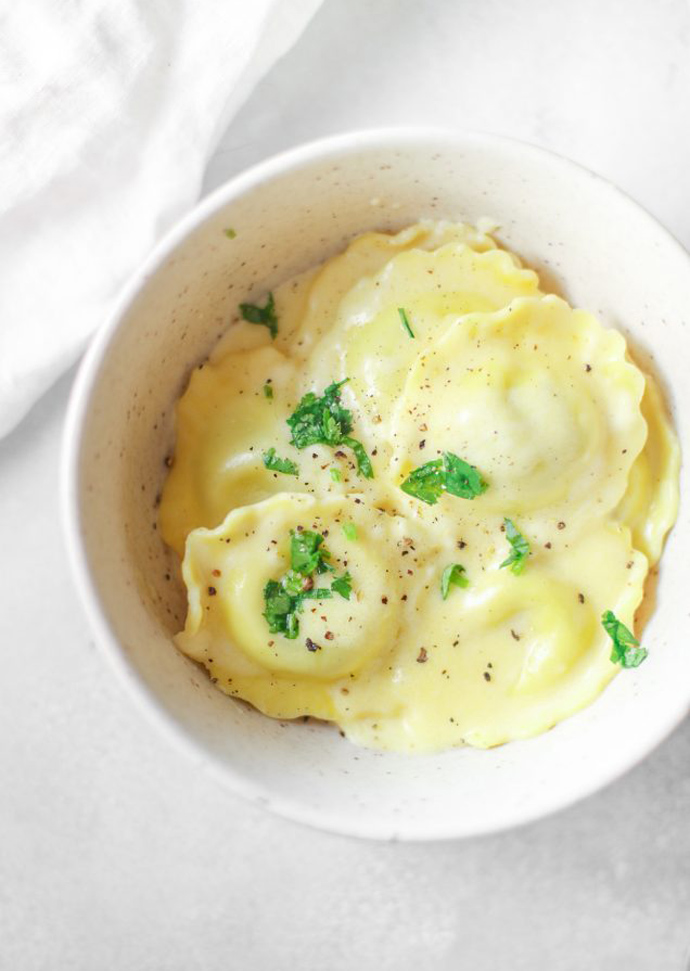 This vegan homemade ravioli recipe is stuffed with delicious vegan ricotta and topped with a creamy sauce. The best part is that you can easily customize them with your favourite filling!
Vegan Mac and Cheese
This vegan pumpkin mac and cheese is the perfect fall comfort food! Featuring a deliciously creamy sauce, your family will ask for this vegan pumpkin pasta again and again.
Vegan Lasagna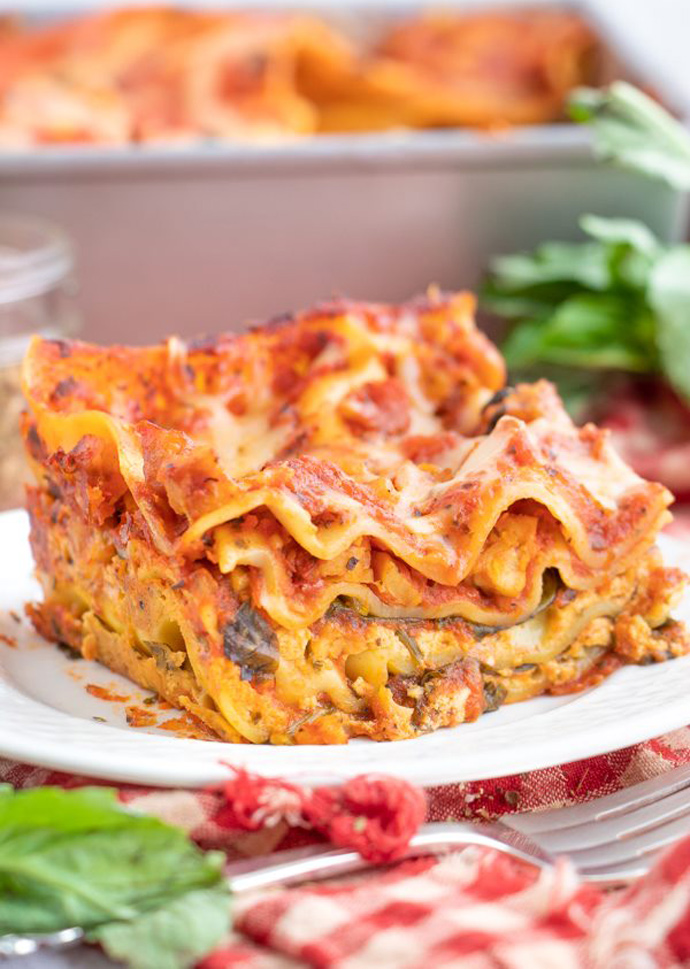 This delicious homemade vegan lasagna recipe is incredibly flavorful and easy to make! It's filled with a simple homemade ricotta, tempeh marinara sauce, spinach, fresh basil and dairy-free mozzarella.
Vegan Stuffed Shells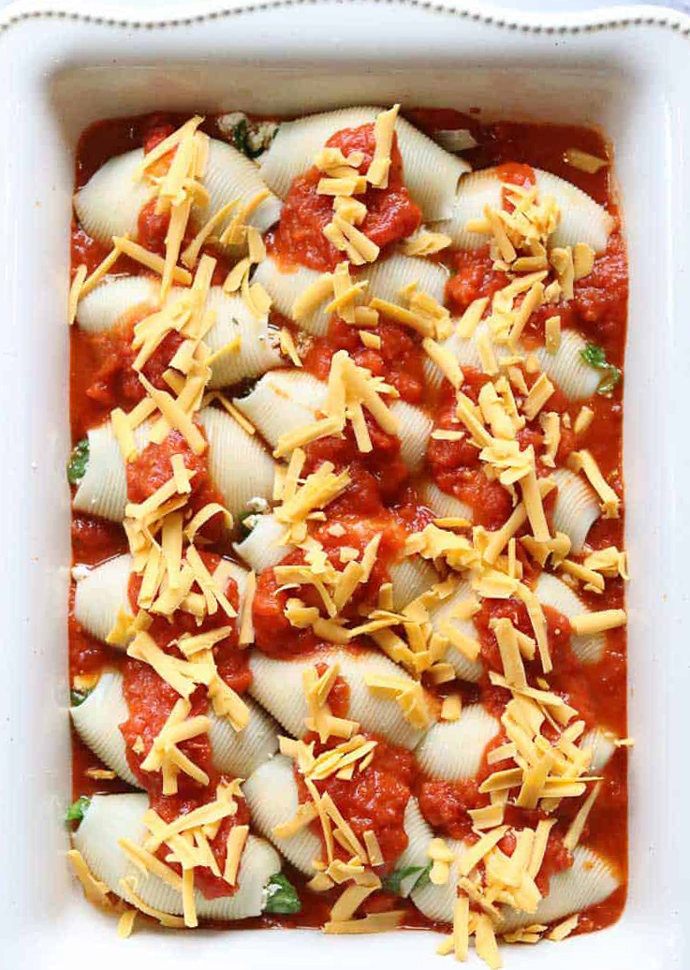 These amazing vegan stuffed shells are filled with tofu-ricotta, chopped spinach, sautéed veggies! Such a great idea for any special occasion!
Super Green Pasta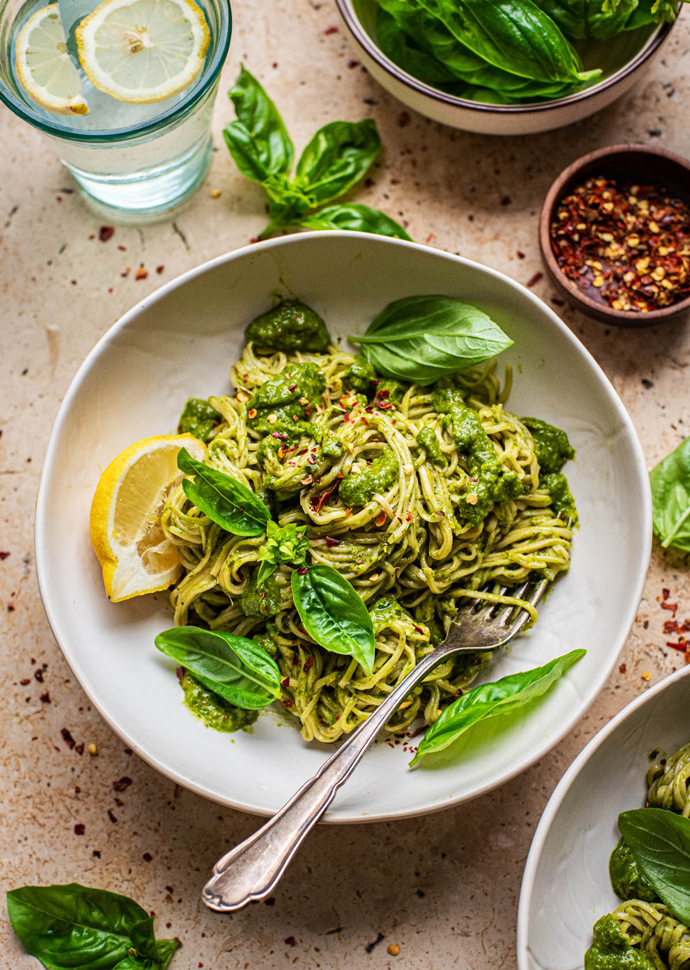 A speedy green pasta sauce featuring a mix of basil, leafy greens, and zucchini. Dinner is ready in the time it takes the pasta to cook!
Asparagus Pesto Pasta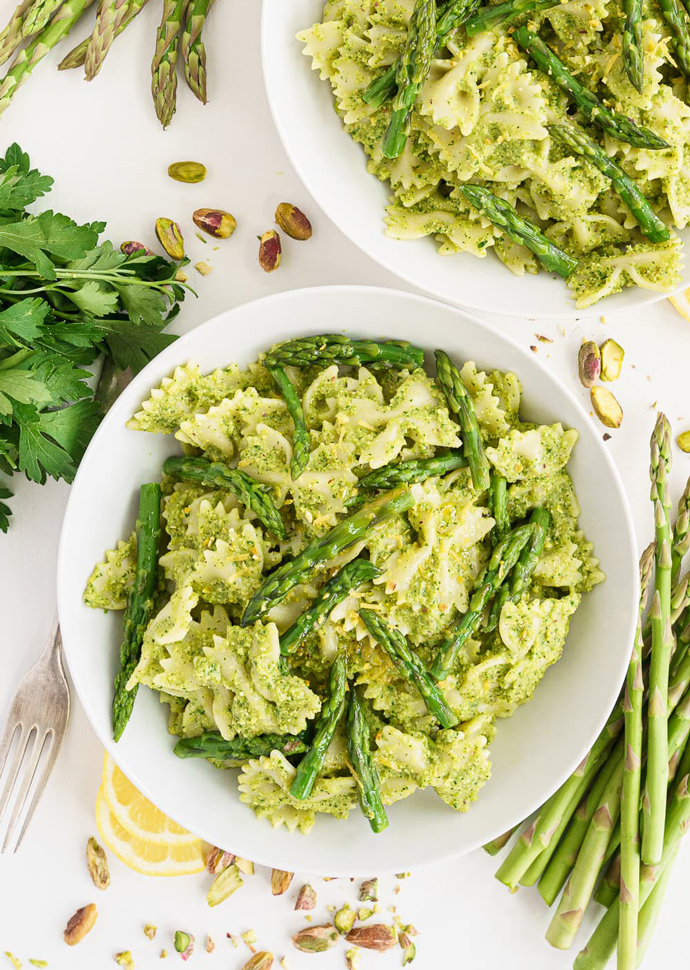 Made with fresh asparagus, pistachio nuts, parsley, and a hint of lemon, this quick and easy vegan asparagus pasta is going to become a new family favorite.
Creamy Avocado Pasta Sauce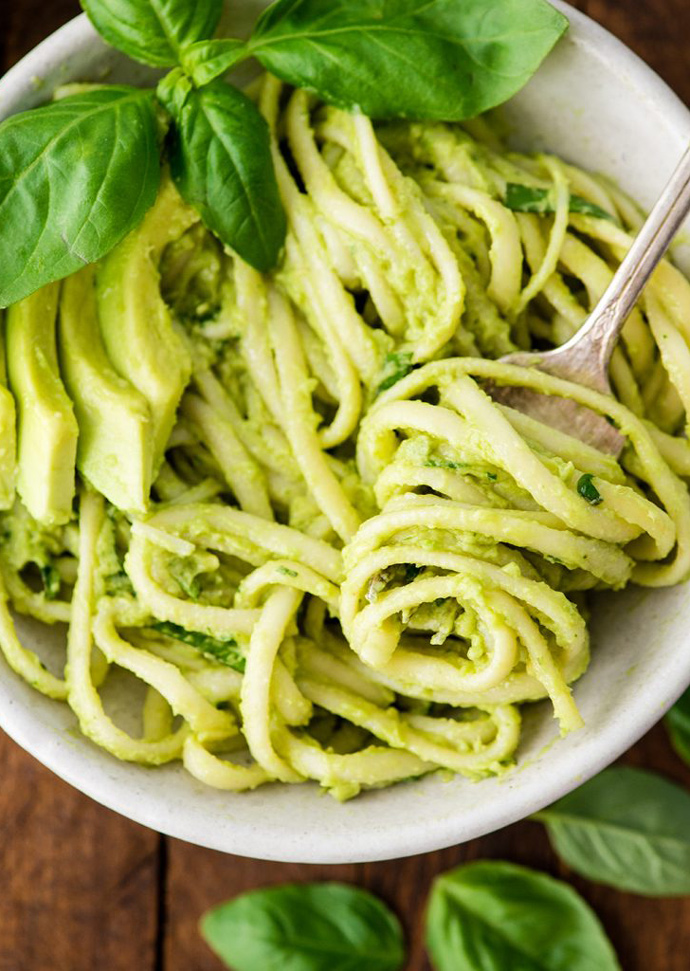 This easy, healthy and deliciously creamy vegan avocado pasta sauce recipe is made with 5 ingredients and is ready in under 5 minutes!
Vegan Bean Pesto Pasta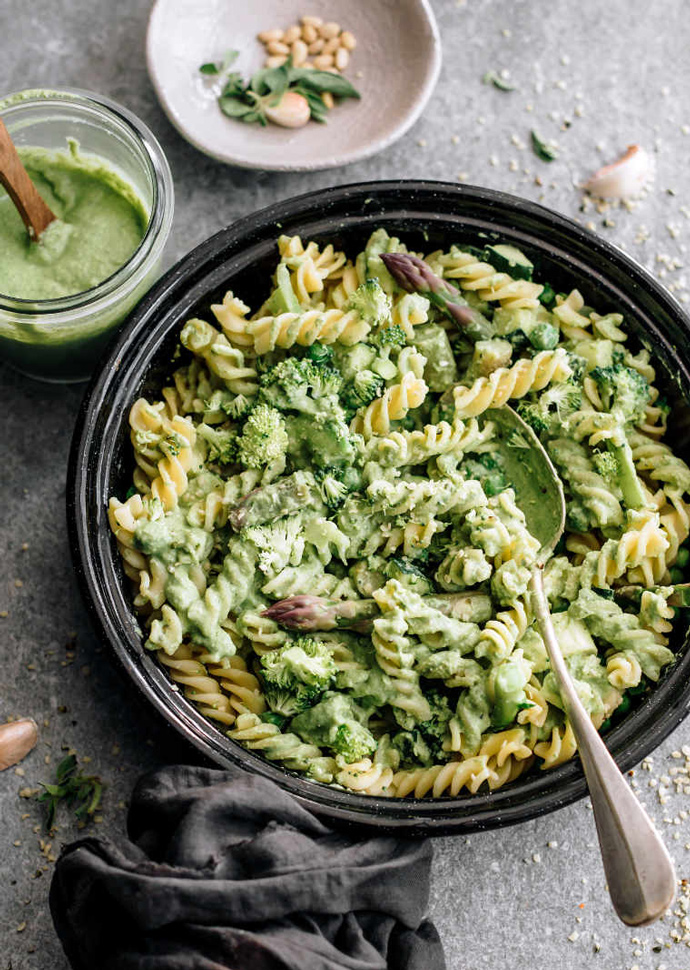 Smothered in creamy, protein-rich pesto sauce, this veggie-loaded 30-minute dinner will have your family licking their plates.
Vegan Pasta all'Arrabbiata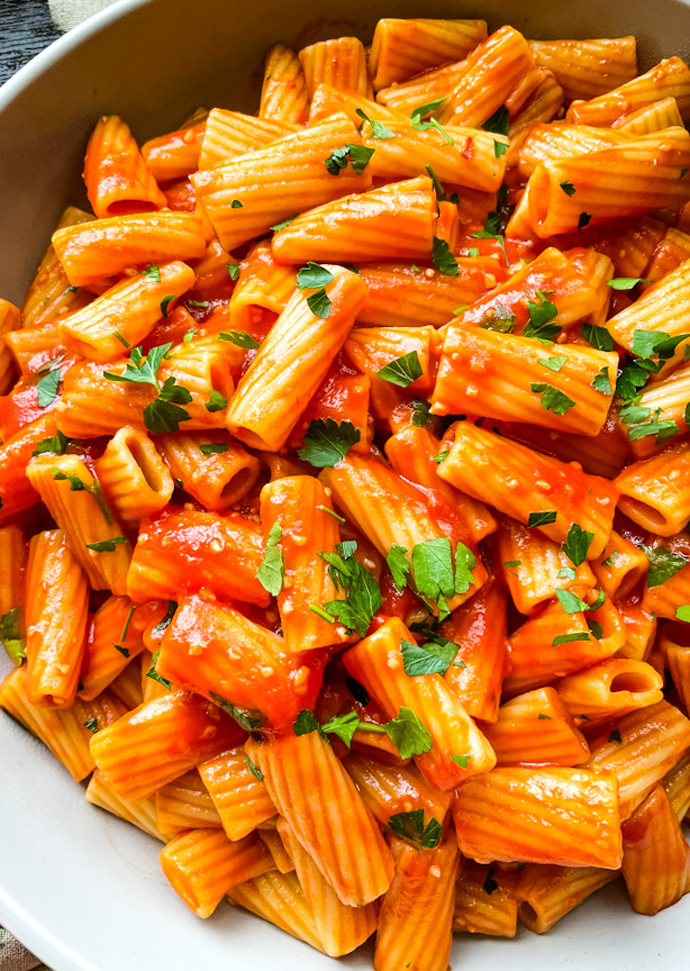 Known as "angry pasta" thanks to its spicy tomato sauce, pasta all' arrabbiata is a classic Italian dish ready in just about 20 minutes and loaded with flavour!
Vegan Caprese Pasta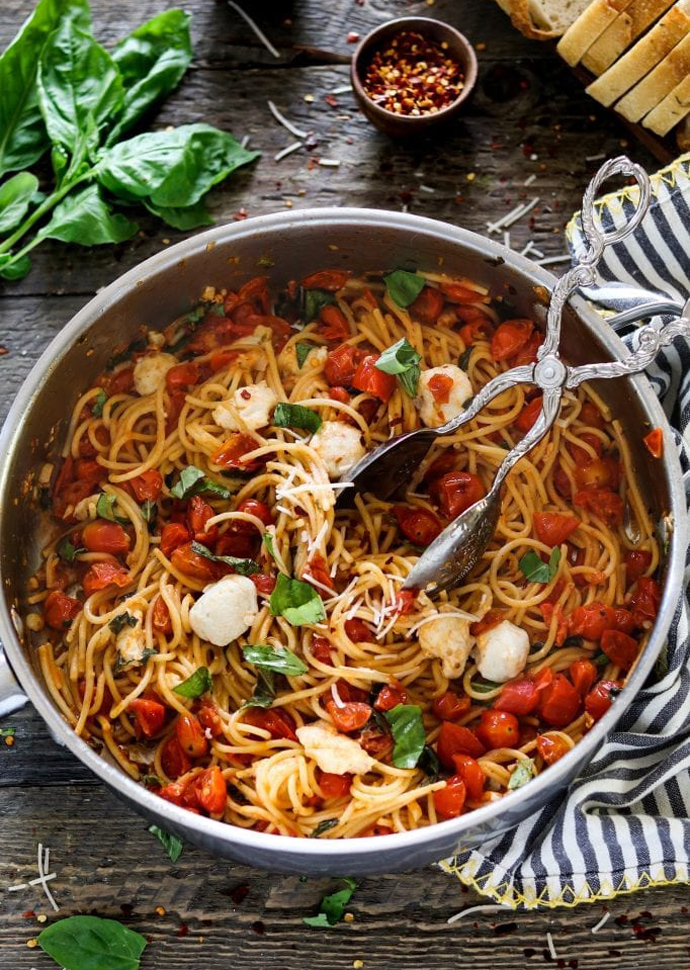 This vegan take on caprese pasta features vegan mozzarella, takes barely 30 minutes to make and it screams summer all over the place!
Vegan Carbonara
You'll love this easy vegan carbonara that's ready in just 15 minutes. Flavourful smoked tofu pieces and smooth silken tofu make this creamy sauce absolutely irresistible.
Vegan Butternut Squash Mac and Cheese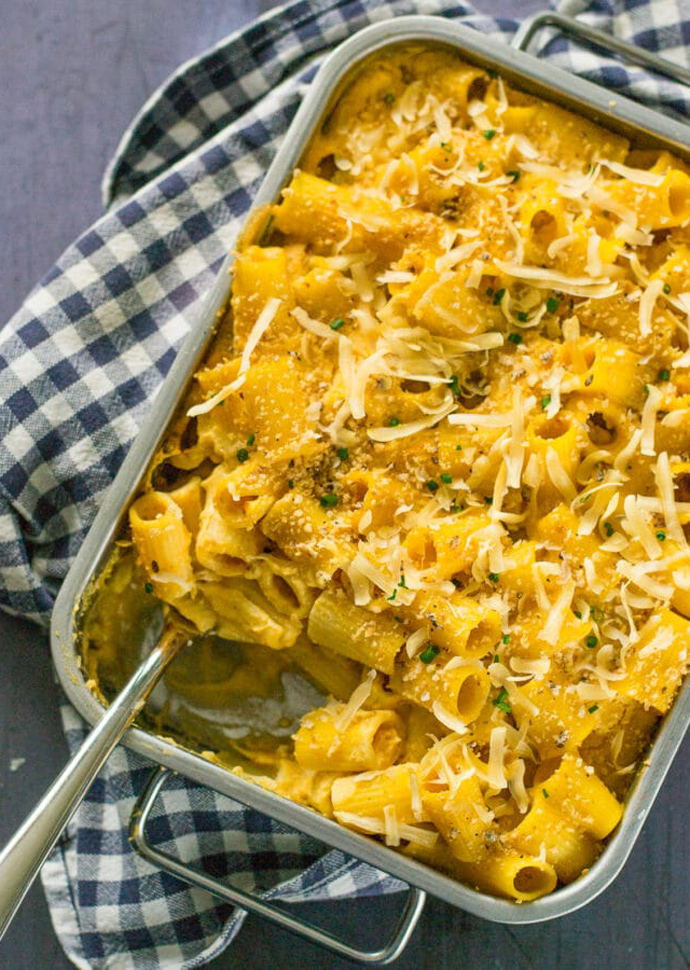 This creamy vegan pasta bake with 'hidden' squash is topped with crispy breadcrumbs and makes such a fantastic and comforting meal!
Spring Lemon Garlic Spaghetti With Asparagus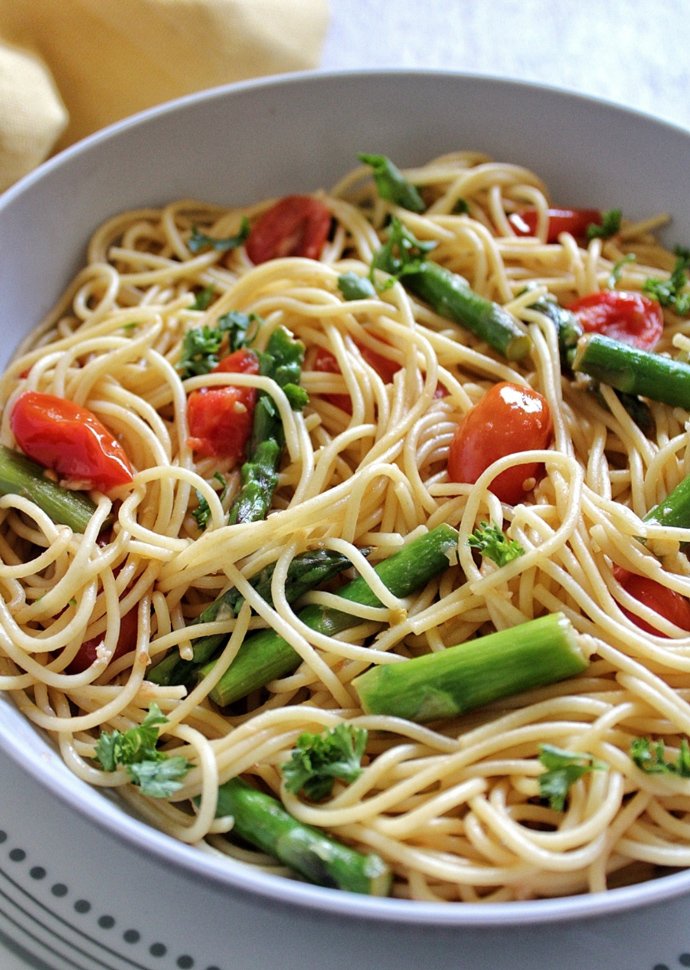 Load up your bowls with a spring-perfect spaghetti with asparagus. Made with just 10 ingredients and done in 15 minutes.
Roasted Veggies Pasta Salad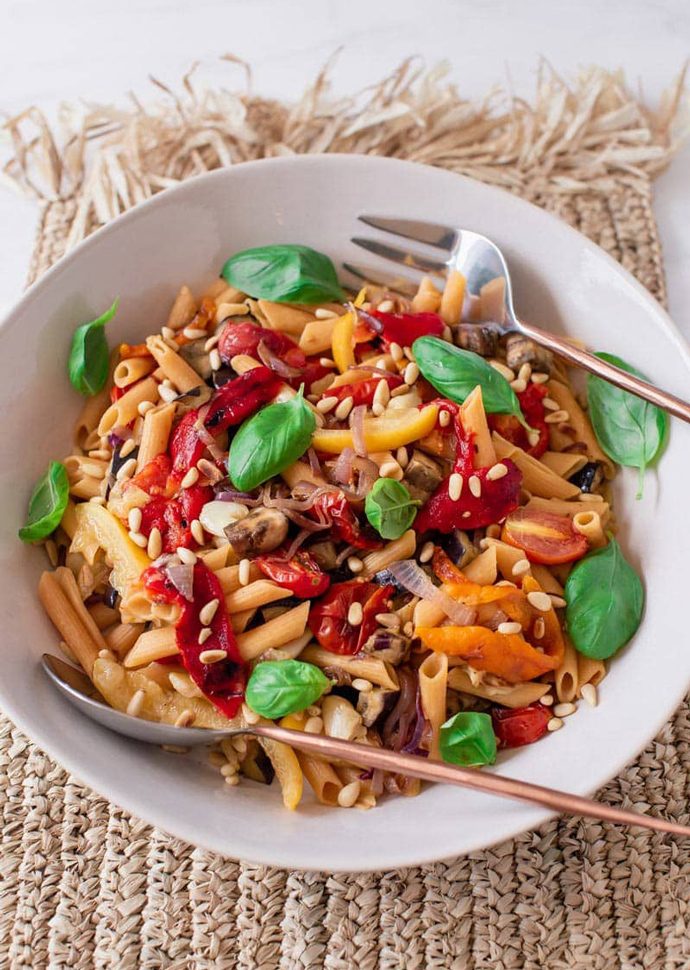 If you're looking for a delicious gluten-free pasta salad to feed a crowd then this Mediterranean-inspired dish is without a doubt one you need to try.
Vegan Macaroni Salad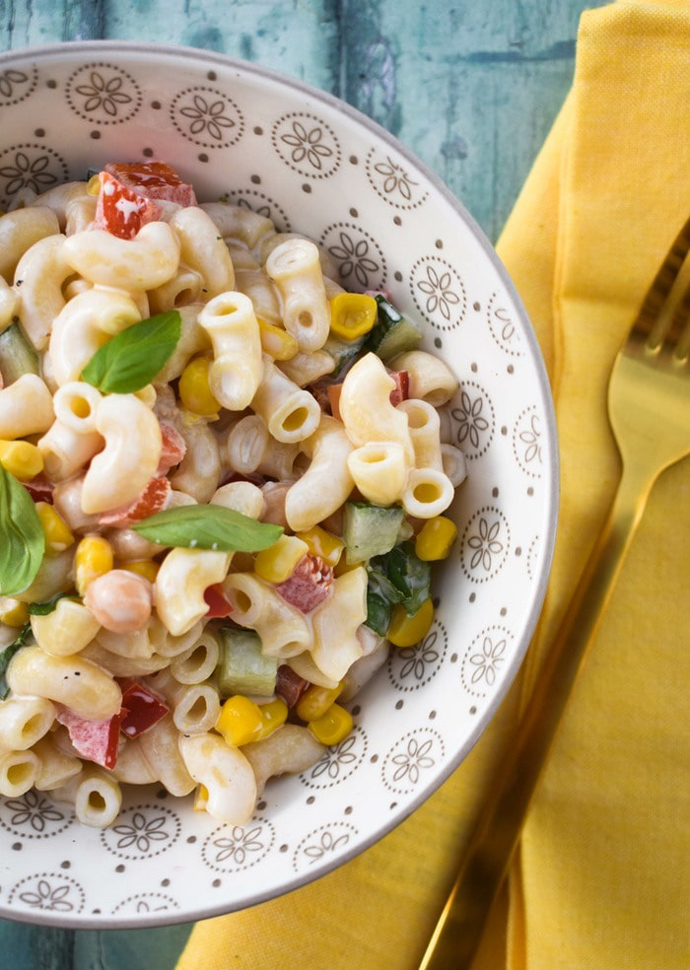 This quick and creamy macaroni salad is great for lunch boxes, picnics, BBQs and as a side salad.
Did You Make These Recipes?
Please let me know how you liked it! Leave a comment below and share a picture on Instagram tag @thepetitecook!
Looking at your pictures always makes me smile *and super hungry*!