These vegan bounty bars are gluten-free, super easy to make and require just 4 simple ingredients! Learn how to make them with just 10 minutes of prep!
If you're a coconut lover like me, you'll totally love these vegan bounty bars. These are possibly the BEST chocolate bars I have ever tasted.
And I'm pretty sure you're going to love them as much as I do.
This homemade version tastes A MILLION times better, and most importantly you know exactly what goes in it.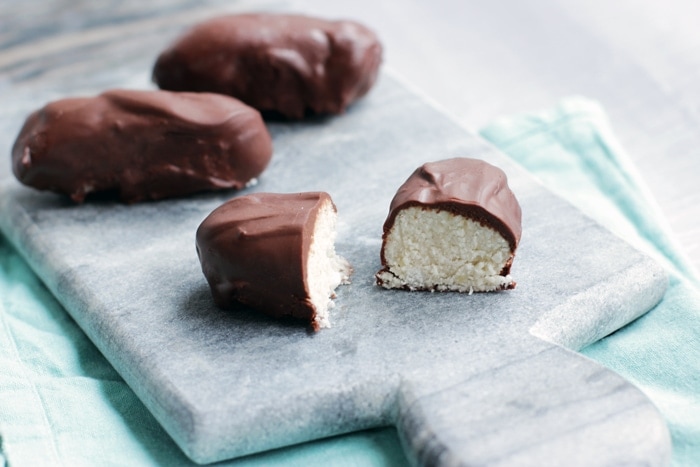 Here are a few reasons to love these homemade bounty bars. They're:
vegan
gluten-free
raw
ready in less than 30 minutes
4 ingredients required
INGREDIENTS & TIPS
All you need is 4 simple ingredients to make these awesome homemade coconut bars:
desiccated coconut
coconut milk
dark chocolate
maple syrup
Most recipes call for condensed milk or coconut butter, but you'll be amazed by the great results you get with organic coconut milk. And it also makes this recipe completely vegan.
Since there are only 4 ingredients needed to make these delicious vegan bounty bars, make sure you choose them correctly.
Coconut Milk: I use canned full-fat coconut milk.
You're going to need only the "fatty" part of the canned coconut milk (so make sure you don't shake the can before using it).
You can store the "watery" part for other uses (try adding it in smoothies, soups or curry!).
Many readers have asked if they can substitute coconut milk with coconut cream, and the answer is YES.
Once you remove the watery bit of the coconut milk can, the result is pretty thick and similar to coconut cream.
Desiccated Coconut: It's fresh coconut that has been shredded or flaked and dried.
I use desiccated coconut for making my homemade bounty bars.
But you can also use coconut flour if you like (but be aware, it will give you a coconut bar with a sandier texture).
Chocolate: The chocolate you choose is critical for the bars you'll get.
If you want bounty bars go for vegan oat milk chocolate, if you want mounds bars go for 70% dark chocolate.
You can use chocolate bars chopped into small chunks, or chocolate chips. I prefer to use the bars because you have more quality choices.
Maple Syrup: Organic maple syrup is my go-to choice to sweeten up my vegan bounty bars.
COCONUT BARS IN 4 STEPS
This recipe is a total breeze to make, just follow these simple steps: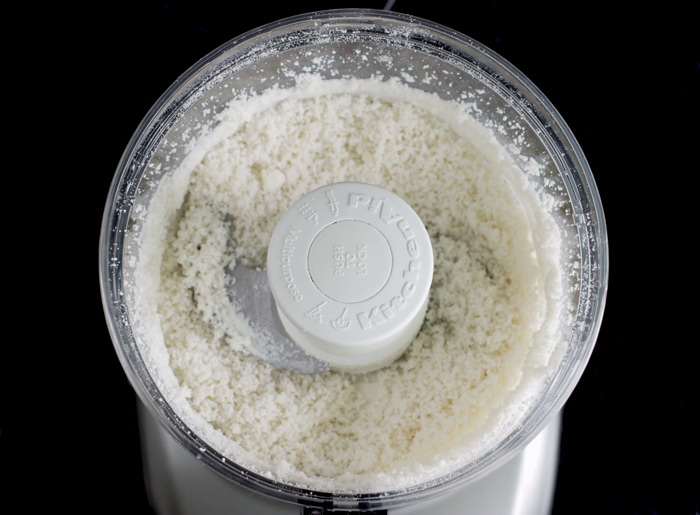 Step 1 – Place coconut, coconut milk, and maple syrup in your food processor, and mix for 30 seconds until combined.
Note: If you don't have a food processor simply put the ingredients in a bowl and mix with a spatula.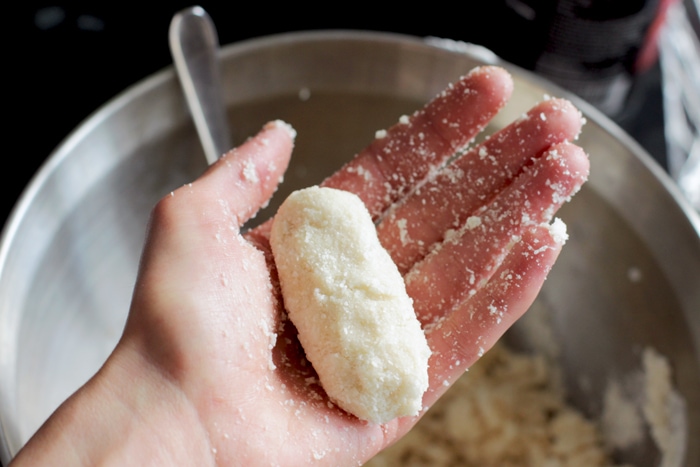 Step 2 - Shape small amounts of the coconut mixture into bars.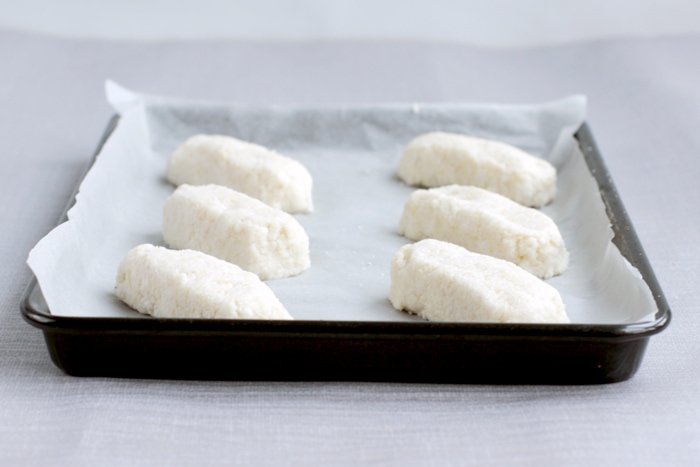 Step 3 - Arrange your coconut bars on a baking tray covered with parchment paper and let them rest in the fridge for 30 minutes.
You can also place them in the freezer for 15 minutes.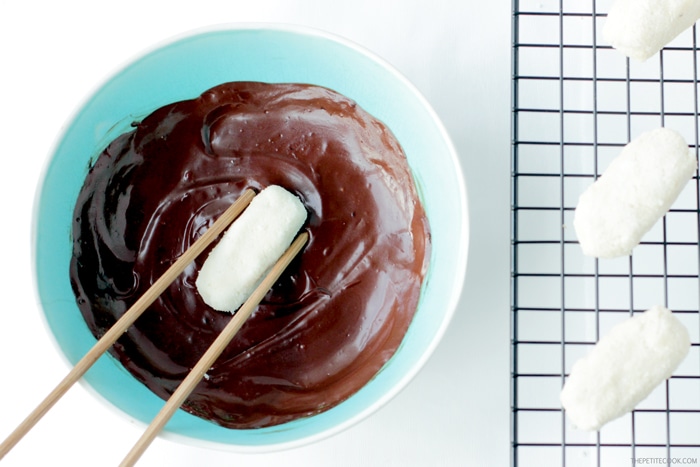 Step 4 - Melt the chocolate in a microwave or in a heat-proof bowl over a pan with boiling water ( this process is called a bain-marie).
Then arrange the bars on a wire rack and cover each one of them with melted chocolate.
Then dip each bar into a plate with more melted chocolate to cover their base.
Note: You can also simply dip each bar into the bowl with the melted chocolate, with the help of chopsticks.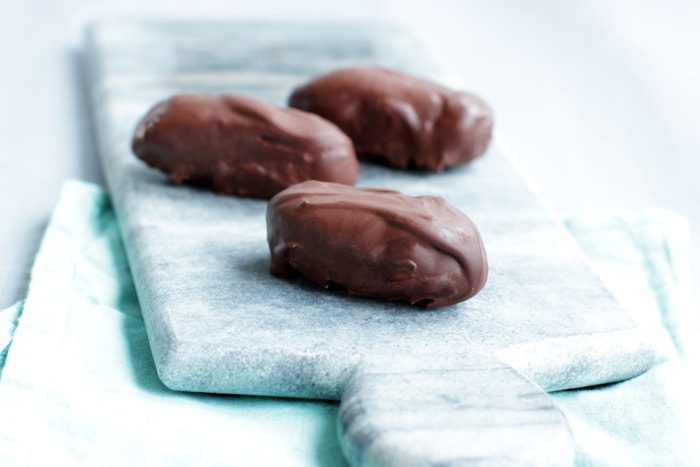 Step 5 - Allow your vegan bounty bars to set for about 15 minutes in the fridge. Then they're all ready to be devoured!
HOW TO STORE HOMEMADE CHOCOLATE BARS
Store your coconut bars in an air-tight container in the fridge for up to 3 days.
You can also arrange them on a tray covered with parchment paper, and arrange in the freezer for 30 minutes, then store them in a freezer-friendly bag for up to 1 month.
Let them thaw for about 2 hours in the refrigerator before serving.
MORE VEGAN DESSERTS TO TRY
DID YOU MAKE THIS RECIPE?
Please let me know how you liked it! Leave a comment below and share a picture on Instagram with the hashtag #thepetitecook!
Looking at your pictures always makes me smile *and super hungry*!
Recipe
Vegan Bounty Bars - Just 4 Ingredients!
These vegan bounty bars are gluten-free, super easy to make and require just 4 simple ingredients! Learn how to make them with just 10 minutes of prep!
Ingredients
7

oz

desiccated shredded coconut

,

(200 gr)

¾

can

full-fat coconut milk

,

(discard the watery part)

2

tablespoon

maple syrup

7

oz

70% organic dark chocolate or vegan milk chocolate

,

(200 gr)
Instructions
In a food processor add desiccated coconut, coconut milk and maple syrup.

Mix for 30 seconds or until combined, scraping down the mixture with a spatula if necessary.

Shape the mixture into small logs and arrange them on a baking tray covered with parchment. Refrigerate for 1 hour in the fridge, or in the freezer for 10-15 min.

In the meantime melt the chocolate in the microwave, or in a heat-proof bowl over a pan filled with simmering water. Once melted allow to cool slightly.

Dip each bounty bar into melted chocolate and arrange on a cooling rack.

Make sure you put some parchment paper beneath the rack to catch the chocolate in excess.

Allow your bounty bars to set then serve.

Store in the fridge for up to 5 days.
Notes
You will only need the solid part of the coconut milk, so DO NOT SHAKE the can before opening, then discard the water and use the solid creamy coconut milk at the base.
Nutrition
Calories:
225
kcal
|
Carbohydrates:
20
g
|
Protein:
4
g
|
Fat:
14
g
|
Saturated Fat:
11
g
|
Cholesterol:
1
mg
|
Sodium:
42
mg
|
Potassium:
178
mg
|
Fiber:
8
g
|
Sugar:
7
g
|
Vitamin A:
6
IU
|
Vitamin C:
1
mg
|
Calcium:
20
mg
|
Iron:
3
mg
The information shown is an estimate provided by an online nutrition calculator. It should not be considered a substitute for a professional nutritionist's advice.