Duchess potatoes look fancy, but they are incredibly easy to make. Perfect to entertain guests, these pretty bites will be a huge hit at your next dinner party!
These easy duchess potatoes take less than 30 mins to make from start to finish. Best of all, you only need 3 main ingredients: cooked potatoes, free-range eggs and extra virgin olive oil.
As you know already, I'm dairy intolerant, so I made sure these were 100% dairy-free (they're also naturally gluten-free). You may, of course, follow the traditional route and use butter and cream, but I find that extra virgin olive oil gives a nice light and aromatic flavor, and it's much healthier for you. For best results, use Ratte, Desiree or Maris Piper potatoes, which will give to these bites a wonderful melt-in-your-mouth fluffly texture.
Making this recipe is a total breeze, all you have to do is follow 3 simple steps. It's so quick and fun to prepare you may even ask your kids to help you out in the process.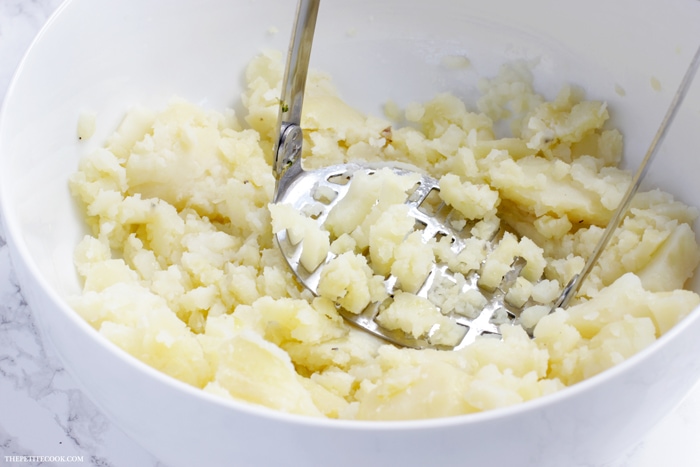 Start by warming up your cooked potatoes, then transfer into a bowl and mash with a potato masher until very smooth. Whilst potatoes are still warm, mix in the rest of the ingredients and pile the mixture into a piping bag.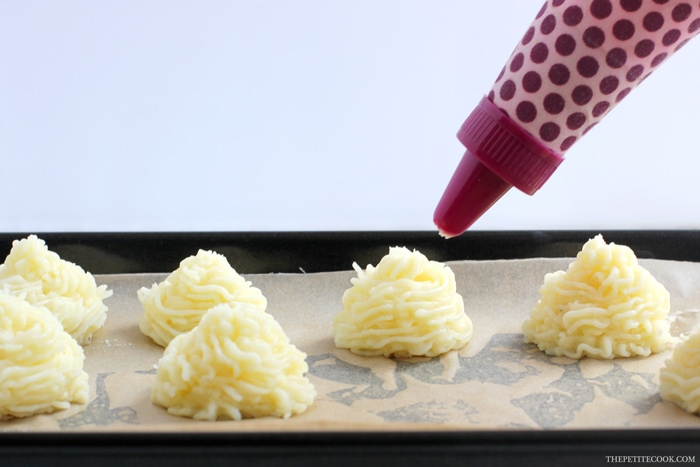 Pipe the mixture into rosettes or any shape you like onto a baking sheet. Brush lightly with egg-wash and bake until golden and crisp.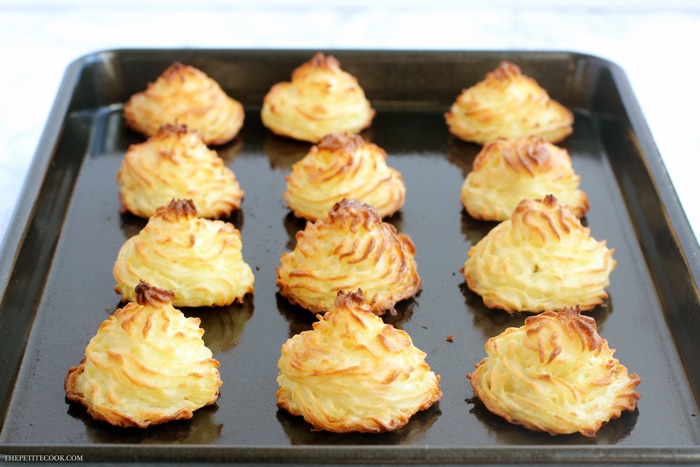 There you go, with no effort at all you'll have an elegant potato side dish/appetizer for your next party, or any other special occasion.
Here's a few reasons why I love these duchess potatoes so much, and I'm sure you will too:
They're the cutest potatoes ever
They're so easy to make you won't even believe it
They can be made up a day in advance and baked when you're ready to serve them
They're allergy-friendly and great to entertain both kids & grown-ups
I like to serve these pretty duchess potatoes on their own as happy hour snack, or as a side to meaty mains such as this crazy good turkey roulade. Simply serve them as you like, they're delicious and totally addicting!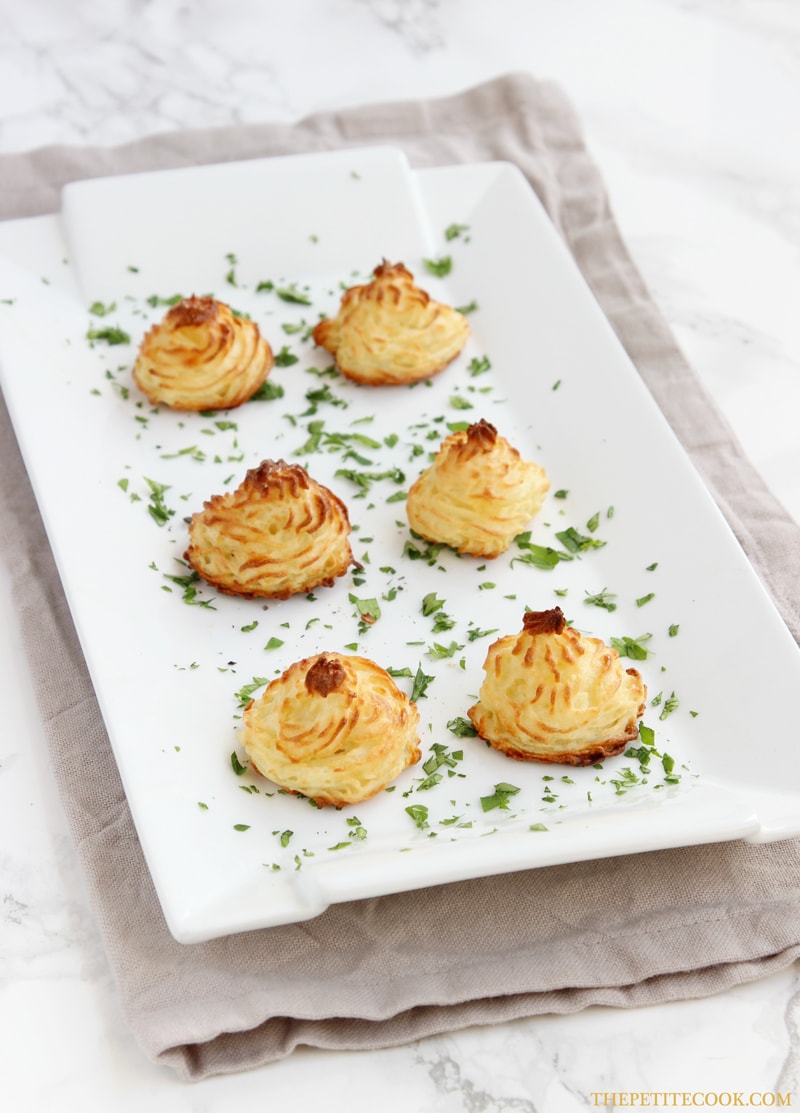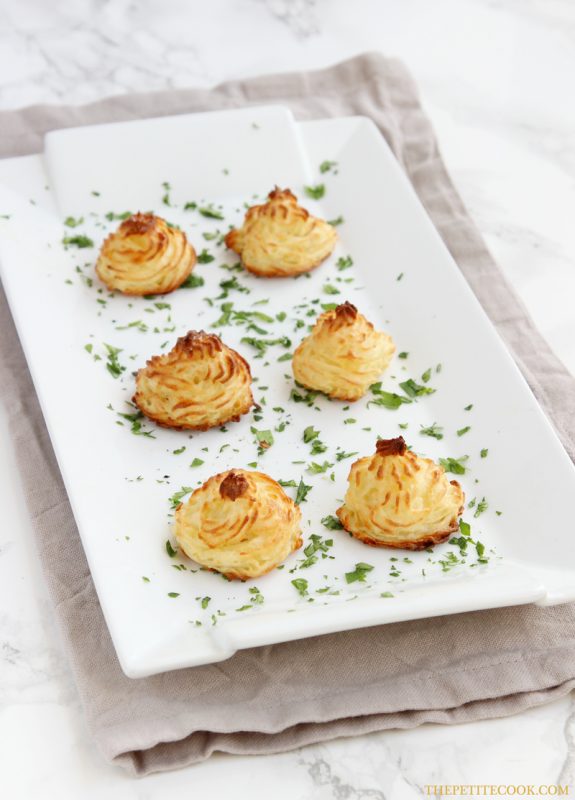 Duchess Potatoes
Duchess potatoes look fancy, but they are incredibly easy to make. For these dairy-free duchess potatoes all you need is 3 ingredients and they're ready in less than 30 mins!
Recipe type:
Snack, Appetizer
Ingredients
500gr peeled and steamed/cooked potatoes
2 free-range egg yolks
4 tbsp extravirgin olive oil
salt and pepper to taste
1 free-range egg yolk, beaten with 1 tbsp of water
a bunch of fresh parsley, chopped, to decorate
Instructions
Preheat the oven to 200C/ 400°F. Line a baking sheet with parchment paper.
Warm up your cooked potatoes then transfer into a large bowl. Mash with a masher until smooth.
Add in extra virgin olive oil, eggs salt and pepper to taste and mix until combined. Pour in 1 tbsp of water if the mixture is too dense.
Put the mashed potatoes mixture in a pastry bag fitted with a large star tip. Pipe into small rosettes or any shape you like onto the baking sheet.
Allow the piped potatoes to cool a little then lightly brush with the egg wash.
Bake for 10-15 mins or until golden-brown and crispy.
Remove from the oven, sprinkle with extra pepper and chopped parsley, then serve.

I hope you guys give these cuties a try! If you're looking for more party recipes, I've got plenty over here!

If you recreate one of my recipes, please let me know how you liked them by leaving a comment :). Or even better, take a picture, tag it #thepetitecook and share it on Instagram! Looking at your yummy creations always makes my day!