I had no idea what Bagels were until a few years ago, when I first went to London.
I arrived at Victoria Station at around 6 am, sleepy and tired. A mouthwatering smell invested me like I was in a gourmet shopping center. There all begun. There, I found out about bagels.
In front of me a bagels deli: thousands of bagels, millions of flavors.
I went closer, and closer, so closer my nose was rudely touching the display window, and my mouth was already generously drawling. All I could think, all I could dream about was… BAGELS.
All the years I've been living in London, I could not spend 48h without a bagel: plain, sweet, filled.
It took me about 8 years to realize I could replicate the bagels magic at home, and they're part of my weekly routine now.
These easy and quick bagels are a great bread substitute, they're funny to make and come on, it's super satisfying to make your own's rather than buying them!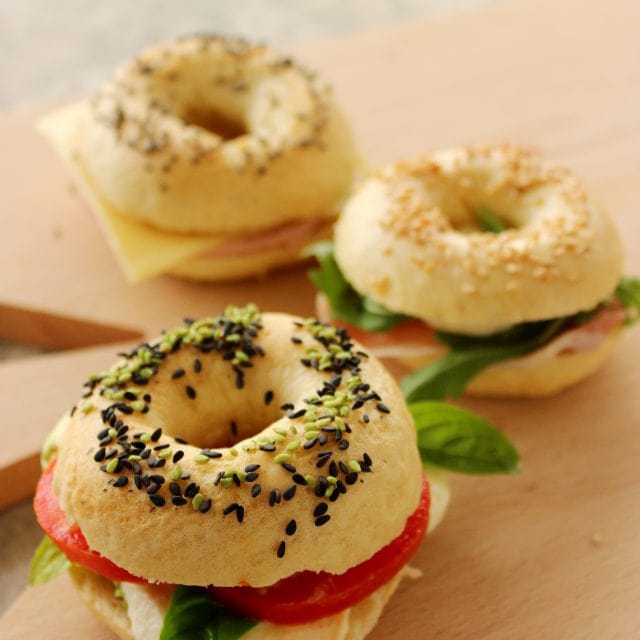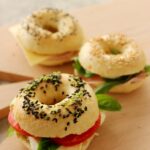 Print Recipe
Homemade Mini Bagels
Ingredients
All purpose flour 8.8oz/ 2cups

Lukewarm water 5.6 fl oz

Extravirgin olive oil 1 tsp

dry yeast 1 tsp

salt 1 tsp

sesame seeds

white, black, green or poppy seeds to taste

Fillings of your choice to serve
Instructions
In a large bowl, mix flour and salt together. Make a hole in the middle and pour in the water and olive oil, and sprinkle the dry yeast on top. Cover with a clean cloth and rest for 10mins.

Start kneading your dough in the bowl, then tranfer into a flour dusted surface and knead until you have an elastic smooth dough. Transfer back into the bowl, cover with the cloth and rest for 60mins.

When the dough has doubled in volume (will take 60-90mins), shape into small equally sized balls. Meanwhile, bring a pot of lightly salted water to a boil.

Punch each ball with your index finger to form the holes. Meanwhile preheat the oven to 400F.

When the water is boiling, reduce the heat and let simmer. Carefully fold in the bagels and allow to cook until they rise up to the surface. Remove with a slotted spoon and sprinkle with sesame seeds.

Transfer the bagels on a baking tray and bake for about 10-15 mins o until golden. Allow to cool a bit, then cut in halves and fill with everything you like.
Notes
Makes 14 small bagels or 7 regular.