Packed with loads of fresh veggies, these Quinoa Muffins are completely gluten-free and make a well-balanced quick breakfast on the go!
These quinoa muffins combine the ingredients that I love the most, together with tons of nutritional value, thanks to the amazing combo of quinoa + veggies + eggs.
Quinoa has become a huge trend in the last few years, becoming one of the most famous superfood out there, mostly because of all the great nutritional properties it has.
The list of healthy goodness quinoa is filled with includes:
It's one of the most protein-rich foods you can eat.
It's packed with fiber, which help us digest.
it's a great source of manganese, a powerful antioxidant which helps protect our blood cells from free radicals.
It's high on magnesium and iron, both fundamental for our bodies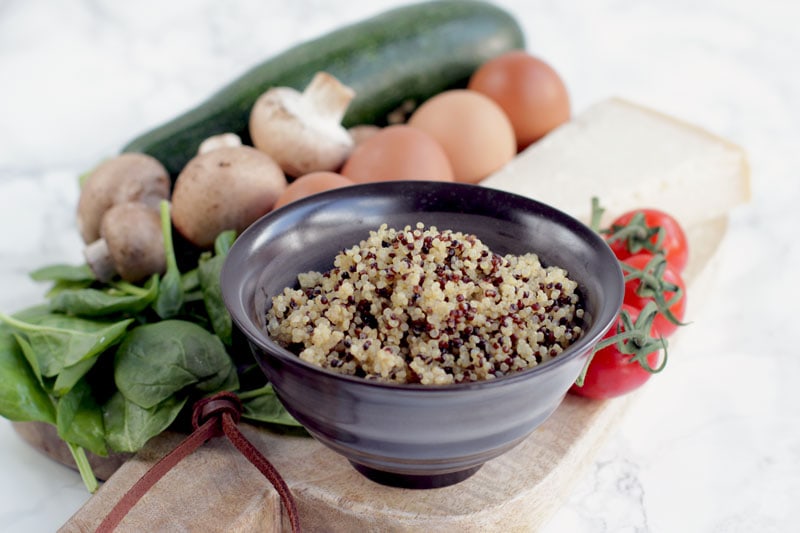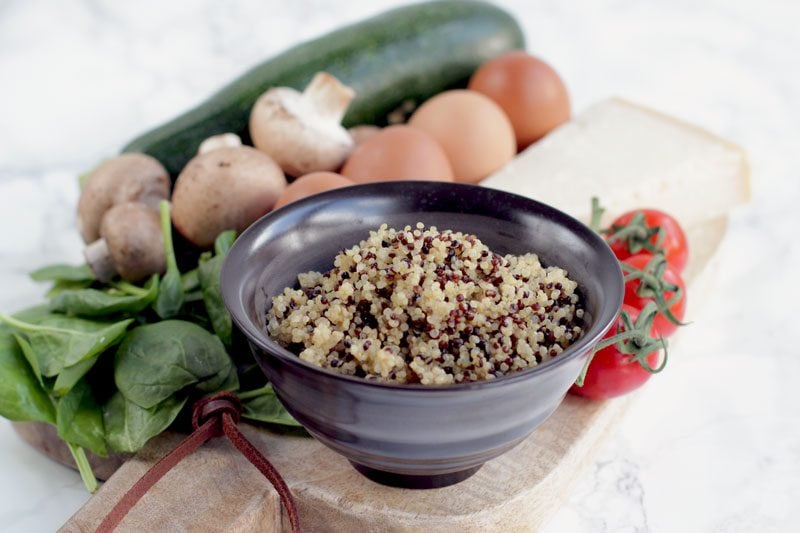 Quinoa also comes in different varieties, the seeds range in color from black to red, gray, pink, yellow, purple and even green or orange.
I used a mix of ivory, red and black quinoa, to add a little more colour and extra nutrients ( red quinoa, for instance, contains more protein and iron).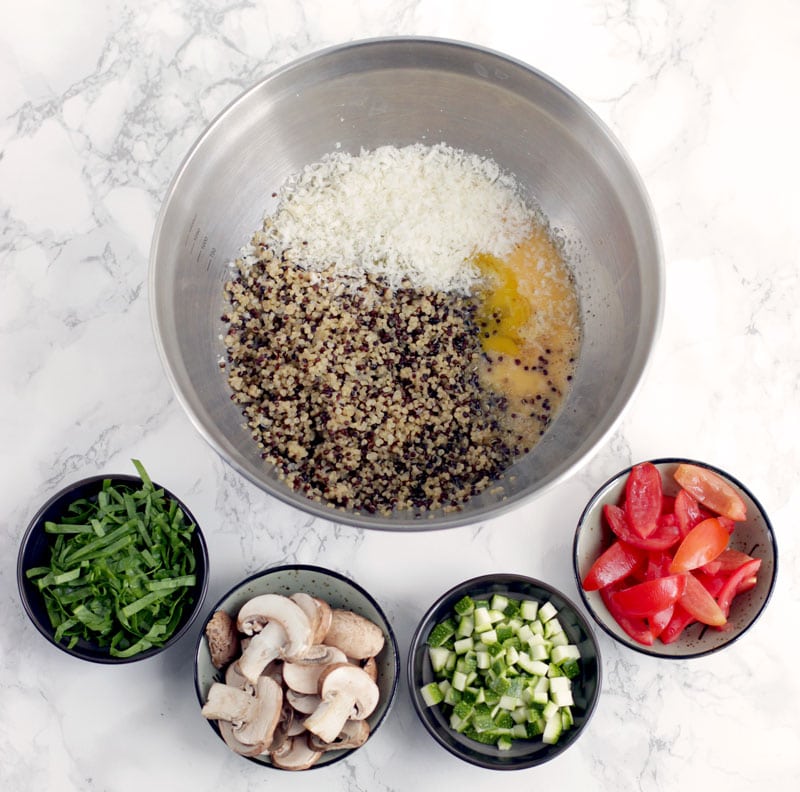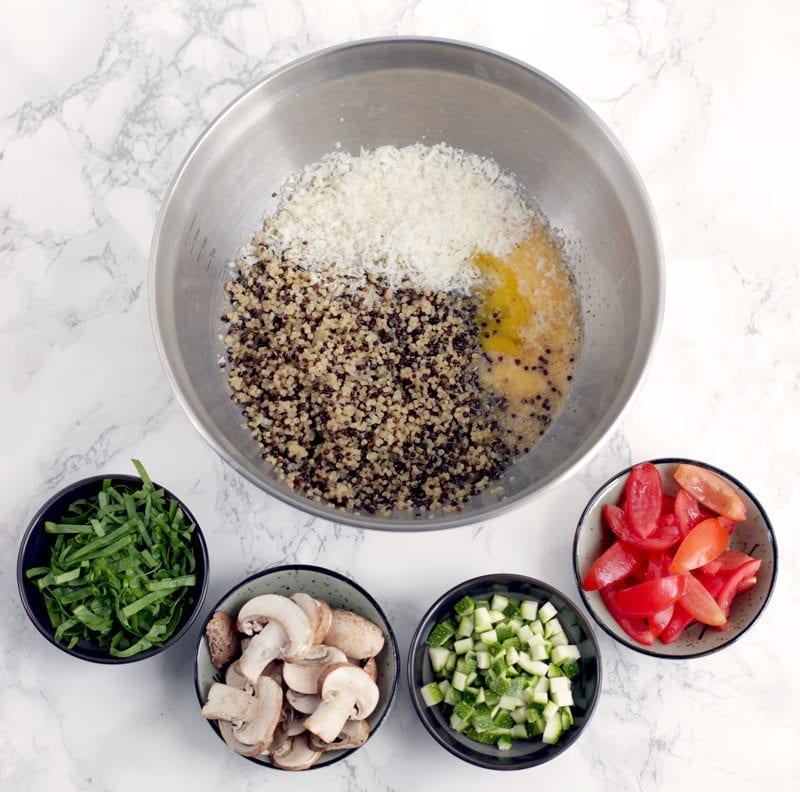 The best bit about these quinoa muffins is that all you need is one bowl and a bunch of fresh ingredients.
In less than 15 minutes you'll be all ready to start the day with a nutritious breakfast!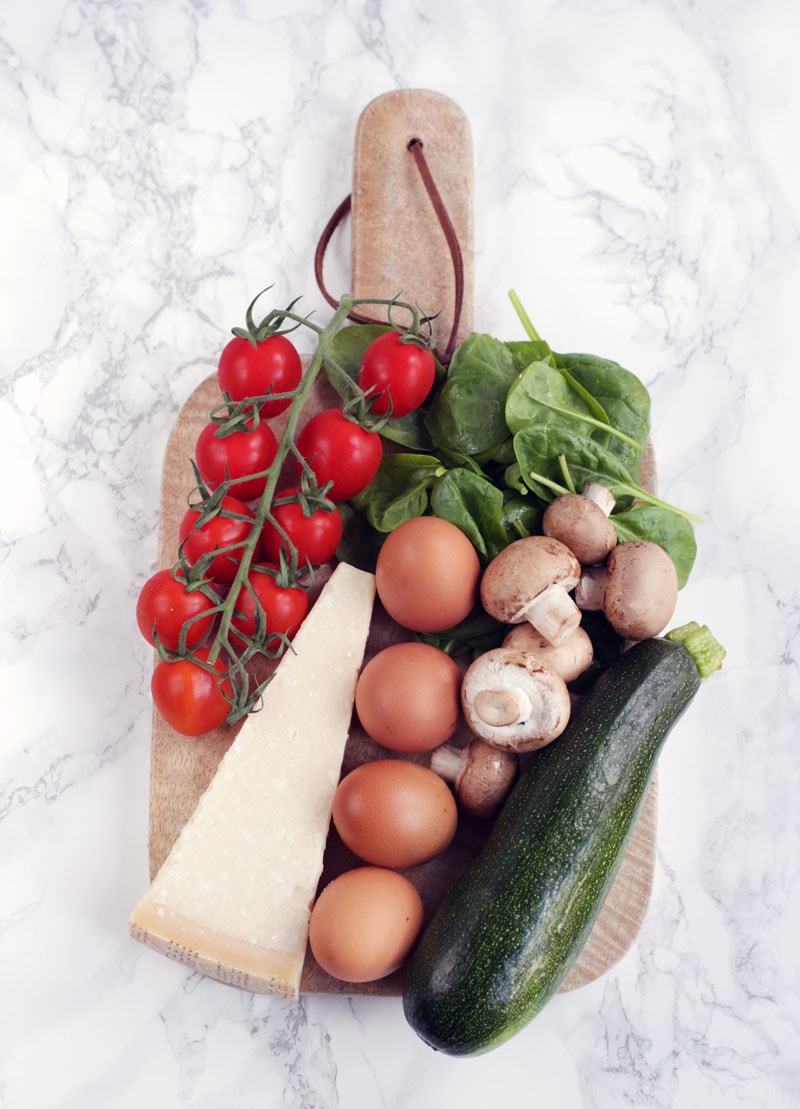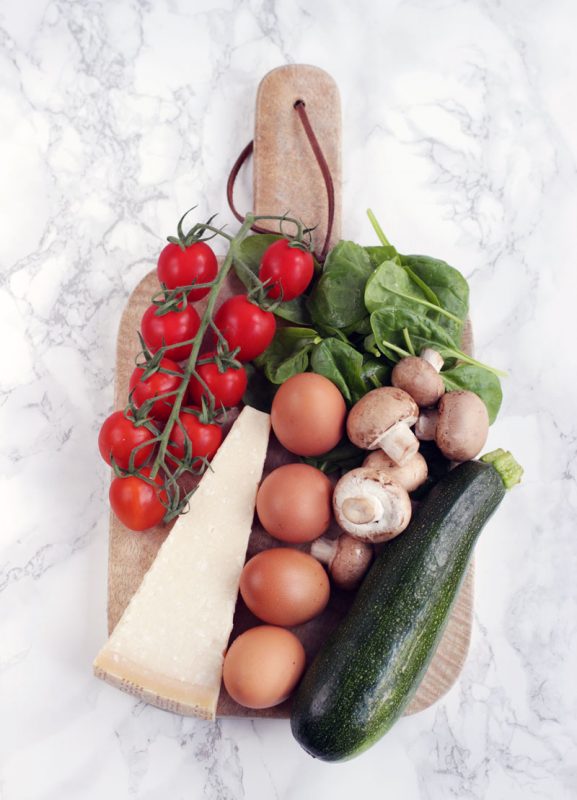 As always, this recipe is crazy easy requiring just 7 ingredients, and a simple method.
You can substitute parmesan cheese (high on protein) with your favourite cheese or use a vegan alternative if you prefer.
I've also added mushrooms, zucchini, cherry tomatoes and a bunch of spinach leaves, simple and easy to find vegetables that you can use individually or all together.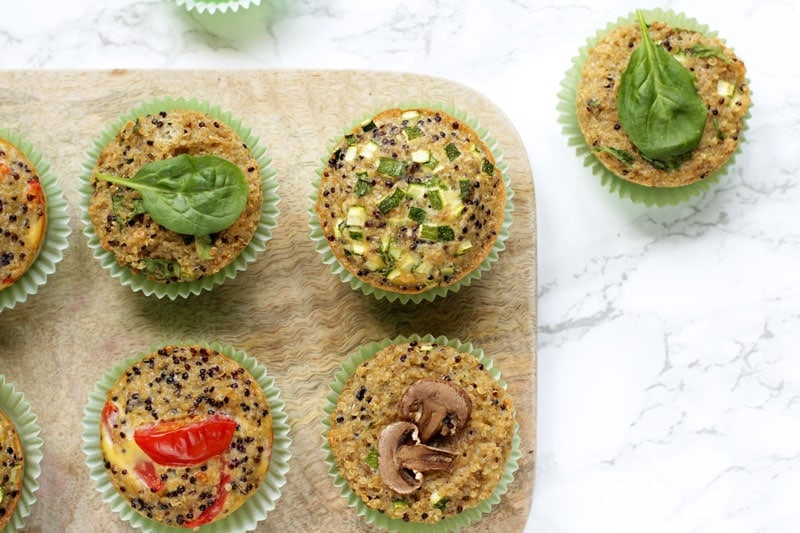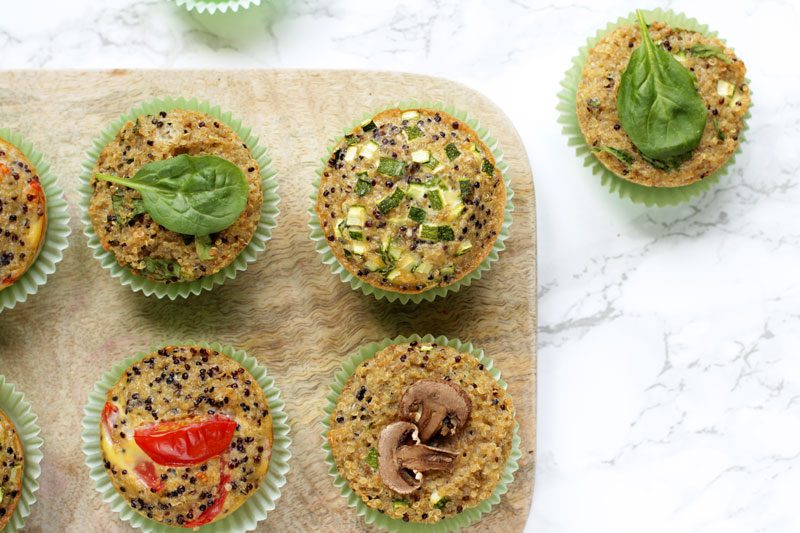 These quinoa breakfast muffins are also easy to customize with your favorite veggies to make the most of the seasons and enjoy them all-year-round.
We're now transitioning from hot summer days to cooler fall mornings, so these will be perfect to warm you up when eaten straight from the oven, or to be enjoyed cold as a snack during the day.
They also make a great lunchbox option for your kids or for you to bring at work. Be warned though, they disappear in seconds, so make sure to make a HUGE batch!
You can even make a couple of batches at the beginning of the week and store in the refrigerator for an easy heat-and-eat breakfast during the busy work/school week.
These cute and healthy quinoa breakfast muffins are also great party food, you can make a mini bite-sized version by using a smaller cupcake tin. Your guests will love them I promise!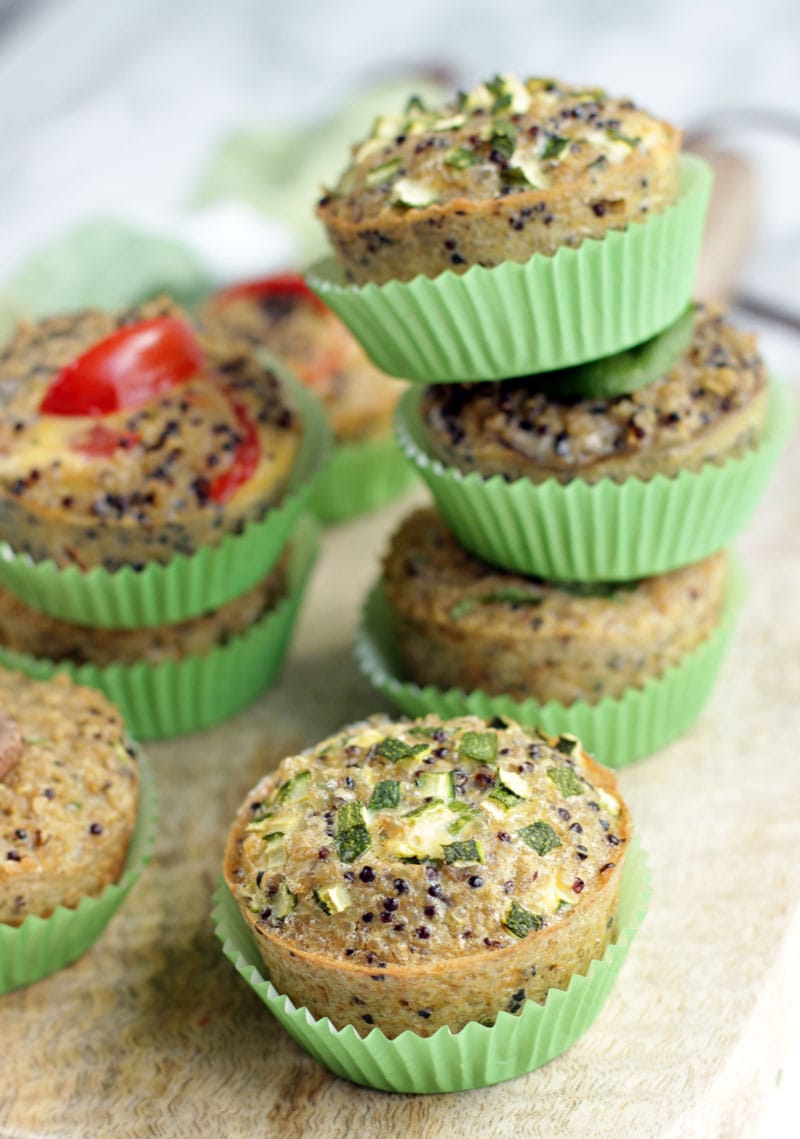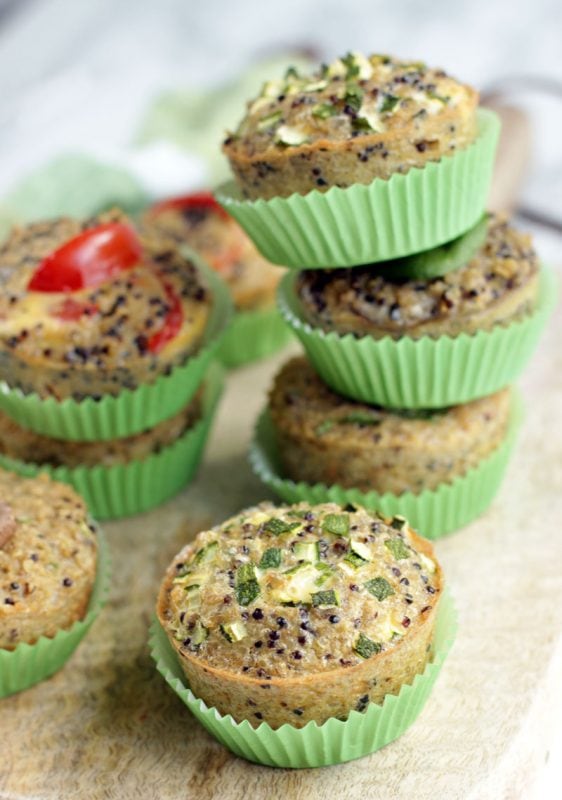 More Breakfast Recipes To Try:
Recipe
Quinoa Breakfast Muffins
Packed with loads of fresh veggies, these Quinoa Muffins are completely gluten-free and make a well-balanced quick breakfast on the go!
Ingredients
Instructions
Preheat oven to 180°C/375°F.

Cut the cherry tomatoes in half,scoop out the seeds and discard, then finely chop the flesh.

In a large bowl combine all ingredients besides quinoa. Mix altogether with the help of a fork, then incorporate in the quinoa.

Scoop the mixture into the muffin moulds previously brush with a little olive oil.

Bake in the oven for 10-12 mins or until crispy and golden brown on top.

Remove from the oven, allow to cool and serve or store in an airtight container for up to 2 days.
The information shown is an estimate provided by an online nutrition calculator. It should not be considered a substitute for a professional nutritionist's advice.