A quick and easy recipe to make vegan scallops at home. Serve these mushroom scallops as an appetizer, with pasta or salads!
Today I'm sharing with you my recent cooking experiment with the best vegan alternative to scallops. King oyster mushrooms are the star of this look-alike vegan scallop recipe.
Tossed together with a few umami-rich ingredients and served with a simple pasta, they truly make a showstopping meal.
The beauty of this veganized version of one of the most popular restaurant seafood items is that they're so versatile.
You can serve them as an appetizer, add them to salads or to lots of different vegan pasta dishes.
They can easily elevate a simple pasta dish. I pair them with linguine cooked al dente, and smothered in a creamy lemon vegan silky sauce.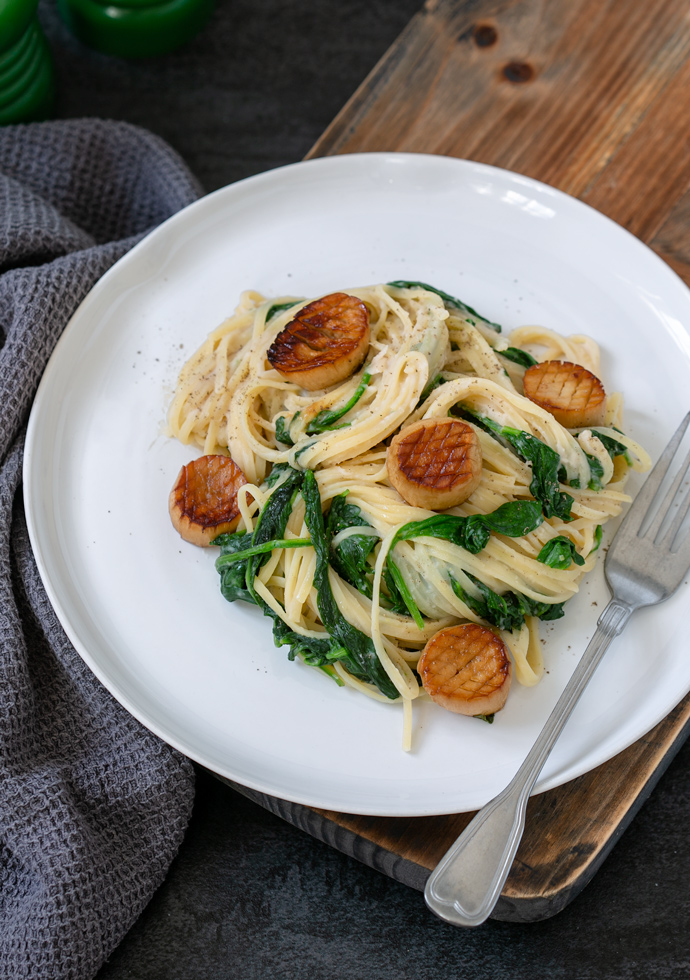 I also love serving my mushroom scallops with mixed Spring greens.
In this case, all you have to do is make a batch of pea pesto, place the scallops on top, and arrange a bunch of seasonal baby leaves on a serving plate.
You can also add some asparagus, either blanched or grilled to bright up the dish with extra green and flavors.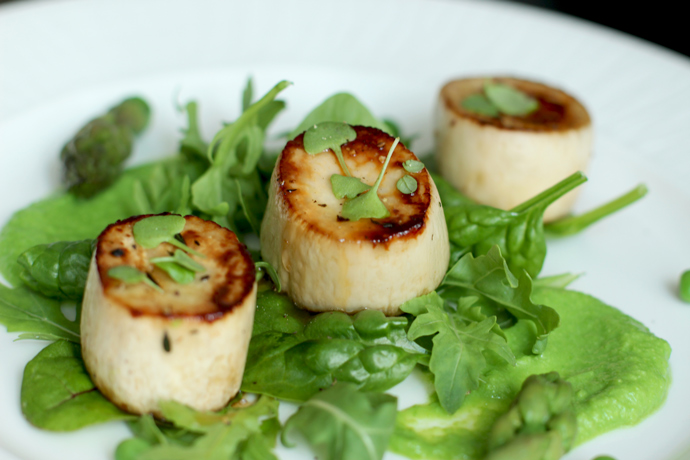 What are Vegan Scallops Made Of?
Known also as fake scallops, king oyster mushrooms are the star of this vegan scallop recipe.
They're thickly sliced in a way that closely resembles to real scallops, both visually and in terms of texture.
All right, you can fool the eyes but what about the flavour, do they taste like the real deal?
Most of the people would say yes, but to be absolutely honest, they taste more like abalone, a rare and luxurious mollusc just as delicious as scallops.
Raw King oyster mushrooms have very little flavour, but they 're loaded with umami when marinated and cooked, bringing out a unique and luxurious flavour.
To get the scallops look-a-like appearance, simply slice the mushroom stem into thick rounds.
Using a knife, you can make a cross-hatch pattern over the top of one side. This will allow the mushroom to absorb more flavor during the marinade and cooking time.
The secret to making the best vegan scallops is the marinade
You might simply soak the mushrooms in warm water with a tablespoon of soy sauce, but if you have a little more time, trust me, soaking them in this marinade will make all the difference.
The marinade is super simple and made of soy sauce, miso, vegan Worcestershire sauce, brown sugar and vegan white wine. You will end up with mushrooms that are juicy and loaded with seafood flavour, just like the real ones!
All you have to do is pop the mushroom in a small saucepan with the marinade ingredients. Let them cook gently over low heat for 10 minutes, then remove the pan from the heat, and allow the mushroom to soak all the amazing flavors for a further 10 minutes.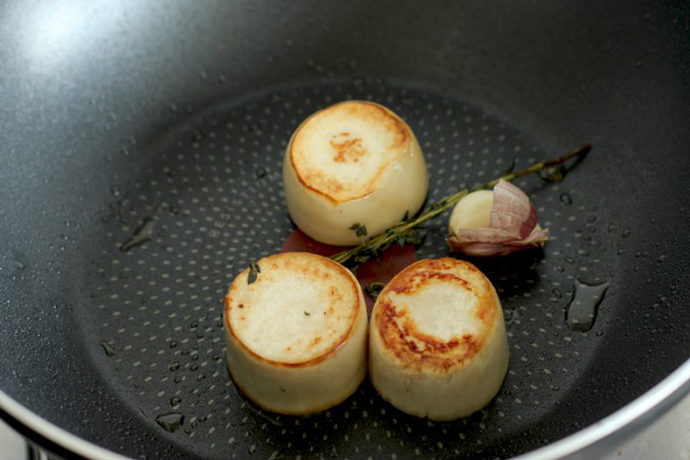 After that, gently pan-fry or grill the mushroom stems with thyme and garlic until nicely crisp and brown, it should take about 3 minutes per side.
It's fascinating to watch them cook and turn into scallops look-alike. Impressive, really.
They are ready in less than 10 minutes, just enough time to cook your pasta.
If you're looking for a showstopping vegan pasta recipe that will leave your guests asking for more, you can't go wrong with this!
More Vegan Pasta Recipes To Try:
DID YOU MAKE THIS RECIPE?
Please let me know how you liked it! Leave a comment below and share a picture on Instagram tag @thepetitecook!
Looking at your pictures always makes me smile *and super hungry*!
Recipe
Vegan Scallops With Pasta
Ingredients
3

king oyster mushrooms

120

ml

vegetable stock

,

warmed

60

ml

vegan dry white wine

15

g

mild miso paste

15

ml

low sodium soy sauce

½

teaspoon

brown sugar

½

teaspoon

vegan Worcestershire sauce

370

g

pasta

,

linguine or spaghetti

3

tablespoon

vegan butter

1

tablespoon

extra-virgin olive oil

1

garlic clove

1

sprig of thyme

1

teaspoon

lemon zest

150

g

baby spinach leaves

1

tablespoon

vegan creme fraiche

,

optional

Sea salt and freshly-cracked black pepper
Instructions
Cut the mushroom stems crosswise into 1-inch pieces, you should have about 8 pieces total (reserve the caps for another recipe.), then use a paring knife to score both flat sides in a cross-hatch pattern.

Whisk the stock, white wine, miso, soy sauce, brown sugar and Worcestershire sauce in a small sauce pan over low heat, add the mushrooms, and simmer for 10 minutes. Remove the pan from the heat and allow the mushrooms to marinate in the mixture for a further 10 minutes, then discard the marinade, remove the mushrooms with a slotted spoon and pat them dry with paper towels.

Bring a large pot of lightly salted water to a boil, and as soon as the water boils, fold in the pasta and cook until al dente, about 7 minutes for linguine. Remove a ladle of pasta cooking water from the pot and set aside.

Heat the butter and extra-virgin olive oil, a sprig of thyme and garlic clove in a large non-stick skillet over medium heat, add the mushrooms and cook them for 3 minutes on each side, or until nicely browned on both sides. Discard the garlic and thyme sprig.

Add the spinach into the pan, followed by the lemon zest, cover with a lid, and reduce the heat to a minimum, then cook for 2 minutes stirring occasionally.

Remove the pot from the heat and drain the pasta. Transfer the pasta into the skillet withe the mushrooms and spinach, add some of the reserved pasta water and optional creme fraiche, and stir all the ingredients

Top the pasta with freshly-crackedblack pepper and serve.
Notes
You can store cooked vegan scallops in an air-tight container for up to 3 days. Reheat them gently in a pan over low heat until warm to the touch.
Nutritional information does not include the marinade ingredients.
Nutrition
Calories:
446
kcal
|
Carbohydrates:
71
g
|
Protein:
13
g
|
Fat:
12
g
|
Saturated Fat:
3
g
|
Polyunsaturated Fat:
3
g
|
Monounsaturated Fat:
5
g
|
Trans Fat:
1
g
|
Sodium:
103
mg
|
Potassium:
425
mg
|
Fiber:
4
g
|
Sugar:
3
g
|
Vitamin A:
3918
IU
|
Vitamin C:
11
mg
|
Calcium:
59
mg
|
Iron:
2
mg
The information shown is an estimate provided by an online nutrition calculator. It should not be considered a substitute for a professional nutritionist's advice.
Recipe published in June 2015 and updated with an improved recipe, more information and new images.