A Christmas chocolate bark is such a wonderful way to transform plain chocolate into a special treat to share. You can even arrange a few pieces in a cute packaging for a heart-warming holiday homemade gift.
Homemade holiday gifts are my favorite things to receive for Christmas. How can you not love personalized gifts that are made with all the love and care possible?
This Christmas chocolate bark is probably one of my most favorite edible homemade gifts to make. It's super quick to prepare and easy to customize to meet your taste and the ones of the people you love.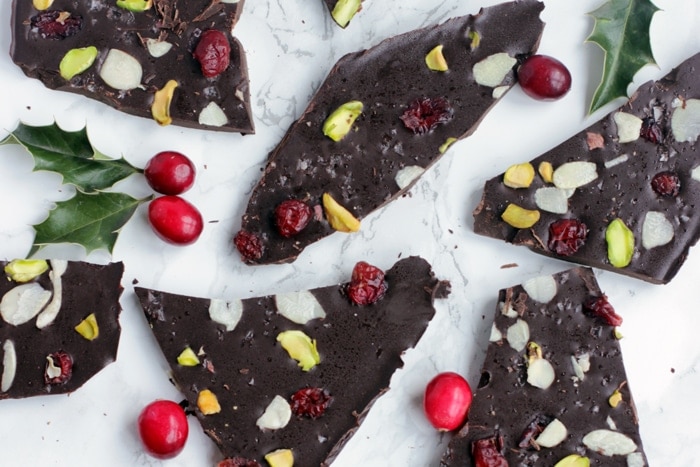 I love the delicious combination of smooth dark chocolate, crunchy chopped pistachio and sweet dried cranberry. They make this bark not only colorful and festive, but also the last two ingredients are naturally sweet, so you can skip any extra sugar. Don't worry if you miss an ingredient or two. Just use your favorite ingredients or whatever you have at hand, and most importantly have fun playing with the flavours.
[easy-tweet tweet="How to Make A Christmas Chocolate Bark – Easy and Fun Holiday Treat!" user="PetiteCook" hashtags="#recipeoftheday"]
All you need to make this gorgeous and healthy Christmas chocolate bark is 3 main basic ingredients: chocolate, nuts and fruits.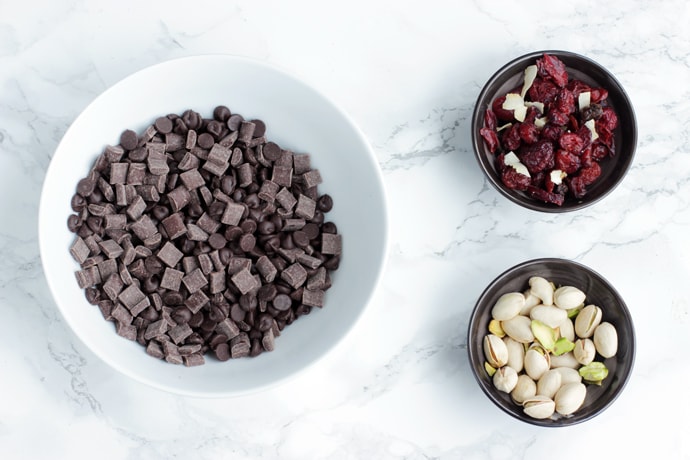 The recipe comes together in just as little as 10 mins, requiring very little effort from your side. Simply combine all the ingredients, and wait until your chocolate bark is set up. Then just break it up into pieces and enjoy these delicious bites of goodness.
Chocolate
For me, it's got to be dark chocolate, preferably the bitter-sweet 70% kind. You can play around with your favorite chocolate, may that be dark, milk or white. You can also use dairy-free alternatives or mix-and-match dark & white chocolate for an awesome marble-effect bark.
Nuts & Seeds
Add extra crunchiness with your favorite nuts. I've used almond and pistachios, but you can literally top your chocolate bark with any nuts and seeds you like. Whether yo use them chopped or sprinkled over whole, from roasted hazelnuts and pumpkin seeds to pecan or macadamia nuts, the sky is the limit.
Fruits
No festive bark is complete with some delicious dried fruits. For a traditional holiday treat opt for cranberries, but chopped dried apricots are deadly yummy too. To make things a little exotic try dried chopped mango, it's simply divine.
Extra Toppings
Sea salt works brilliantly with dark chocolate, enhancing the natural flavour of the chocolate. Some dried chilli flakes will give you a warm spicy kick, whilst a pinch of cinnamon is always welcome. Last but not least, a swirl of salted caramel is almost impossible to resist. Some creative holiday toppings include mini marshmallows, candy canes, mini pretzels etc.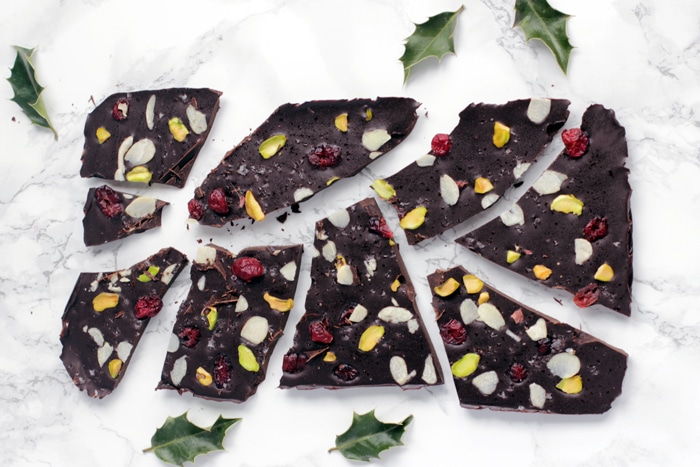 Making this Christmas chocolate bark is so much fun especially if you have kids, I'm sure they'll have a great time making their own. Each bite is a roller-coaster of textures and flavors, and because you can swap in any fruit or nuts you like, every batch will taste completely different and absolutely yummy.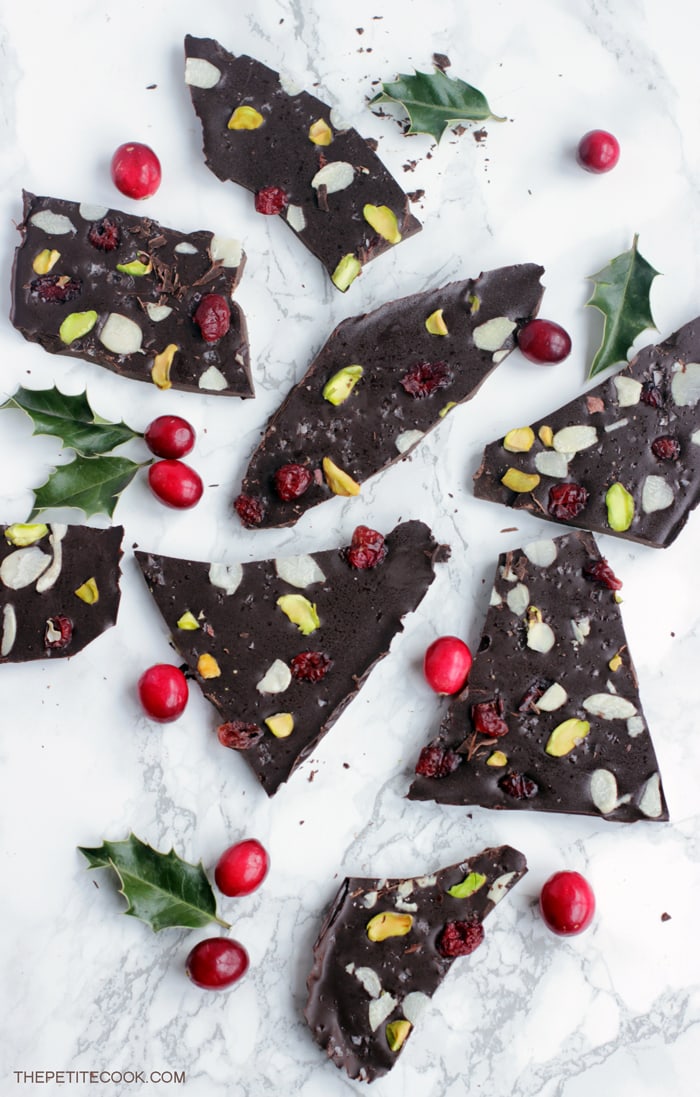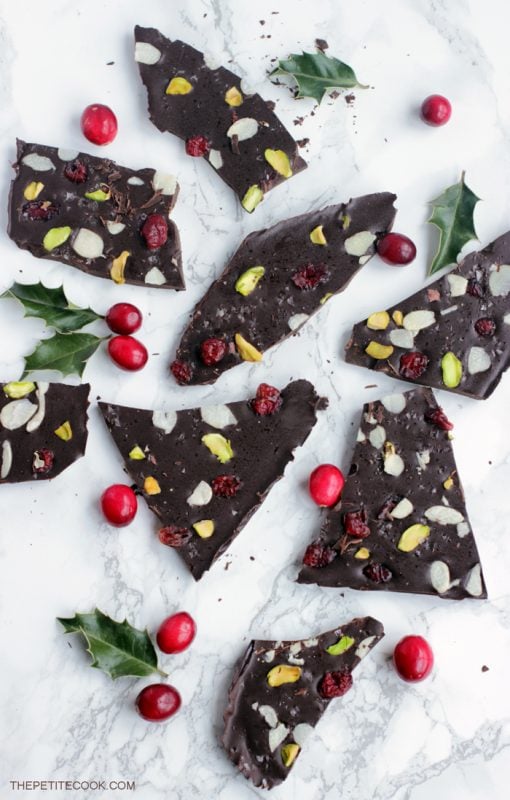 I hope you guys will give this colorful chocolate bark a try. If you do, please leave a comment below and let me know how you liked it! Even better, snap a picture, tag it #thepetitecook and share it on Instagram! I can't wait to see all your festive creations :).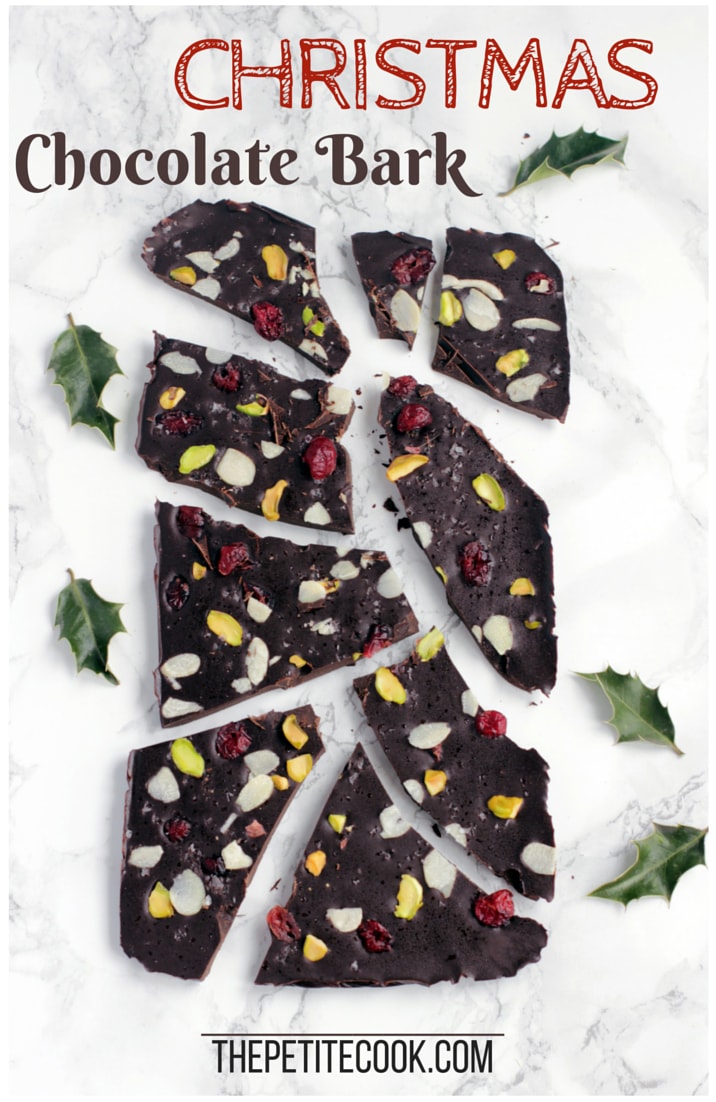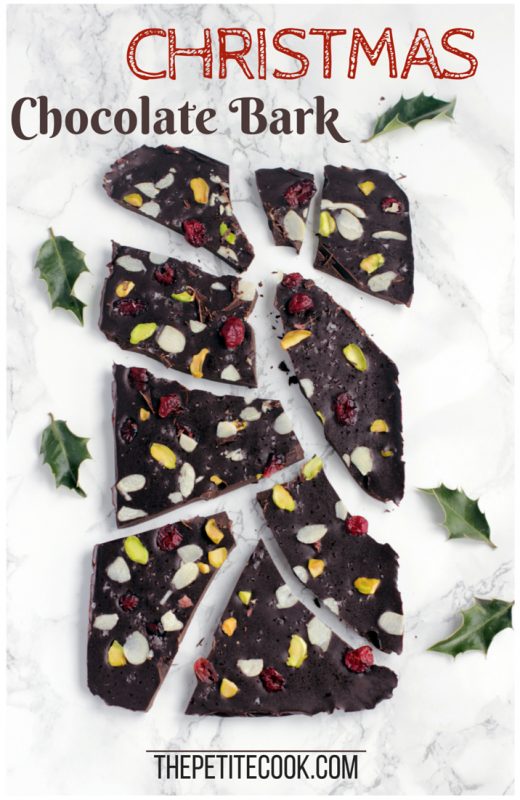 Pistachio and Cranberry Chocolate Barks
Ingredients
300gr dark/milk/white chocolate chips ( I used Belgian 70% chocolate chips)
1 cup unsalted pistachio, roughly chopped
1 cup dried cranberries, chopped
a handful of almond flakes (optional)
sea salt flakes
Instructions
Place ⅔ of chocolate chips in a heat-proof bowl over a pan of simmering water. Stir the chocolate until melted, then take off the heat and stir in the remaining chocolate chips.
Pour melted chocolate over a tray covered with parchment paper or cling film.
Top with pistachio, almond and cranberries, and sprinkle with sea salt.
Allow to set for 1-2 hours, then break into pieces and serve.